The Waseca boys tennis team picked up back-to-back wins on Saturday after sweeping Stewartville 7-0 and defeating Cotter 6-1 to improve to 5-5 overall on the season.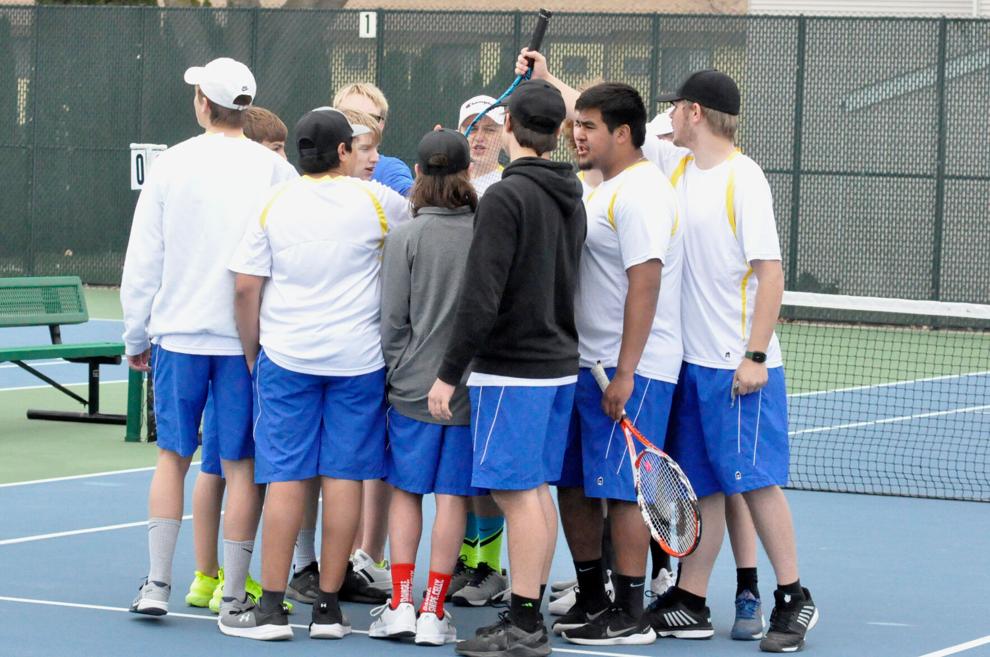 The Bluejays didn't drop a single match across all three doubles pairings, despite close matches and a couple of close sets in the win over Cotter.
No. 1 doubles of Hunter Supalla and Victor Feeley won the first set 7-6(4), dropped the second set 6-3 before winning 10-7 to secure the match. No. 2 doubles of Jacari Jellum and Dominic Grunzke and the No. 3 doubles of Jenaro Delgado and Ahmed Farooq both dropped their first set before twinning the second and third sets to secure the victory.
No. 2 singles Oliver Rohwer, No. 3 singles Henry Huttemier and No. 4 singles Otto Schoenrock all went 2-0 on the day, while No. 1 singles Tyler Jellum split his matches against Stewartville and Cotter.
Tyler Jellum's lone loss came against Cotter's Logan Granseth 6-1, 6-0, but defeated Stewartville's Conner Lohmann 6-3, 6-3.
No. 1 Singles: Tyler Jellum (WAS) def. Conner Lohmann (STE) 6-3, 6-3
No. 2 Singles: Oliver Rohwer (WAS) def. Nolan Huggenvik (STE) 7-6 (3), 6-3
No. 3 Singles: Henry Huttemier (WAS) def. Jack Field (STE) 6-1, 6-1
No. 4 Singles: Otto Schoenrock (WAS) def. Elias Yann (STE) 6-1, 6-1
No. 1 Doubles: Victor Feeley/Hunter Supalla (WAS) def. Jack Jorgensen/Brent Quandt (STE) 6-0, 6-0
No. 2 Doubles: Jacari Jellum/Dominic Grunzke (WAS) def. Leland Jeardeau/Sam Mccluskey (STE) 6-1, 7-5
No. 3 Doubles: Jenaro Delgado/Ahmed Farooq (WAS) def. Jonathan Lovstuen/Jayce Cast (STE) 6-3, 6-3
No. 1 Singles: Logan Granseth (COT) def. Tyler Jellum (WAS) 6-1, 6-0
No. 2 Singles: Oliver Rohwer (WAS) def. Spencer Briggs (COT) 6-0, 6-0
No. 3 Singles: Henry Huttemier (WAS) def. Irene Oliveras (COT) 6-1, 6-0
No. 4 Singles: Otto Schoenrock (WAS) def. Shauntel Bebout (COT) 6-0, 6-0
No. 1 Doubles: Hunter Supalla/Victor Feeley (WAS) def. Jon Besek/Steven Pilarski (COT) 7-6(4), 3-6, 10-7
No. 2 Doubles: Jacari Jellum/Dominic Grunzke (WAS) def. Hamilton Brewer/Joe Row (COT) 2-6, 6-1, 10-6
No. 3 Doubles: Jenaro Delgado/Ahmed Farooq (WAS) def. Goktug Ozkan/Carter Knuesel (COT) 4-6, 7-5, 11-9