Ask Waseca girls basketball coach Joan Conway about what makes Brittany Draeger and Melady Renteria so special as ball players and an answer comes quickly.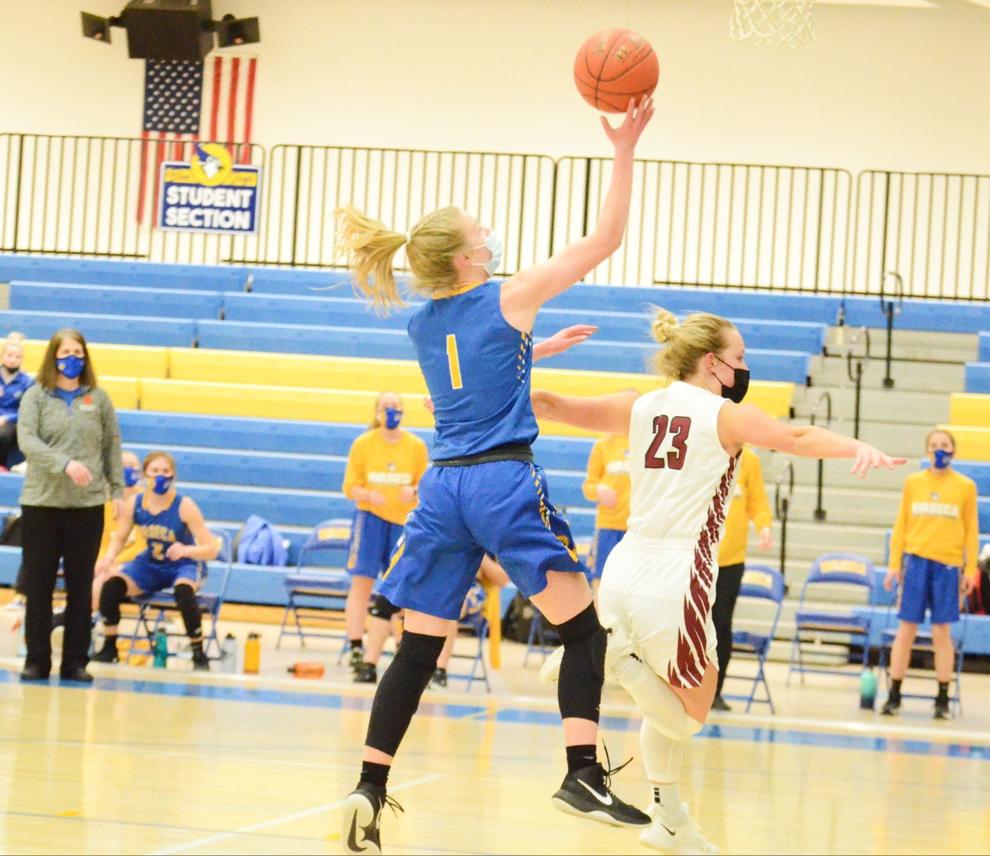 "I think they each had a unique skill set," Conway said over the phone last week. "Brit, for years, has been a really good 3-point shooter for us and was able to attack the basket and is a really good catch-and-shoot player. Melady was thinking more assists and an attack-and-dish off kind of thing [this past season]. Melady being able to attack the rim and dish out to the bigs opened up the outside for a lot of our players."
Draeger and Renteria helped lead the Bluejays to a 12-8 overall record in 2021 and earned Waseca County News girls basketball Co-Players of the Year recognition not only because they are both strong players at the individual level, but also because of how well their game complemented each other's as well as the rest of the team.
The two athletes combined to score 23.2 of the Bluejays' 54.9 points per game this season, with Draeger ranking first (12.0) and Renteria third (11.2) on the team, respectively. They also ranked among the team leaders in assists — Draeger was first with 3.4 and Renteria second with 2.9 — and rebounds per game; Renteria's 4.8 and Draeger's 4.4 trailed only that of Camryn McQuery, who hauled in 5.5 rebounds per game.
Draeger has been involved with the Waseca girls basketball program for her entire playing career and was a member of the varsity team for the past two seasons. The amount of growth that she achieved over the course of her career was a special thing for Conway to observe and take part in.
"It's been fun to see her development, both on the floor and off the floor," Conway said of Draeger. "Watching her confidence grow. Brit was always a kid that you know just loves basketball and you love that about her. It was fun to watch her skills develop to be able to contribute at a high level for the last couple of years. She had to step in last year [due to injury]...She got more minutes and had more of an opportunity to score, it was fun to watch her develop during that process."
Renteria, in contrast, is newer to Waseca, having only been on the team for a year, but that didn't stop her from ingratiating herself with her teammates and coaches.
"Melady's been here for a year and it's been fun to watch her develop in just that short period of time," Conway said. "I wish that we would have had her a little longer...She's such a kind kid. Kind of an emotional leader of the team, in a way, even after just a year. She was just as happy getting a great pass or getting someone involved than getting the shop up herself...Melady is known for her 'flex.' Almost every time she ever flexed was about somebody else having some success and that was such a great thing and modeling for our team."
Both athletes will move on from Waseca following graduation later this spring, but the impact that each had on the school's girls basketball program will endure for years to come.