Since entering high school in the fall of 2017, the seniors on the current Waseca Bluejays boys basketball team have born witness to remarkable success.
A 96-12 overall record; an unblemished 38-0 record during Big South Conference action; two state tournament qualifications; and one state championship appearance.
The accomplishments they have achieved are often mere dreams for the hundreds of high school basketball players littered throughout the state of Minnesota. For most schools, simply reaching the state tournament is an event that will live on in legends for decades to come. Waseca, however, is not like most schools.
The goals of Waseca seniors Kyreese Willingham, Andrew Morgan, Ryan Dufault, Drayvn Spies, Zach Hoehn, Tave Ball, and Matt Seberson do not include simply reaching the state tournament. They only have one goal, and that is to bring the boys basketball state title back to Waseca for the first time since 1918.
"It would mean everything," Morgan — the team's hulking 6-foot-8-inch center — said when asked what winning a championship would mean to the team, an ear-to-ear grin concealed by his Waseca High School face mask. "Everything we've worked for since we were in sixth grade, when we started basketball, was to put a state championship up on that banner. That's been the goal the whole time and that's one we can't let go of this year."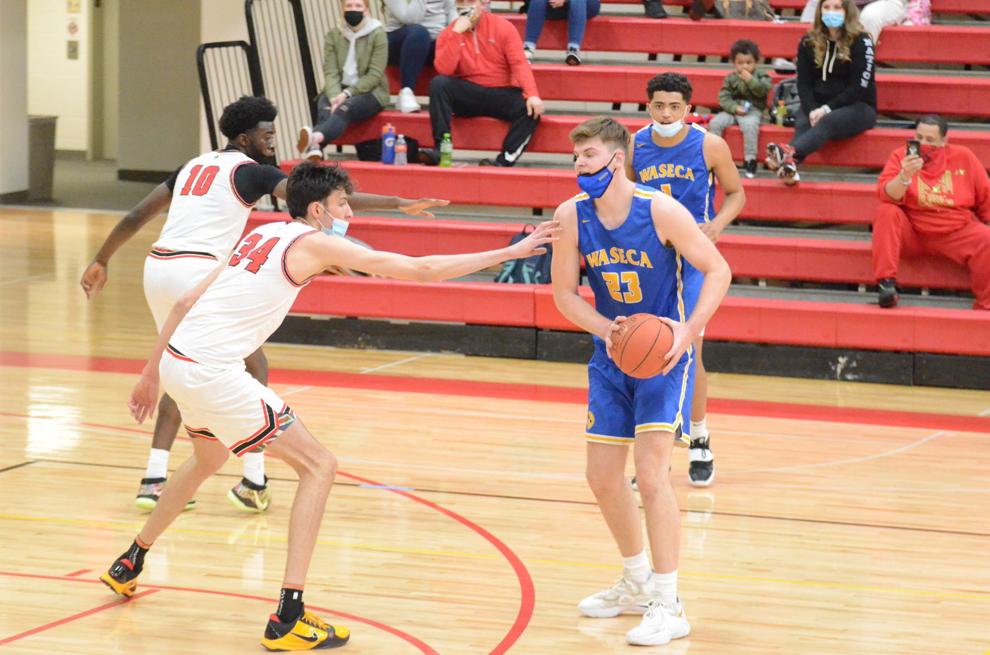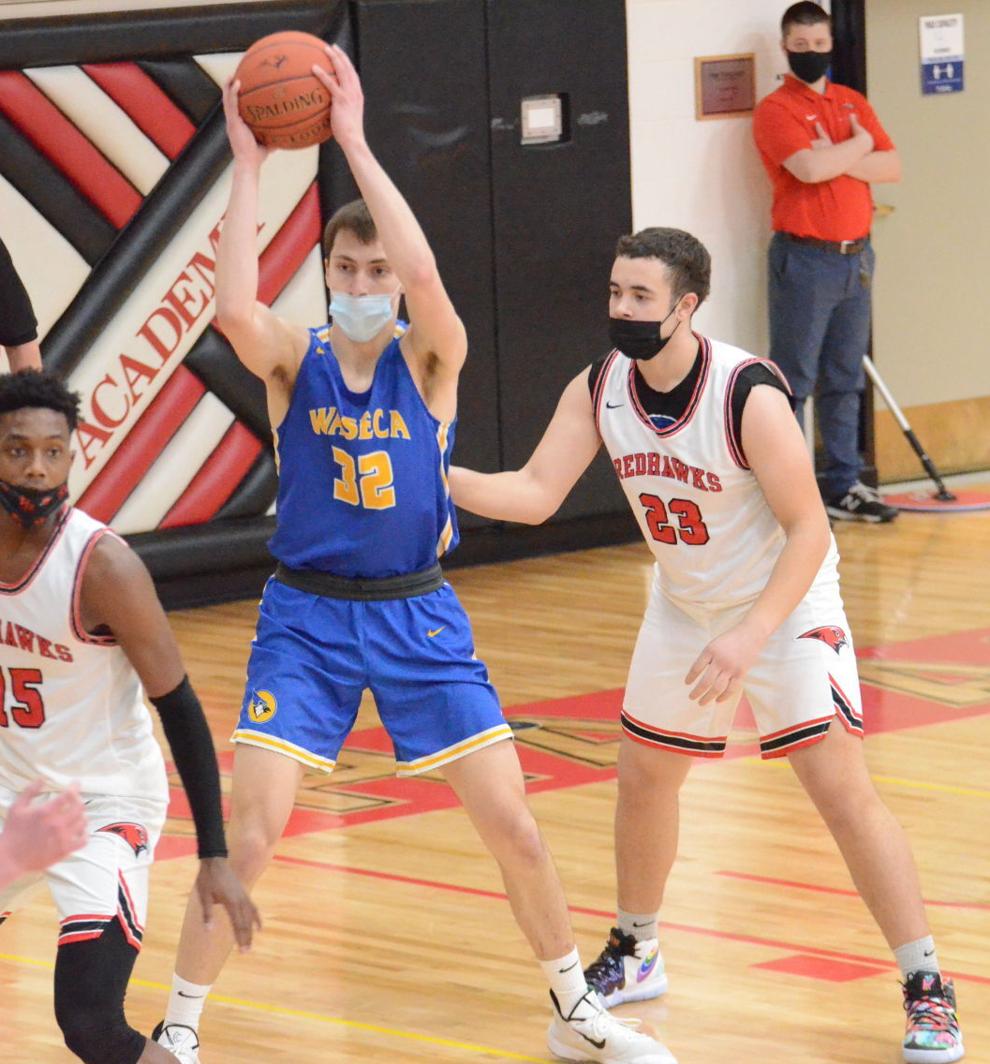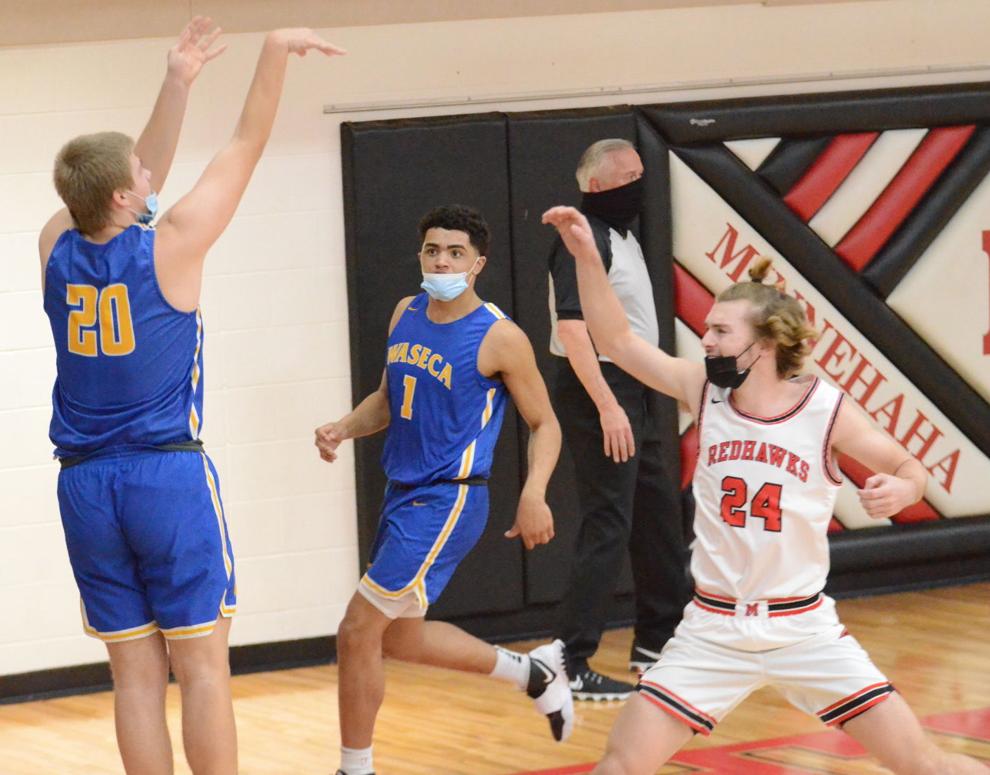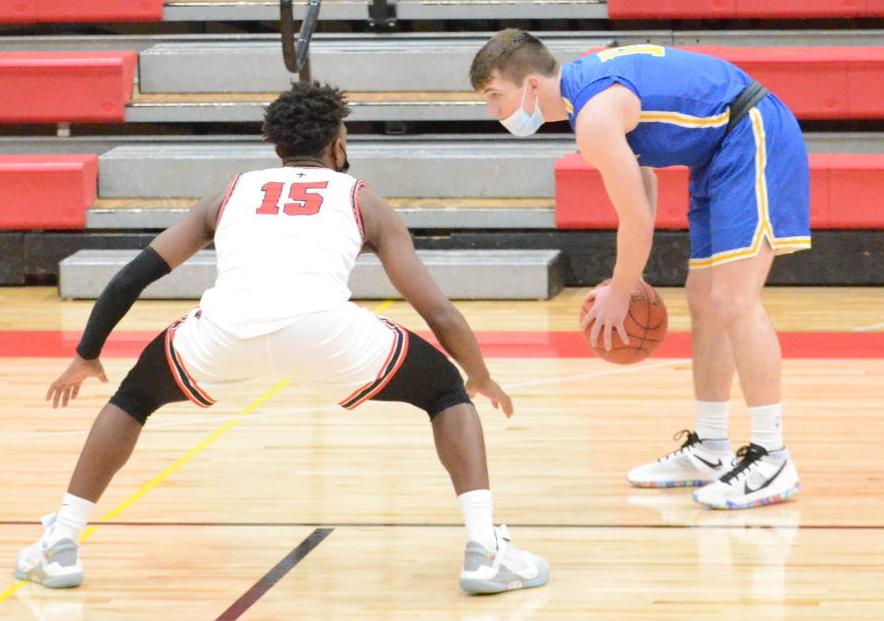 The Bluejays last reached the state finals in 2018 — they were a member of Class 3A at the time and have since moved down to Class 2A — where they fell, 63-56, to a DeLaSalle team that featured current Dallas Mavericks guard Tyrell Terry and former George Washington University star Jamison Battle. Their playoff run ended abruptly last season after clinching their second-straight state tournament appearance due to the onset of the COVID-19 pandemic.
"[Winning a state title is] such a huge goal. That's kind of been on the minds of a lot of the guys the last couple of years," Waseca coach Seth Anderson said after practice one mild March afternoon. "Two years ago we had a chance to put a banner up there. Last year we felt like we had as good a chance as anybody. This year, if the stars align the right way and we play well enough, we're going to be in that same position again. It's a special time any time you can get to the state tournament and even more special when you can hang something that special at the end of it. It's still a little ways down the road; it's hard to look at that right now because you're just trying to win one game at a time. You don't want to get ahead of yourselves, but you know that is your ultimate goal at the end."
It would be easy for a team as good as the Bluejays to become complacent in their success. They're outscoring teams by an average of 25 points per game and possess three athletes that will be playing basketball at the collegiate level next winter; Morgan will be suiting up for the North Dakota State Bison while Dufault and Willingham will take their talents to the University of St. Thomas and Minnesota State University, Mankato, respectively. They also boast a prolific outside shooter in Hoehn, another quality big man in Seberson, and two high energy defenders in Ball and Spies, which grants them a level of depth that is envied by teams across the state.
However, complacency isn't an option for Waseca.
"[We c]ome to practice every day and then we just work hard and go at each other so we're all getting better every day, so we're not falling behind," Willingham said, with a sense of urgency and seriousness emanating from his eyes. "We're just competing hard, working hard, and it's doing us good."
"[You can realize] that you have all the talent to win, but you also need to know that you have to use that talent and not get relaxed with it. We have all the tools we can to win the games coming up, we just know that we have to keep sharp on our skills and we'll be just fine."
Anderson also echoed the boys' sentiments, noting how quickly a season can evaporate should contentedness set it.
"It takes a mindset to work hard. Humans are kind of naturally lazy people and to get fired up every single time you go out on the floor, whether it be practice or a game, it's a mindset. That's kind of the way you have to approach it. A lot of these guys are still young enough to remember some really good Waseca teams, that were [ranked] one or two in the state, getting beat in the early rounds of the playoffs. I hope they don't take it for granted because your playoff run can end so quickly in a one-and-done scenario."
Scaling the mountain that is the Minnesota State High School Boy's Basketball Tournament and reaching its peak is not an achievement that occurs overnight. It takes years of blood, sweat, and tears, a commitment to perfecting one's craft, and a realization that sacrifices will have to be made. The seniors on the Waseca boys basketball team have put in the work, honed their skills, and sacrificed many moments in their young lives. All they have to do now is reach the summit...but also to not forget to embrace the journey one last time.
"When you think about your lifetime as a high schooler, as a Waseca Schools kid, you spend 18 years waiting for this moment and the moment might come down to a 36 minute game," Anderson said. "It's unbelievable how much time you put in and in one day you've either moved on to your next goal or it's all over. And that's why it's so emotional when a season ends, and especially for a senior when the season ends, because you've put so much time and energy into this thing and when you reach your goal it's just pandemonium tears. And when you come up short it's emotional tears. At some point this year, that's going to be our team...Hopefully we can end this thing off the right way."
The Bluejay seniors' final journey will begin on Thursday, March 18th with the beginning of the Section 2AA postseason tournament.