Waseca 79, Worthington 56
The Bluejays improved to 14-1 overall and remained 7-0 in Big South Conference play following their big win over the Trojans Friday evening.
Waseca has one game remaining on their regular season schedule — Thursday against St. James (2-13, 0-8) — however, sources tell the Waseca County News that the school is deep in talks with Mankato West about scheduling a game between the two school's boys teams; there is a "95% chance" that the game will take place on Tuesday, March 16th.
The Class 3A Scarlets are 11-4 overall and 10-1 in Big 9 Conference action this season and are lead by wings Buom Jock and Mehki Collins, both of whom have garnered NCAA Division I attention.
The Panthers (5-10, 4-7 Gopher Conference) used a quick start and elite shooting from the field in the first half to overwhelm the Bulldogs (4-10, 2-9 Valley Conference) last Friday night.
"In the [first half] we forced some turnovers which allowed us to get out in transition for some layups and hit some 3-pointers early as well," NRHEG coach Isaiah Lundberg said. "Overall in the first half, we shot 19-from-25 overall from the field and 17-from-19 from 2-point range. As a coach you will take that shooting anytime."
Daxter Lee led the Panthers in scoring with 17 points. Kordell Schlaak (15), Ashton Johnson (11), Jaxon Beck (11), Porter Peterson (7), Benjamin Schoenrock (5), and Jack Olson (4) also scored for NRHEG.
Memphis James led the Bulldogs with 13 points to go along with four rebounds. Josh Bengston (6), Cole Schlueter (5), and Ryder Thissen (4) also scored for JWP.
Both teams return to the court on Monday with NRHEG going up against Hayfield (12-3, 10-2) and JWP facing Lake Crystal-WM (6-10, 5-7).
Waseca 69, St. James Area 38
There's no place like home; just as the Waseca Bluejays girls basketball team who have logged over 1,400 miles on the road this season and had not played a game within the friendly confines of Waseca High School in 26 days prior their convincing victory over the Cardinals (7-6, 3-4 Big South Conference) Saturday night. The Bluejays improved to 7-7 overall and 4-2 in Big South Conference play with the win.
Waseca started the game on a 14-4 run, fueled by strong inside scoring from Camryn McQuery and Kloe Wadd. Their interior presence opened up the perimeter for the likes of Brittney Draeger and Melady Renteria, who took full advantage and did quite well emulating Steph Curry and Klay Thompson — the so-called Splash Bros. — of the Golden State Warriors. 
"On our to do list was to have paint touches and lots of them. And do that early. And we did," Waseca coach Joan Conway said after the win. "We got the ball into [McQuery and Wadd] and they did really good things, which I think probably altered a little bit of what [St. James] wanted to do defensively. That just made the outside shots feel a little bit more comfortable, a little bit more open."
Waseca connected on a plurality of their 3-point attempts, a nice reversal from their 1-for-20 effort during their loss to Worthington last Thursday night. The team's strong outside shooting and overall dominance during their return home was akin to finding an oasis in a dessert according to Conway.
"Trust me, [it was] great. It's just good to see so many kids play so well. The confidence, too. It was a much needed shot in the arm for a lot of those kids. You know what they're capable of doing and it's frustrating when you can't do what you want to do, what you know you need to do. It's a good confidence boost for the kids to see the ball go through the hoop or making that extra pass or getting that rebound or whatever it is. It was fun to see."
The Bluejays have two games remaining on their schedule, including their final home game of the regular season on Monday night against New Ulm (3-11, 2-6). Playing games at home provides a level of comfortability and normalcy, both of which are advantageous when it comes to winning games. Simply playing a familiar environment is key according to Conway.
"Your own gym, your own locker room. It feels good. And for the kids to be able to play and have some fans in the stands; it's something that they haven't had, that home game experience, [in a while]. I'm so happy for them to have that."
Waseca is now 3-1 at home on the season.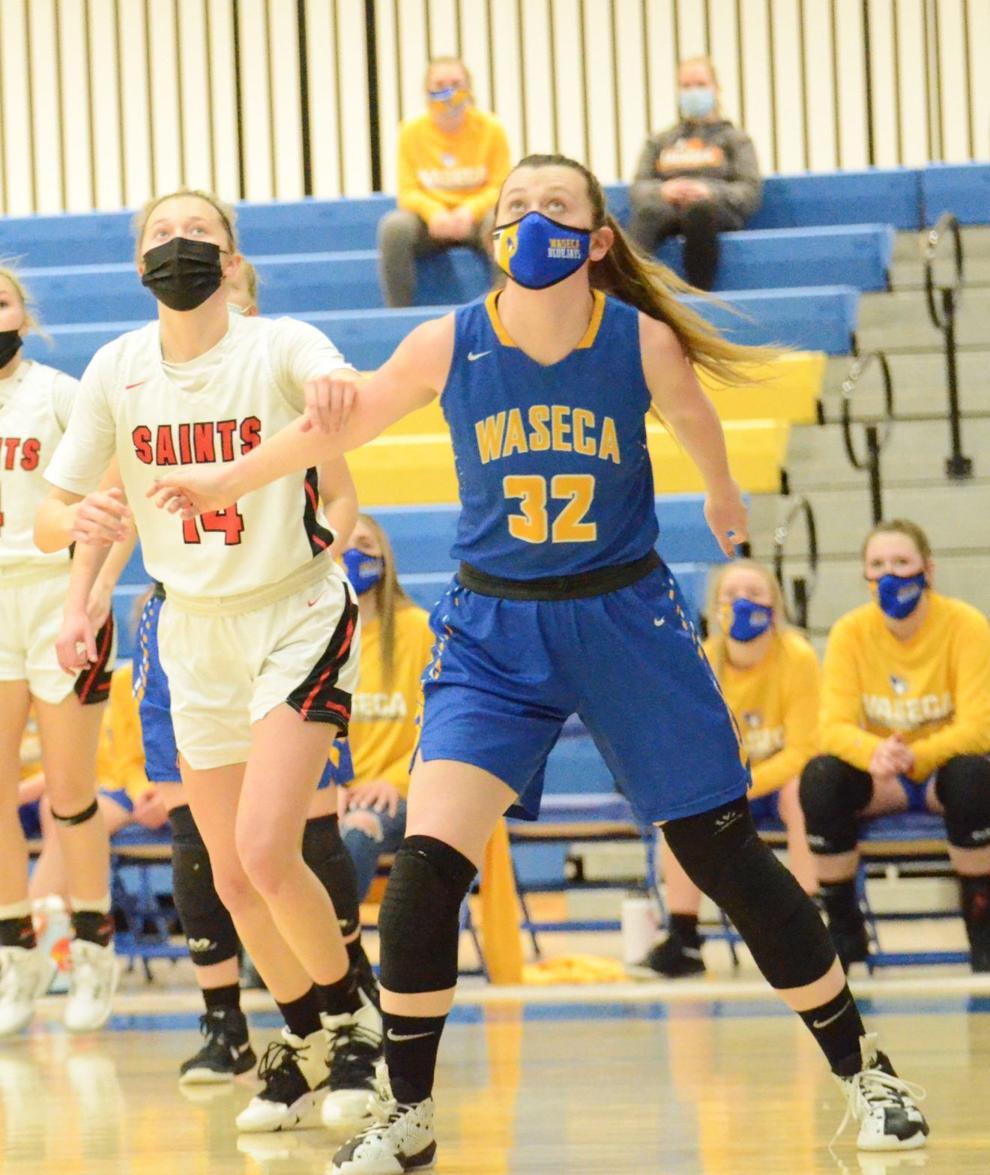 NRHEG 67, United South Central 41
The Panthers (5-10, 3-9 Gopher Conference) were able to reverse their four-game losing streak, due in large part to strong offensive rebounding, dispatching the Rebels (1-14, 0-12) in convincing fashion Friday night.
"I am very proud of how hard the team worked tonight," NRHEG coach Onika Peterson said. "We finished the night as a team with 45 offensive rebounds and 22 defensive rebounds. We were able to get second, third, and sometimes four shot attempts in a possession which was great to see."
Erin Jacobson led all scorers with 18 points and missed a double-double by a single rebound (9). Hallie Schultz, however, was able to register a most double-double with a massive 10 point, 19 rebound performance. Sidney Schultz (13), Faith Nielsen (12), Kendall Johnson (5), Andrea Briggs (5), Cassidy Martin (3), and Sarah George (1) also scored for the Panthers.
NRHEG returned to the court on Monday against Hayfield (10-5, 6-4).
The Bulldogs picked up their second win of the season Friday evening, easily defeating Madelia (0-15, 0-12 Valley Conference). JWP's record now stands at 2-10 overall and 2-7 in Valley Conference play; the Bulldogs defeated Madelia 76-14 earlier in the season.
JWP is back in action on Monday night against Martin County West (11-4, 10-4).
The Bluejays fell to 10-6 on the season and 10-5 in Big South Conference play after losing to the conference champion Eagles (13-2, 13-0) Saturday afternoon.
Waseca's lone goal came early in the third period during a power play opportunity; Brendan Brown logged his fourth goal of the season off assist by Kyle Ahlschlager and Charlie Huttemier. New Ulm outshot Waseca 38-21 on the night.
The Bluejays return to the ice on Thursday when they face off against Rochester Lourdes (7-5-1).
Minnehaha Academy 9, Waseca 1
Minnesota River 8, Waseca 0
Katlyn Schuler scored the Bluejays' sole goal of the weekend off assist from Emily Gordon as Waseca fell to 0-15 after suffering two losses to two good teams over the weekend.
Waseca has three games remaining in the regular season before the section playoffs begin next week. The Bluejays return to the ice on Monday against New Ulm (12-2, 10-1 Big South Conference).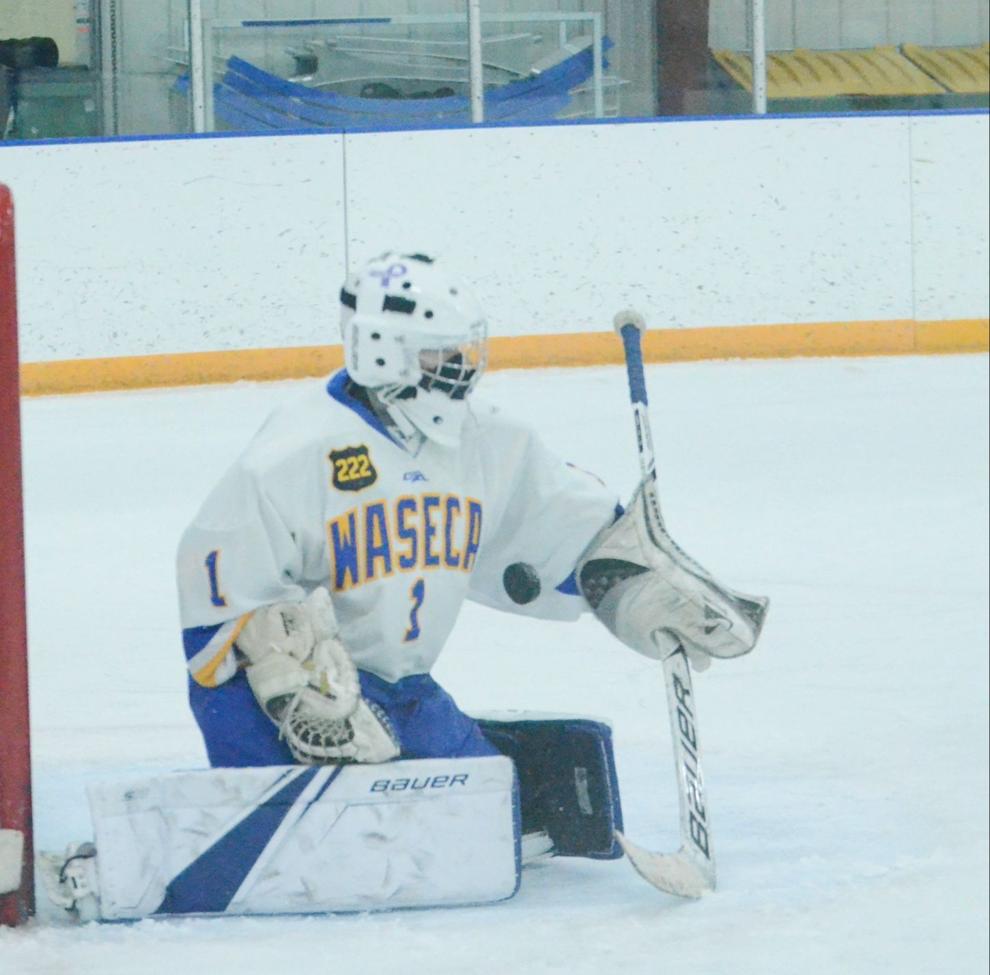 NRHEG at Medford 60, NRHEG 18
The Panthers (8-13) ran into a hot Tigers team (13-7) Friday evening, falling in convincing fashion to finish off their regular season.
"Medford has a really good team right now, and honestly could make a strong run next week at the Section 2A Tournament," NRHEG coach Shawn Larson said. "I was happy with our effort in several of the matches, but we still need to shore up bonus points. If we are to lose matches, we need to find a way to lose without getting pinned."
Thor Routh (160; fall), Ralph Roesler (195; fall), and Makota Misgen (285; fall) earned wins for the Panthers.
NRHEG returns to the mat on Monday night for the Section 2A tournament.
Cannon Falls 42, WEM/JWP 26
The WEM/JWP wrestling team closed its regular season Saturday with a home loss against Cannon Falls.
Jack Cahill won by fall in the 160-pound weight class, while Kurtis Crosby claimed a 10-8 overtime decision at 182. The other victories for the Grizzlies were all by forfeit, while Cannon Falls also won two weight classes by forfeit.
Waseca 128.325, St. James Area 102.475
The Bluejays swept all four events Saturday evening en route to dominating the Cardinals.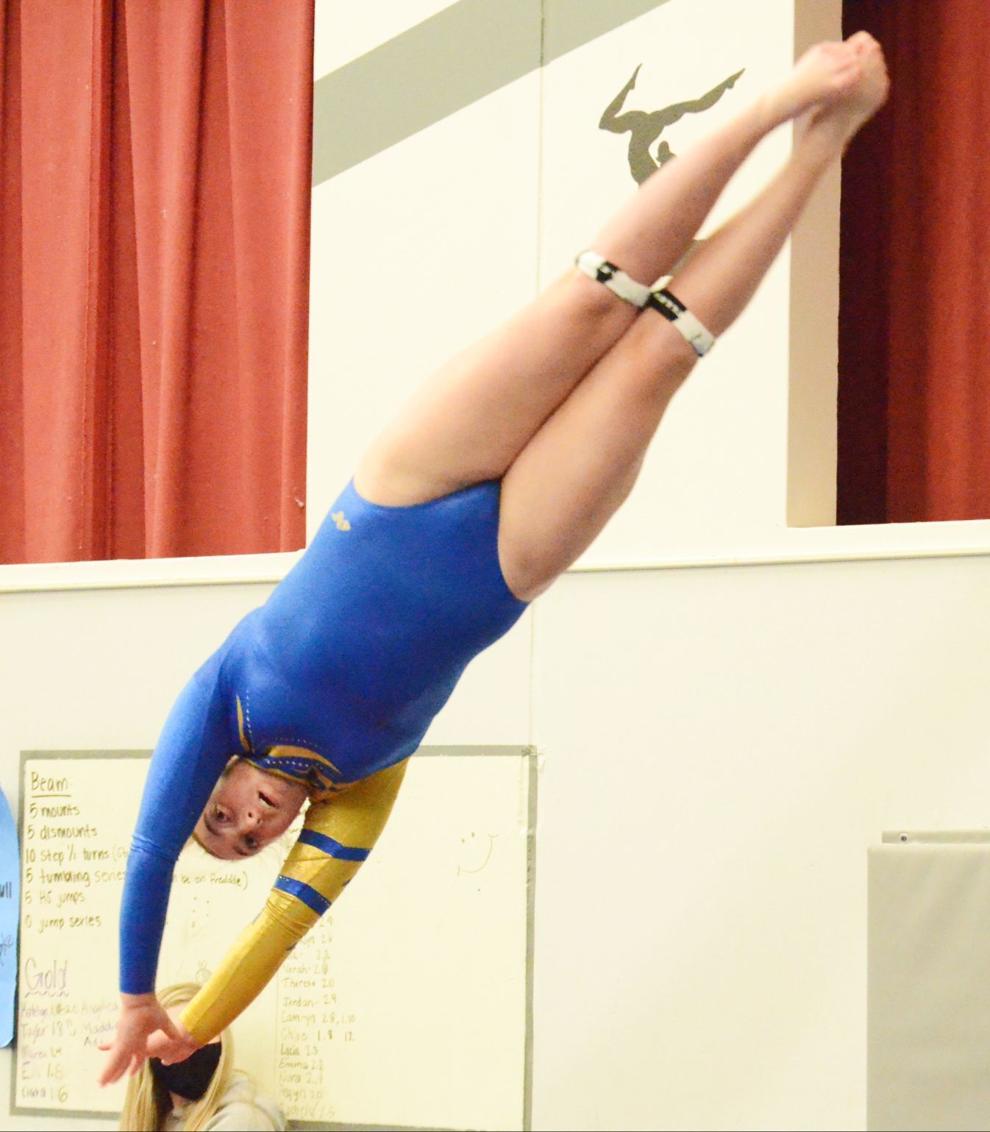 Camryn Lynch (33.625), Jordan Hofmeister (32.050), and Emily Farley (31.525) finished first, second, and third all-around, respectively, with Lynch claiming the top spot on the vault (8.725), bars (8.150), and floor (8.750). Hofmeister (8.500) and Farley (8.375) finished first and second on the beam. Brooklyn Flatau (7th; 23.025) and Sarah Kummerfeldt (9th; 15.250) also finished inside the top 10 all-around. 
The section 6 alpine boys and girls ski races took place across Wednesday and Thursday last week at Buck Hill in Burnsville. The Lake Crystal Valley co-op boys team took second overall with 137 points, missing qualifying for state as a team by one place.
Braden Patterson of Waseca was 22nd (57.18 seconds), Duece Strand (Waseca) was 24th (57.43) and Brody Wirtz placed 49th after disqualifying during his second run.