The Waseca Bluejays boys basketball team is one win away from their first state title in over a hundred years. For coach Seth Anderson, now is not the time to bask in his team's success.
"The rest of the bus ride home I'm going to be really excited. I'll probably be excited at supper time and then you got to go right back to work tonight because we're not going to get these next three nights back ever again and we've got to make sure we make it count."
No. 1 Waseca defeated No. 3 Fergus Falls, 72-58, Wednesday evening at the Target Center in the Class AA state tournament semifinal round to advance to the state championship game. Defensively, the Bluejays shined bright, holding the Otters to 37.1% shooting from the field and forcing them to turn the ball over 14 times.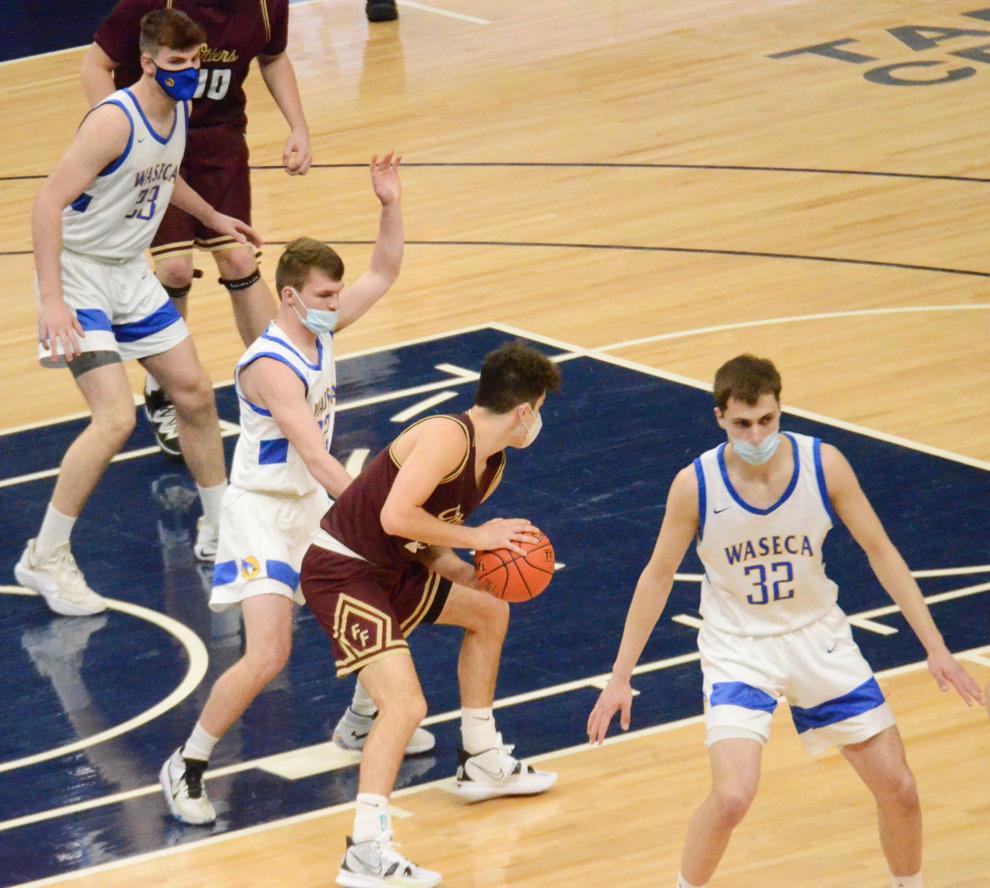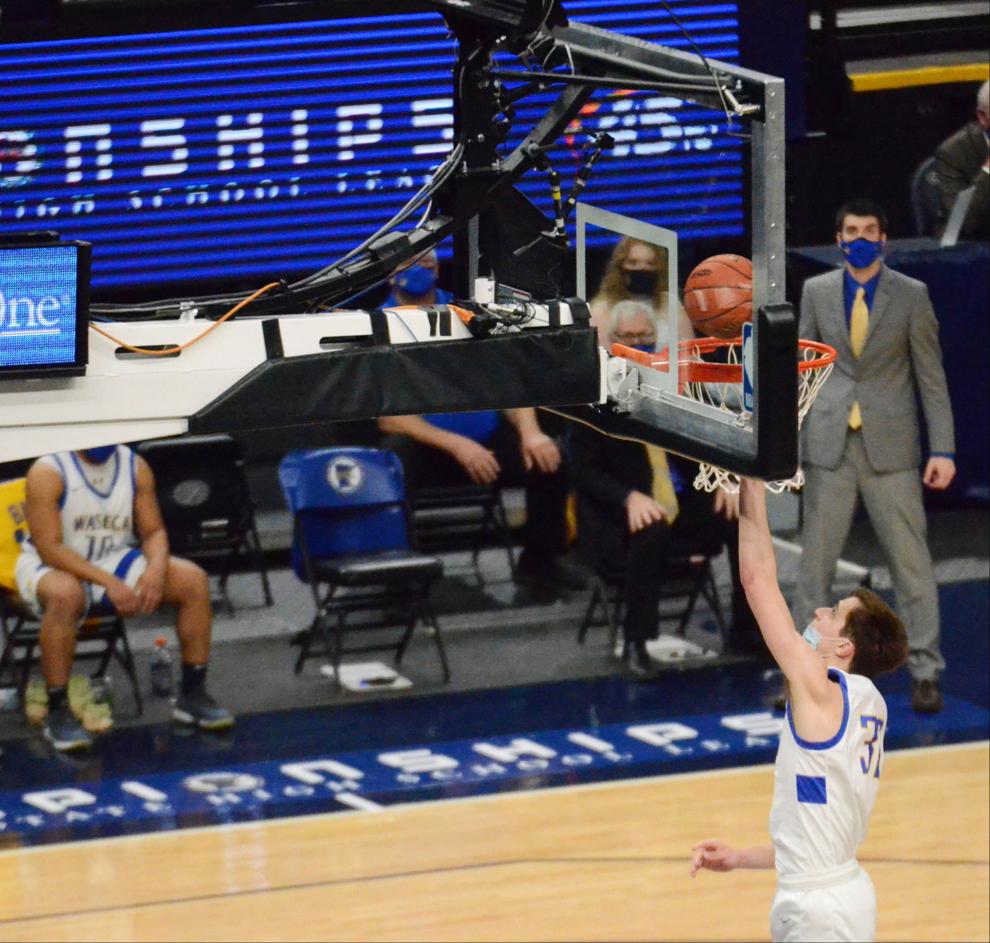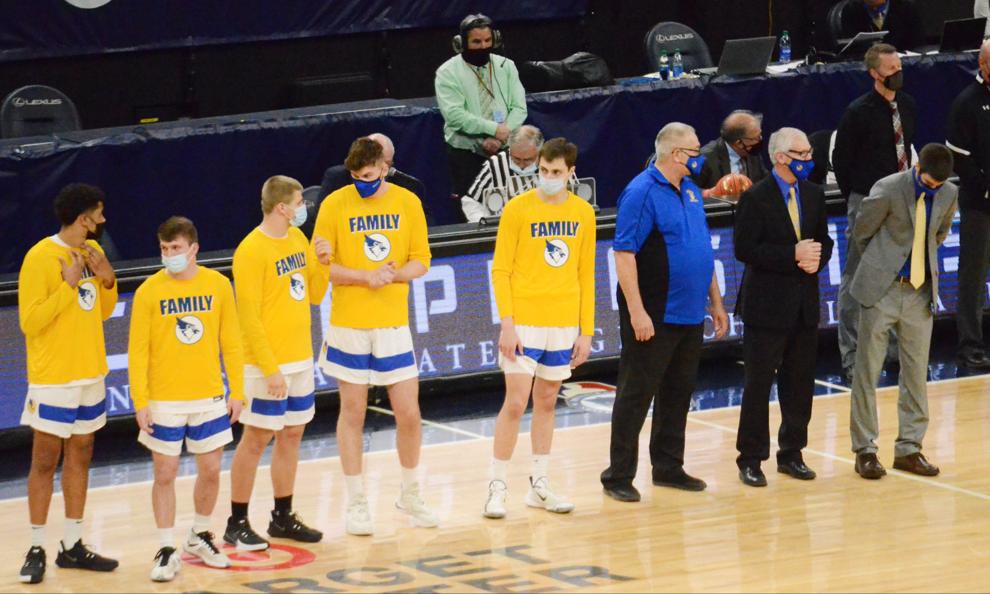 However, it was on the offensive side of the ball where Waseca was most effective. Fergus Falls entered the night having a reputation for possessing one of the most sturdy, physical defenses in all of Class AA boys basketball. The Bluejays were largely unfazed by the Otters' rugged style of play, shooting 52.7% from the field overall and converting eight of their 18 3-point attempts.
Fergus Falls center Chance Fazio — a 7-foot mountain incarnate who finished with 20 points, 15 boards and four blocks — provided some trouble early on the Bluejays around the hoop. His overall size is something that Waseca had not yet experienced this season as even Minnehaha Academy's Chet Holmgren would have been dwarfed if standing next to Fazio. However, as is often the case with the Bluejays, things soon fell into their place.
"Any time you've got a 7-footer protecting the rim, it really makes it tough to get easy baskets. It's so hard to score over a 7-footer, even [for Andrew Morgan]," Anderson said after the game. "That's a challenge for anybody to get a shot off around the hoop. It's kind of an intimidating presence. It's one of those things where you just try to get good shots. They are a really well-coached, disciplined, defensive team and for the most part tonight we got good shots against them."
While Minnesota Mr. Basketball finalist Andrew Morgan led Waseca with 24 points and 11 rebounds, it was perhaps the 3-point shooting from Kyreese Willingham that tilted the game in the Bluejays' favor. Willingham shot 4-for-9 from beyond the arc while providing his typical brand of lockdown perimeter defense to propel Waseca to the win.
"It feels good," Willingham said of his hot night shooting during the bus ride back to Waseca. "I've been struggling a little bit shooting-wise, so going out today and shooting the ball well really helped us out."
Point guard Ryan Dufault also had a solid game, finishing with 13 points, seven assists and two steals. Dufault was matched up against opposing point guard Dominic Aguilar — a University of Mary commit who finished with 14 points on the night — throughout much of the game and helped Waseca hold him to 6-for-23 shooting from the field. Dufault doesn't take matchups with players of Aguilar's caliber lightly.
"I just go out there and I just want to beat them every time. I want to be the better player," Dufault said. "I don't look at anyone in the game and say, 'Oh, this guy's better than me.' I go out there and say I'm the better player, I don't care who's out there guarding me or who I'm guarding."
The state title game is a familiar spot for the Bluejays, who found themselves there two seasons ago. The 2019 iteration of the Bluejays ultimately fell to a very good DeLaSalle team featuring current Dallas Mavericks guard Tyrell Terry, 63-56, when they were then members of Class AAA. This year, a 23-1 Caledonia team stands in their way.
"Caledonia might have the best program in small-school sports in the state of Minnesota. They just have athletes everywhere. [They have] smart basketball players everywhere," Anderson said. "I think a lot of people saw that today watching them on Channel 45 before our game. How disciplined [and] smart that they play. They're just a bunch of tough kids that just make heady plays over and over and over again. It's going to be a great battle for the title."
The Bluejay players are well aware of just how good of a team Caledonia is and will not head into Saturday expecting that simply showing up will be enough to win. The mostly senior group will use practice Thursday and Friday as the final tune-ups to prepare for one last state title push.
"They're a good team. They're one of the toughest, most well-coached teams we'll see this year," Dufault said of Caledonia. "They're a bunch of tough guys, bunch of football players, so we've just got to keep working and if we do that we should come out on top."
The state championship game between Waseca and Caledonia will take place this Saturday afternoon at 3 p.m. within the confines of the Target Center.