Ask Waseca tennis coach Kyle Collins what makes senior Charlie Huttemier such a special tennis player and he can't help himself from waxing poetic.
"Charlie, he's a true No. 1 singles player and really a complete player," Collins said over the phone earlier this week following the Bluejays' 5-2 win over visiting Albert Lea. "[H]e has a strong serve and good ground strokes and volleys. The mental game, he's certainly added that this season...He's really improved in all aspects of his game, a complete player and [he's] certainly a great asset on our team."
Huttemier — who is in the midst of his sixth varsity season and has amassed a record of 14-1 during his senior campaign — is as close to a total package as you'll find in Class A competition. His boasts a distinctive combination of agility, power and finesse, which allows him to beat his opponents in a variety of ways. (These skills also allowed him to rake in the 15th-most goals in all of Minnesota during the most recent boys hockey season.)
Hit it to the corner? He can get there with ease. Hit it with some gusto? Good luck getting it past him. Sitting back on your heels? Congratulations, he just blew a serve right by you.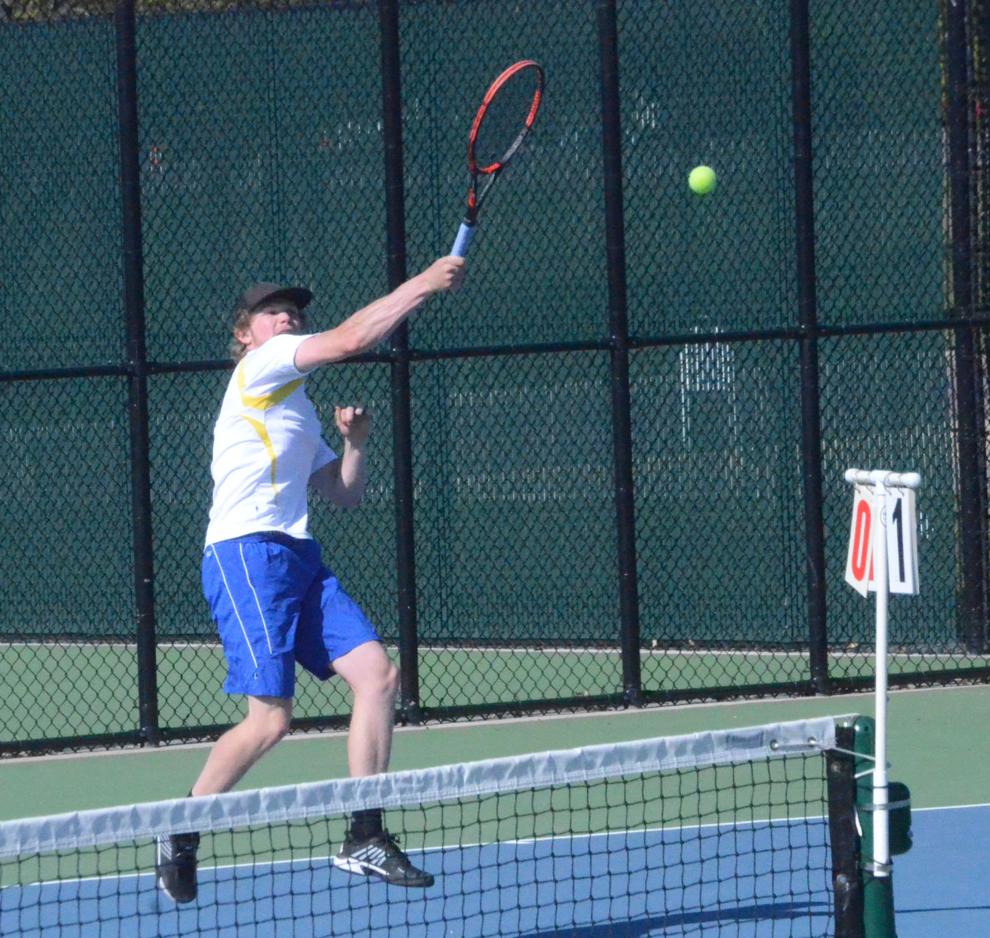 Huttemier's skills and mental fortitude have not only driven his success, but also have had him ranked among the cream of the crop in the two most recent Minnesota Tennis Coaches Association polls — he's topped out at No. 5 — making him a legitimate threat to compete for a state title in the eyes of opposing coaches.
However, for as electric as his game is, his overall demeanor acts as a grounding force, both metaphorically and literally.
"He's a quiet guy. He's more of an on-court leader. He's not a big rah-rah [guy], [teammate] Benny Diedrich kind of takes that role," Collins said with a hearty chuckle.
You'd never know how his match is going simply by observing Huttemier's body language. Scoring a point or getting scored on elicits the same kind of reaction: a couple bounces of the ball and a quick return to action.
It's this even-keeled attitude in addition to his "on-the-court coach" approach to the game that makes Huttemier so valuable to the team as a whole, according to Collins.
"Charlie's that guy the others look to for his work ethic. He motivates his peers and tries to make them better tennis players also."
Huttemier isn't afraid to dole out advice to his teammates, drawing on his ability to view the game from a coach's perspective, according to Collins, which has also allowed the coaching staff of Collins and Seth Anderson to take a relatively hands-off approach to coaching him. As the son of a former collegiate tennis player and coach and the brother of two siblings who are burgeoning tennis stars in their own right, it would be safe to assume that tennis balls are wound into the fabric of Huttemier's DNA.
However, that doesn't mean he hasn't put in the work.
Huttemier is no stranger to postseason success at the varsity level. However, during his sophomore season now two years ago, he fell in the section semifinals in a match. The loss left a sour taste in Huttemier's mouth, which pushed him to improve, according to Collins.
"I think [the loss] motivated him to do better. It's probably a match that he felt he should have won. He put the extra time in during the offseason."
Huttemier frequently trains in Rochester during the offseason, which has pitted him against some of the top talent the state of Minnesota has to offer, including Lourdes sophomore Marjan Veldic, the No. 2 ranked player in Class A. Veldic and Huttemier will battle head-to-head Thursday afternoon in what very well may be a preview of the 2021 Class A singles state championship match.
However, while making it to state — and ultimately winning a title — are goals of Huttemier, Collins says that, right now, their focus is simply on the next day.
"We're going to take it one match at a time and I'm sure that [winning a state title] is his goal. He's going to face some tough competition," Collins said. "[The matchup with Veldic] should be an interesting battle and Lourdes is in our section, so that's going to be a challenge...We're just going to take that one match at a time approach and not look too far ahead."
Huttemier and the Bluejays have five matches remaining before the postseason gets underway on Monday, May 24.