May is Heritage Preservation Month, and the Heritage Preservation Commission thought it would be fun to explore what Waseca's downtown district looked like 100 years ago. Nationally, the period of the 1920s was an exciting time. The United States had just emerged victorious in the Great War and survived a pandemic of the Spanish Flu. Women had finally earned the right to vote across the country, while at the same time, the conservative Temperance Movement had succeeded at banning the sale of alcohol, so this period was also known as the Prohibition Era.
But what was going on in Waseca? Settlers first arrived in what is now known as Waseca in 1854. The Winona and St. Peter Railroad platted the city in 1867 and Waseca was formally incorporated as a village in 1868 and later incorporated as a city in 1881. By 1870, Waseca was also the county seat. Waseca's downtown quickly became an important center for transportation and commercial business surrounded by rich agricultural lands.
By the 1920s, Waseca was a thriving community of 3,900 residents and an important destination in the county. Most of the businesses located downtown were 2-3 story brick buildings. The downtown streets were mostly unpaved at this time, and what we now know as "State Street" was still called Second Street until 1928. 100 years later, we who live in Waseca are fortunate that many of our downtown businesses have been preserved and we can almost imagine what it must have looked like in a different era.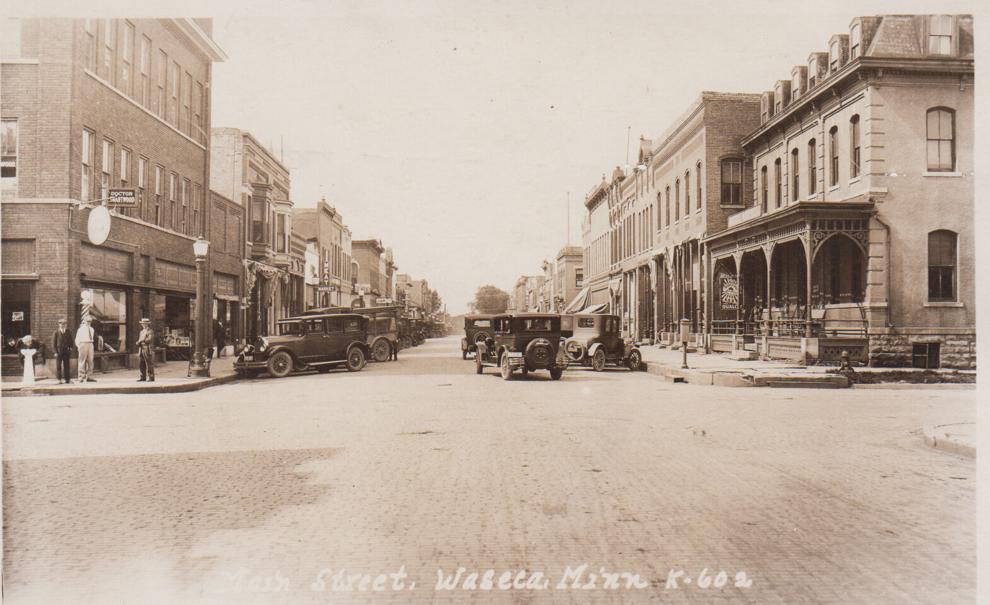 Here is a postcard with a photo of downtown Waseca in 1922 looking north from Elm Avenue. On the right-hand side, you can see 100 North State Street, which today is occupied by The Bar on Main. However, in 1922, this building was occupied by First National Bank as well as office and retail spaces. Its primary occupant was the bank from 1903 until 1971! If you continue going north on State Street, the other buildings in the 1920s were occupied by a clothing store, a jeweler, The Eat Shop Café & Bakery, a grocery store, and a retail store (present-day 4-Seasons Athletics). On the opposite side of the street, you'll see several buildings that are no longer present as much of that block is now occupied by the modern First National Bank. The far end of that block is 123 State Street North, which today is known as The Speckled Hen. In 1922, People's State Bank (yes, another bank!) occupied the front of the building and the post office occupied the back.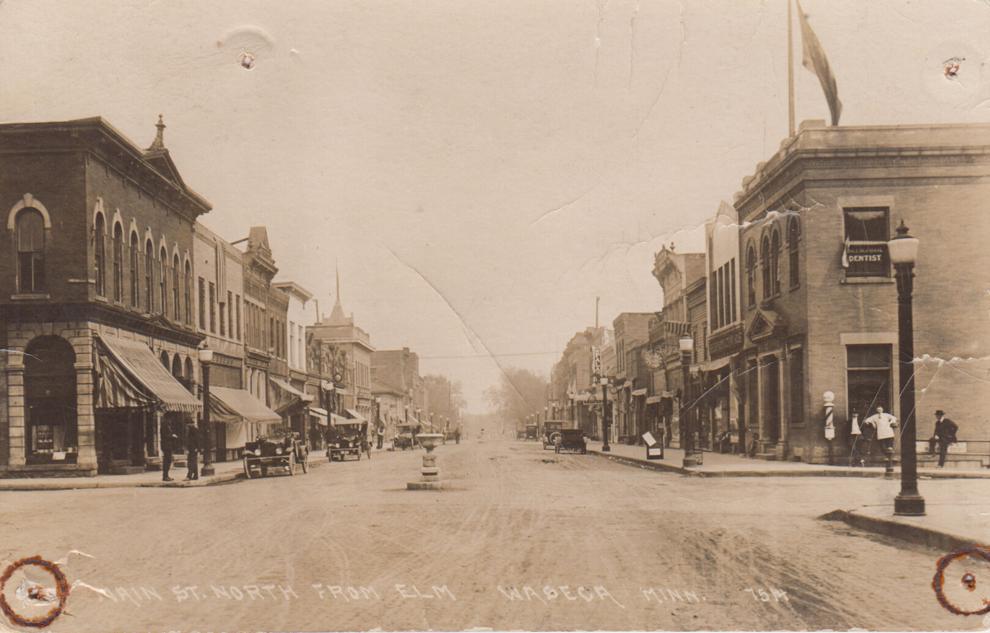 At the southern end of State Street (known at the time as Second Street or Main Street), the Waverly Hotel (117 State Street South) prominently dominated the block throughout the 1920s. Today, the hotel is an apartment building, and it no longer has the wooden covered porch. Other buildings on this block included 111 State Street South, which in 1922 was occupied by Brisbane and Perrin Music Store (as well as a lunch counter) and today is occupied by – you guessed it – the Waseca Music Store. This side of the street was also home to a grocery store, a pool hall, a motor car company, and a hardware store. Across the street at 118 State Street South, what is now a 2-story brick building was originally three stories (the third story was lost after a lightning strike in the 1960s) and was home to Lewer Auto dealership. Other businesses on this side of the street included a grocery store, a pool hall, a meat market (the Zinnia's store of 2022), a hardware store (today is Pheasant Café), Anton Guyer Clothing store (today's Ultra Beach), and Didra and Gilbert Drug Store (today's Personalized Printing).
Waseca during the 1920s, much like Waseca in 2022, was a vibrant community anchored by a busy downtown. Multiple retail businesses including hardware stores, grocery stores, and clothing stores supported a community that was growing population and prosperity. Many of the buildings that we recognize today looked very similar in 1922. Thanks to Waseca's commitment to heritage preservation, our downtown historic district will continue to be preserved for future generations to enjoy.