Waseca students were inducted into the Minnesota chapter of the National Honor Society Monday night in the Waseca Junior Senior High School Performing Arts Center.
The new inductees and members held an in-person and virtual ceremony in front of friends and family. Due to COVID-19 guidelines, everyone wore masks throughout the ceremony and each student was allowed two guests with the rest watching live on the Waseca Public Schools Facebook.
Becoming a member of the National Honor Society recognizes the students for their leadership, service and character.
"Things are definitely different this year and I appreciate all of you for being so flexible and understanding so we can have this live ceremony tonight," WJSHS counselor Paul Marlin said. "This is one of my favorite events during the school year because we get to honor so many of our highest achieving students. These students have distinguished themselves in leadership, service and character. As inductees into the Minnesota Honor Society you are being recognized for your strong hard work, strong character and for being excellent role models. Each one of you are strong assets to the school and the community and I'm incredibly proud of you."
Following Marlin's opening speech, Gabriela Rodriguez gave a speech on leadership and Megan Nelson spoke on service at the ceremony. Dravyn Spies introduced the keynote speaker Tim Anderson, who is a retired school counselor and substitute teaches in Waseca often along with coaching boys varsity basketball with his son Seth Anderson.
Tim Anderson stood proudly at the podium in front of the crowd to speak about the members and soon-to-be members of the National Honor Society. He shared that he was shocked that he was chosen to speak by the students, but he was honored to do so for such an important moment for those students.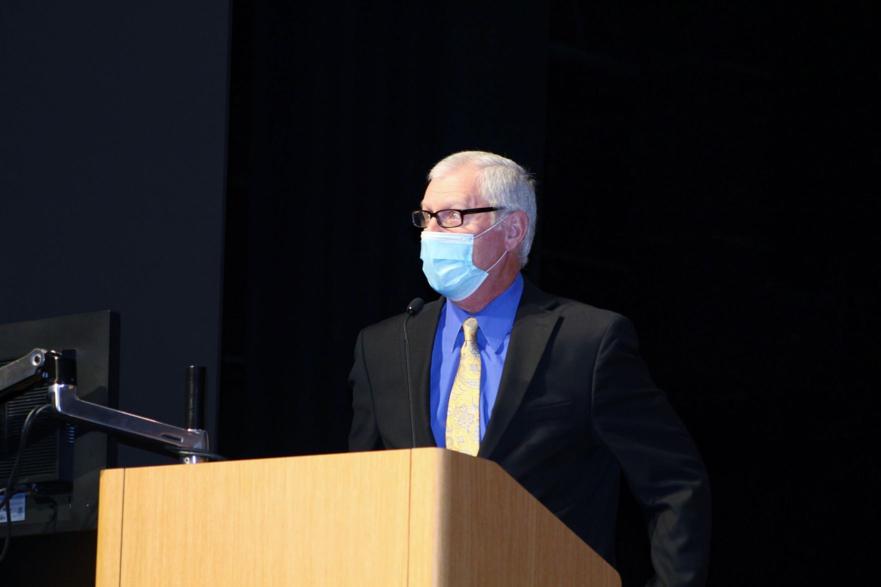 For each letter of the word "Waseca," Anderson had a word associated with it that he also shared a story with. He said the W stands for wisdom, A stands for ask questions, S is for selflessness, E is for energy, C stands for character and the last A is for attitude. Anderson said that all students in Waseca show these attributes in different ways.
Anderson congratulated the new inductees, noting that NHS members are examples of his favorite sayings: "Boy, it's a great day to be young and a Bluejay."
"You're all going to be successful and you know you're so talented and that doesn't put pressure on you, that's a privilege. You guys are going to do outstanding things in this world and I think when you look up there (to the audience), your mom and dads have already done some outstanding things and you know what that is: they had you."
After Anderson finished congratulating the new inductees and the current members on their hard work to become members, the names of the current members as well as last year's inductees were read. Those who were not in attendance at the ceremony had their picture in a slideshow while their name was read off.
A video of the WJSHS choir played for the audience before the current members exited the stage and the new inductees moved onto the stage.
Once the inductees were situated a current member gave a short speech on the "Spirit of the Torch," which was the first candle lit during the ceremony. Another brief speech was given on scholarship by Jaden Hiller and Zander FitzSimmons speaking on service. Marcus Hansen spoke on leadership and Morgan Honstad spoke on character, each student lighting a candle after their speech.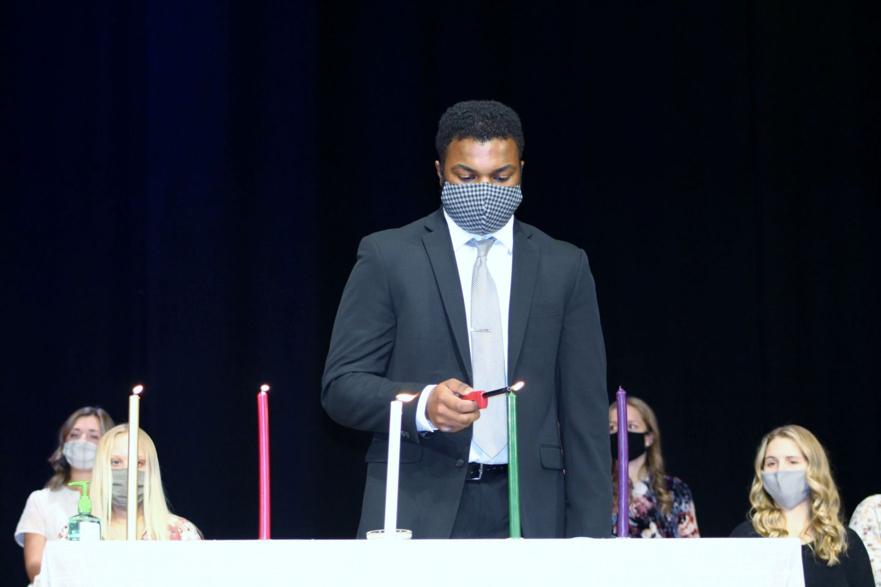 After all of the candles were lit, the new inductees were announced while walking across the stage to get a certificate and a pin.
To close out the ceremony, a member of the Minnesota Honor Society read off the pledge.
2020/2021 National Honor Society Inductees: Alayna Akers, Taylor Anderson, Elijah Ayers, Halle Benson, Hannah Berndt, Theresa Breck, Marco Cruz, Nicola De Jager, Isaac DenOuden, Taylor Flatau, Katrina Fuller, Lillian Halla, Jordan Hofmeister, Charles Huttemier, Elli Jansen, Jacklynn Jevning, Samara Johnson, Hannah Kilmer, Cora McCabe, Troy Mitzel, Madalynn Mumme, Whitnie Norton, Jadyn Olsem, Jewel Paulson, Isaac Potter, Sophia Potter, Eliza Sankovitz, Joseph Schmidt, Aidan Sharp, Brooke Tramp, Lucas Trumbull, Emma Tucker, Ryan Wendland, Emma Wiesler, Madeline Bulfer, Wren Dahle and Jaidence Medina.
Current National Honor Society Members: Rachel Borneke, Malaina Buehler, Isabel DenOuden, Jayda DeRaad, Brittney Draeger, Jonah Drake, Collin Dufault, Matthew Feldkamp, Zander FitzSimmons, Marcus Hansen, Brooke Hayes, Jaden Hiller, Morgan Honstad, Clarissa Mairs, Dani Needham, Megan Nelson, Ella M. Pehrson, Ian Pomeroy, Gabriela Rodriguez, Anna Scheffert, Rachel Scheffert, Matthew Seberson, Isabella Sorenson, Dravyn Spies, Emma Stenzel, Sophia Berry, Emily Farley, Zoe Finn, Sara Kohler, Sarah Kummerfeldt, Sydney Ludwig, Lily Moe, Amelia Roessler, Mollie Skogen, Sadie Staloch and Jesses Thill.