WASECA — Students gathered in the Waseca High School gym to honor military members on Veterans Day.
The assembly program started with the posting of the colors by the American Legion and Auxiliary Color Guard. Once the flags were in place the audience said the Pledge of Allegiance followed by the playing of the National Anthem by the band.
High school Student Council President Gus Boyer was the moderator for the program, keeping it moving smoothly. The main portion of the program was the Honoring Veterans speaker who is a Wasecan and active military who shared his story.
Honoring Veterans speaker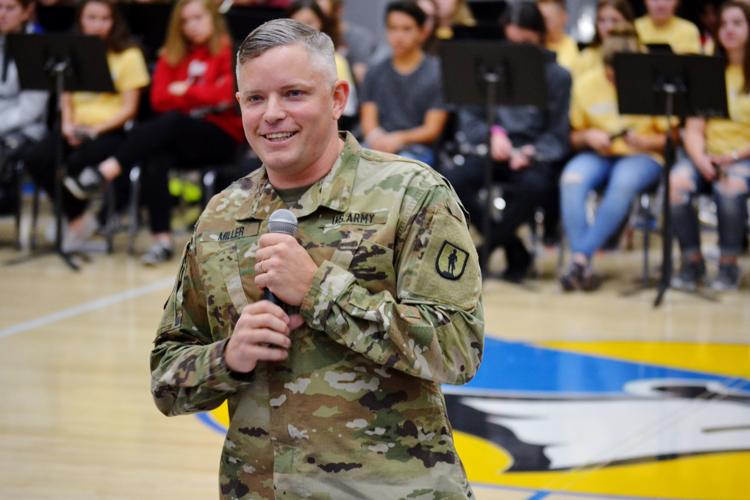 Honoring Veterans Speaker Chief Warrant Officer 3 in the U.S. Army National Guard, Jeremiah Miller shared his military story and a challenge with the audience.
Being a warrant officer means he is a technical expert in a certain field and his is human resources in the Army serving units in the Minnesota U.S. Army National Guard.
Miller, a 1996 Waseca High School graduate, joined the Army in 1994.
"I'm so excited to be here today. I love telling my story," Miller said. "First off just because I wear this uniform doesn't mean anything special. It just means that I served the United States Army, but I am still a human just as well."
Growing up Miller shared he wasn't athletic or involved in band or choir, but he hung around with his buddies. When one of his best friends joined the Army, he decided he would too and did so without any thought but the blessing of his parents.
"I got to basic training my junior year," Miller said. "I quickly realized what I did is the most insane thing I've ever and probably will ever experience. Now I'm quite a bit older and I've seen and experienced quite a bit, but basic training was incredibly challenging and hard, but I got through it."
After graduating his senior year and heading off to specialty school, Miller decided the Army wasn't what he wanted to do. This all changed after the terrorist attacks of September 11, 2001.
He got back in the Army in 2002 and he said it was the best decision of his life.
This is the year he also married his wife Jaala Miller and just before the birth of their first-born his first deployment was announced to Iraq. Leaving Jaala home with two young girls and a newborn.
"I go to Camp Shelby in Mississippi and do the longest training of my life, six months, we train in Mississippi and then we got on this big scary plane and we flew to Iraq," Miller said. "It was incredible an incredible experience."
When Miller was about 40 days from going home his deployment was extended.
His first deployment lasted 22 months.
For his second deployment he had about a year's warning to plan. He flew out to Camp Atterbury in Indiana and then over to Afghanistan for a year.
Returning home from the second deployment was when he decided he wanted to do more with his career. After being challenged a million different ways by the military he wanted to become a warrant officer. In order to do so he had to apply and be selected, which he was. This took place at Fort Rucker in Alabama.
"It was like being a 37-year-old in basic training all over again," Miller said. "So I got yelled at, had to do push-ups, had to do physical activities, things I had not prepared for, but again I got through it."
After finishing warrant schooling Miller was deployed to his most recent location of Kuwait.
"The reason I just told all of you that really long story is because my whole life I never believed in myself," Miller said. "I always found that there were challenges that I couldn't do. I wasn't good at sports, I wasn't good at band, I just hung out with my buddies, but through the military I gained a ton of confidence and a lot of things that I never thought I could do. I just got back from some of the hardest training I've done in my life again last friday and I psyched myself out. I put all these negative thoughts in my head. I lived off about a half a bottle of ibuprofen in 3 weeks. It was amazing but you know what I did it? I got through it. So the reason that I told you all that stuff is that if you're up there ( in the bleachers) right now self-doubting or thinking that you're not good enough to do anything, you are, anything you put your mind to, you can get through it just look at me."
After his pep talk Miller shared that in honor of Veterans Day, he and his daughter Maurela Miller stayed up all night at the Waseca County Courthouse to raise awareness of the 23 military members that suicide a day.
Each hour they placed a pair of boots out to recognize those who lost their lives to suicide.
"The overwatch went really well," Maurela Miller said. "It became a long 23 hours but we did it with purpose, our purpose being to remember those in the military that we had lost from suicide but also to educate those around us about veteran suicide and make our resources known. Our purpose is to be another person for the person struggling around us. Suicide seems to be such a hushed topic, which it should not be because it is ever so real. With this event I hope that people, military or not, begin to feel more comfortable talking about suicide and those who are hurting are finding people/resources they can reach out too. We want to be a safe place for anyone."
After sharing his story Miller addressed a stigma and challenged the students.
He spoke of the stigma that in order to be considered a veteran a person has to serve 180 days not for training in any branch. He shared that many National Guard members or Reservists never saw that many days and so they don't consider themselves veterans.
This is why Miller challenged the audience to approach people asking if they are prior service instead of a veteran. He went on to say this would maybe allow the person to share more about their experiences and what they went through.
" I challenge you to go and ask women too," Miller said.
The program was also a time to recognize staff and family members of staff who are veterans before the "Veterans Salute" was performed. The salute has the song of each branch in it allowing all audience members to stand when the branch song of a family member, friend or themselves played they could stand to be recognized.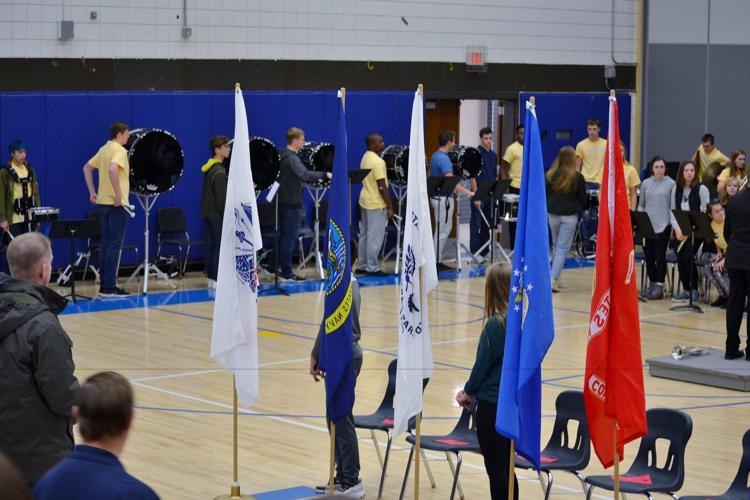 The WHS select choir and concert choirs sang "Stand With the Brave" written by Mark Patterson with choir director Deb Wantoch-Yess on piano and Band director Devon Lawrence accompanying with a trumpet solo.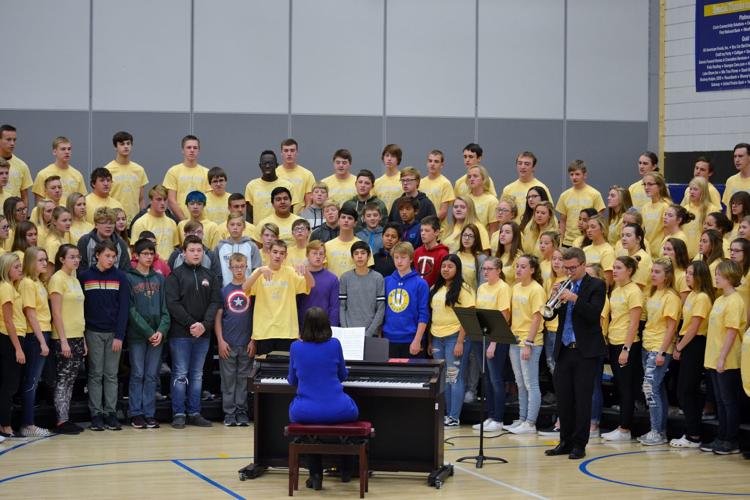 To conclude the program taps were played by band members Boyer and Emily Farley before the exiting of the colors.