The Waseca High School held a virtual scholarships and awards banquet for seniors due to COVID-19.
Over $150,000 in scholarships were awarded this year to the seniors of the Waseca Junior Senior High School.
This banquet is to recognize the 62 honor students in the class of 2020 as well as award scholarships to any senior who applied and was selected.
Waseca Junior Senior High School Counselor Christine Meeks started off the banquet with a few words.
"I want to take a minute to say how extremely sorry I am that I can't look out at our honor students and their parents tonight," Meeks said in the video. "This night is one of my favorites of the year. I love being able to see the look of joy and pride in the faces of the crowd and I wish that we could all be here and that would be the case tonight. However, as all of you have had to do in this we must rise to the occasion in a non-traditional way."
Every year seniors receive these scholarships through a process that the councilors at the WJSHS help coordinate with the outside scholarship source.
The applications are housed at the school and are turned in at the councilors' office when they are filled out. From the councilors' office they are sent to the respected outside providers to look over outside of school. The scholarship providers look over each application to see which student best fits the criteria and alert the councilors of who will be receiving the scholarship at the banquet.
"Most of all I'd like to welcome you, the class of 2020 and your parents, family members, your friends, the members of the Waseca community and all of those of you who are tuning in to honor our students this evening," WJSHS Principal Jeanne Swanson said in the video. "And most of all the scholarship donors who have made this event possible. The Lions Club for their continued support of the honors banquet and the honors recognition this evening. We are very thankful for those people who remember our students and we are here to honor them this evening.
"There are 112 graduates and of those 112 graduates 62 of you are honor students. We'd like to thank you for your leadership and for your persistence and as Christine Meeks said we wish more than ever that you could be sitting in these seats here in the Performing Arts Center at the Waseca Junior Senior High School so we could see those faces and to honor you right here at school. We miss you everyday. We'd like to congratulate all of you for your academic achievements. Each honor student has achieved a 3.0 or above."
Each honor student was recognized prior to scholarships being announced along with Swanson announcing the top 10 students in the graduating class. She started with valedictorian Blake Wendland and continued to name the other nine students: Jacob Butterfield, Jay Lewer, Hannah Karau, Stella Ewert, Justin Azure, Hannah Potter, Madison Berndt, Summer Vagts and Taylor Pfeifer.
As Swanson recognized all honor students she told them they could stand in their living rooms as they would have at the banquet and when all names had been listed she asked families at home to give a round of applause to the students.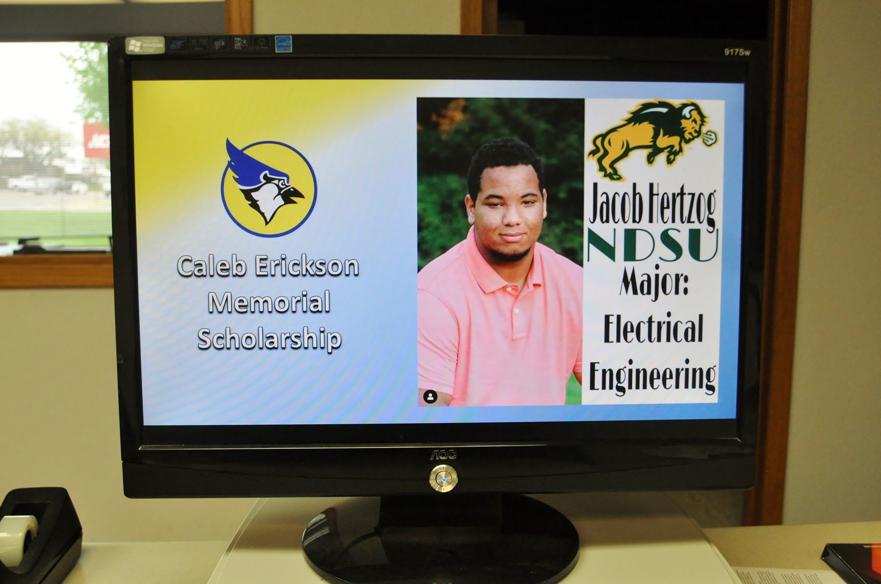 Once all honor students were recognized various staff read off the scholarship recipients.
2020 scholarship recipients:
Abigail Claire Wendland Spirit Scholarship: Hannah Potter — $1,000
All-School Reunion Scholarship: Augusta Boyer — $625
Al Roemhildt Scholarship: Taylor Pfeifer, Jacob Hertzog, Rachel Breck and Eliza Harguth — $500 each
American Legion Auxiliary #228 Scholarship: Jayde Pederson — $500
Andy Burnett Memorial Hockey Scholarship: Ben Priebe and Jayde Pederson — $1,000 each
Arlen Larson Memorial Scholarship: Yamiah Brooks — $500
Barbara J. Sankovitz Music Scholarship: Madison Berndt and Nicole Logsdon — $1,000 each
Caleb Erickson Memorial Scholarship: Jacob Hertzog — $1,000
Century 21-First Choice Realty Scholarship: Anne Christian — $500
Christ the King Lutheran — Violet Jacobson Memorial Scholarship: Porter Schauer — $500
Cinch Connectivity Solutions: Payton Gehloff, Blake Wendland and Jacob Hertzog — $1,000 each
Club Sweat (Itron) Scholarship: Rachel Breck, Jacob Butterfield, Jay Lewer, Nicole Logsdon, Marcus Priebe and Blake Wendland — $500 each
Coach Statz Scholarship: Justin Azure — $1,000
Don and Mary Winegar Memorial Scholarship: Summer Vagts — $1,000
E.F. Johnson Foundation of Minnesota Community Foundation Scholarship: Blake Wendland, Hannah Karau, Jay Lewer — $5,000 each, Rachel Breck, Victoria Podratz, Augusta Boyer, Isaiah Perrizo and Jack Rolling — $1,000 each
Ernest and Gertrude Gerdts Academic Scholarship: Blake Wendland — $325
Everett R. and Ruth M. Johnson Memorial Scholarship: Madison Berndt — $475
Garret R. Johnson Memorial Scholarship: Tanner Brinkman — $500
Greg and Donnette Wheelock Agriculture Scholarship: Grady Bice and Jordane Kouba — $750 each
Holland Norton Memorial Scholarship: Breanna Conway — $350
Hope Chapter #34 Order of the Eastern Star Scholarship: Jay Lewer and Ava Storjohann — $1,000 each
Ingeborg Rugroden Scholarship: Courtney Davison — $425
Innovance Manufacturing Scholarship: Seyd Straube — $5,000
James Ballard Memorial Scholarship: John Patrick Swanson — $975
James B. Corchran Memorial Scholarship: Rachel Breck — $1,125
John D. Bendix Memorial Scholarship: Sam O'Brien and Breanna Conway — $500 each
John R. and Thelma C. Jondal Memorial Scholarship: Brian Allen — $250
Katie Zika Athletic Scholarship: Rachel Breck and Hannah Potter — $800 each
Marilyn Lau Memorial Scholarship: Emilie Adamek and Mya Sutton — $300 each
Mavis Wheelock Memorial Health Care Scholarship: Stella Ewert — $1,000
Michael Filzen Memorial Scholarship: Courtney Androli — $500
Monday Study Club Scholarship: Stella Ewert — $1,000
Roger and Rosalie Grems Scholarship: Emily Lynch — $750
Rosenau Medical Scholarship: Courtney Androli, Jacob Butterfield, Hannah Karau, Taylor Pfeifer and Hannah Potter — $1,000 each
Rosenau Student With Potential Scholarship: Liam Aberle, Yamiah Brooks, Shakira Brown, Payton Gehloff and Jordane Kouba — $1,000 each
Round Bank Junior Board: Emilie Adamek — $1,000
Schroeder Family Nursing Scholarship: Courtney Androli, Haley Holtz, Skaira Brown and Shelby Larson — $2,000 each
Steele-Waseca Cooperative Electric Scholarship: Anne Christian — $500
Stoltenberg-Rotary Scholarship: Jacob Butterfield — $4,000
Todd Mann Memorial Scholarship: Breanna Conway and Justin Azure — $250 each
Tuscan Lodge 77 Masonic temple Scholarship: Ava Storjohann and Autumn Strand — $1,000 each
Waseca American Legion Post #228 Scholarship: Jacob Hertzog and Tanner Brinkman — $500 each
Waseca Arts Council, Inc.: Stephanie Ross — $500
Waseca County Sheriff's Posse Scholarship: Karin McMurphy — $250
Waseca Education Association Scholarship: Emilie Adamek and Madison Berndt — $1,000 each
Waseca Exchange Club "Youth of the Year" Scholarship: Blake Wendland and Hannah Potter — $750 each
Waseca High School Class of 1960 Community Scholarship: Jacob Butterfield — $1,500
Waseca Hockey Association Scholarship: Marcus Priebe, Ben Priebe, Haley Holtz and Nolan Wetzel (WEM student) — $750 each
Waseca Knights of Columbus Scholarship: Eliza Harguth — $1,500, Grady Bice, Jacob Butterfield and Taylor Pfeifer — $1,000 each
Waseca Lions Club Scholarship: Hannah Potter, Nicole Logsdon and Anne Christian — $600 each
Waseca Marching Classic Scholarship: Madison Berndt — $1,000
Waseca Sleigh and Cutter Scholarship: Summer Vagts and Jacob Butterfield — $1,000 each
Waseca Sons of the American Legion Scholarship: Taylor Pfeifer and Marcus Priebe — $500 each
Waseca VFW Post #1642 Scholarship: Jacob Butterfield and Taylor Pfeifer — $500 each