John Hanson was teaching U.S. history when a knock came on his door. It was an autumn day toward the beginning of the 2001-02 school year at Waseca High School. A colleague of Hanson's who had been watching television before coming into work told him that he needed to turn on the television immediately — something terrible had happened, she told him.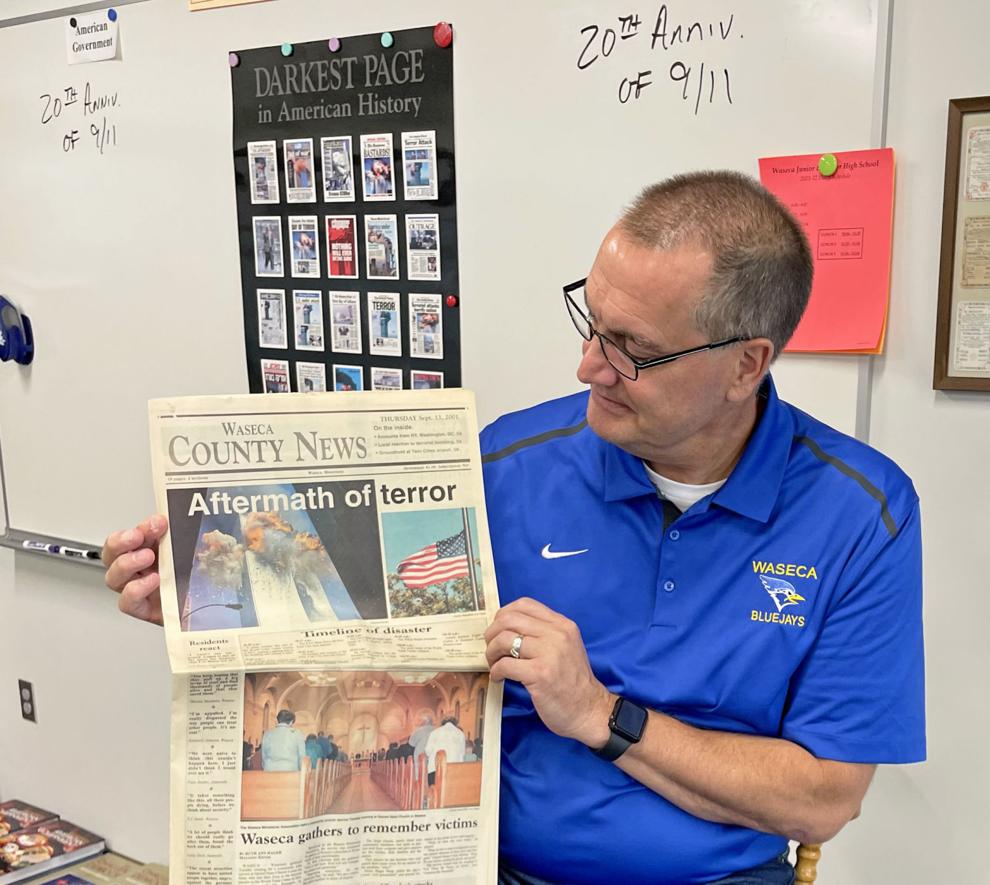 Hanson wheeled in a television to the front of the classroom. He and his students watched. They learned that a plane had just flown into one of the Twin Towers in the Financial District of Lower Manhattan. Minutes later, they watched a second plane crash into the other tower. Later that morning, both towers collapsed.
A history teacher in his 11th year teaching history and government at Waseca High School, Hanson and his students spent the day watching American history.
A teacher's role when tragedy strikes
In addition to teaching government, political science and U.S. history to seniors and sophomores, Hanson is the department chair of social studies, a position he said "is no great honor, it's just I've been here longer than anybody else." This fall is his 31st year at Waseca High School and his 36th in education overall. Asked if he'd ever thought about doing something other than teaching for work, he laughed and said "No."
In certain respects, Hanson is the prototypical high school history teacher. He considers it his job to ask students questions, rather than offering his own opinion — unless the question is whether he prefers dogs or cats (dogs) or which is his favorite football team (Packers).
"I think it is teaching malpractice for me to abuse my position and influence them to my opinions," Hanson said. "My No. 1 objective is that they have no clue where I stand on issues."
The best compliment he's ever gotten from a student — and it's happened to him numerous times, he said — is when a student once asked him on the last day of school, "When are you gonna tell us what you are?"
"My job is to best help you understand what's happening and to help you be motivated to better understand," Hanson said. "An informed, effective citizen that's a smart consumer of information — that's what I'd love our kids to be."
Of course, watching a historic terrorist attack in real time, many teachers could have lost control in front of their students. While Hanson said it's hard for him to express how terrible and tragic he felt the event was — and still feels it was — he was laser-focused at the time on helping his students process the information that was coming in. That means trying his best not to let his own base emotions cloud his understanding of the event, so as to model thoughtfulness for his students.
Plus, Hanson said, he tends to try to turn tragic events into opportunities to help students understand and connect more to the content he teaches.
"That hat never goes off," he said.
Ultimately, Waseca High School's response to the events of Sept. 11, 2001, Hanson said, became about trying to care for students. That meant gauging if any student in the school had lost a close relative or loved one in the attacks (Hanson is fairly sure no Waseca High School student did), as well as helping them respond in a healthy, productive manner.
In addition to reigning in hopelessness and fear, this also meant encouraging students not to jump to quick conclusions until all the information had been gathered, especially regarding whom to blame for the attacks, to direct rage and retaliation.
These days, Hanson said, it's hard to convey to students who were not alive at the time of the attacks how terrifying the event was for many Americans.
"It's a historical event for them. It wasn't for me," Hanson said. "I get the emotion of it … when that tower goes down, you have to think how many lives were just lost."
A community rallying together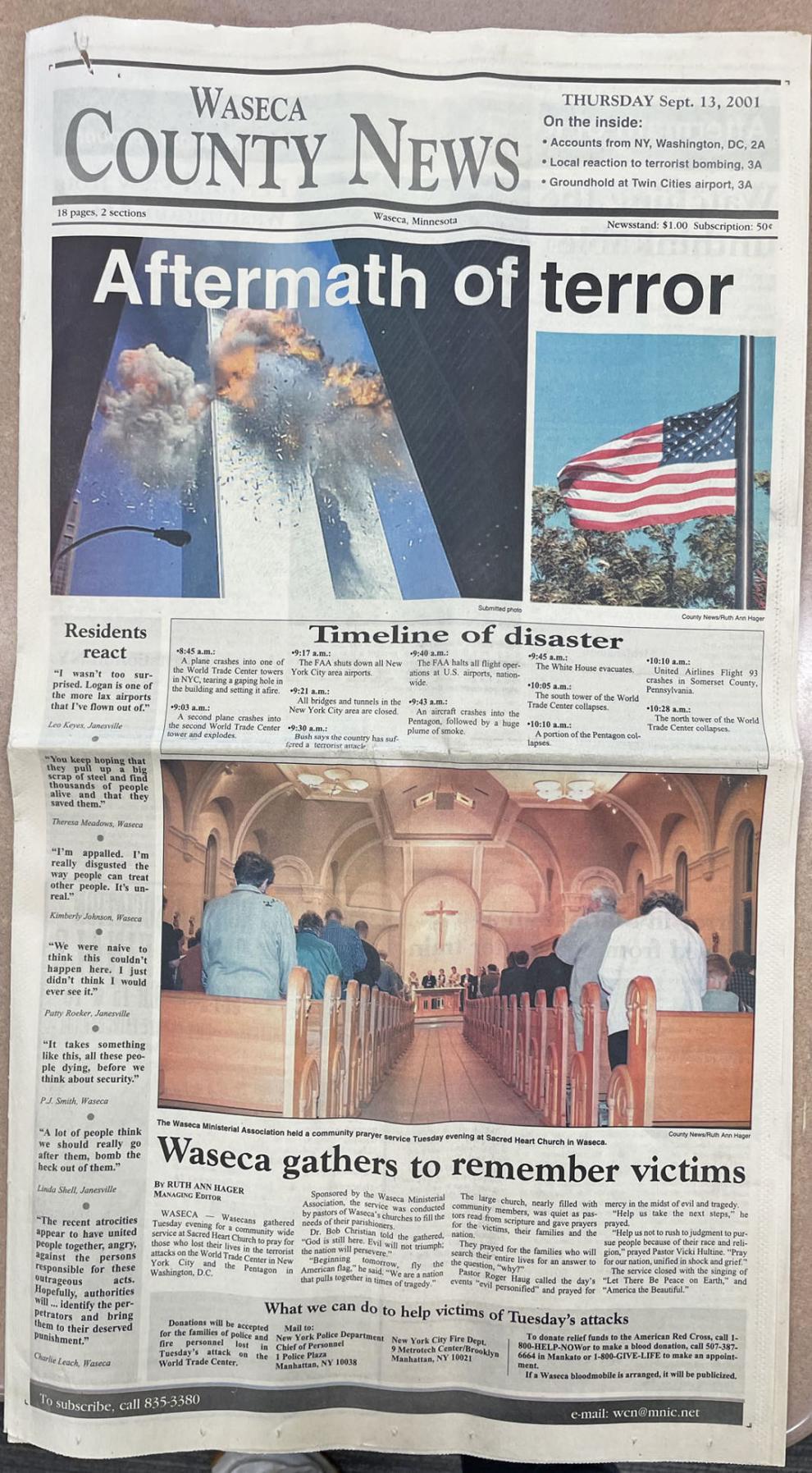 If there's one thing Hanson didn't learn in the days and weeks after the attacks on 9/11, he said, it's how members of the Waseca community would support each other in the wake of a tragedy.
"I grew up here," he said. "What I learned is what I already knew."
How Waseca responded, Hanson said, was with a great deal of empathy toward one another, though often paired with frustration, wondering how this could have happened in their own country.
According to the Sept. 13, 2001 edition of the Waseca County News, some members of the community reacted with revulsion. Kimberly Johnson, of Waseca, said, "I'm appalled. I'm really disgusted the way people can treat other people." Linda Shell, of Janesville, also observed the urge for retaliation within her community, having said at the time, "A lot of people think we should really go after them, bomb the heck out of them."
Others expressed hope for the impossible, as in Theresa Meadows, of Waseca: "You keep hoping that they pull up a big scrap of steel and find thousands of people alive and that they saved them."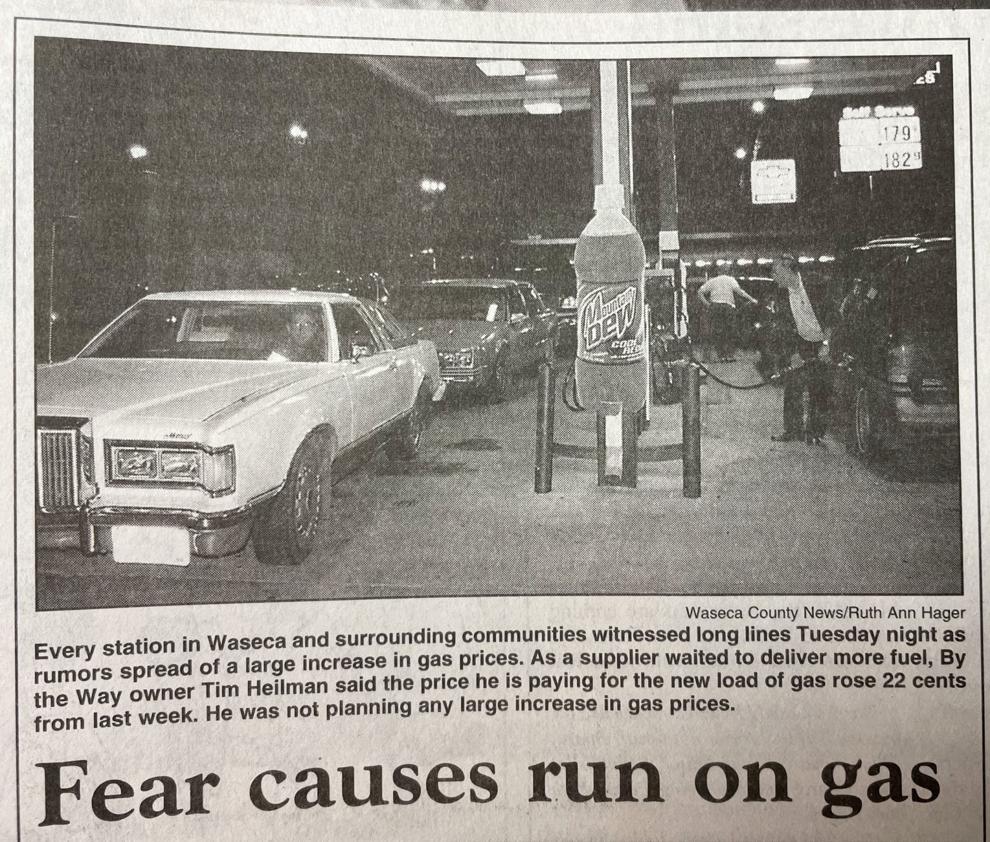 When the victims of tragedy are random, innocent civilians, Hanson said, people can't help but relate to them. In his view, he said, that's why Waseca was able to care for each other during that confusing time, as well as why the nation was able to rally together behind what Hanson said was a "young, controversial president … after a very, very contentious election."
America was able to put aside its differences, he said, and put a higher priority on caring for one another in the midst of tragedy. Despite how politically polarized the country has become, he believes that basic character of the country has not changed.
One of the first things Hanson asks his class on the week of 9/11, when he's teaching it, is if a terrorist attack like what occurred on 9/11 could happen again. Every single one of them, he said, says, "sure."
"That's the hard part," he said. "You can't stop everything.
"My purpose in addressing it every year with my seniors is that this is incredibly important," Hanson continued. 'It had a huge impact on who we are as Americans, and even the dynamics of the world. And no matter what anniversary it is, it's important that we quote-on-quote 'never forget.'"