WASECA — The first conference of its kind in Minnesota held in Waseca.
The Connecting Entrepreneurial Communities Conference was held at the Starfire Event Center in Waseca, Sept. 5 and 6.
University of Minnesota Extension was the host and organizer of the conference that took about a year to plan.
"It's about connecting entrepreneurial communities with one another and helping strengthen those regional members," Rani Bhattacharyya, Community Economics Extension Educator, Northwest Minnesota, Crookston said.
This was the first Connecting Entrepreneurial Communities Conference ever held in Minnesota. The conference was designed to help communities create environments and pathways that support entrepreneurs across Minnesota.
There were three goals outlined in the program.
The first is to increase people's understanding of entrepreneurial resources that are available in Southeast Minnesota and across the state. The second is to provide people the opportunity to connect with service providers and other communities who are part of the Minnesota ecosystem. The third goal is to inspire people to bring back new ideas and resources to support entrepreneurs in their towns.
There were keynote speakers and breakout sessions for the attendees. The breakout sessions were held at different businesses along State Street in downtown Waseca. Not only were people able to attend the breakouts but they were able to experience some of what Waseca has to offer for small businesses.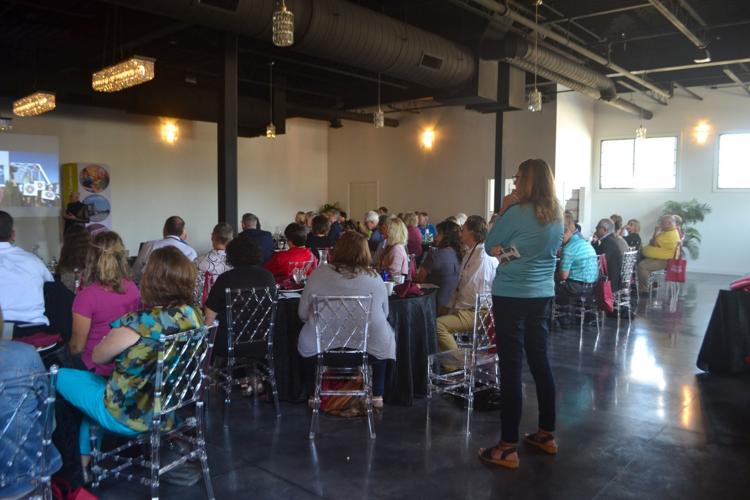 "We have had great feedback from participants. Not only did they find the content of the conference engaging and interesting they fell in love with Waseca," Waseca Chamber of Commerce Director Ann Fitch said. "Our whole community showed really well. People in the Economic Development world came from all over Minnesota and even a few from other states. They coveted our locally owned retail and restaurants and thought that our downtown was something special."
One of the breakout sessions over the two-day conference was Connecting an Entrepreneurial Ecosystem. This was one of the many sessions held at the Waseca County Annex. This session was to show the attendees how networks have a positive impact on entrepreneurial development. Meg Steuer, Manager for Forge North, shared the vision behind the effort and the strategies and tactics used to connect and build Minnesota's entrepreneurial networks.
"Work with entrepreneurs can be a lonely thing and when we get together we get energy," Yvonne Cariveau, Director of Minnesota State University, Mankato College of Business Center for Innovation and Entrepreneurship said. "I met several people I want to follow up and get to know them better."
One of the activities during the conference was 30 ideas in 30 minutes. Bhattacharyya said that one comment that came up during this session was having to remove the barriers in order to allow people to become entrepreneurs and the way to do that is to have a network of practitioners who share similar challenges and help find solutions.
"The conference was fabulous," attendee Noelle Hagen, Small Business and Marketing Manager with Albert Lea Economic Development said. "There was lots of good information that can be applied to our community, I enjoyed the information."
Discovering and planning the conference
Bhattacharyya was invited to see this conference model in Nebraska almost two years ago. She went to see this model because she wanted to bring something related to entrepreneurship in her service region in southwest Minnesota.
After seeing the model Bhattacharyya contacted her team to start moving forward, while also reaching out to a series of entrepreneurship service providers throughout the state for their opinions on the conference and if it would be beneficial. The same group of people were asked to be a part of the committee of planners, which was about eight or nine people in the end.
Those on the committee consisted of educators, government employees, federal agencies, non-profits and many other different organizations to form a diverse group.
"They're basically entrepreneurship providers, who have a lot of experience with entrepreneurs throughout the region and they saw a value in having this conference…" Bhattacharyya said. "That's why they value this conference to be able to bring speakers together that they (residents) can learn from and bring different resources too, so they can learn about not only what's available in the region but in the state. Then to be able to network with these resources to talk about some of the issues that they are facing."
Once the committee was assembled applications were opened for host cities to apply.
The committee reviewed about 11 candidates across the state using a rubric. The applicants were evaluated based on the services that are provided and the level of entrepreneurial activity in that community. Once the applicant was selected by the committee a local team in Waseca was contacted and they choose to accept the nomination so the planning began.
"Bringing this event to Waseca was key in showing that Waseca can accommodate a mid-sized conference," Fitch said. "This was an opportunity that has been left on the table, in the past, because we just weren't sure how it could be executed. Now we know it can be done and done well. It was terrific to have our hotels filled, see people enjoying Waseca, and spending in our businesses. This was such a win for Waseca."
The host city is responsible for raising part of the funding, such as local sponsors, and the state level through Extension helps find regional or state sponsors to combine to fund the conference.
"Extension served as the fiduciary agent for the conference and we tried to source with local vendors for the different services that we provide throughout the conference," Bhattacharyya said. "We spend the majority of the time planning with the local team."
In the future the conference could move to any of the other regions in Minnesota. Applications for the next Connecting Entrepreneurial Communities Conference will open in November.
Bhattacharyya commented that she heard a lot of comments that made her feel the conference was a success. She heard comments that people valued the networking and being able to connect with the resources that they haven't been able to before.
"I think it's been exciting for the team and we've been having nothing but positive responses from participants as well as people who were involved in the planning," Bhattacharyya said. "They felt the communications were prompt and logistics were really well organized and it makes me happy that they are happy and it makes me happy that the participants are happy too."