A little girl's dream come true.
Pippi Lane Boutique is just that for Waseca native Kristin Fox.
Three years ago, she started her journey online selling Lularoe clothing, switching to Amelia James clothing one year later. Neither of these were completely her, so she started to slowly incorporate a few of her own brands she found before fully switching to her choice brands.
"Ever since I was a little girl, I wanted to have my own boutique, and I was always kind of fashion designing when I was little, so it's always kind of been my dream," Fox said.
Pippi Lane is a family affair with the help of her husband and her children.The name and logo of the boutique comes from the names of her three daughters: Piper, Laney and Sailor.
Once Fox was fully selling her choice of brands online, she started her boutique in the basement of her house. She had a strong following from Lularoe and Amelia James that followed her when she started selling online separately.
Fox started out selling on Facebook. People would come weekly for pick ups or she would deliver a few items if she was in town. Eventually, she opened up her Pippi Lane basement boutique for people to come to a couple hours a week, but it was not a big enough space.
This was when she decided to open up a storefront in town. She applied for a Southern Minnesota Initiative Foundation loan, and she was given $10,000 for renovating the original space and to cover some start up costs for inventory.
She had this SMIF loan paid off in under a year and the capability to purchase the new building, 405 W Elm Ave, with her own money.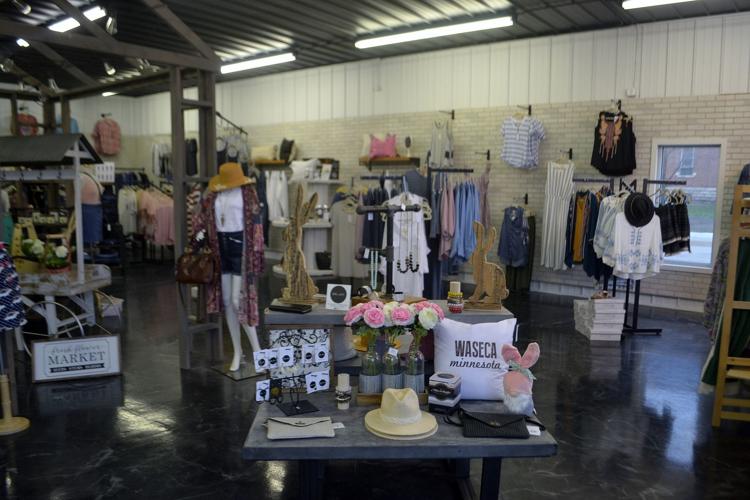 Fox said that they were overwhelmed during her first grand opening and that it was unbelievable, but her one-year business anniversary, combined with the grand opening of her new building, far surpassed the original opening.
The timing of the new location was due to outgrowing the first storefront quicker than expected and her one-year lease ending April 1.
Before moving to the new space, Fox renovated the inside so it was finished when she moved in. The final renovation work to be done is painting the outside black and white when the weather permits.
She commented it was a "super easy move" since her team only had to move the products across the street.
Pippi Lane Boutique carries clothing and accessories for women, sizes extra small through 3-extra large, plus children size zero to 14. Some new items to the store are the men's clothing line, home decor, dishware and her own 507 Candle Co. She has spent time working with a candle manufacturer where she is able to pick the scents and candle sizes she wants to carry with all of them having the 507 company label on them.
Another unique product she carries at her boutique is the Hammer and Stain signs with sayings on them, that are only available in her store.
The new space allowed for Fox to expand what inventory she carried in her boutique and provided a warehouse for the online merchandise. There are no full-time employees besides herself but there are four that help out when she needs it.
Not only does she sell items on Facebook, but there is a link on the Pippi Lane Facebook under 'shop now' that leads to the official website. The website is currently under construction, but will be up soon. In the past, all items on the website have been the same as in store, but in the future there will be some overlap with a few exclusive items online only.
When her daughters were born. Fox wanted to have dresses for them that no other little girl had, so she started shopping at a local boutique. This notion is something that she has really strived for at Pippi Lane recently.
"I don't want to carry the same thing as the person down the street, and sometimes I might only get six things of that item, so when it's gone, it's gone," Fox said. "It's kind of an urgency thing, because if you want it, you need to come get it, because it's going to be gone."
While she was starting and running Pippi Lane, Fox was a massage therapist for Mayo Hospice in Mankato. It was another passion for her, but ultimately the success of the new business determined her current path.
"I loved that job, it was my other dream job." Fox said. "Those were the two things I always wanted to do and I had them both, but at some point, something had to give. I needed more time to be able to be with my family and ended that in November. I did them both for a long time, but it just got to the point where I couldn't do it all and this (Pippi Lane) was busier than I expected it to be, so this had to take priority."