Waseca Superintendent Tom Lee is leaving more than a job with retirement.
Lee has been with the Waseca Public School District for the past seven years as the superintendent and in the Waseca community.
He is an integral part of the Waseca community both through his involvement in the schools and community endeavors.
"I will miss all the people and the relationships — not just the folks in the schools but those with whom I have rubbed elbows in the community," Lee said. "Waseca really is a special place."
He has always made a presence in the community and around the schools. Lee would attend community events often and he would get to as many school events as he could. He would attend sporting events, band and choir events and numerous other Bluejay activities. He was present and participated in graduations as well in the district.
In 2016 he was also named by the Waseca Area Chamber of Commerce boss of the year.
The people of Waseca and the school district always came first for his job as superintendent.
"Waseca Schools are strong," Lee said. "We have a great staff. We have modernized all operations and are positioned well for the future. As a community, I have never experienced the support of a community as exists here in Waseca! I am confident that this community will always support its kids! While predictions for the future are difficult, it is pretty easy to see that the next few years will most likely be difficult ones. Waseca Schools is as prepared for what is coming next as any district in the state."
In his time with the Waseca Public Schools he has been a part of many initiatives and projects to bring the school district up-to-date and to keep students and staff safe.
Lee was a part of getting the referendum passed that allowed for improvements to the buildings with the most significant change at the Junior Senior High School. The Performing Arts Center was added to the building, windows were added to make the space feel larger and the overall building changes brought a better flow for student movement.
Another accomplishment Lee is proud of his modernizing the district. He has brought a device and wifi access to everyone in the district.
"No accomplishments were 'mine'," Lee said. "It takes a team of people to realize the improvements we have seen. . . We also have come a long way in our curriculum review cycle, a new Student Information System (SIS), a Learning Management System (LMS), staff training and so much more. Of course there have also been areas in which I wish we could have done more, but generally I am proud of our accomplishments."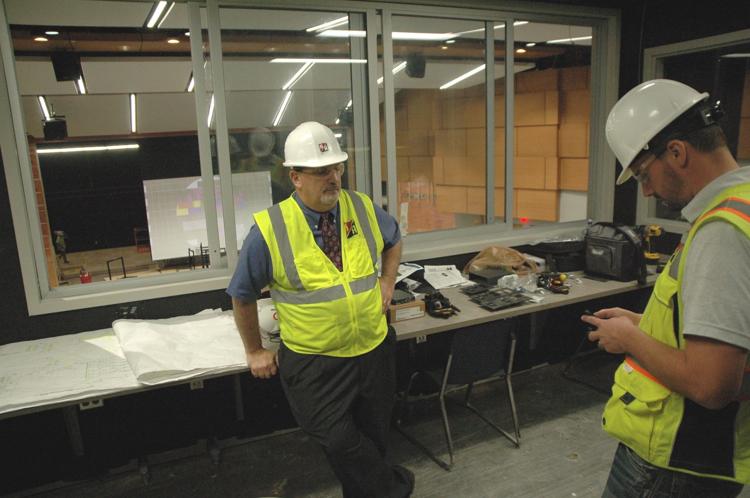 Lee is also actively involved in numerous boards and committees in Waseca.
He is still a part of the school board where he gives updates and relays school information to the board members. He is able to communicate the needs of the students and staff to better the district.
In Waseca he is a part of or has been part of; the Chamber of Commerce, Waseca Area Foundation, Mayo Community Health Advisory, Waseca Tourism, Prison Community Advisory, Vision 2030, Rotary, Best of Waseca, Professional Development Schools Governance Board — MSU, Mankato and Minnesota Association of School Administrators Region 2 Executive Board.
"Mr. Lee has been the face and the voice of Waseca Public Schools for the last seven years," School Board Chair Julie Anderson said. "These seven years have certainly brought a number of challenges, but Tom has tackled them all and has continued to move the district forward...
"As a member of the school board, Mr. Lee has been great to work with. He has encouraged all board members to be trained and to be engaged in the work of our school district. Behind the scenes, Tom is working with the board on multiple committees as well as preparing board members for our regular meetings. One of my favorite things about Tom is that he continually reminds the board about the goals in our strategic plan. His superintendent report is organized along the main parts of the strategic plan and I think this keeps the board focused on the work we are doing both in the short and long term. Tom is always available to talk through an issue with board members and he's brought a perfect mix of humor, hard work and professionalism to his role as our superintendent. He will certainly be missed."
When his time with the school board and the district comes to an end in July he has plans to go on a road trip to Virginia to visit his new grandson with his wife.
"I love to hunt and fish but more importantly, I love my family. . .," Lee said. "I look forward to spending more time with family, hunting and fishing."
Before his time in the district is over and he is able to travel and spend time with family Lee will finish out as much as he can along with setting up the new superintendent Eric Hudspith.
One of the biggest challenges of Lee's career is how to adapt learning and teaching due to COVID-19. This has been a challenge for all of the staff, teachers as well.
"COVID-19 has been a challenge like no other in my lifetime or career," Lee said. "Everybody has risen to the challenge to date, but I am concerned that this challenge will be impacting all of us for several years to come. Distance learning has been a success for some and a disaster for others. The majority is somewhere in the middle of these two extremes. I am hopeful that we will have students reporting in some form in the fall. Education as we have always known it though, is most likely a thing of the past. We will need to re-conceptualize what education looks like in the future. Yes, we will eventually get through Covid-19, but there will be other challenges."
COVID-19 has kept students at home distance learning since March 30 and they will finish out the year at home. The district was able to come up with a plan while improving it as the days go.
Lee has seen many accomplishments and attacked many challenges in his extensive career.
Prior to coming to Waseca as superintendent he was the principal in Bloomington, Minnesota. He was also an assistant principal in Minneapolis for two years, a teacher of students with vision disabilities for 13 years and a substitute teacher for a year while working on his masters degree.
He attended Michigan State University for his bachelors and masters degree before attending the University of St. Thomas for his education specialist degree.
His experiences and education all lead him to Waseca Public Schools where he found a community and school district that he connected with and stayed with through retirement.
"The greatest honor of my career was serving as the Superintendent of Waseca Public Schools," Lee said.