A need that has gone unmet for several years in Waseca is now being served.
House of Hope, Inc. is an outpatient program serving those who need substance use disorder treatment, which recently moved to Waseca in March. Waseca marks the fourth House of Hope location with Mankato being the main administration center.
"The transition) has been phenomenal. People in Waseca has been very receptive to us being here," President/CEO of House of Hope Inc. Dean Gilbertson said.
Gilbertson noted that the House of Hope has already made several connections in its newest community.
"We've developed relationships with MN Prairie (Minnesota Prairie County Alliance) here and we've developed relationships with some of the other people in the community, Bethlehem Inn," he said. "We became a member of the Chamber not that long ago, so eventually we would want to have a business after hours up here so we can have other businesses see what we do. There has been some collaboration with the Police Department and the Mayo Health Clinic. They are aware of us just trying to develop some of those relationships."
Since becoming a member of the Waseca Area Chamber of Commerce, the House of Hope received the Progress Award for developing its new location in the city.
"I was surprised to get it," Gilbertson said. "I was surprised at the amount of people who showed up … So it was good … they're very appreciative that we're in town. Getting that award was a complete surprise … and it just reinforced members of the community's support for us as a whole."
Gilbertson saw a need for an outpatient program in Waseca for a couple different reasons.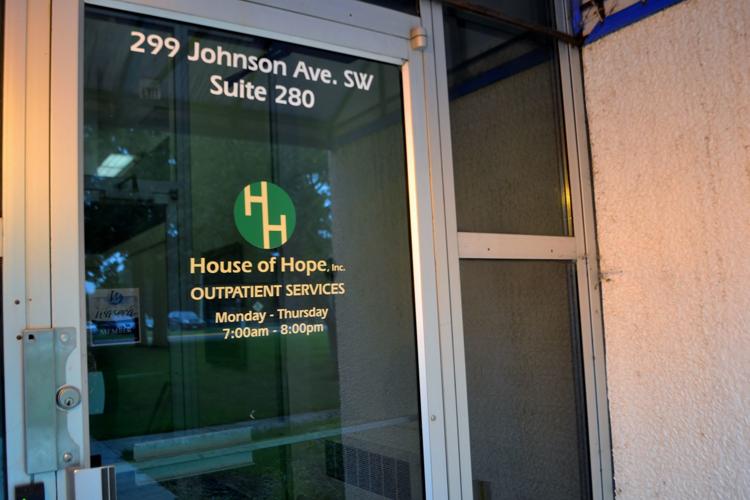 "The reason we were motivated to come here at this particular site is that (Steele-Waseca Drug Court) had asked for a request for proposals looking at having an agency coming here providing outpatient services for their drug court clients," Gilbertson said. "And the bigger part was there were people in need in the Waseca community who were in need of outpatient services for substance use disorders and there was a transportation issue to go from here to Mankato … so they wouldn't end up getting the services that they needed so that was the big push for us to be here so that people have easy access to treatment."
Another reason he wanted to add a location in Waseca was because he saw a transportation problem that affects rural areas and those who have to travel to programs.
"It was for me, knowing the broader picture of access to treatment," Gilbertson said. "How much more difficult it is in rural areas than it is in urban areas and working in Mankato and the time that I've been here, and realizing that most of them are about transportation, so I've always seen that as a struggle.
He added. "I thought 'Is there a way to reduce that and as an agency do that?' That's when the request for proposal came up through drug court, and I thought this was the perfect opportunity to serve rural people."
There are four full-time employees, two full-time drug and alcohol counselors, one full-time peer recovery support specialist and a billing person. In the future, Gilbertson spoke of adding a part-time receptionist.
Drug Court Coordinator Nicole Grams was the person who wrote the request for proposal to House of Hope. She said that there was another program here in town at one point, but after that closed down, it left Waseca without one for a couple years.
"We were excited that they came to town and will be meeting the needs of the community and the drug court programs," Grams said. "They came with additional services, (including) a peer recovery specialist helping remove barriers and working hand in hand with drug court clients and getting connection to the recovery community."
House of Hope has two main programs that clients are able to join. One is a community program and the other is the drug court program.
The community program is a 10-week program that includes three group sessions and one individual session per week. The drug court program is significantly longer with four phases that totals to 214 hours in the program.
"The success in drug court is certainly the length of time people are involved in treatment because we know that the longer the person is engaged in services the better chances they have a lengthy recovery," Gilbertson said.
Along with the two main programs, there are additional services that clients can participate in.
There is an after care group that clients can be part of for up to a year after finishing treatment services. House of Hope also offers free GED services after a client completes the program. There is a psychiatrist for medication management, equine therapy, aromatherapy, Yoga and many other specialty options for clients.
"It's all about meeting them where they're at," Gilbertson said.
If there is a need, a gambling assessor can also be brought in to help those individuals, and in Waseca, House of Hope provides substance use disorder assessments.
"We also have a scholarship program," Gilbertson said. "If someone comes here and they are unable to fund treatment or the state is unable to fund the rest of their treatment or a portion of it, clients can apply for the scholarship."
Build Project is yet another service that clients are able to access at House of Hope if they are in need of monetary help to get around a barrier to treatment. Barriers could be first months rent and a deposit, a payment on electric or even as simple as clothes for a job interview. This fund is to help clients get through treatment.
Grams mentioned a few things that made House of Hope appealing.
"The three highlights are that it will strengthen peer support, reduce obstacles with lack of transportation, and they are going to be receiving individual evidence-based treatment," Grams said.
One important part of evidence-based treatment is working through why a person had a relapse instead of kicking the person out of the program immediately.
"The other thing we do is we're an abstinence based program, but should somebody have a relapse with a substance, we don't automatically discharge people," Gilbertson said. "We look at what transpired or what was the thought process what lead up to that, and we'll work with you. But if someone were to have a pattern of relapse, we would look at higher care at that point. In a way, it's a form of harm reduction so we can find out what went wrong."
Glbertson spoke on the goals of the Waseca-based programs.
"That was really the wish and the goal for drug court and the probation office in Waseca County was keeping the support and developing support within the community," Gilbertson said. "… If there was a sober meeting here or a sober activity that I can go to here, then it starts to just manifest itself within the community."
There are sober alumni activities that the House of Hope puts on in the community to help build a support community. An alumni dance took place a couple weeks ago, for instance.
In order to pay for these events, House of Hope received a private grant that helps offset costs. More time and more money is invested in the alumni program in Waseca compared to other sites to get it going.
"I could say that's something different here than Mankato or the other sites, is building a support system in the community …," Gilbertson said.