"It's often said at City Hall that it's all about the kids," Mayor Roy Srp said at the former westernmost ball field at Memorial Park, between Kiesler's Campground and Barney's Drive-In. "This is all about the dogs."
Waseca celebrated the partial opening of its first-ever dog park on Friday, with pups of all sizes playing and running as they may not have ever done before in the city. The event was the culmination of at least three years of sustained effort on the part of the Waseca Park Advisory Board and Dog Park Subcommittee. It also took place only four months after the City Council's unanimous vote July 6 to approve funding for the ball field's conversion into a dog park.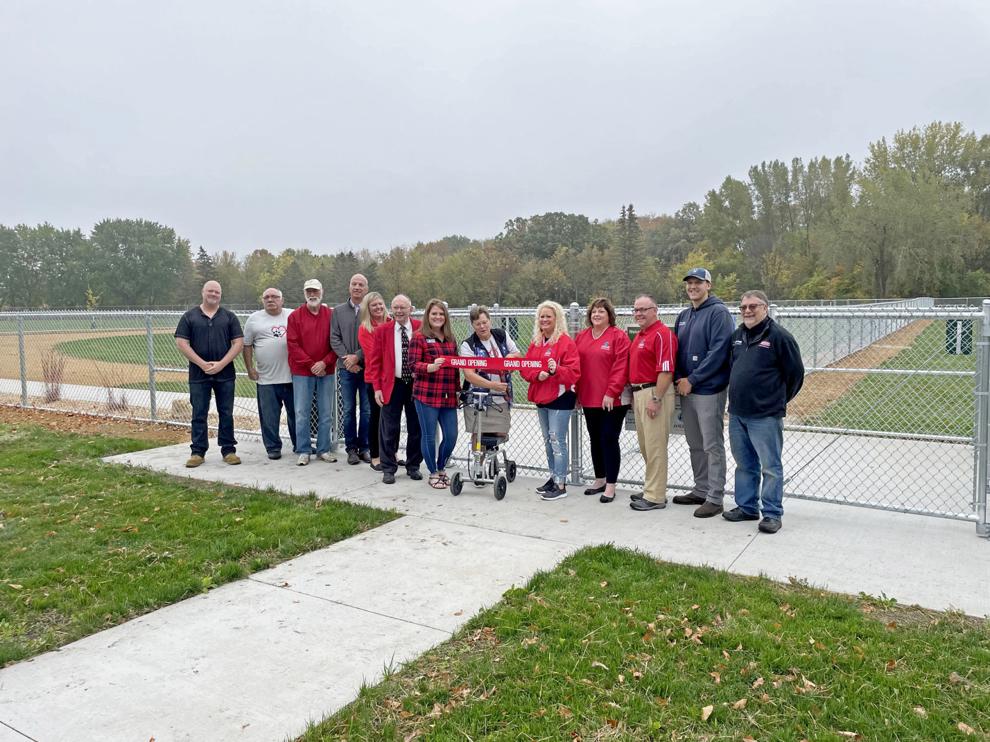 "It feels so awesome. Wow. Wow," said Jeanne Sexton, a Park Advisory Board member who spearheaded the effort to deliver Waseca a dog park. She struggled to find the words that morning to express her gratitude and joy that the effort succeeded so definitively. "We are very blessed."
Having joined the board in 2017, Sexton knew that the desire for a dog park in Waseca stretched on for years before her involvement.
"When I came on the board I said, 'I know it can't happen tomorrow — how do I start the process of this?'" Sexton said.
That process involved researching various parks that a dog park might be able to occupy, including Oak, Clear Lake, Northwest, and Sportsman parks. Every location fell through for reasons related to size, restrictions by the Minnesota Department of Natural Resources and more.
Park Superintendent Brad Dushaw emphasized the board's determination before the ribbon cutting ceremony.
"The neat thing is they kept on track," Dushaw said. "They were determined to make the dog park a reality. We definitely had some setbacks, but they kept pushing to make this what it is today."
Since turf establishment is still taking place on the west side of the dog park, the east half is the only area open for now. When the ground freezes, Dushaw said, the city may look to open the west side as well, though the separation between both halves of the dog park will remain. The Park Advisory Board plans to open the whole dog park by spring 2022.
As City Manager Lee Mattson explained, this separation makes room for dog owners should their dog want that.
"If you have a dog that you know is aggressive, you don't want it around other dogs, but you still may want to play fetch with it," Mattson said.
Beyond serving the demand of Waseca residents, Waseca Area Chamber of Commerce Executive Director Ann Fitch added that repurposing a dog park, rather than establishing a new one, is economically preferable for the city.
"That park is already not having its taxes be paid out because it's owned by the city," Fitch explained. "But if they were to take some other land that was meant for commercial development, then that would be taking potential revenue land off the books. So it's a net zero as far as property taxes go."
Residents of Waseca and neighboring towns were also thrilled, showing up with their furry friends and furry friend accessories, ready to play.
"I like having one here because I used to go to Owatonna or Mankato," said Stephanie Geyer of Waterville. "I'm like, 'God, I wish Waseca would get one because it's only 15 minutes from my house."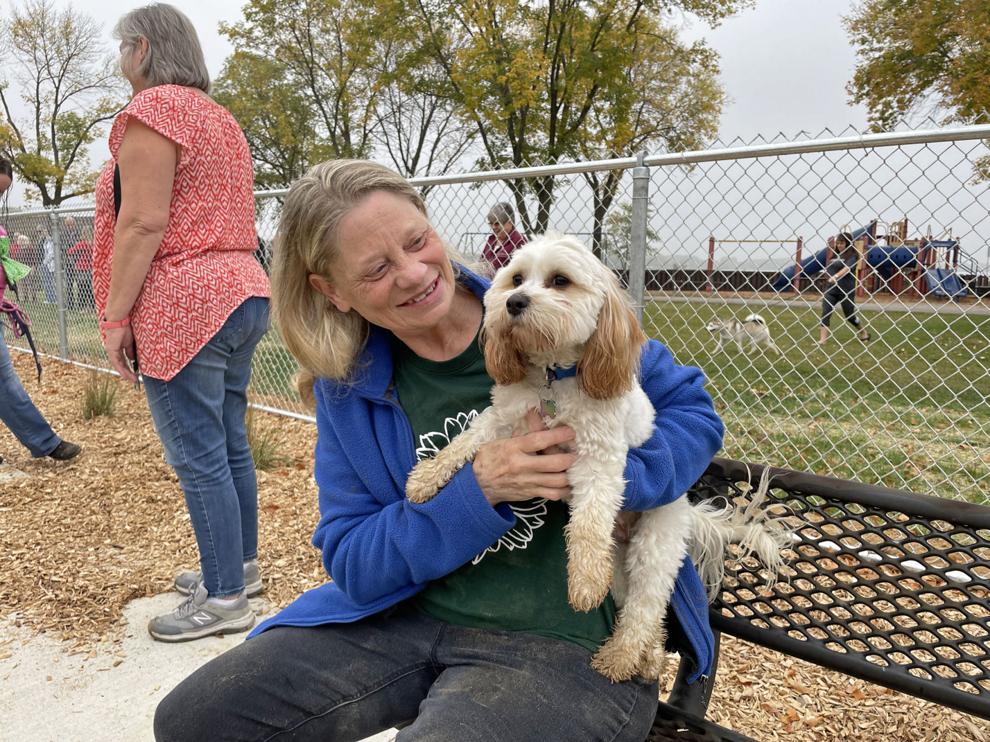 Robert Harris III of Albert Lea, who was on the Dog Park Subcommittee and served as director of programs for the Waseca-based nonprofit Lead for Minnesota, was also delighted that the Park Advisory Board's years of efforts finally paid off.
"I got involved only like a year ago … so it's nice to kind of sneak in at the end when it gets done," he said, laughing.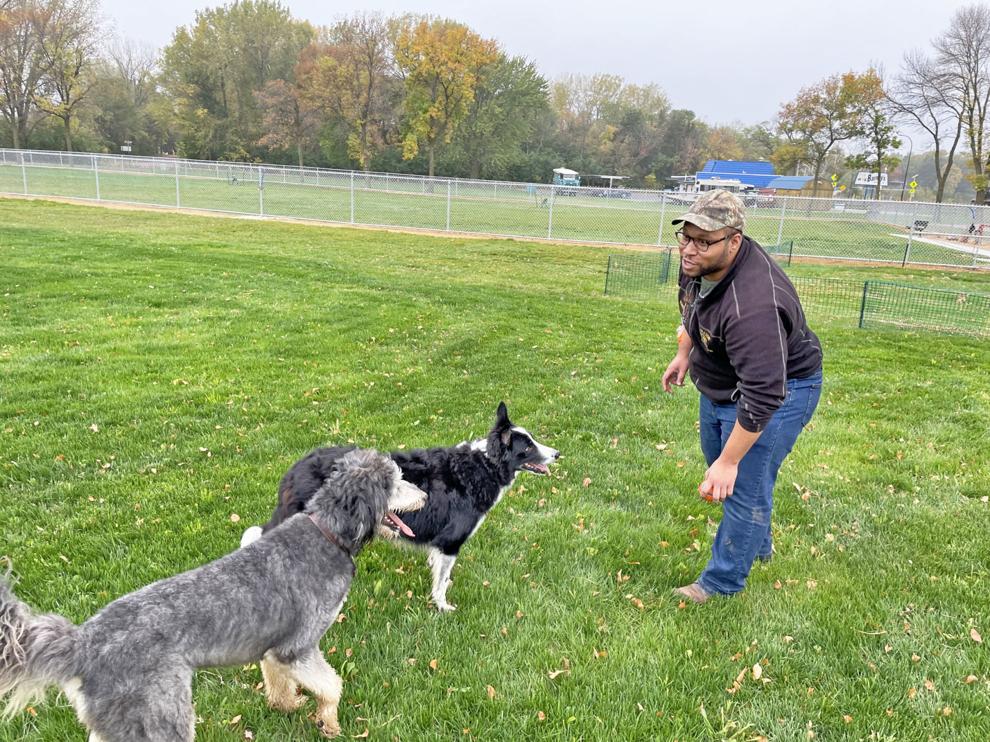 Standing outside the fence, the mayor remarked on the exceptional nature of his constituents' efforts.
"I don't remember such an exuberant group of citizens working so hard to get something accomplished for a long time," Srp said. "I don't remember something like this."