Vibrant gardens will be on display for people to view Sunday, Aug. 4 around Waseca. 
The Waseca Garden Club will be hosting its summer garden tour  1 p.m. to 5 p.m. at seven locations around the community. Each garden is unique, according to the individual gardeners' personal tastes and the environmental conditions at their homes.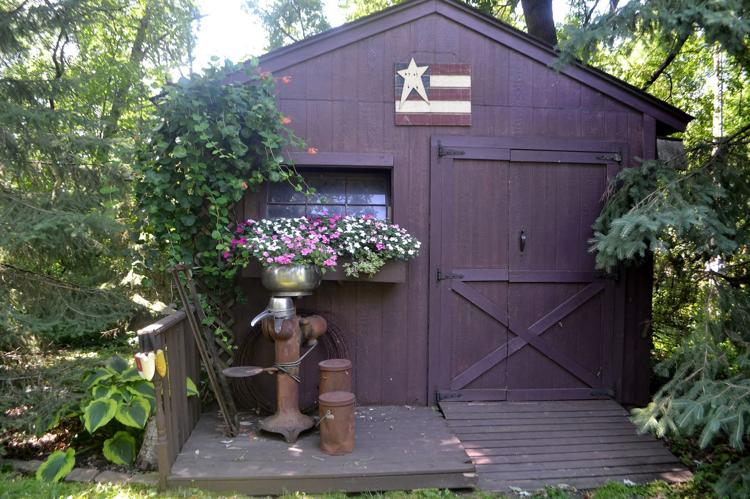 Jolaine Burmeister and Greg Pittman run "Hosta Haven" at their home just outside of Waseca at 13390 420th Ave. for the second time.
"This was just my relaxation to do this and it still is," Burmeister said. "I just love doing it; it's just such a peaceful thing to do. I love doing this and my crafts."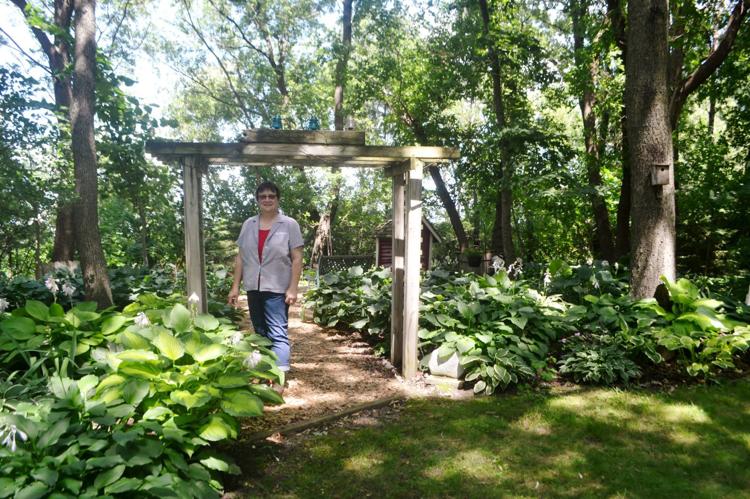 When walking through the woods, on the numerous trails, people will be able to spot a variety of items — a fairy garden, woodland creatures, gnomes and old farm equipment throughout.
"Our grandkids love it out here with all the trails, so I put in trails and we use a lot of old machinery type decoration," Burmeister said. "The kids come out here and play in it, and they move the gnomes and fairies around."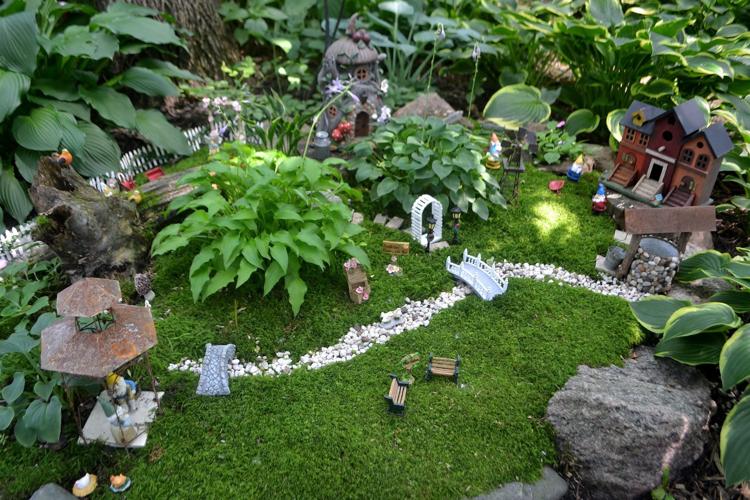 Burmeister got into gardening after she was gifted a plant from church when they were new members. They have lived in their home for 18 years and have added many garden spots that required a lot of hard work. Burmeister said there was a lot of buckthorn that she had to pull out in order to plant her hostas, ferns and other various plants. When she found out that she had woods, she knew she had to find a plant that would thrive in the shade and that turned out to be the hostas.
There are a variety of hosta species and fern species along with many other shade perennials. In the gardens for shade perennials are Coral Bells (Heuchera), Astilbes, ferns, Columbine and Bleeding Hearts.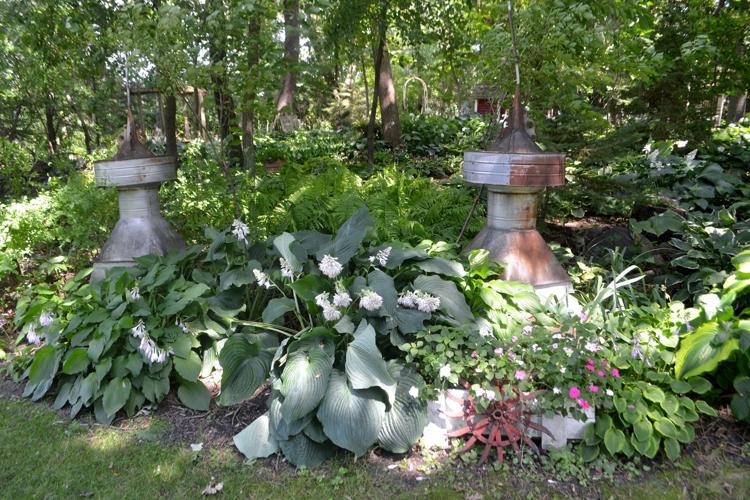 Burmeister also added ferns from her husband's family farm in Wisconsin and ferns from Maryland where her daughter lives. Also in the woods and garden area are Minnesota wild flowers. Burmeister leaves these alone to grow where they want.
On the backside of the house is where the most sun shines. This is where their vegetable garden, asparagus, peonies, tiger lilies and raspberry patches flourish. A milkweed garden was also planted for monarch butterflies.
"I don't hardly add anything except for my accents," Burmeister said. "Those are (impatien flowers) and they do well in the shade."
She adds the accent plants to random spots to make it pop throughout the garden. She has them in logs, tree stumps and in old machinery throughout.
"I want people to come and see it," Burmeister said. "You create it; you want people to enjoy what you make."
Another stop on the 2019 Waseca Summer Garden Tour is SummerHouse Farm.
Diane Korteum is the owner of the seasonal vintage and garden shop located at 2414 N State St. off of Hwy. 13.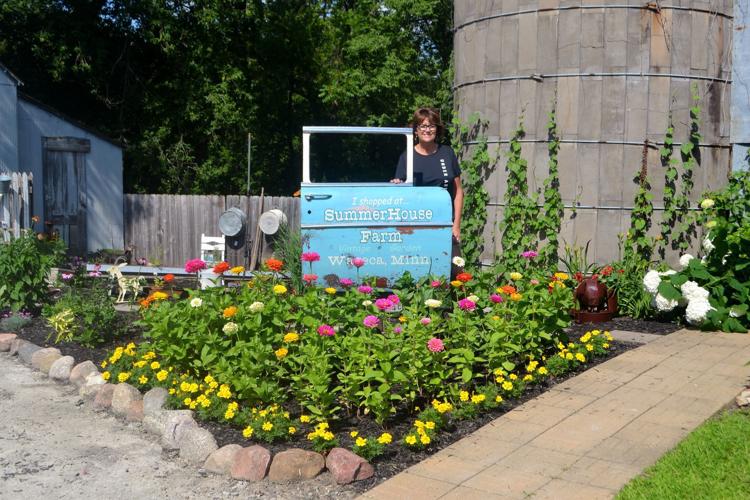 "This is the first time that we've participated," Kortuem said. "We've been working on it … we've just been trying to increase the flower gardens every year and expand on that and we finally feel ready to invite people in and show them around."
At the shop, there are multiple gardens that are mostly in the sun all the time. There are several perennial gardens and the adjoining woods has hostas and ferns. Kortuem had a co-worker and friend who is a gardener help her plant and tend to the gardens at the SummerHouse Farm.
"It's definitely teamwork here," Kortuem said. "I enjoy them (plants) and she helps weed them."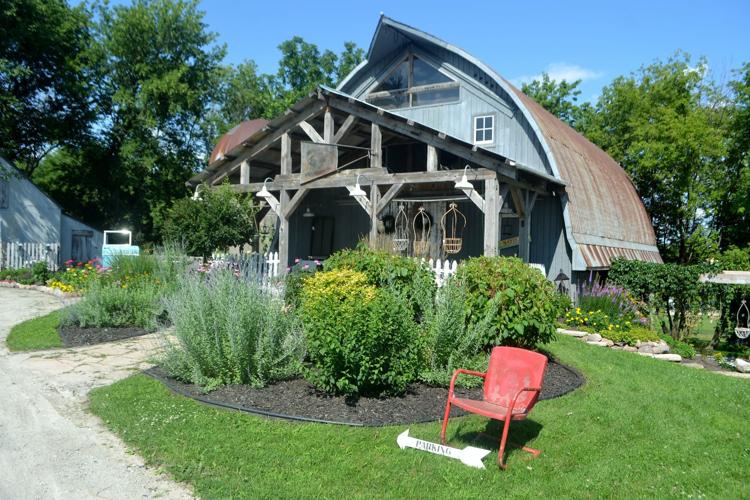 Kortuem's mother-in-law is a gardener. Kortuem  started loving flowers after meeting her husband and mother-in-law.  She credits her mother-in-law as the one that got her started in gardening, because she didn't know much before.
When Kortuem bought the shop space, there were kittens on the farm that she found homes for except for one she kept, Olive, who lives on the farm. She even planted catnip around one of the cupolas.
"It's all been a learning process and this is still in the works," Burmeister said. "We're adding new beds every year, expanding on what we have and finding out what grows where and what doesn't … I love to repurpose things, so we add things here and there to add interest."