While not all metrics reflect the effort equally, Waseca schools have been setting goals for their students and circling back to see how they're doing.
Brooke McGuire, director of teaching and learning at Waseca Public Schools, presented the World's Best Workforce report to the Waseca School Board Nov. 18. The report is based on Minnesota Statute 120B.11, which aims to foster the world's best workforce in school districts across the state of Minnesota by encouraging school staff to focus on five goals: making sure all children are ready for school, all third graders can read at grade level, all racial and economic achievement gaps between students are closed, all students graduate from high school and all students are ready for college and/or a career.
Waseca Public Schools customized each of those goals to its own school district. Much of the hoped-for progress that fell short was attributed by McGuire and Superintendent Eric Hudspith to the disruption to education caused by COVID-19 over the past two years.
In terms of academic and social-emotional preparation, the district aimed to have 90% of incoming kindergartners deemed ready for school, as measured by teacher observation and assessments. For the 2021-22 school year, 88% were deemed ready. McGuire attributed that slight disappointment to kindergartners coming into kindergarten with a variety of different backgrounds, from having gone to preschool in other districts to not having gone to preschool at all.
Waseca Public Schools also aimed to have 50% of its third graders scoring "proficient" on the reading portion of the Minnesota Comprehensive Assessment (MCA). Only 38.5% received that score, which Hudspith and School Board member Julie Anderson attributed to idiosyncrasies in the test itself and the district's lack of interest in teaching to the test.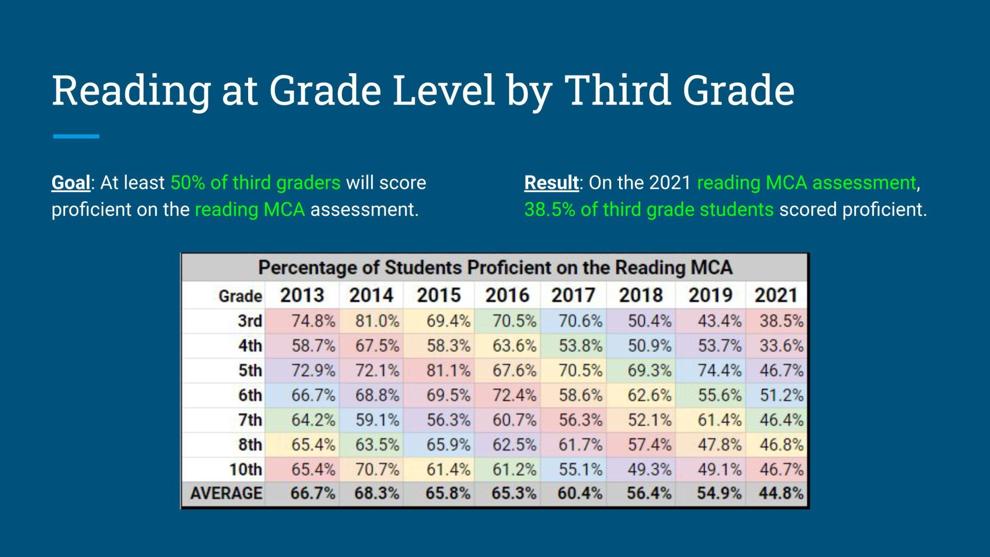 "There used to be a lot more emphasis on spending most of our year getting ready for that MCA and the district consciously decided a few years ago that, no, we want to spend our year learning, not just getting ready for a single test," Anderson said about the score.
McGuire also showed the results of FastBridge, a different assessment taken by third graders, whose scores improved slightly since 2019. This was at odds with the MCA results, which showed not only a decrease in Waseca third graders' performance since 2019, but a steady decrease every year starting in 2014.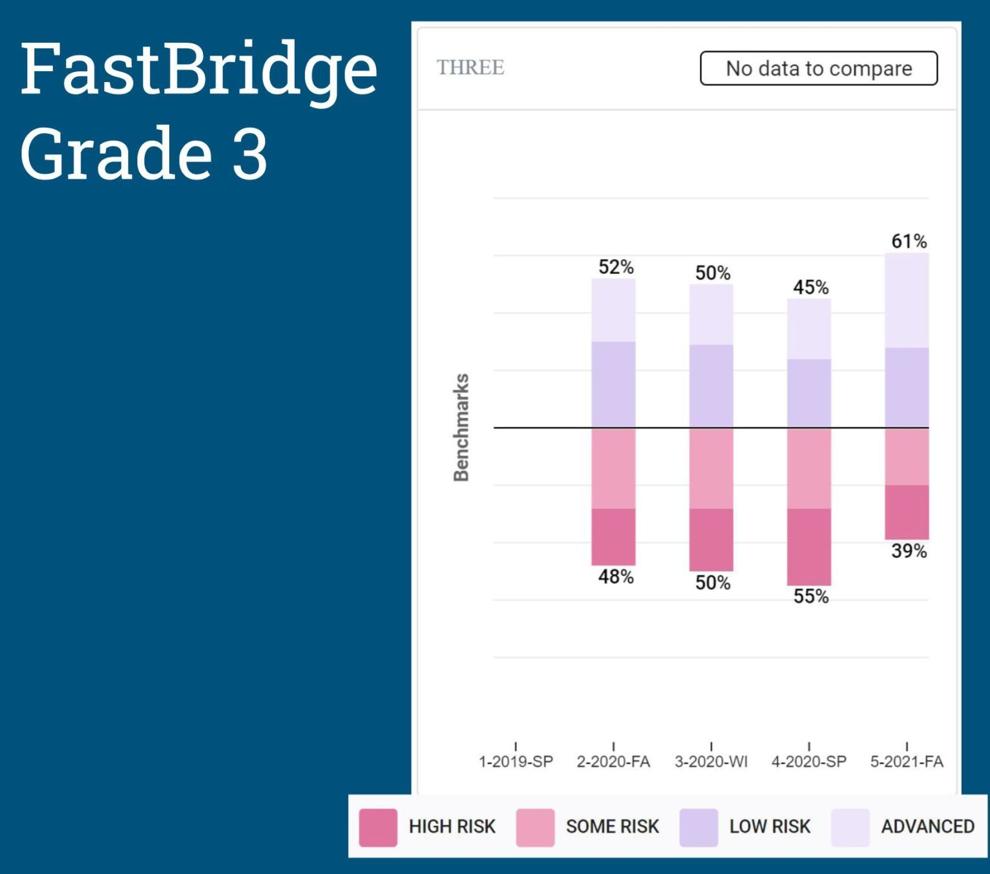 In terms of closing racial and economic achievement gaps, while the 42 students identifying as "two or more races" scored on par with or above the average for math and reading assessment scores, students identifying as Hispanic/Latino or Black/African American, as well as English learners, reduced-price lunch recipients and special education students all scored well below average.
After setting the goal of having 90% of students within the district graduate within four years, 74.1% ended up doing so, although that figure tells a different story once broken down further. At Waseca Junior/Senior High School, it turned out 89.1% of students graduated within four years, which just about met the district's goal. Unfortunately, though, only 11.1% of Waseca Area Learning Center (ALC) students graduated within four years, dragging down the average, though a much higher percentage of ALC students graduated within six years or more.
The district also exceeded their college and career readiness goal, which was to have 80% of graduating seniors reporting feeling ready for college and/or a career on their exit survey. At the end of the 2020-21 school year, 86% reported that feeling.
Moving forward, McGuire listed steps the district will take to better reach their goals in the future, including addressing students' mental health needs, developing a plan for addressing achievement gaps and building teacher capacity to interpret and use professional learning communities (PLCs) to make data-based decisions in the district.