The commons area of the Owatonna Middle School was filled with tension and drama Monday evening as United States Rep. Jim Hagedorn hosted a town hall meeting as part of his town hall tour taking place throughout the 21-county district.
Steele County residents were given priority to ask questions that had been submitted before the town hall began, making it through 14 questions and a handful of follow-ups.
"I may not always vote the way you want me to, but I vote the way I promised to," Hagedorn told the audience as he provided updates on the happenings in Washington, D.C., since he took office in January. Hagedorn represents the 1st Congressional District, which includes Waseca, Nicollet, Le Sueur, Rice, Steele and other southern Minnesota counties.
Before the floor was opened to questions, Hagedorn shared what he considered to be his main priorities while serving Congress. These priorities included creating a legal, merit-based system of immigration; preventing the country from becoming a socialist state; fixing the health care system and making it more "patient-centered"; reinstating the work-for-welfare program; becoming completely U.S. energy dependent; expanding trades and opening markets; defending the basic constitutional rights of life, arms, and religious freedom; and preserving and maintaining the quality of life found in southern Minnesota that he said is centered around agriculture, superior medical care, and small businesses.
While the Republican congressman had plenty of people in the audience who supported and applauded some of his remarks, there was a fair number who disagreed with Hagedorn and displayed clear disapproval of how he is spending his time in office. Notably, members of Steele County Indivisible showed clear consternation when Hagedorn's recent ban targeting the group was called into question.
On July 15, Hagedorn penned a letter to the Indivisible Group of St. Peter, Greater Mankato and the First District that — after 20 in-person meetings at his Mankato district office and an alleged confession from an Indivisible leader that the group had been visiting the office to keep staff from attending to other work — his staff would longer be available to meet with them.
About halfway through the question period is when the congressman was asked what criteria he uses when choosing who to exclude from meeting with him, directly referencing his letter to Indivisible. Hagedorn reiterated that his staff has held 20 meetings with the group in Mankato since he had taken office discussing different concerns of what he calls the "far leftist" members. Examples of issues discussed that he offered to the audience included gun control, climate change and impeaching President Donald Trump.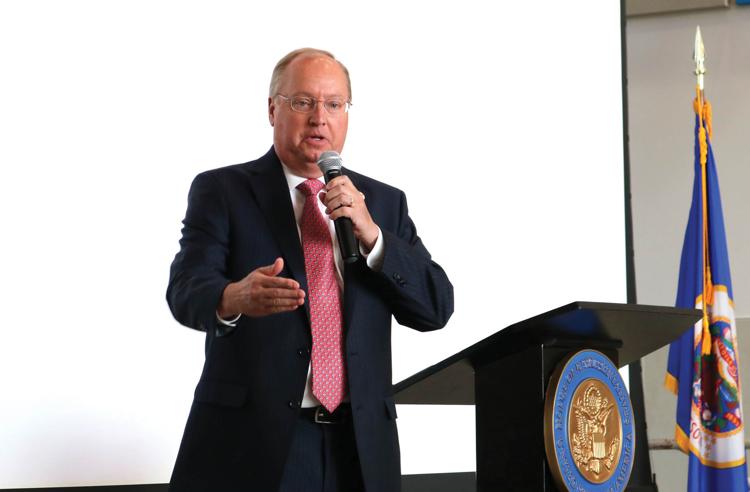 "I'm happy to hear it. I hear it from people every day. I'm not afraid of talking about the issues and finding out what people think," Hagedorn said. "But when you've had 20 times in our office and the Indivisible national website says to try to go in and spend as much time with these members of Congress that you can so that they can't go out and do things on the issues — no, you've had 20 tries. That's good. Our district office is not a political office. Our district office isn't there to talk about issues, per say. We'll take your comments and concerns, but our district office is there to serve the people of the First District and to help them with problems they have with government."
Members of Indivisible in the crowd disagreed. One member began heckling the congressman, making mocking noises as he spoke and called Hagedorn a "silver-spoon, son of a rich farmer" who spent his entire life on the East Coast. Another audience member, who didn't identify an affiliation, asked how Hagedorn's constituents are supposed to ask him questions. Hagedorn instructed her to do what everyone else does — call or write a letter.
"My job is to go do the work, my job is to get out in the community as best as possible," Hagedorn said. "For a long time your group was upset with me because I wasn't holding town halls. I had been in office like six minutes and you were mad that I hadn't held a town hall. So we're going to do 21 — one in each county — and I think that's pretty good. I suspect we will do more town halls than anyone else in Minnesota by the time it's done."
When met with voices from the crowd saying that Hagedorn isn't listening to the people, he asked if not accepting their view is the same as not listening.
Hagedorn received a few audience questions centered around health and medical care, including access to affordable health care, support for Medicare, and pharmaceutical companies getting subsidized for television ads.
"Timely and quality medical care is what we have to have for everyone," Hagedorn said. "I don't think Obamacare is working. Minnesota, I don't believe, needed Obamacare. We had over 90% participation with health insurance cards and they pool from people with pre-existing medical needs before Obamacare."
Hagedorn stated that the Affordable Care Act "disrupted the apple cart" causing premiums to dramatically rise and deductibles being so high that the insurance is rendered useless for many people. The federal government, he said, shouldn't be telling states how to regulate health care.
"I'm for patient-centered medical care," Hagedorn said. "I think we should do things that make sense. Let people shop for care at the basic levels with pre-tax dollars. Nobody should have to pay the federal government taxes on the money they need for medical care."
"If health care is a right — which some of you believe but I don't necessarily buy into — what right does the government have to tax you for what you need to go procure?" Hagedorn continued.
The congressman added that opening the market for competitive rates would help people find insurance that they can afford and that makes sense for them. He added that he believes in creating a "high risk pool" for people with pre-existing conditions for either the insurance companies or government to pay for once a certain limit is hit, allowing everyone to get high-quality and timely care without high premiums.
"We are the envy of the world," Hagedorn said in terms of medical care. "The rest of the world piggybacks off of us because of all the things we've created here that they utilize usually at a discounted price, including our prescription drugs."
In terms of Medicare, Hagedorn said that he believes that Obamacare has undermined the system, preventing people from getting the care they deserve without supplemental insurance.
"My concern is the concept of Medicare for all," Hagedorn said. "If you think it is underfunded now and you're getting cuts, wait until everybody can get it. Wait until they give it to people who aren't even residents of the United States, which is what the Democratic presidential candidates said."
Several questions and comments regarding immigration and refugees were raised, specifically when to expect a fix to a broken immigration system. Hagedorn stated that he supports the initiatives set forth by President Trump, adding that he believes problems date back to the term of President Ronald Reagan.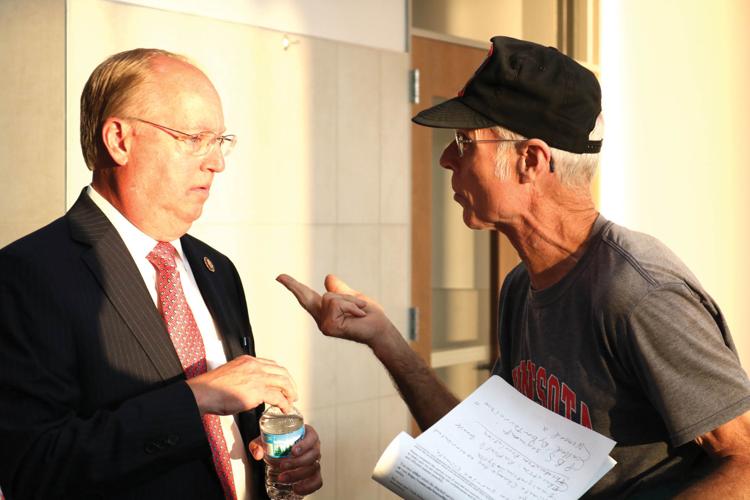 Hagedorn said that the most important measure is securing the border, including implementing a wall. He said that people need to be going through check points legally.
"Then we need laws on the books to where if people are coming here that they need to be doing it through a legal process — and if they don't a judge therefore says they're deported, then we need to let ICE do its job," Hagedorn said. "ICE's job is to go out and find the people that the law enforcement and federal judges have said, 'You do not have a legal right to be in the United States. You need to go back to your home country.'"
Hagedorn said that there also needs to be a system for those who have overstayed their visas. He said that overstaying a visa needs to be against the law, noting that other countries fine and detain people for the same offense.
"On 9/11, we had 19 people who changed our country forever. A few of them had overstayed visas," Hagedorn said. "Maybe if we had a better system in place we would have found out what was going on and stopped it."
The congressman added that things such as birthright citizenship weren't the intent of the founding fathers. He said that we should want people here for the right reasons who will assimilate.
Throughout the town hall, Hagedorn repeatedly asserted his support for Trump. He stated that he believes that "Trump's heart is in the right place" when it comes to his trade war with China, noting that China is the toughest player who is trying to hit Trump's biggest supporters: farmers in rural areas.
The congressman brought up efforts to impeach Trump multiple times, though the topic was never brought up by the questions asked the public. Hagedorn reiterated that he will never vote in support of Trump's impeachment.
When asked about his opinion on the Mueller report — the report that covers the investigation into Russian interference with the 2016 Presidential Election — Hagedorn stated that after reading through the report with his staff that he believes Trump when he says there was no collusion.
"We are always under attack," Hagedorn said about Russia trying to interfere with the election. "We are the beacon of freedom. We are the greatest country on Earth and the envy of the rest of the world."
The town hall tour began in June in Martin County and is slated to continue into 2020, hosting at least one town hall in each county across Minnesota's First Congressional District. Hagedorn sits on the agriculture and small business committees in the House of Representatives.