The local 4-H brought in a new program for summer school kids at TEAM Academy Charter School.
Amy Nelson, Waseca County 4-H program coordinator, reached out to TEAM to offer Design Squad Global, a five-week STEM based curriculum program.
"4-H was looking to reach more kids that we're not currently reaching," Nelson said. "So I talked with Jill here at Team Academy to see if there would be an opportunity for us to come in with this curriculum and she said 'Yep summer, school.'"
In the past, 4-H has worked with TEAM for different programs.
"I think it's been awesome, we've worked with TEAM Academy before but they're such a great partner and so willing," Nelson said. "The teachers stick around and help out, and it's really a great partnership and we like coming here … they're willing to try new things. It's fun to see their (kids) little minds working instead of us standing in front of them teaching them the whole hour and a half. We usually talk about solutions and then they do group problem solving. "
Design Squad Global is a program that was created in Boston, Massachusetts and originally started as a TV show through PBS Kids to see teams of kids doing engineering challenges. It was to break down stereotypes and it became a way to do outreach and do hands-on activities.
This program is aimed at middle school aged kids. The students participating are paired with other clubs throughout the states and even internationally.
"When we developed the activities, we wanted to make sure we were creating activities that are accessible to as many students as possible," Design Squad Global Digital Marketing and Outreach Coordinator Nicki Sirianni said.
TEAM is paired with five other schools in Haiti, Illinois, Indiana, Michigan and New Jersey. TEAM has struggled with connecting with the other programs because of the timing that different programs started, but the Waseca class has gotten responses from one. A TEAM class made introductions to send to the partner schools and they then received one back.
During the activities, the leaders take pictures, which they then share with the other schools to show the process of how the students tackled the engineering challenge and what they did differently.
"I think it's really, really cool, because it's something they probably wouldn't have been exposed to if we hadn't come in with it; they don't normally make catapults or grabbers," 4-H intern Alana Skarstad said. "I think it's really neat that they get to play with all sorts of materials and try to go through different ideas and learn that it's OK to keep trying and to keep reinventing what your idea is. It's a little outside of what people normally think of 4-H."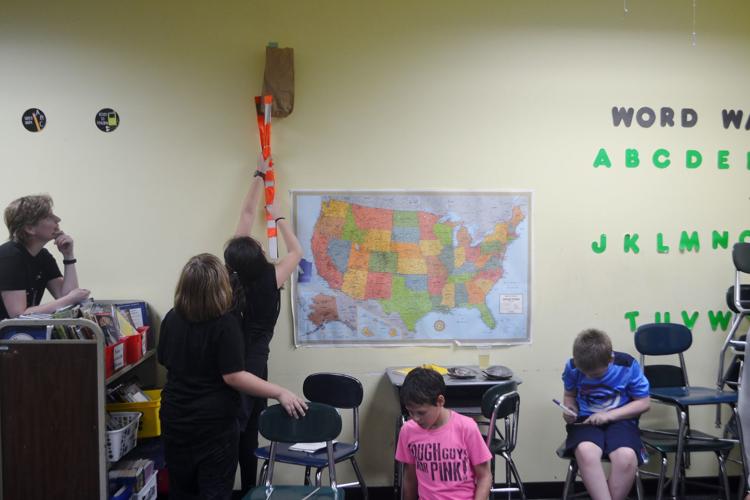 The club in Waseca meets once a week on Tuesdays at TEAM. During the sessions, there is a different task each time. This week, the students worked in teams to create a grabber out of cardboard, duct tape, skewers, cups and paint sticks. They were then to use the grabber to get a bag that was duct taped to the wall down.
As the kids were building their grabbers they learned what was working and what wasn't working through trial and error. One group added more duct tape for stability and another group added skewers for length and this continued until they figured out what worked.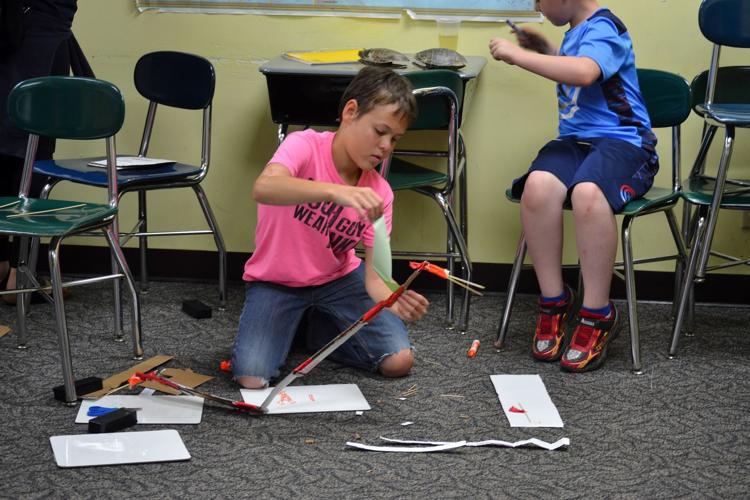 "With all the activities there is no one right answer and I think that's really empowering for the kids…," Sirianni said. "They're not being driven towards the one same answer, and I think that's really cool too to see what they come up with…"
Once the challenge was finished, the students came together as a large group to discuss the challenges of the task and what they did to problem solve.
"The hardest part for us was to get that bag," student Ezera Adams said.
Another group experienced a different challenge.
"Making it was the hard part, but it was more sturdy with the paint sticks," student Ryleigh Johnson said.
"The hardest parts were trying to make it (the grabber) and trying to reach it (the bag)," student Damien Luecht said.
"We had to find out how to get it strong enough and it still isn't enforced enough," student Trayton Schultz said.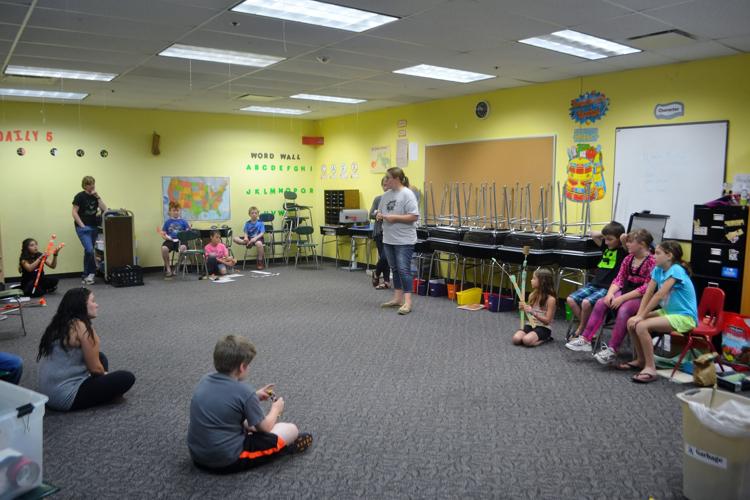 Each group learned something during the challenge of making the grabber. In this group session, they learned that they all had similar struggles of stability.
When PBS Kids created the program and what the challenges would be, the materials were taken into consideration so they could still be affordable for schools to participate.
"I think it's really exciting to see a program that creates science and STEM for kids," Sirianni said. "It's moving beyond learning the concepts, and I think that not every student learns from just learning the concepts; they need to get their hands on it to learn and makes it accessible."
Design Squad Global is a program where everything focuses on engineering issues that would be around the world allowing access to more kids.
"I think it's a really special thing that we have to be able to connect kids across the world using STEM and science and they can be enriching conversations," Sirianni said.