Almost a year later and Robin Warburton is ready for her first solo art gallery exhibition.
On Friday, Sept. 13 from 5 p.m. to 7 p.m. at the Waseca Art Center Warburton will have her reception for her exhibit. She will be at the gallery at 2:30 p.m. for the reception to speak with people along with Saturday, September 14 from 10 a.m. to 1 p.m.
Warburton's show will run through Oct. 11.
"I'm nervous," Warburton said of her first full gallery. "It's scary, very exciting, it'll be good."
In December of 2018, Warburton received a Prairie Lakes Regional Arts Council grant from the funds of the McKnight Foundation for $3,000.
Warburton used the grant money for a woodcarving class taught by master carver Keith Mueller. This class was online and through email. She received a package for the class that contained the patterns for the half-sized Great Horn Owl. She followed the patterns along with hundreds of photos that Mueller sent over the course of a few months.
"Master Carver Keith Mueller's Great Horned Owl class was very different than any other carving class that I have taken," Warburton said in an email. "The online carving part was quite challenging. This was a complicated carving because of the wing inserts. The wings were individually carved and inserted into the carved out body by carving out under the scapular feathers. This was done to create lift in the wings. Once this was achieved it added a lot of animation to the Great Horned Owl. Keith encourages you to use photos and carve to make it your own. I proceeded to make the carving my own by using techniques I learned from Master Carver Floyd Scholz and Master Carver Gary Eigenberger."
In June 2019 she traveled to Qwinn, Michigan, for 10 days, where she was able to paint the Great Horn Owl. Mueller's painting class of 16 was at Jim and Pam Krausman's Wood Carving Studio. Warburton has taken painting classes in the past in the same studio.
"So far as the painting part this was more of a color theory class," Warburton said. "He (Mueller) had you look at your photo and make up your own palette of colors that you would use to paint your owl. Great Horned Owls are many different shades of color depending on what part of the country you live in. He paints more on smooth birds then on textured birds and used acrylics instead of oils that was listed in the class description. I like to texture my carvings, so I used Master Carver Floyd Scholz technique. While being more work, I get more of a positive response from the public with textured birds rather than smooth birds. I was hoping to learn more about ghost feathering with this class, but that was not taught. I did achieve some of this on my own."
Other wood carving classes
Warburton is always working to improve her skills when it comes to wood carving. She took another class with Master Carver Gary Eigengerger, who uses oil paints and is good at teaching ghost feathering. Ghost feathering is the layering of feathers and seeing through one to another. She is currently working on a Hawk Owl using this technique and pleased with the results so far.
She has been carving for about 7 years and has carved many different pieces such as owls, fish, ducks and even small ornament figures. In this time she has taken Mueller's class along with multiple other master carvers classes.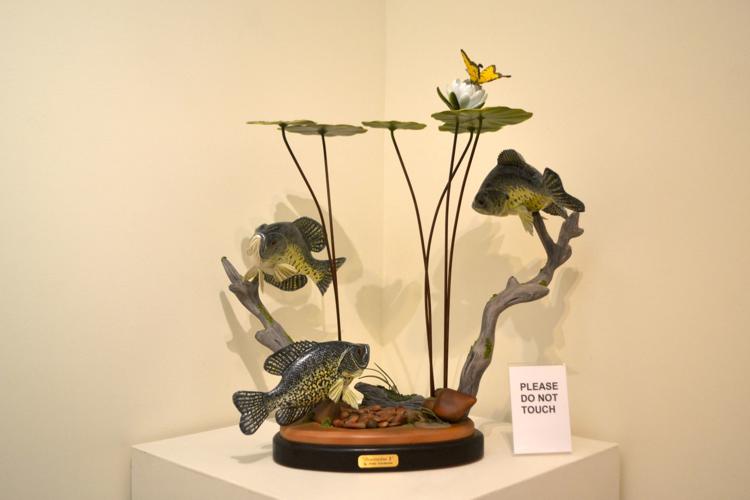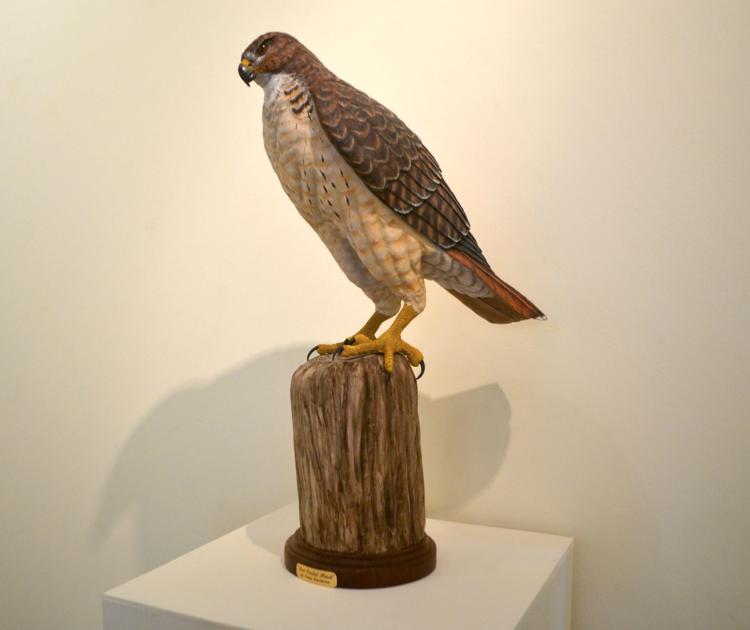 "I have learned new techniques from all three Master Carvers — Scholz, Eigenberger, Mueller," Warburton said. "I still go back to my first teacher Master Carver Scholz. He is the backbone to all my carvings. His way of teaching is that you can achieve a great perspective carving. I now have the knowledge I wanted to create my own style. I will be using both acrylics and oil in my carvings and doing more inserts. I know I can still learn more techniques and will still keep in touch with Master Carvers Scholz and Eigenberger."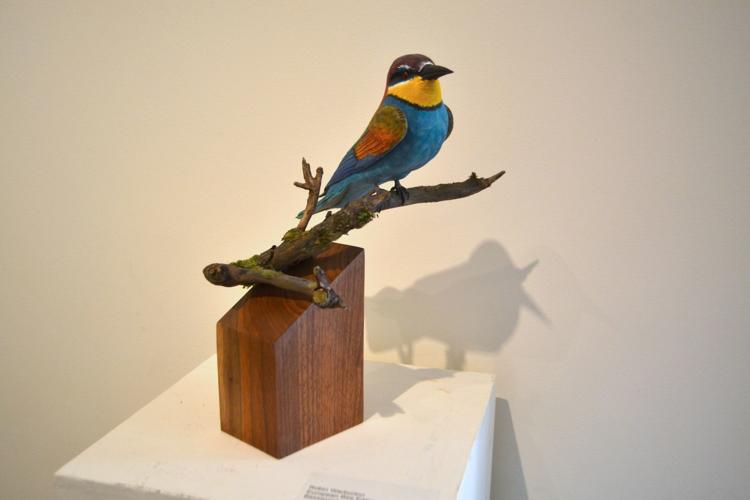 The grant from Prairie Lakes Regional Arts Council was the push to get her to go public with her carvings.
"I needed to get out there, I needed to show what I can do and share with people," Warburton said.
Warburton has been recognized by numerous publications both nationally and internationally along with being in exhibits.
She had three pieces on display at the Waseca Art Center during the sesquicentennial celebration. She had two pieces on display at the International Owl Center and 17 pieces on display at the Heritage Art Center in Elysian prior.
She was recognized in Wildfowl Carving for winning the 2018 Online Competition for her submission of "Tyto" the Barn Owl and then she was recognized in Cage and Aviary Birds out of England. Warburton has been recognized in Cage and Aviary Birds three times and most recently in August 2019.
Another competition Warburton received an award for was a juried exhibition at the Carnegie Art Center in Mankato, Minnesota. This was an exhibition of 100 works from 75 emerging and established artists. She received an award of excellence for her Barred Owl.
In March of 2021 she has been invited to an exhibition in the Cook Gallery at Carnegie Art Center and she will be displaying new works.
After her gallery showing at the Waseca Art Center she will be appearing December 2 at Vine Community Center in Mankato from 2 p.m. to 4 p.m. She will be giving a presentation about her woodcarvings along with talking about the procedure and doing small demonstrations.
The first weekend of March of 2020 Warburton is invited back to the Festival of Owls at the International Owl Center in Houston, Minnesota.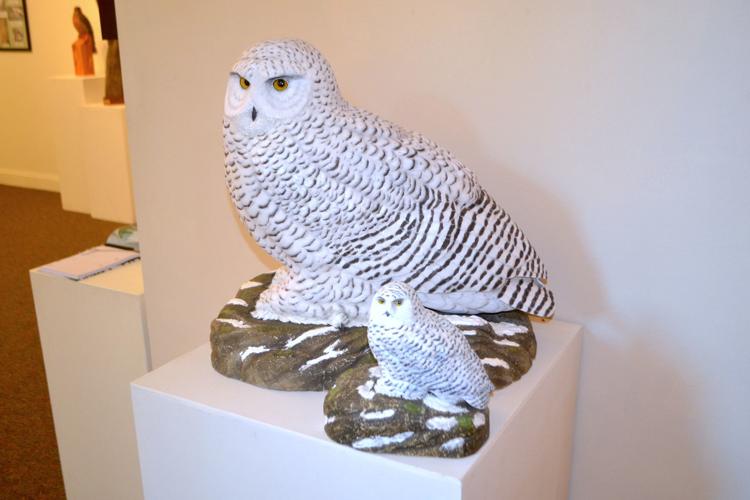 "I will continue to show and support this owl center," Warburton said. "My love for owls and what owls contribute to help the environment is very important to me."
Her passion is carving raptors, specifically owls. Through this passion she found the International Owl Center In Houston, MN. At the center there are bird wings, skulls and feet, which she can touch and measure for projects that she is working on. Along with skeletons, the center has live owls. Ruby is a great horned owl that Warburton has been able to observe and she is often taken off site by the staff.
At the center Warburton is able to sell her carvings. She sold an owl for $600 that was on display there, which she donates 75 percent of her profits to the center as she enjoys helping the owls.
Her ultimate professional goal is to get her work into the Leigh Yawkey Woodson Art Museum in Wausau, Wisconsin. The exhibit is called "Birds in Art" and it has traditionally opened after Labor Day and is about three months long.
"It's (woodcarving) a lot of fun," Warburton said. "I can't get enough"