Waseca Junior Senior High School launched its virtual graduation on Sunday, May 31 at 1:30 p.m. followed by a parade around the school.
The pre-recorded graduation ceremony is available to view on the Waseca Public Schools Facebook page or website.
This unique graduation ceremony was put in place due to COVID-19 concerns that kept the school from hosting an in-person ceremony and the regulations given by the Minnesota Department of Education.
"I think I speak for us all when I say this is not how I imagined graduation or senior year to end," class speaker Augusta Boyer said in the video. "So I'm just going to come out and say, 'this sucks and it's not fair.' Each of us is entitled to every emotion we're feeling. Having everything ripped away with no explanation is a horrible thing to have to experience, trust me I know. ...
"I was once told that if we didn't experience the bad times we wouldn't know the good times when they came around. Right now, it feels more like one of those bad times and for some of us all of high school was one of those bad times. Life isn't always easy for everyone. This I have come to recognize, but I know that each of us will be headed to new opportunities and better things after this. We are on our way to one of those good times."
The seniors missed out on countless experiences they were looking forward to and one of the biggest milestones of their life so far; high school graduation. When holding the ceremony was no longer feasible in-person, the school administration and staff put together the pre-recorded video and the senior parade around the school.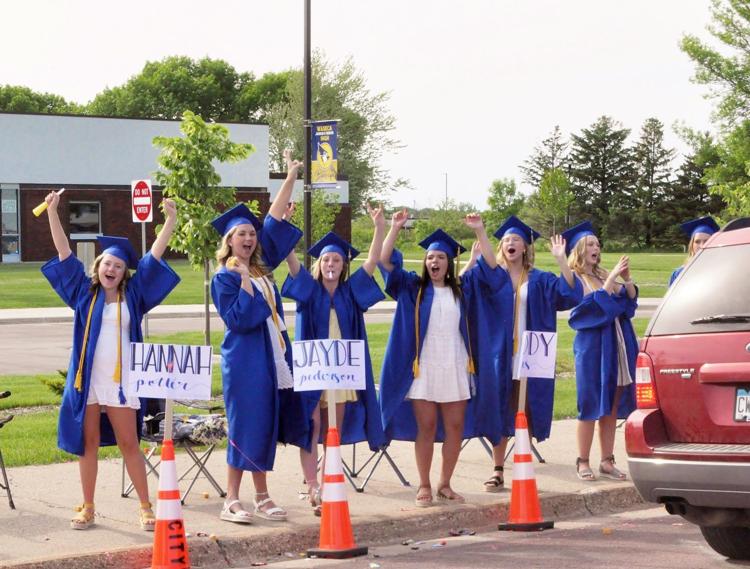 The senior class of 2020 lined the sidewalks of the WJSHS on the day of graduation for a parade of vehicles to congratulate them. WJSHS staff, graduates, friends and family all came together to celebrate the graduates with cheering and waving at the graduates as well as having their vehicles decked out.
In the days prior to the parade each senior walked the stage in the Performing Arts Center to receive their diploma. These clips were put together for a video to watch online.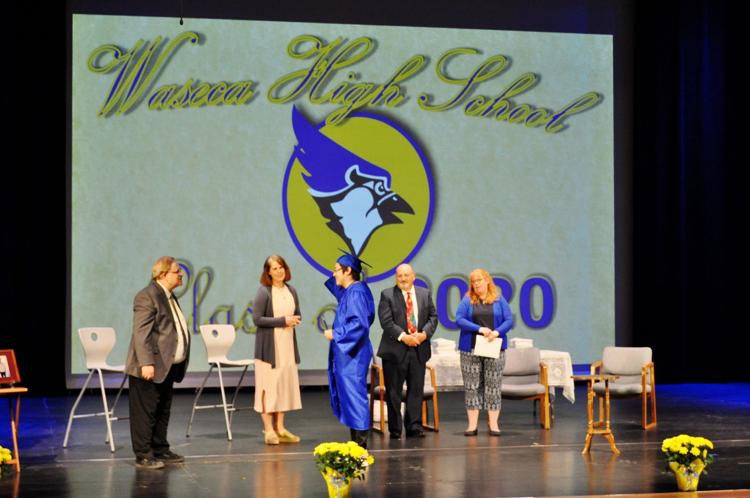 In the video each senior is recognized before the speeches began and they walked the stage.
Senior class president Rachel Breck welcomed everyone watching the video and introduced the first class speaker.
"Many of us have lived in Waseca our entire lives and began this journey together back in pre-K," Breck said in the video. "Thirteen years later here we are. Up until now we have been a team walking as one and today is the day we all part 115 different directions onto our own unique paths. The memories we have made together as a class will last a lifetime."
The Waseca High School class of 2020 will be able to keep close knowing they share the memories and hardships of missing out on important events their senior year. The class will always remember what it was like to graduate during a pandemic.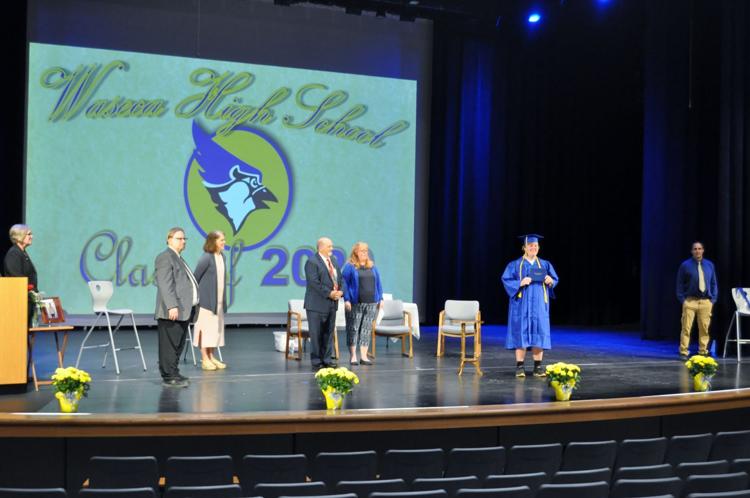 "I remember five years ago sitting in the gym watching my brother and sisters' graduation," class speaker Jacob Butterfield said in the video. "I was extremely bored and started imagining what it would be like to walk into the gym with my own classmates in 2020. I also remember fantasizing about all the great moments and friendships ahead of our class. Championships we would win and who would be crowned king and queen of our class. All these wonderful memories we would create together, however today I stand in the PAC, something I never imagined to be built. No one could have predicted a pandemic cutting our senior year short along with all of the memories we have missed out on."
The class came together when they lost one of their classmates the summer before junior year of high school.
Jonathan Mortensen, Johnny, died but he was honored at the graduation ceremony.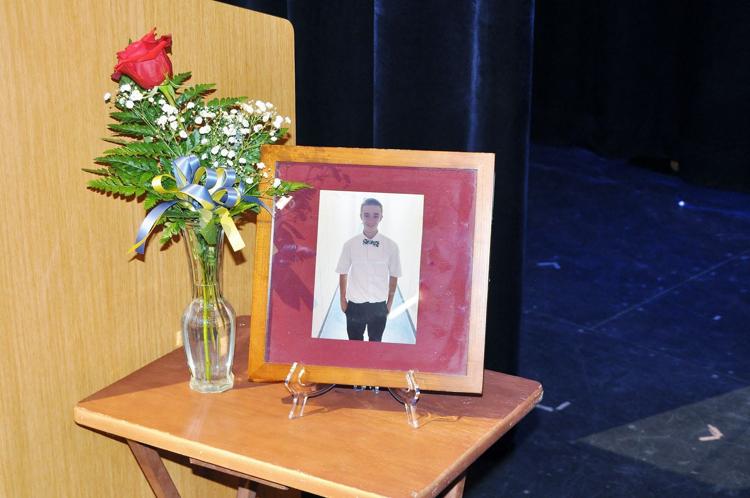 Set up on the stage where the seniors walked to get their diplomas was a flower display with Johnny's picture sitting by it so every classmate of his could pass by him as they exited the stage.
"Yet today I stand in an empty room to remind our class of the highs and sadly the lows that we've experienced together," Butterfield continued. "I want to start off by remembering one of our classmates, Jonathan Mortensen, by whom many of us knew simply as Johnny. Johnny tragically passed away in the summer before our junior year and will remain missed by our class and the Waseca community. Johnny always knew how to make everyone around him smile and laugh. I believe that Johnny has showed our class the importance of acceptance and how to make the best of our circumstances. (moment of silence) I implore you to not look back on our senior year at what could have been but what was. Remember the great friendships, the midnight shenanigans and most importantly the mistakes we've made along the way. Either good or bad these lessons we have learned have shaped the men and women we are today."
WJSHS Principal Jeanne Swanson also spoke during the graduation about the hardships and experiences the graduates have had in the past few months.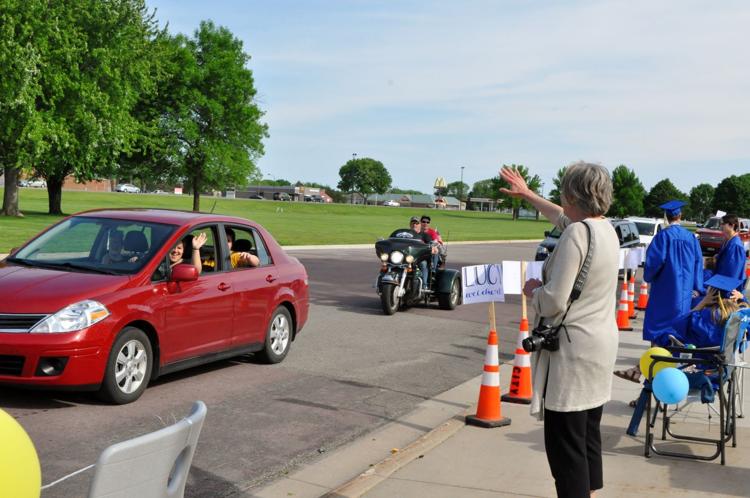 There are 112 graduates of Waseca and the class of 2020 has three students who are joining the military. Swanson recognized them for their service they will be giving. She also thanked those who made graduation possible before sharing some of the experiences the class had and advice for them going forward.
Swanson will be retiring at the end of June.
"Today we are joined to honor the class of 2020" Swanson said in the video. "This class understands better than any other that life is a journey that brings both challenges and opportunities. You chose your class motto 'class of 2020 a glimpse of the future' who knew what glimpse 2020 would bring to the class that was born in the year of 9/11. The class who experienced a threat to our school, the class who experienced several days off from a rainstorm and a flud, the class who experienced the loss of your classmate Jonathan Mortensen, who we honor today with a rose and his photo next to us and then end your high school experience with a pandemic. What we do know about you as a class of 2020 is these experiences will drive you to become your best selves as you choose where you will serve society.
"My advice to the class of 2020 is to create a vision of your own future, identify and live out your values, in these dark times. Remember that whenever the struggle is ragging most fiercely words are being spoken most loudly and the work is engaging most fiercely we must remember that everything that is loud and is insistent will eventually become quiet. Better days are definitely ahead, you can always begin again and we trust you, the class of 2020 will be essential in bringing that brighter future. Thank you for making Waseca High School a better place. Make whatever contribution you can to leave the world a better place than when you found it.
The speakers for the class of 2020 focused on how unique their graduation and senior year was. They spoke on what they missed out on and how the class is strong and will overcome these hardships.
Class speaker and valedictorian Blake Wendland spoke on how to use these experiences to grow in the future.
"This year may be remembered as the strangest graduation/senior year ever," Wendland said in the video. "But I want to be clear about something upfront. We have all missed some incredible experiences from our senior year, all the precious lasts. However, I will not use this speech to say all that we may have had or say there are better times ahead, as I guarantee most of you have heard those things so many times that once more will make your head explode.
"Instead I just hope to share a different perspective of our precarious situation. It is a very difficult time to graduate high school right now. We have missed events that we have been anticipating since elementary school and maybe worse our wounds are constantly reopened by the sympathy of well meaning family and friends or a notification from our once busy calendars. However, this moment in our lives is not a sad one. Right now this is the doorway into the rest of our lives. No doubt the world needs some time to rebuild, but here we come, the class of 2020 to build our own future. Our class motto is 'class of 2020 a glimpse of the future,' this is not because 2020 will be indicative of the future. This year has been off to a rough start no one can deny, but tough times bring out tough people. We are the tough people my friends. ... We, the class of 2020 have been given the golden opportunity to kick adversity right in the chin."