The Waseca Police Department and Sheriff's Department came together at midnight on Wednesday, May 13 for Police Week.
A small crowd was spread out around the parking lot of the Public Safety building to honor the fallen officers with a Midnight Piper.
"At the Waseca Police Department, we have always taken time during this week to pause to remember the sacrifices of the officers who have laid down their lives in service to their communities," Waseca Police Officer Captain Kris Markeson said. "This year, Police Week brings us a very close-to-home reminder of the dangers of this profession as we support Officer Arik Matson in his recovery after being shot in the line of duty this past winter. We are blessed beyond measure for Arik surviving his injuries and for his opportunities to recover. Still, we know there are many officers who do not come home. It is an honor for us to provide remembrances of the fallen every May 15."
Former President John F. Kennedy signed a proclamation in 1962 designating May 15 as Peace Officers Memorial Day and the week in which that date falls as Police Week.
Traditionally police officers from around the world gather in Washington D.C. during National Police Week to honor officers who have given the ultimate sacrifice. Due to COVID-19 this year the large gathering was not possible. At the regular ceremony a lone bagpiper would walk through the granite memorial that displays the names of the fallen and perform a song to honor the fallen officers' service and memory.
Markeson said that this year, the names of 307 officers killed in the line of duty will be added to the National Law Enforcement Officers Memorial in Washington, D.C. These 307 officers include 135 officers who were killed during 2019, plus 172 officers who died in previous years but whose stories of sacrifice had been lost to history until now.
Still wanting to honor those who were lost, the tradition of a Midnight Piper was brought to local police stations across the country. The Minnesota Police Pipe Band and other police pipe bands around the country participated.
At midnight all those in the Minnesota Police Pipe Band around the state began playing "Amazing Grace" to honor the fallen officers.
"Our law enforcement officers know every time they go to work that they may face danger," Sheriff Brad Milbrath said. "With the coronavirus, they have faced additional challenges. We are thankful for them every day and I am proud to publicly recognize them for their service.
"I proudly recognize Waseca County deputies and all other law enforcement officers for their resolve and dedication in the face of dangerous uncertainty. Thoughts and prayers are with them and their families, and we will always owe them our appreciation and support."
As Jamie Stonehouse played, the crowd was silent to honor those fallen officers.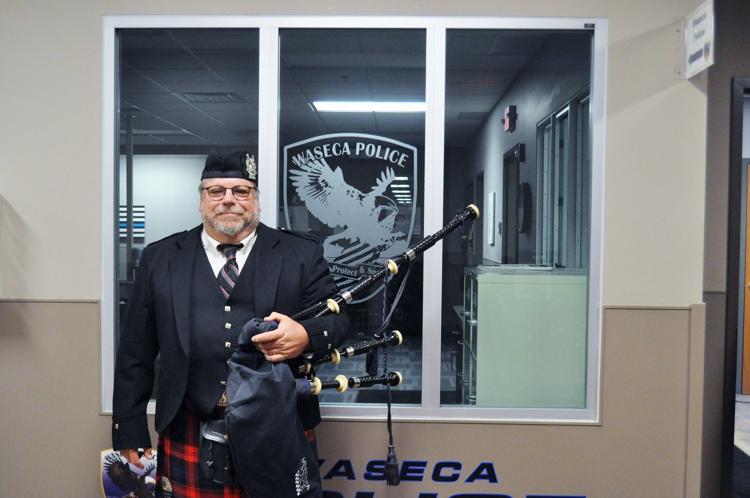 In Waseca County one officer has been lost in the line of duty.
Sheriff Donald Eustice of the Waseca County Sheriff's Department was killed on Sept. 4, 1976 from gunfire.
Eustice was 47 years old and left behind a family, friends and a job that meant the world to him.
On the day that he was killed in the line of duty, he and chief deputy Mert Schwarz, went to a farm house to check on Kenneth Jewison at the request of his family. Jewison had a history of mental illness and Eustice and Schwarz had gone to take him for a mental evaluation.
When Eustice approached the front door to speak with Jewison and after saying something like, "Hi, how're you doin'?" He was shot with a shotgun from 15-20 feet away according to a Sept. 2, 2016 County news article.
When Eustice was killed, the community was devastated at the loss. Since his death Waseca has been fortunate. In the past months two officers were almost lost in the line of duty within months of each other.
Josh Langr, a deputy with the Sheriff's Department responded to an accident in October 2019.
While on an accident scene Langr was injured after walking into an unseen downed powerline. He was airlifted to HCMC at the time and is currently doing well and recovering.
A few months later on Jan. 6, Officer Arik Matson, with the Waseca Police Department, was shot in the head when he responded to a disturbance.
He was airlifted to North Memorial Health Hospital in Robbinsdale where he has since left and is in a recovery facility.
These were two close calls that have deeply affected Waseca and the surrounding community recently. Waseca came together to pray and keep hope for the recovery of both officers with numerous fundraisers being created to help as well.
Waseca also came together when it lost Sheriff Eustice and has continued to honor his memory each year.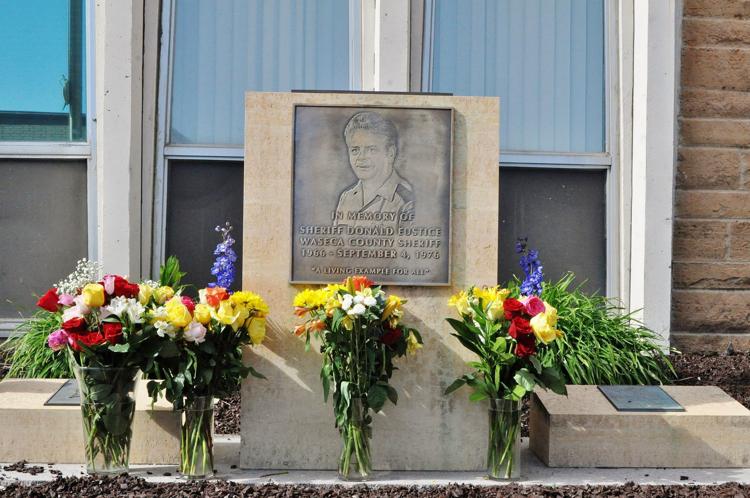 "We must continue working toward a time when all people respect and understand the important work that law enforcement officers do," Milbrath said. "Unfortunately, our law enforcement officers do not always receive the respect they deserve. These brave men and women must operate in an environment where their moral and legal authority is constantly being scrutinized, and they undertake the critical yet difficult task of addressing the actions of those affected by addiction, homelessness, and mental illness. Their ability to work well in the face of these and other challenges is extraordinary, and we have incredible appreciation for their public service and selflessness."