WASECA — Steele/Waseca Drug Court held its 49th and 50th graduation celebration on Thursday, November 21 in Waseca.
Joshua Grams and Mike Steffens completed drug court with determination and support by their sides.
"Participants come into drug court frustrated with the accountability part then they do that self discovery and then they make connections," said Drug Court Coordinator Nicole Grams, no relation to Joshua.
The Steele/Waseca Drug Court was implemented in 2014 to respond to high-risk and high-need substance abusers that continued a cycle in and out of the local justice systems and jail. The program is five phases with a minimum of 18 months.
"I can really learn a lot from both of you that it can be done," one participant said.
Graduate Joshua Grams was in the program for about 20 months taking more than 200 tests in that time. At the time of graduation he was 371 days sober.
"You've been really genuine," Judge Carol Hanks said. "When you had frustrations you weren't afraid to say something in a respectable way."
He started the program in April 2018. Nicole Grams said that Joshua Grams immediately began to work on long-term goals by setting himself up at work and exploring home ownership.
"Thank you to everybody. I appreciate everything you've done for me," Joshua Grams said. "I'm happy to be done."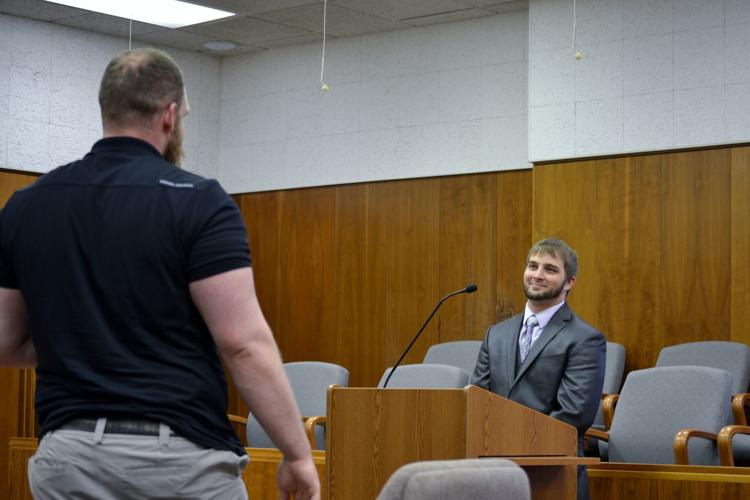 There by his side through it all and at his graduation was his mother, sisters, brother, girlfriend, kids, pastor, coworkers and friends.
"This guy, when he was using he was violent and angry," Joshua Grams' mom said. "Many times he scared the crap out of you. This Joshua is the kid he used to be. I have my son back. I'm very, very proud of him."
His kids took turns telling their dad how much they love him and how proud of him they are for getting through this program. He continuously spoke of how his family and kids were his main motivators to complete drug court.
"The main thing with me was having huge sober support in my family, kids, mom, sisters and brother," Joshua Grams said of what was a key motivator. "That helped me. I'm happy to be where I'm at and to prove to everyone this is my time."
He works at Truth Hardware as a punch press operator and at Christ the King Community Church as a janitor.
Joshua Grams also mentioned his favorite hobby is riding Harley with his mom and brother. They go to Sturgis, South Dakota, every year together. He said it's good family time.
"The whole thing (drug court) was a challenge. I knew long-term it would do me well and I got through it," Joshua Grams said.
He went on to say graduation is a good sense of accomplishment.
When participants graduate, Minnesota's senior U.S. Senator Amy Klobuchar sends them a personal congratulations letter. They also receive a drug court chip and a plaque to recognize their efforts and accomplishments.
Steffens joined the program in April 2017 and has participated for about 28 months. In that time he has taken more than 560 tests and has been sober for 684 days.
"Mike is a man of few words, but when he does speak you better listen," Judge Hanks said. "He took this program very seriously."
She went on to say his determination is second to none and he has even become a mentor to other participants.
"He's a good role model of what you got to do," another participant said.
Through drug court Steffens got the help he needed along with the answers on his mental health, saying he's just trying to get healthy.
"The toughest battle I had was mental health," Steffens said of his drug court journey. "I was finally diagnosed bipolar. I feel the best I've ever felt in my whole life right now."
Once his mental health issues were addressed, he spoke of being able to work again. He is the owner of M and M Enterprises in Waseca and has been since 1995.
In his time through drug court Steffens was motivated by family to finish along with having good friends in the recovery community supporting him.
"Mike is very humble and immediately recognized that self-care for mental health and connection with others in the recovery community was essential to long-term recovery," Nicole Grams said.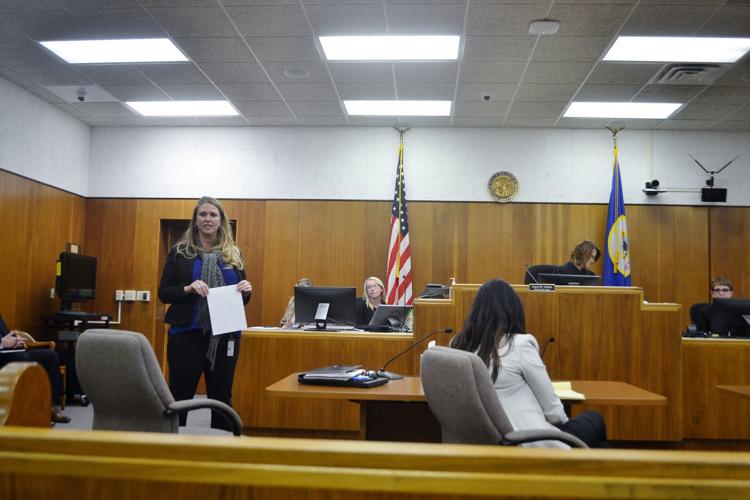 He said graduating from drug court means a lot to him and he's happy along with everyone else that he graduated.
"When you succeed at this so does our community," Mental health professional on drug court team David Wright said to the two new graduates. "Not just one persons victory, but there are people you haven't met yet but they'll reap benefits from it."
Nicole Grams left the graduates with a challenge to stay connected to meetings, events and drug court community as a whole after they completed the program.