Once Tracy Erlandson decided she wanted to apply, the decision was more or less made regarding the status of now-former volleyball coach Jen Nerison.
Due to a policy within the Kenyon-Wanamingo School District, if a qualified candidate that works in the school district applies for a coaching position, she takes automatic precedence over an incumbent that works outside the school district.
That means Erlandson, a physical education teacher at Kenyon-Wanmingo Elementary School and an assistant volleyball coach the last eight years, is the new head volleyball coach for the Knights instead of Nerison, who works in the Goodhue County school district.
"Since Nerison is not an employee of the Kenyon-Wanamingo School District she was not considered for coaching renewal when a current, qualified teacher applied for the head coaching position," a Kenyon-Wanamingo press release stated.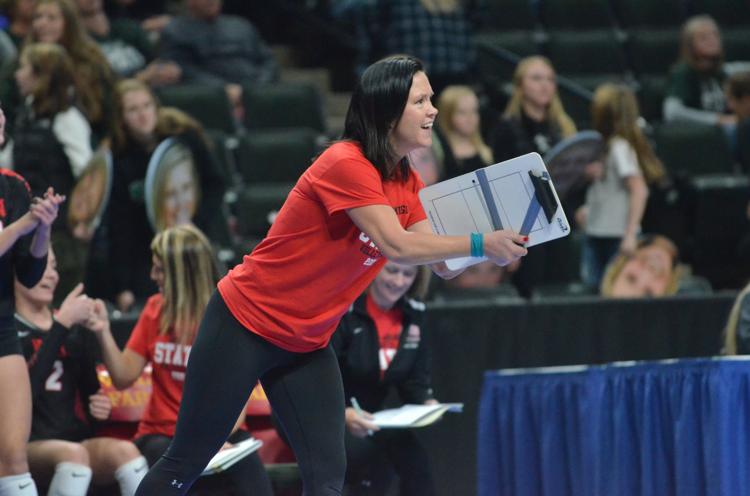 Erlandson now takes over a program with plenty of recent on-court success as well as an abundance of questions entering this fall.
Kenyon-Wanamingo qualified for a pair of state tournaments in Nerison's eight years as head coach. Last year, the Knights finished the regular season with an 18-9 record (6-4 in the Hiawatha Valley League) before dropping a narrow 3-2 match against Medford in the Section 1A semifinals.
The Knights also graduate a seven-player senior class and return only one senior, Hailey Lerfald.
Beneath Lerfald is a junior class that will be around four or five players, as well as talented sophomores and freshmen that Erlandson is quite familiar with. Last year, Erlandson was in charge of a junior varsity squad that lost only two matches.
"I've been an assistant coach at KW for eight years, so I've had a lot of these girls," Erlandson said. "Even these younger girls, they had my as a phy-ed teacher or as a junior high basketball coach. I'm not an unfamiliar face to these girls and my daughter is going to be a sophomore, so I've been around this group of girls for a while, too."
Erlandson's daughter, Tess, also played a role in her decision to apply for the opening. Before she had kids, Erlandson previously served as the head girls basketball coach at Kenyon-Wanamingo for three years.
Once she started a family, however, she decided to scale back into assistant coaching roles. Her son, Tate, graduated from Kenyon-Wanamingo High School this spring, however, so a return path to head coaching duties was possible in addition to her continued assistant coaching duties for the girls basketball team and girls track and field teams.
She might have also caught the head coaching bug last fall.
After Nerison took a personal leave of absence in late October following a DWI arrest, Erlandson and Cheryl Dahl — who will coach the JV team next season — took over a co-interim head coaches.
"It gave me a little spark that this was maybe what I wanted to do again," Erlandson said. "I've always loved coaching. I've been a teacher here for 22 years and I've coached every single year. I'm a three-sport coach now, so coaching has been a huge part of my life even when I was younger."
"I saw that excitement in (the players) and I thought, 'Oh, this is something I maybe want to do again,'" she added.
Nerison did not respond to a request for comment for this story.
"Jen Nerison did a great job of building this program," Erlandson said. "Volleyball here is really big, and we have a lot of girls that are interested and we're fortunate that girls are interested. We have a big group of athletic girls that want to work hard and be good."