Even in a calendar year that was irreparably altered by COVID-19, the communities of Kenyon and Wanamingo still witnessed plenty of newsworthy events in the sporting world.
From local athletes competing at state to others not having the opportunity to, or even from new coaches in charge of programs to a new conference alignment coming later in 2021, the Knights stayed plenty busy during the past 12 months.
Listed below are five of the biggest stories of the past year, listed chronologically, with links at the end of each summation to more information on each event.
Wrestling advances 3 to state tournament
There's no simulating the feeling of walking out of the tunnel to the Xcel Energy Center in St. Paul for the individual wrestling state tournament.
So, while all three of the Kenyon-Wanamingo wrestlers competing Feb. 28 in the Class A state tournament didn't register a win, a pair of those three experienced those bright lights and large crowds for the first time, and all three will have at least one more opportunity in future years to return for another trip.
"We came out a little bit flat," Kenyon-Wanamingo coach Nathan Lexvold said. "We just didn't wrestle our match, but that happens up here. I remember my junior year I lost 1-0 and I was done.
"No one's a senior," he added, "so they all have a chance to come back next year. Hopefully, they can repeat, do that and improve from what they learned from this year."
The state contingent for the Knights consisted of juniors Carter Quam and Alec Johnson, and eighth-grader Gavin Johnson.
You can read more about K-W's experience at last year's state tournament, and Lexvold's first year as the team's coach here.
Spring sports season cancelled
As the days ticked off the calendar, and Minnesota's stay-at-home order stretched on, the reality of the situation crystallized for Kenyon-Wanamingo senior Tate Erlandson.
Erlandson, one of seven seniors on the K-W baseball team and a three-sport athlete, was looking forward to his final two months of high school sports. Even after the spread of COVID-19 started to shut down life across Minnesota, Erlandson assumed he and the Knights were going to eventually take the field.
That vision slowly faded away, though, culminating in the successive announcements April 23 that first, schools will resort to distance learning for the rest of the school year, and second, that spring activities are canceled.
"As it started progressing, it was like, 'Wow, this is really not going to happen. We're really not going to go back to school,'" Erlandson said. "The whole sense was we thought we were going to go back. Now that this is announced, we can't control it. We just have to make the best of it."
You can read more reactions to the cancellation of the spring sports season here.
Kenyon-Wanamingo to move to Gopher Conference starting in 2021-22 season
Gopher Conference members voted May 6 to accept the applications of four new members.
The new members will join the conference for the 2021-22 school year. Kenyon-Wanamingo, Triton, Randolph and Janesville-Waldorf-Pemberton were accepted into the conference. Randolph and JWP were former members of the conference while Kenyon-Wanamingo and Triton will move from the Hiawatha Valley League. Randolph resides in the Southeast Conference and JWP is in the Valley Conference.
"We think it's the best fit for our school," K-W Activities Director Randy Hockinson said. "Size-wise we've been going down with our student population. There are some schools in the HVL that have been going up and will be going up. It was harder to compete, at the lower levels especially."
You can read more about the decision for K-W to move to the Gopher Conference here.
Erlandson takes over volleyball program
Once Tracy Erlandson decided she wanted to apply, the decision was more or less made regarding the status of now-former volleyball coach Jen Nerison.
Due to a policy within the Kenyon-Wanamingo School District, if a qualified candidate that works in the school district applies for a coaching position, she takes automatic precedence over an incumbent that works outside the school district.
That meant Erlandson, a physical education teacher at Kenyon-Wanmingo Elementary School and an assistant volleyball coach the last eight years, is the head volleyball coach for the Knights instead of Nerison, who works in the Goodhue County school district.
In her first season this fall, Erlandson led a team with only one senior to a 3-6 record, but the Knights won their final two matches before their last four scheduled contests were canceled.
You can read more about Erlandson's hiring here.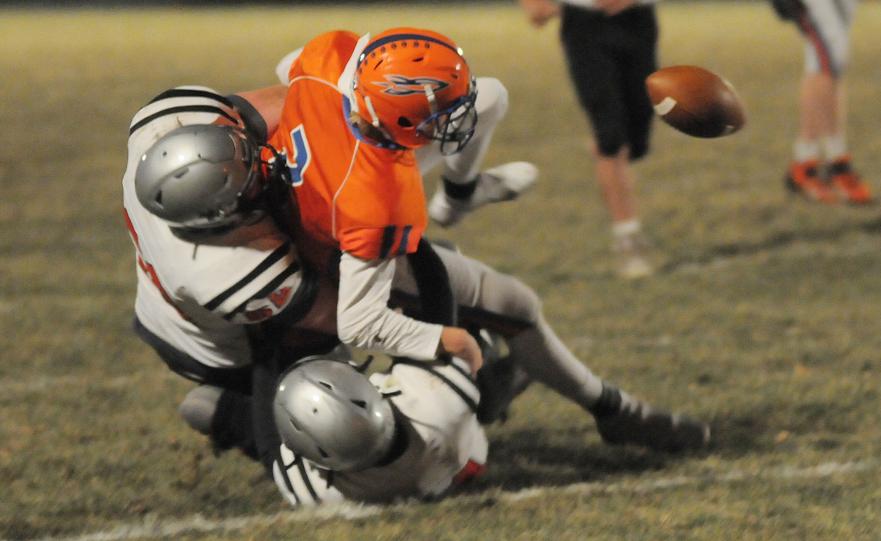 Football shoots into Class AA rankings before season is shut down
Through all the stops, starts and reschedules, Kenyon-Wanamingo football coach Jake Wieme wants to emphasize one thing: he's happy there was a season to be stopped and started at all.
"First of all, we're just happy we got to have a season," Wieme said. "It was up and down and here and there, but we had a good group of juniors and seniors that were happy to have a chance to play football, and they put a lot of time and effort leading up to it this year. I thought overall it was a very good season."
The season started with a 20-12 loss at Goodhue in Week 1, and ended with a 16-6 defeat at Triton in the first (and ultimately final) round of the Section 1AA playoffs. Those were the only two losses the season for the Knights, who won their other three games in order with the help of a defense that surrendered only seven points in those three contests to shoot into the Class AA state rankings.
K-W (3-2) shut out both Fillmore Central and Randolph — the latter of which upset Goodhue 22-20 in the Section 1A playoffs — and allowed a touchdown to Bethlehem Academy in a 20-7 victory.
"Those first four games, the defense was great," Wieme said. "The nice thing about our defense is they were able to adapt to some different changes from week-to-week. One week we played zone defense, one week we played man defense, one week we played a 3-5 and the next week we played a 4-4. The guys were very willing to learn and make changes and able to use those changes and put them to use on the field."
You can read more about the football team's stops and starts this season here.