The only action Kenyon-Wanamingo's Tyler Craig has gotten on the defense line is when he sneaks in for a few drills in practice. Typically a linebacker, Craig said he liked the challenge of shredding a block on every play.
After Friday night, in a 28-0 victory against Fillmore Central at Kenyon-Wanamingo High School, he may have more time on the defensive line as the 165-pound senior didn't feel overmatched.
Kenyon-Wanamingo head coach Jake Wieme said after the game he might favor Craig staying on the defensive line instead of shifting back to linebacker.
"It depends on (our) kind of defense and what we're running against," Wieme said. "It does give up some size if we're going against a run-heavy team, but he's a feisty kid and is willing to fight in there. "
Craig and the rest of the defense forced Fillmore Central (0-2) to punt on every drive except one in the first half as the Knights (1-1) subdued the Falcons en route to a 21-0 halftime lead.
On offense, Craig led the Knights on the ground by rushing for three touchdowns.
Craig rushed in for the first score of the game just over six minutes into the first quarter. He later scored on the first play of the second quarter, finishing off a drive that began with the Knights defense forcing and recovering a fumble. In the third quarter, Craig found the back of the end zone for a third time, which capped off a long drive that the Knights extended on power running and a 39-yard reception by junior Laden Nerison.
All night long, Craig felt he — along with senior Bray Olson and junior Josh Schmidt — had plenty of success running thanks in large part to the offensive line. The Knights carried the ball 51 times for 249 yards. Olson had 83 yards on 16 attempts and Schmidt added 28 yards on seven carries to supplement Craig's team-high 127 yards.
"Watch the tape over and over. They are doing their jobs every time," Craig said. "Hitting who they're hitting. I'm just following them. They're the leaders for me. They did great."
Wieme added he wanted to mix a few different run plays on offense, but felt Owen Hilke and Carter Quam provided such great blocking all night, that the power running became the go to.
On the other side of the ball, stopping the Falcons option offense seemed to come with more ease for the Knights as the game progressed. Junior Evan Brossard recovered a fumble that led to Craig's second touchdown. Four different Knights record a sack, including Craig and Brossard.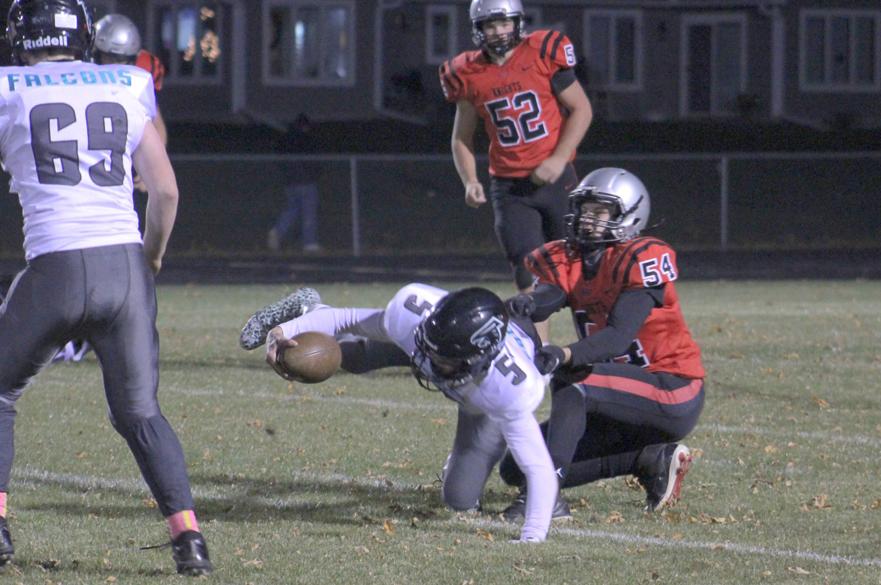 Wieme said after being tested last week against Goodhue, he felt his team was capable of having a performance like tonight.
"Tough one to start the year, but also a good barometer to see where we're at," Wieme said of the 20-12 loss to Goodhue the previous week. "You can make a lot of growth from Week one to Week two and I think we showed that today."
The defense for the Knights limited the Falcons to 49 yards on the ground and only 90 total yards.
Kenyon-Wanamingo stays at home next week to face Bethlehem Academy (1-1), which raced past Hayfield 35-14, for homecoming. In order to pick up a second straight win, Craig said it'll take another team effort.
"It was a whole team win," Craig said. "Everybody on defense with the corners locking down receivers, and locking down the quarterback rolling out. (We have to) keep rolling as a team and having fun as a team."