As wildflower season approaches, residents of Steele, Rice and Goodhue counties could very well see a rare plant pop up near them.
The dwarf trout lily, scientifically known as Erythronium propullans, is a short lived plant contained to three counties in Southern Minnesota. If local residents are lucky, they may spot the small flowers blooming in a nearby park in the coming weeks.
"They're only known from those three counties," said Derek Anderson, a Minnesota Biological Survey botanist at the Minnesota Department of Natural Resources. "Nowhere else in the world will you find this particular trout lily."
The Minnesota Biological Survey program documents wildlife and habitat status across the state. Anderson focuses on species listed as federally endangered or threatened, monitoring their population, conducting surveys. He is an expert on the rare dwarf trout lily.
According to the DNR, the vascular plant was first spotted in Rice County in 1870. The origin of the species is unknown, but the theory is that the dwarf trout lily diverged from the more common white trout lily near Faribault following the retreat of the glaciers about 10,000 to 12,000 years ago.
"I think that what we find with these [plants] is that the more we start to learn about them, the more we find out that we don't know about them," Anderson said. "There's always so many intricate parts to these [plants] and trying to learn more about them will help to protect and conserve them going into the future."
It is uncertain exactly how the plant population expands. Anderson said it is unknown if the dwarf trout lily can really produce viable seeds and fruit after pollination, but he believes its expansion has to do with what experts call clonal spread or vegetation spread. Thus conservation efforts are limited to protecting the habitat at this moment.
Dwarf trout lily is similar in appearance to the more common white trout lily, although smaller in size. Dwarf trout lilies sometimes have a pink tint to them and generally have three, four or five tepals, whereas white trout lilies have six tepals. They are often found near a river terrace, mesic oak-basswood forest or mesic maple-basswood forest on a north-facing slope above or near a stream. Occurring in colonies of varying sizes, the dwarf trout lily is often mixed among white trout lily, according to the DNR.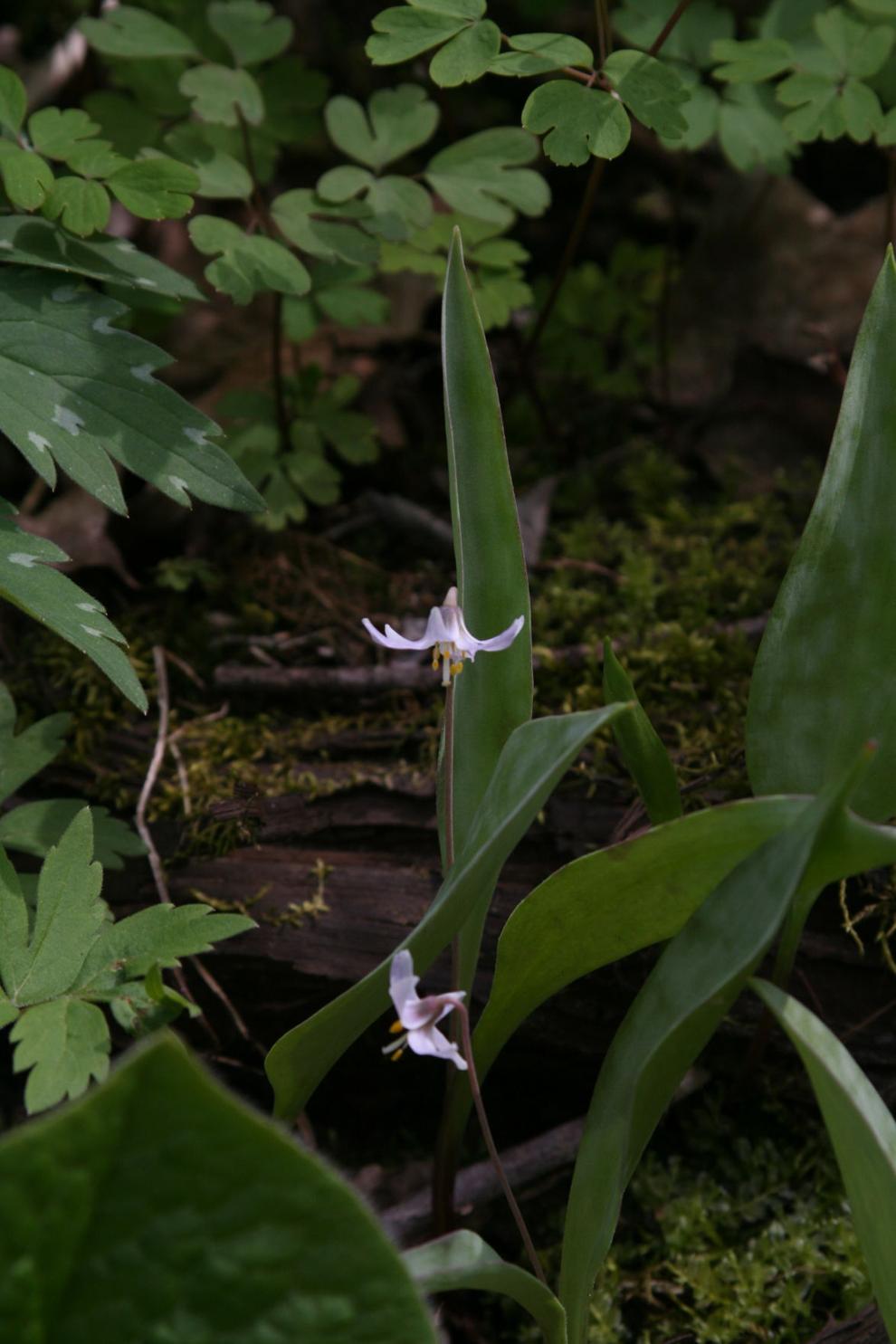 The federally and state listed endangered dwarf trout lily typically sprouts in April, completing its short life cycle in the spring before the tree leaves are out. The two- to three-week blooming period generally starts in mid April to mid May, before the plant finishes its life cycle in mid-June. Experts however have witnessed a shift in the rare lily's blooming period.
"I've been working with this species for 15 years now and I have seen a slight shift earlier," Anderson said.
While there is some natural variability to that timeline, Anderson says in general the flowers have been blooming earlier than they had 10 or 20 years ago. This shift could be attributed to changes in the climate.
Dwarf trout lily population numbers and habitats have seen a decline according to monitoring results since the late 1990s. This trend continues for some areas, although other sites have seen more stable population numbers, Anderson notes. Decline could be due in part to late season flooding, leading the river to swell and resulting in habitat erosion. Plants may become buried under sediment deposited during large scale precipitation events. The frequency at which these large scale precipitation event patterns occur can be a result of a changing climate.
In the past dwarf trout lily habitat destruction was caused by harvesting timber and agriculture. Today the biggest threats include recreation and residential development. Invasive species, such as common buckthorn and garlic mustard make it difficult for the rare plant and other native plants to compete.
"Preserving the habitat where it's found is probably the biggest way to protect and conserve this species," Anderson said.
Thus the DNR will continue its long term management at multiple sites to track population trends and habit changes as well as remove invasive species if needed. About half of the dwarf trout lily population is under the ownership of public and private conservation organizations, places that are already being managed and protected.
Construction of a retaining wall and stream weirs near Prairie Creek at Nerstrand Big Woods State Park as well as a shoreline stabilization project on private property alongside the Cannon River have been installed to limit erosion from severe flooding events and further protect the dwarf trout lily population.
There are opportunities for the public to help the DNR with its survey efforts, Anderson said. He also encourages property owners with the rare plant on their land to consider actions to protect the plant. There are still a lot of unknowns about the plant, thus the DNR can't be sure of the plant's exact role in the local ecosystem. Despite this, Anderson feels it is worth protecting. It is after all the only plant species that is known to be solely from the state of Minnesota.