Kenyon-Wanamingo High School may not be big, but its musicians consistently perform alongside the top players from across the state.
Van Epps attended a weeklong camp to practice with her 100-student ensemble at the University of Minnesota, culminating in a final performance Aug. 10 featuring a blend of classic and contemporary pieces. 
The process began last fall, during Van Epps' junior year, when she started practicing a solo piece, along with scales and other exercises showcasing technical music skills, for her audition in March. It's a rigorous process, designed to select the top high school musicians from around the state. In All-State's orchestra and two bands, K-W band director Claire Larson estimated that 110 flutists auditioned for fewer than 25 spots across the three ensembles.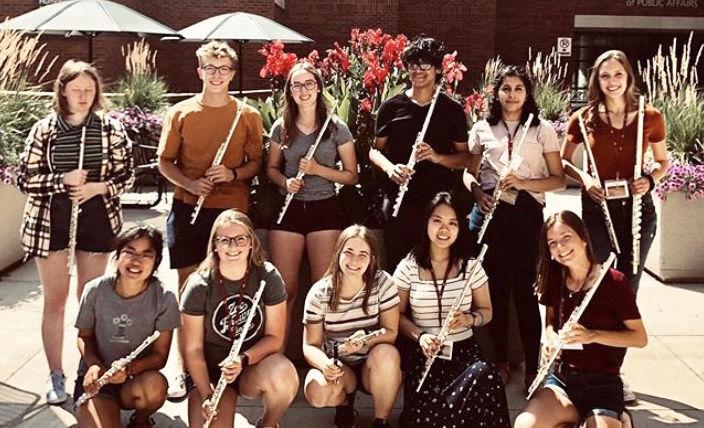 During the camp, Van Epps learned from a guest conductor and top Minnesota music educators, along with other students. It wasn't always easy, she said, but the challenges helped her grow.
"I felt like I had to learn to be patient with not only myself but the people around me. Sometimes it was frustrating for us because we thought we were doing so well, but would get critiques," she said. "I think I gained more musicality from it." 
Van Epps started flute lessons in fifth grade and has studied with both the K-W music program and a private teacher from St. Olaf College. She also plays the piano and occasionally sings. 
Larson likens participation in All-State to an athlete winning a state tournament.
"Katie's just an unbelievably talented girl. She showed signs from a very young age of being one of the most exceptional flute players our district had ever seen," said Larson. 
All-State challenges students beyond what a regular school ensemble can offer, said Larson, encouraging students to take technical skills to the next level. This year, Van Epps was the only K-W student accepted into the program; French horn player Matthew Helland also made the waitlist as an alternate performer.
Last year, vocalists Sophie Kyllo and Amber Olson, along with flutist Celia Woock and horn player Kassandra Keller, also participated in All-State.
"It's pretty outstanding that a school of our size can regularly turn out All-State participants," said Larson. "These kids are super talented, highly motivated and set the bar very high, and they've inspired their peers to work toward excellence." 
Van Epps will rejoin the All-State ensembles in February 2020 for a clinic and performance at Orchestra Hall in Minneapolis. As a rising junior, she'll also have the opportunity to audition for a repeat performance her senior year. She has also participated in other local ensembles, including the Cannon Valley Regional Orchestra and Southeastern Minnesota Youth Orchestra.
After years of study and practice, Van Epps views music as a lifelong skill that might turn into a college major or minor. 
"I just want music to be part of my life," said Van Epps. "There are so many stats about how it's wonderful for your brain and your mental health. I do it because I can't get enough of it. I can't stop doing it."