After about 29 years and one devastating tornado later, one primary trainer airplane dating back to the 1940s is back up and flying again.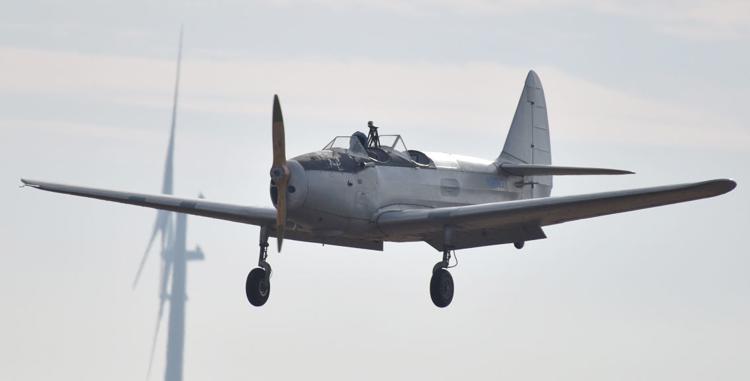 Within the last couple years, Kenyon resident Kirk Hiner has been working hard alongside licensed aviation mechanic and expert aircraft builder Gary Underland of Owatonna to get his dad, Jim's Fairchild PT-19 repaired after one of a series of tornadoes struck its hangar location Sept. 21, 2018 in Faribault.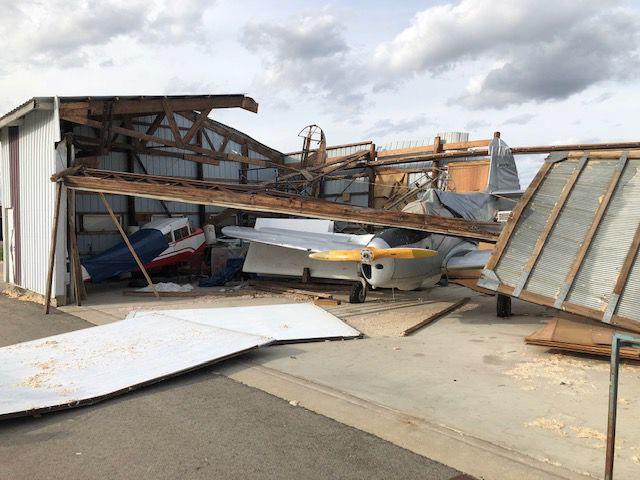 "It was a shock," Kirk said of the tornado. "I knew there was bad weather that night, I hadn't realized it hit the airport until the next morning."
The owner of the airplane contacted Kirk, telling him that his hangar had gone down in the tornado.
"The hanger was pretty much completely gone," he said. "The airplane had considerable damage, but it was far from being totaled. It was still repairable."
After clearing hangar debris off of the plane, Underland, a friend of Jim's, played a large role in the restoration and repairing of parts. Underland and Kirk began repairing the plane a month after the tornado, and proceeded to work on it throughout the next year on a part-time basis.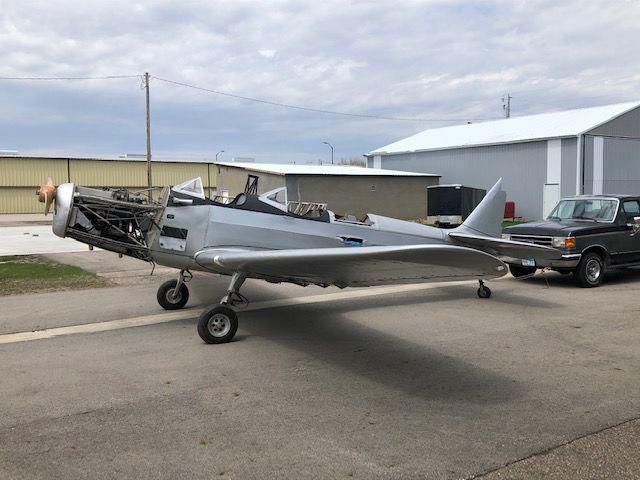 Underland helped Kirk get the airplane a special flight permit, otherwise known as a ferry permit — a certificate issued by the Federal Aviation Administration authorizing the operation of an aircraft that does not meet standard requirements of regularly flying, but is safe for a specific one-way flight.
While Underland and Kirk made the necessary repairs to get the plane flying again, as Kirk calls it "re-restoring." He says his father, along with his father's partner, did the main part of the restoration.
"I actually do enjoy working on those types of planes," Kirk said of making repairs to the Fairchild PT-19. "It's kind of a mixed emotion on [the Fairchild PT-19] because it was in such good shape before, and the fact that [we] had to do that much restoration was kind of disappointing. It's important "
Preserving history
For Jim, the PT-19 was the first training plane he learned to fly on before going to the war in Europe in 1945. In 1976, Underland tipped off Jim and his partner about a "basket case" of a PT-19 sitting in a barn in Colorado. They drove out to Colorado soon after and purchased the parts from that airplane and hauled their future project back to Kenyon. The duo rebuilt the plane from scratch and got it fixed and flying again by about 1980. They flew the plane out to the air show in Oshkosh, Wisconsin, twice over the years to put it on display. They also sometimes flew it in locally from 1980 to 1990. The last flight was made on Sept. 21, 1990. After its' first flight, Kirk said the plane was then stored away in a hanger in Faribault until the tornado.
Underland, who has been working in aviation full time since 1961, is now 86 years old. He says he likes to help anybody that needs it, and has helped out Kirk whenever he has had the time.
"Kirk himself is getting well versed in airplanes," Underland said. "He's been rebuilding and building many planes and learned quite a bit about planes for someone who is not in it for business, but more for enjoyment. He loves airplanes and so do I."
Since Kirk had never flown a PT-19 before As of what point?, he needed some training. He happened to run into a flight instructor from Nebraska who owned a PT-19, while at an Oshkosh air show. He was willing to train Kirk on how to fly the plane, so he went out there and completed three hours of training.
"I felt pretty comfortable flying in that plane then," Kirk said. "I just had to wait for a perfect day."
The ferry permit allowed Kirk to fly the plane from a Faribault hangar to Dodge Center and gave him a 10-day window to do so. Last fall, a perfectly suited day for flight came about, and Hiner took advantage of the sunny day with light winds and a 40 degree temperature — necessary conditions for flying in the PT-19's open cockpit.
"That was an exciting day," Hiner said. "Gary came over and gave it a final inspection before I left."
Underland said "airplane guys get to loving what they're doing," adding him and Kirk are two of that kind.
Kirk and Underland continue to work on the remaining PT-19 repairs when they have time, in order for the plane to qualify as "permanently air worthy" after passing its annual inspection. Once it is fully finished, Hiner plans to use the plane for "local fun flying," with the possibility of going on several adventures, such as a fly-in breakfast.
With a plethora of experience coming from building 32 planes himself, along with another 40 with the help of others, Underland continues to work in the industry that he's been enjoying for the last 58 years.
"I feel sorry for people who don't get to fly airplanes," Underland said. "Airplanes are unique and they let you understand the country from another view, perspective or dimension."
Kirk, who shares many years of experience building experimental aircraft, a hobby he grew to love while working alongside his dad, not only enjoys flying the planes, but also working on them and overcoming the challenges by making his own adjustments. In this case, carrying on the history of the Fairchild PT-19 is something Kirk finds important. He says his dad would be excited to see the plane up in the air again, adding that it would make him pretty happy.
"It's good to keep these historical airplanes flying," Kirk said of making the repairs to the Fairchild PT-19. "They are still a big part of our history and World War II history."