Shortly after hearing the state's guidelines on back to school plans, the Kenyon-Wanamingo School District began preparing for in-person learning. As the days dwindled closer to the start of school, Goodhue County's 14-day COVID-19 case rate jumped from five to eight per 10,000 residents, nearing closer to the case rate of 10 that would send the 7-12 grades into a hybrid model, with prekindergarten through sixth grades remaining in-person.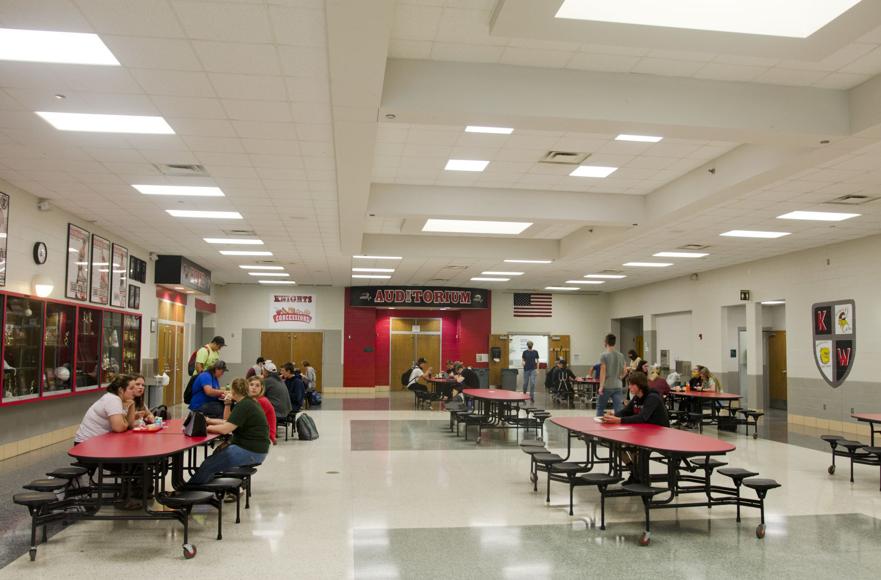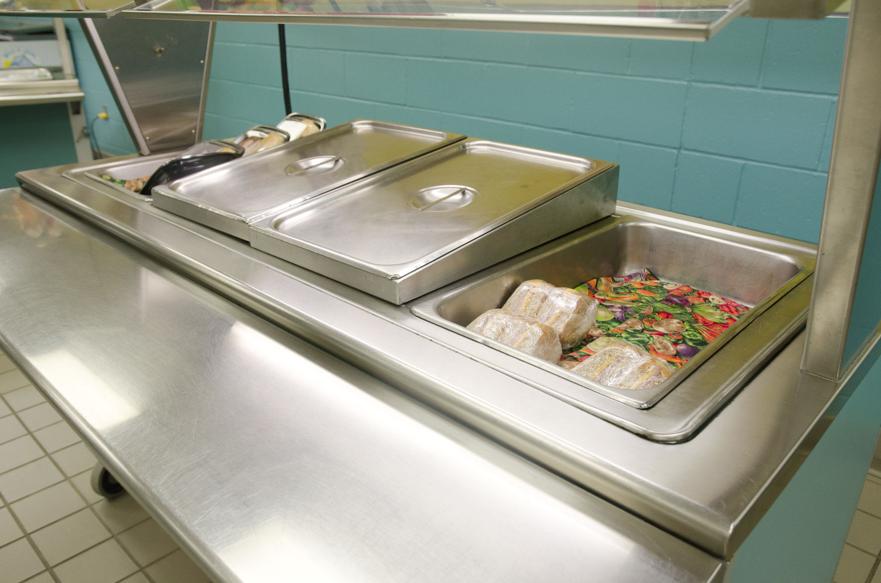 District officials decided to err on the side of caution and start the school year off in a hybrid model for high school students, and in-person for the remaining grades. To operate in a safe environment, an array of guidelines and protocols were put in place such as social distancing markers on the floor, directional arrows to direct traffic, face coverings for all staff and students, additional disinfecting and sanitizing and enforcing social distancing inside the classroom and lunchroom.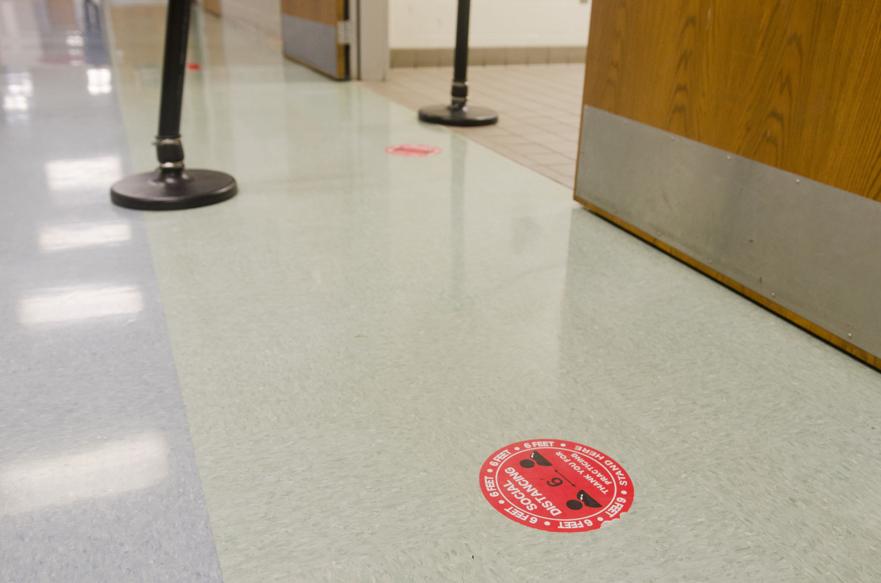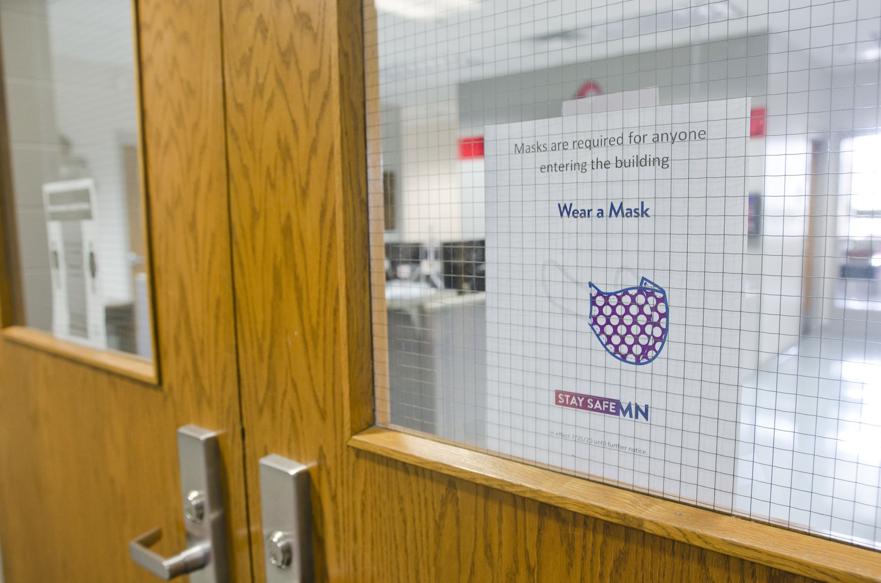 High school Principal Matt Ryan said this decision has been a great way for the high school level to start and establish a routine with a smaller amount of students, as about 50% of high school students are in the school at one time.
"As they are transitioning a lot more, there's more contact, so having fewer kids definitely made that easier to establish," Ryan said.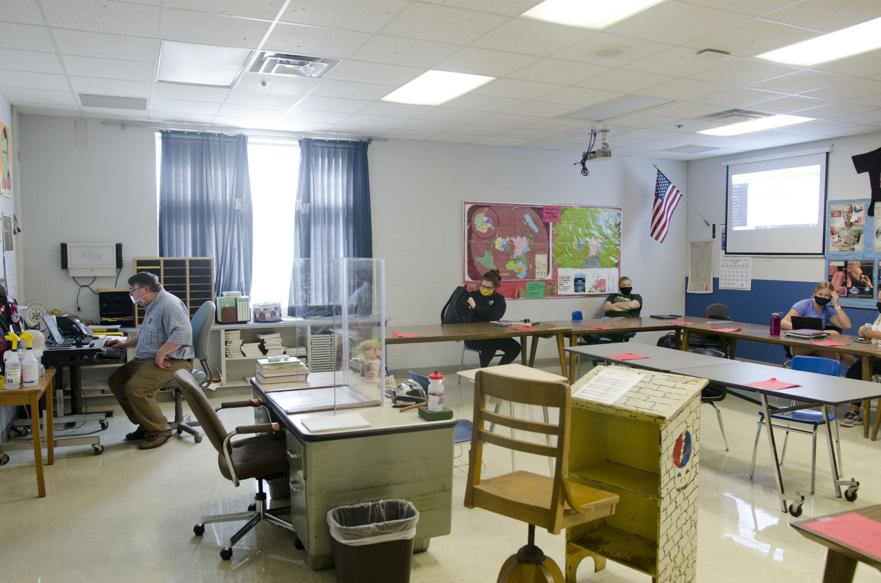 At K-W, the hybrid learning model allows PreK-6 grades to remain in-person learning as in previous years and divides the seventh through 12th grade in two groups, as even as possible and keeping families in the same household in the same groups. Group A receives in-person learning Mondays and Tuesdays, while Group B attends class online at their homes via Google Classroom/Meet. On Thursdays and Fridays, the groups flip flop to allow equal in-person learning opportunities for both groups. Wednesdays are distance learning for both groups and also allow teachers more time to prepare and students time to set up a one-on-one meeting with a teacher, or attend student council meetings.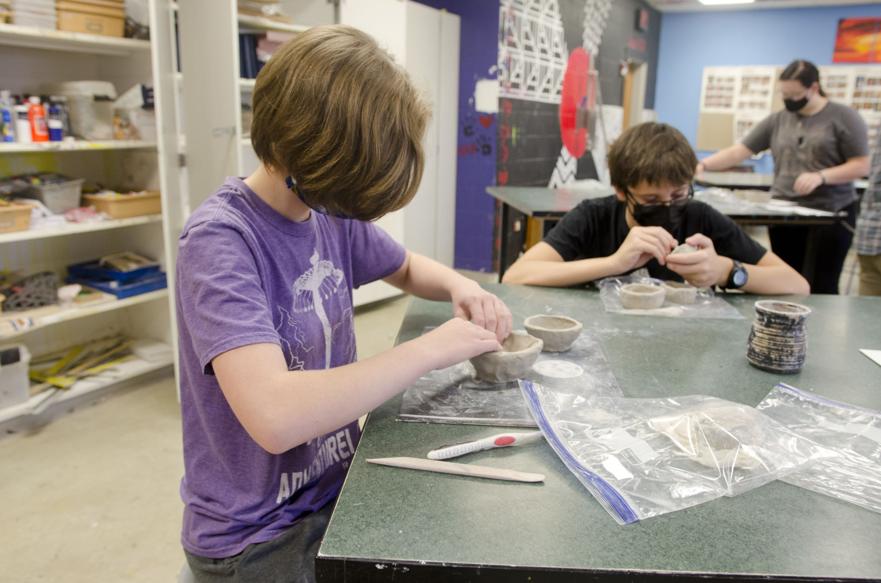 While inside the school, all staff and students are required to wear masks, practice social distancing of 6 feet in place at all times and if 6 feet cannot be achieved with 50% capacity, the number of people in a space is reduced. Officials also limited the number of people at school and on buses to 50% maximum capacity. Ryan says the district had a company come in to determine the amount of people that can be in each room in the school, while following COVID-19 social distancing occupancy numbers. Although some rooms, such as the chemistry room are larger, Ryan says they may not allow that many people since more room is required during things such as labs.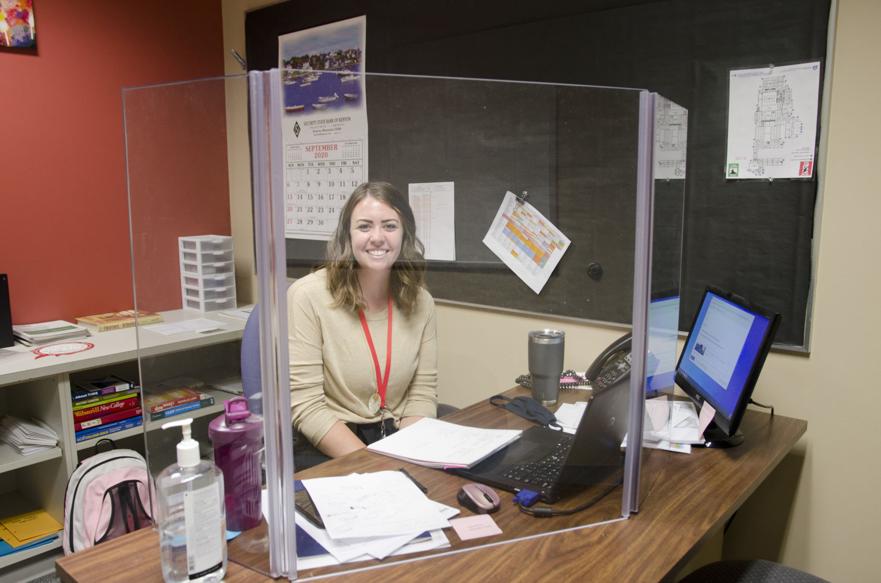 Each teacher has a different setup to balance teaching in-person and virtual students at the same time, but Ryan says almost all teachers have some type of Plexiglas setup on their desks to allow for more protection between themselves and students. In Darin Walling's science classes, he uses a document camera so that virtual students can see what he is writing on the board, just as in-person students can. For Dan Rechtzigel's Econ virtual students, the camera is placed at the front of the room to capture footage of him teaching students. One other layer of additional actions teachers need to handle is spraying and wiping tables and desks down between each class period.
"Staff have a little different spectrum of how comfortable they want to be, as some have more protective equipment than others, which is fine. We just try to accommodate everyone's needs as much as possible," said Ryan.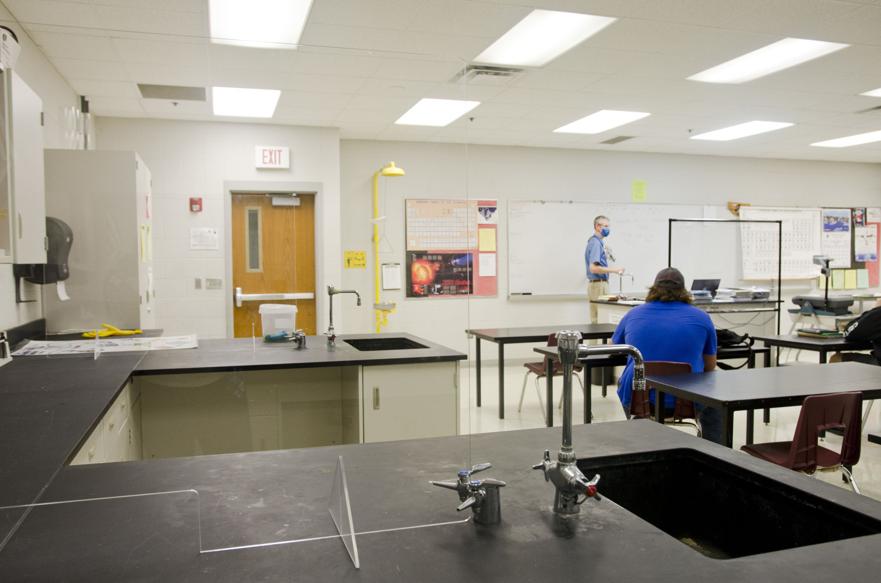 Ryan has noticed that the hardest part for teachers is managing virtual and in-person students at the same time, because it's not as easy as passing out a document to everybody.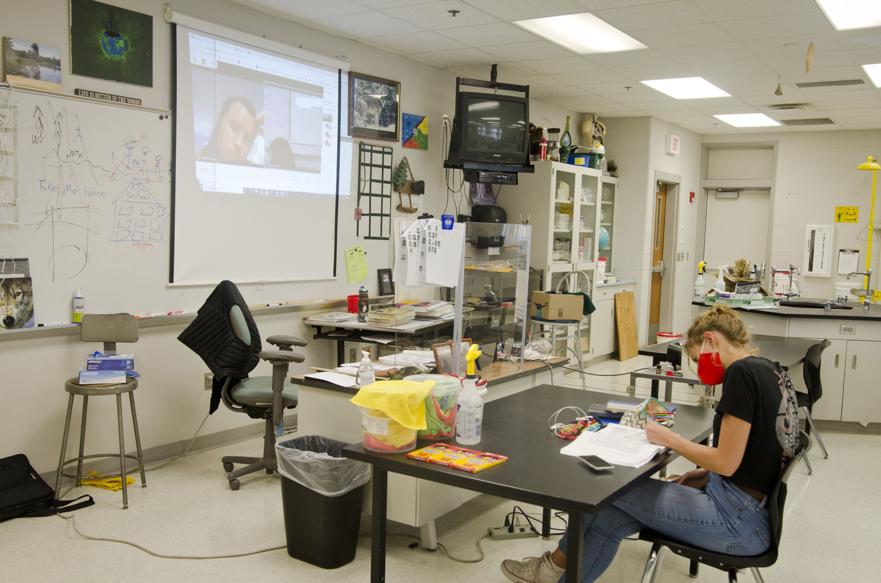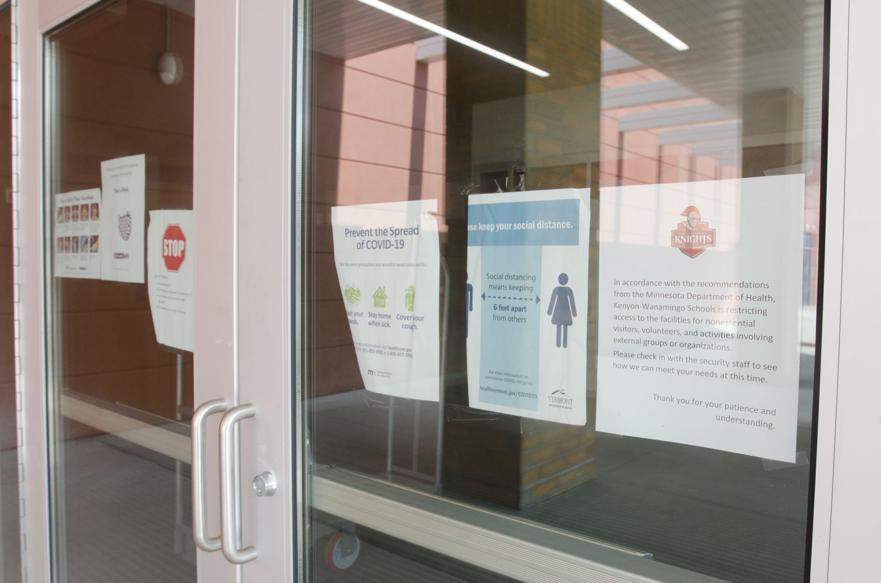 Over the last several weeks, Ryan said school has been going well and students have done well with wearing masks. He suspects a large part of that is that wearing masks has been a part of their world all summer, so it wasn't like the first day of school was their first day wearing a mask.
"It's going well, I think things seem pretty calm, but then again we only have half the students here every day too," said Ryan.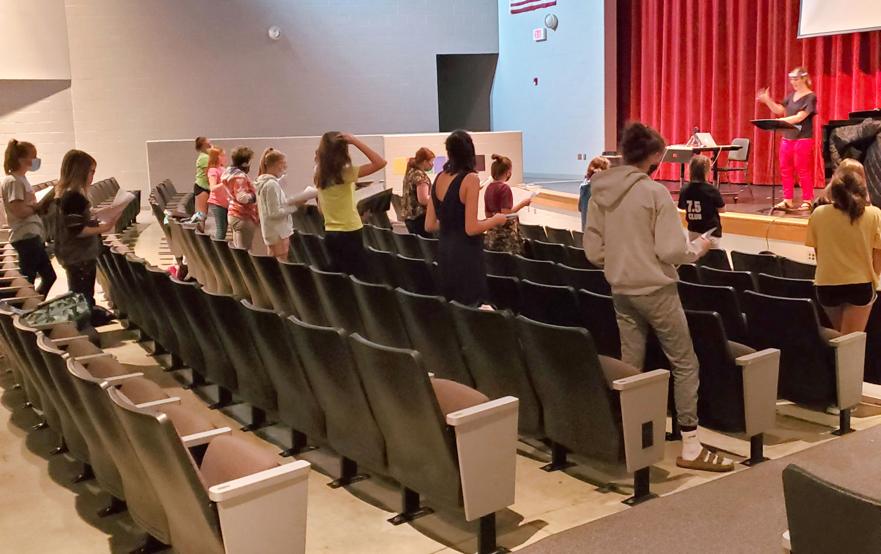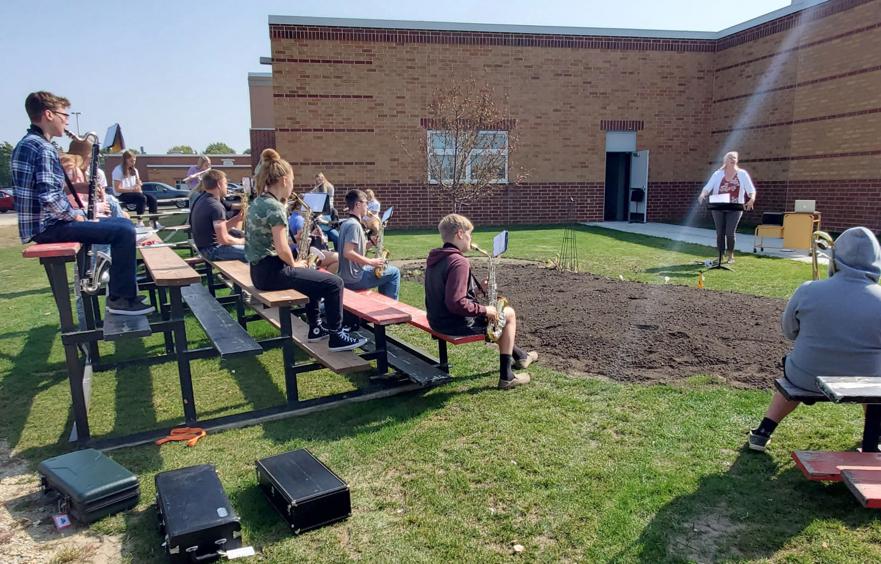 With the recent 14-day COVID-19 case rate numbers circulating in the 7-8 range, Ryan says officials have some big decisions to make in the coming weeks, as information from a parent survey says parents want their kids back in school. Ryan says he'd also like to find ways to build extra time for teachers to prepare and help out students when needed, especially if they are ever able to switch back to in-person learning for all students.