Kenyon-Wanamingo Middle/High School Principal Matthew Richard Ryan and head volleyball coach Jen Nerison were arrested for drunken driving.
Police said that Faribault police arrested Ryan, 44, of Kenyon, at 12:40 a.m. Saturday, Oct. 19 at the intersection of Minnesota Hwy. 60 and Interstate 35. His blood alcohol content was listed as .16, slightly more than twice the legal limit. He's charged with a single count of third-degree DWI, a gross misdemeanor.
Nerison, arrested in Blue Earth County late Oct. 18, faces two counts of driving while intoxicated. Both are gross misdemeanors.
Kenyon-Wanamingo Superintendent Jeff Pesta said Thursday afternoon that by law he could not confirm that Ryan was arrested. He said Ryan was working that day with no restrictions. Pesta noted any concerns with district employees outside of school are handled by applicable statutes and the terms of master agreements with group employee unions.
Nerison, in her eighth season with the Knights, began a leave of absence from her coaching duties Oct. 21. It will last through the season's end, according to K-W School Board documents.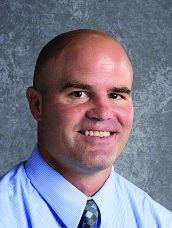 Four categories are considered when a course of action is being contemplated against a current employee: The safety of the school, the context of any illegal conduct, the ethical violation the conduct involved and a morals clause.
Ryan was hired as a district elementary school teacher in fall 1998 and was named the elementary school principal July 1, 2010. In 2016, he voluntarily transferred to become principal at K-W High School. Ryan also served as the school's wrestling coach for more than 20 years before stepping down in April to spend more time with his family.
He has had no formal complaints filed against him while he has been in his position.
Ryan is scheduled to make his first appearance in Rice County District Court Dec. 18.
Court documents state Nerison, who was convicted of DWI in 2014 in Goodhue County, was arrested after a Blue Earth County Sheriff's deputy was dispatched to an address outside of Madison Lake on a report of a possible crash involving someone driving while intoxicated.
An Eagle Lake officer saw a white Ford Explorer in the ditch, leaning against a stop sign at the intersection and met with a witness who said Nerison "was scared when law enforcement showed up," court documents state.
The officer reportedly found Nerison, who initially said she had been at a sporting event in Mankato before claiming she had been at a funeral and then stating she had alcoholic drinks while being out for dinner in a nearby town, as having bloodshot eyes, exhibiting signs of nervousness, and staggering. She failed tests meant to decipher whether someone is drunk and reportedly registered a 0.14 blood alcohol content.
She's scheduled to be in court Jan. 2.