From the Goodhue County Sheriff's Office, "Shortly after the onset of COVID-19 when it was suggested that folks wear masks as Personal Protective Equipment (PPE) to help protect themselves and others from the virus, Shawn Whipple started sewing cloth masks. Once this took off Gwen Frazier helped the cause by purchasing material and other items needed for the project and was great at promoting the importance of wearing masks.
"They both took COVID quite seriously and felt that masks would soon be mandatory and that this would be a requirement that would go well into 2021, if not longer. They quickly had a large supply of masks on hand that were available for staff to purchase for a nominal cost, basically to cover the cost of the fabric so they could purchase more.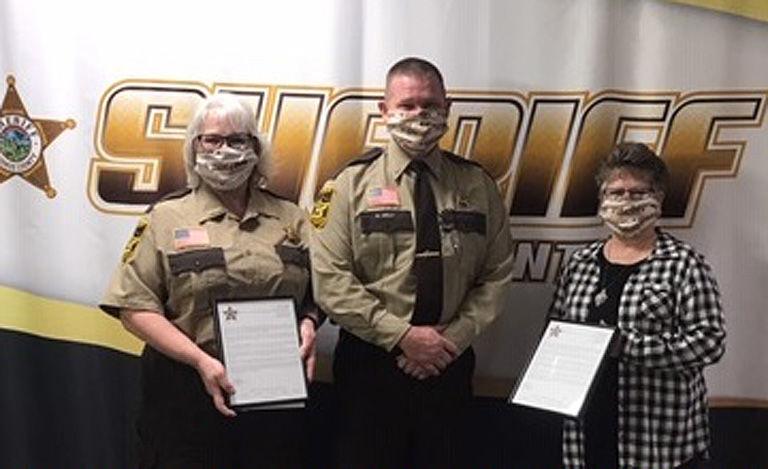 "When they realized that masks were not a one size fit all, Shawn adjusted her pattern so there were a variety of sizes to choose from. They wanted to make mask wearing fun so more would comply so they used fabric to match the current season and holidays. The also started using more manly fabric for the men.
"Shortly after the Executive Order, which mandated everyone to wear masks, items that they used became impossible to find. Shawn and Gwen were scrambling to find elastic and became quite inventive finding items that would work as good if not better. It was an amazing process to watch. To date they have made close to 2,000 masks!
"Shawn and Gwen went even further with their endeavor and ordered material with the Goodhue County Sheriff's Office printed on it. Each employee of the Sheriff's Office was given one of these masks.
"Shawn and Gwen answered another call to service and should be recognized for their proactive efforts with their mask project to help with the pandemic. Their mission of pushing out masks has made the mandate easier to deal with and has made the county a safer place because of their actions. They are nominated to receive the Goodhue County Sheriff's Office Letter of Recognition."