A new offering for high school students this school year puts students both behind, and in front of the camera.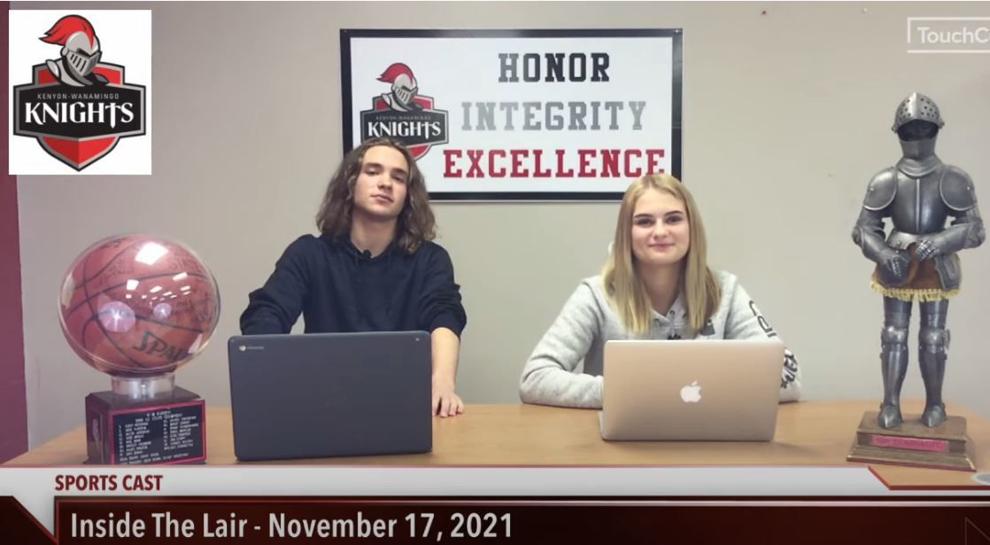 After seeing the success over the last five years with Kenyon-Wanamingo's "Inside the Lair with Kirby and Blair," a weekly video created to highlight students' accomplishments and current activities, a decision was made to implement the online broadcasting skills into the school's curriculum.
After the end of the 2020-21 school year, High School Principal Matt Ryan connected with Kirby Van de Walker, who started the online program with fellow teacher Blair Reynolds. Ryan said they were looking to create an opportunity to get students involved in some of the production side of the show and livestreaming sports, while also having that be a way for students to stay connected with the happenings at K-W.
"Ultimately, it took the right person to want to run with it and make as much out of it as possible," said Ryan. "Kirby was that guy, he has a strong interest in it, taking initiative with leadership for getting the livestreaming going last year. It's a good way to bring students in the process."
Ryan also sees it as a win-win situation for all involved, because it keeps the show going strong and gets students involved and learning.
"Students are learning different communication skills, technology skills and I think as much as anything, we are trying to get students connected to the happenings at K-W," said Ryan. "It's a way to highlight those happenings for our students and greater community."
Van de Walker, too, wanted to find a way to keep the show moving forward and provide a curriculum that improves kids' communication skills, an opportunity he had available to him when he attended K-W in the early 2000s. With both him and Reynolds involved in coaching different sporting events, Van de Walker said the show would start off strong and fizzle out once their schedules became busier throughout the school year.
But now that it's a class, that won't happen.
"It's a good opportunity for kids to improve and gain a wide variety of skills," said Van de Walker. "We're proud of the show each week, and it's something teachers show to the kids in their homeroom. Kids also want to get involved in segments, because they want to be on the show."
This year's class includes students in grades nine through 12, each with their own interests, whether it be sports, theater, speech, band, art or welding. While some students knew each other beforehand, that wasn't the case for everyone. Van de Walker says it's been fun watching students have a different partner each week and tackle the assignment together. The show follows a similar structure each week, and starts out with Reynolds and Van de Walker introducing the latest K-W sports news. Students take the rest of the nearly 20-minute episode as news anchors, content creators, technical coordinators and/or editors/producers of the footage. There is typically a commercial made by students about a business in town that sponsors the sports livestream, followed by a game segment, senior decision and hallway challenge.
For many students, like ninth grader Jett Smith and 12th grader Preston Leininger, the hallway challenge is their favorite part of the show because it involves more people. Smith decided to sign up for the class because he wanted to try something knew and gain additional computer skills. Leininger, on the other hand, was thinking of his future after graduation when signing up the new class.
"I want to go into sports broadcasting in college, so I thought it would be a good opportunity," said Leininger. "It's like the class has been happening for years already, everybody knows what to do and has their own role. It's going really good for its first year."
Leininger personally enjoys the show because it shows everybody what students are up to at K-W, not just district-wide but community-wide.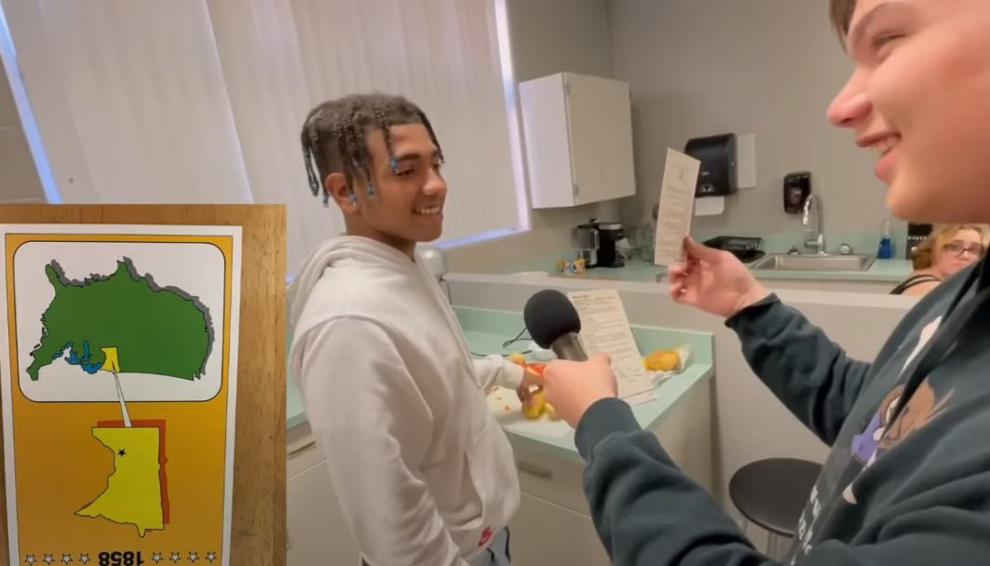 While perusing through the course offerings earlier this year, ninth grader Chelsea Gomez said she thought the class sounded interesting. Though she doesn't like to be in front of the camera, Gomez is happy to be behind the camera, recording. The class is a relaxing part of her day, something 11th grader Faith Mehling can agree with.
"There's never a dull moment here," said Mehling during a Tuesday afternoon class. "There's always some sort of laughs, it's a calming, midpoint in my day."
The hands-on opportunity of creating the show, rather than just learning the basics about the skills needed, is something ninth grader Max Erickson enjoys. Prior to the first day of class, Erickson assumed it would be more of a knowledge-test based class. He was happy to learn that he could sharpen his communication skills and learn more about online broadcasting. Though everything hasn't been perfect, he is thankful for the learning experiences he has had so far.