Abigail Dorn has always felt a strong desire to serve in whatever form that takes, from mission work in other states to assisting at her church, community events and much more.
One day, while watching a video on YouTube, she came across an advertisement for the nonprofit, Charity:Water, about the need for clean water around the world. It broke her heart to see the poverty, desperation and hunger on people's faces, so the recent high school graduate from Kenyon asked God for guidance on what she has to give and how she could help.
"I wanted to do something about it, I didn't want to be the kind of person who heard it and moved on with their life," said Dorn.
She remembers hearing an "impression spoken on her heart" in the form of the single word, art. Over the last six months, Dorn has been hard at work establishing her new nonprofit, Arts With Love. With a deep passion for both people and art, Dorn particularly appreciates how both combine in this new venture.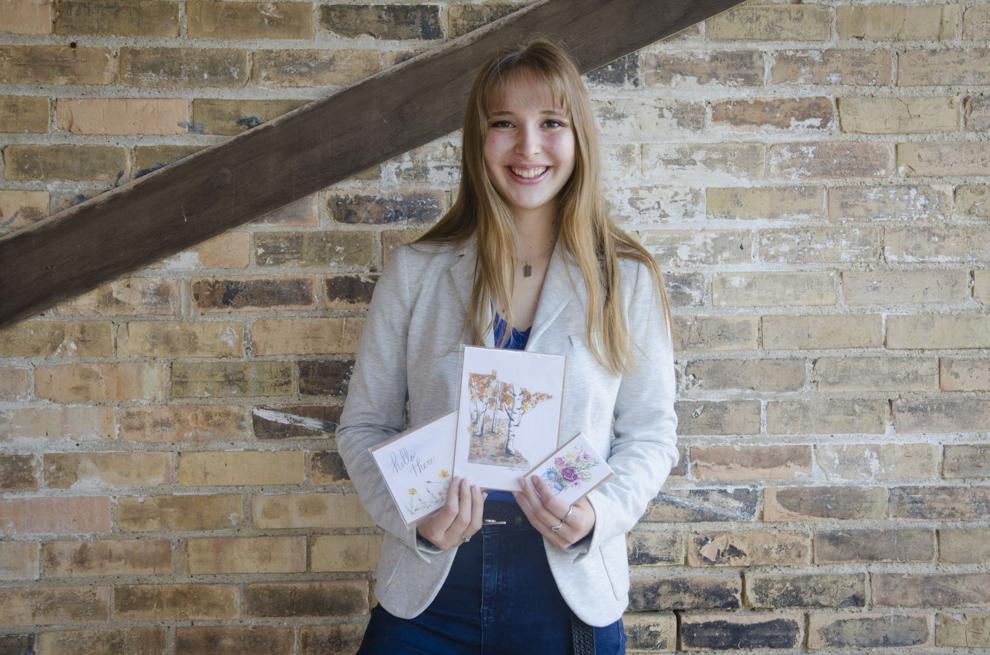 Essentially, Dorn sells handmade, original design watercolor cards locally and online with 100% of the profits given to five select charities twice a year.
Dorn explains the charities were hand-picked because of their "dependability and commitment to help children and families in need."
• Charity:Water — The nonprofit is committed to bringing clean water to individuals across the world who have absolutely no access to this basic resource
• Free International — The organization works to end human trafficking in the United States
• International Justice Mission works to end human trafficking globally
• Convoy of Hope is a faith-based, nonprofit organization, that helps empower others to live with greater independence and freedom from poverty, disease and hunger
• Compassion International, which is committed to helping children flourish.
Dorn hopes to add more charities to that list in the future.
Though she doesn't consider herself a business person, as soon as she started creating her nonprofit, she felt the Lord put all of the right people in the right place. She was able to come across connections to help her with various aspects, like social media and tax papers, without even searching for them.
Although the nonprofit is just beginning, Dorn has partnered with several local businesses to sell her cards in their stores, along with her online shop. Fleur de Lis Gallery in Faribault, Carrin Kath LLC in Owatonna, From the Heart Gifts (pop-up shop) in Cannon Falls and Ferndale Market in Cannon Falls are current locations where those interested can find cards.
Though she will be moving to Colorado Springs in the next few weeks to participate in a six-month missions program, Dorn will run her charity remotely.
Looking forward to taking her service to the next step, Dorn is thankful to have art back in her life. Admitting she was always really insecure as a child with everything she did, Dorn found the insecurities greater with art, because it was so easy to compare herself to others. Through a long process and a few art class, Dorn says God brought it back around to the other side.
"Now I enjoy art, and now I can give it to other people and bless people through it. It's a whole turnaround from where I was five years ago, even," said Dorn.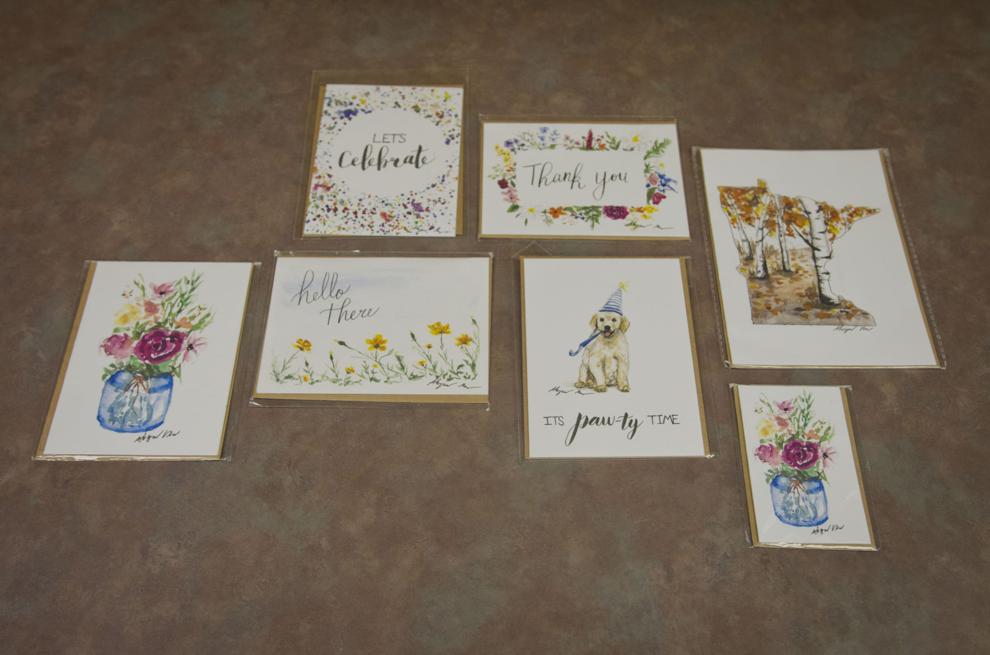 Not wanting to undermine her struggle, Dorn says she grew a lot through her struggle and knows there was purpose in it. Dorn also appreciates the feedback she's been given, particularly when people tell her what they like about the cards and how they connected with certain designs.
Corie Jo Dorn, Abigail's mother, feels her daughter always had the desire to serve others, but may not have always felt sure how to do it.
"When this came up, it felt really big, but she took it step by step," said Corie Jo. "She has really taken ownership and leadership of it."
Though it was over 20 years ago, Corie Jo said what her husband, Andie, brought back after working overseas for two years was a defining moment for their family.
"He's always been a good voice to remind us that the rest of the world doesn't live like we do," said Corie Jo. "That shaped our family's approach and desire not to take things for granted but to find things to help and serve locally and beyond, internationally."
Seeing that youth nowadays have so much influence and the ability to do so many things, Corie Jo encourages them to "go out and do them."
Josiah Bachtle, youth pastor at River Valley Church in Faribault, where the Dorn family has attended for many years, says he, too, finds it extremely important to serve the local community and give back. He says it's even more important to reach out to a world that is hurting and in need of assistance.
As a church, Bachtle says they focus on the fact that their hearts are global and that they care about the world around them. Through Kingdom Builders, Bachtle says they gave away $6.5 million last year alone to organizations all over the world. Causes include combatting human sex trafficking, disaster relief and aid for orphanages.
Being able to work with Dorn for the last two years in River Valley's youth group, Bachtle noticed she really grabbed a hold of that concept and ran with it.
"She's fresh out of high school, showing people around her and in her life that it's never too early to change the world, one art piece at a time," said Bachtle.
As for the nonprofit Dorn created, Bachtle believes that the development is not random. He credits her parents with instilling a desire to serve in all their children.
"Every single one of their kids has that heart to help others, I can't tell you how many times I've seen them go out of their way to help someone else out," said Bachtle. "As a youth pastor, I'm so excited to have students like Abby. It really shows how powerful these young kids are. They can really change the world."