For the last 36 years, Ken Seifert has operated The Hair Place in Kenyon on his own.
Since April 27, 2021, he's had a partner: his son, Dylan Seifert. Together, the duo offer numerous barbering services. Dylan's skilled in traditional tapering, the high and tight, bald fades, and razor and hot towel shaves, adding to the mix of Ken's specialties.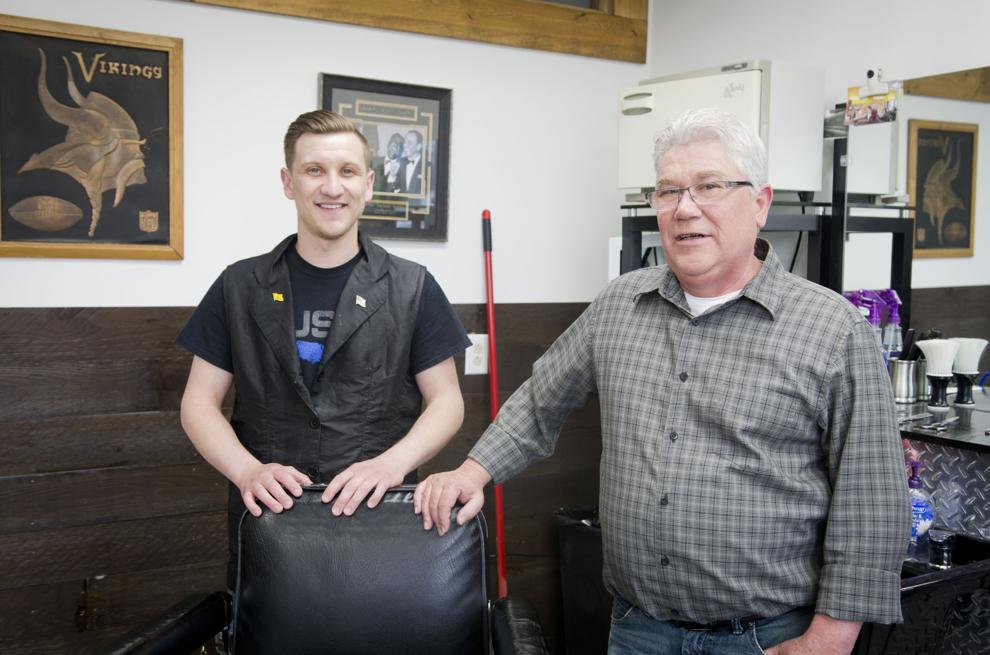 Though the decision for Dylan to join Ken in business has been in the works for awhile, challenges created by the pandemic sped up the plans. Prior to barbering in Kenyon with Ken, Dylan spent 10 years in the Twin Cities. Dylan had managing a barbershop in Roseville, one that Ken and his brother purchased about 12 years ago. But business, Ken says, slowed quite a bit since the pandemic, leading them to close the RamseyCounty location, a shop that had been open for 68 years.
Dylan, a 2010 graduate of Kenyon-Wanamingo High School, grew up around the business. Both of his uncles also barbered. After realizing he needed some time away from college to figure out what he wanted to do, Dylan thought about going into barbering, because he felt he could begin working while going to school for it. Once he got into the industry, Dylan said he enjoyed it and wanted to keep going.
"I've been working up in the cities for 10 years, I shut that job down and came here to work with the old man," said Dylan, who says he cuts bald fades for customers with all types of hair, and of all races and ethnicities.
Dylan said he's enjoys meeting new people and having conversations with them. The job not only allows him to do just that, it gives him the opportunity to learn a variety of things, since each client has a different job and is in a different walk of life.
Ken, who was raised north of the Twin Cities, said though he grew up in the business, he never really thought he'd go to barber school. But after getting laid off from a job with the Minnesota Department of Agriculture, he found himself looking for something to stay busy with. Knowing his brother went to barber school, Ken thought it would be a good background for him to have as well.
He has been barbering ever since.
While Dylan's presence allows Ken to take a few days off and still keep the shop open, Ken sees their partnership as a way to invest in the business community of Kenyon, "to hopefully build another 40 years of services with the community."
Ken began barbering in July 1985. At the time, Ken worked in Burnsville and specialized in children's haircuts. After finding out the Kenyon space was available, he purchased the building at 609 Second St.
He too, enjoys interacting with clients and seeing people on a daily basis. One of his specialties, and one of his favorites, is children's first haircuts. Noting that he's probably done hundreds of first haircuts, he enjoys the stories each one brings to the experience.
"I enjoy interacting with people, you (cut the hair of people from) all walks of life," said Ken. "It's interesting."