Red Wing Arts (RWA) presents "Close to Home," an evocative new exhibition bringing together the work of two celebrated plein air artists – Hannah C. Heyer and Andy Evansen – at the Red Wing Depot Gallery, opening Nov. 26 and on view through Jan. 10, 2022.
Close to Home was borne out of Heyer and Evansen's desire to share their observations over the course of a year that found all of us closer to home than ever. Heyer's oil paintings and Evansen's watercolors document the seasonal shifts in southeastern Minnesota and southwestern Wisconsin, an area filled with rolling farmlands, bluffs along the Mississippi River covered in deciduous trees, and big skies.
Both Heyer of Dakota, Minnesota, and Evansen of Hastings, Minnesota, have lived in the rural Midwest their entire lives, giving them a unique appreciation of the simple beauty of a landscape that changes with the seasons in both drastic and subtle ways. Each artist displays 26 paintings, marking the transition from the cold blanket of winter to the melting of spring; the humid greens of summer to the first pops of autumn color; and the ways in which these seasons affect not only the landscape but the people who live here.
An artist reception, free and open to the public, will be held on Friday, Dec. 3 from 5-7 p.m. at the Depot Gallery, 418 Levee St. in Red Wing. Both artists will be present and will give brief remarks and answer questions.
"We are thrilled to present such an impressive show by high-caliber artists in our gallery," says Emily Foos, Red Wing Arts executive director. "People will really enjoy and appreciate seeing 52 amazing paintings focusing on our familiar regional beauty and the ever-changing natural world."
Andy Evansen's career in art started as a medical illustrator in Minneapolis, creating artwork for medical device companies, textbooks and surgeons. Once that industry became dependent on digital art, he longed for a return to fine art and began watercolor painting. Choosing a "style" was not difficult, as Evansen was always inspired by the representational yet impressionistic watercolor paintings of famous British artists Trevor Chamberlain, David Curtis, and Ed Seago among others.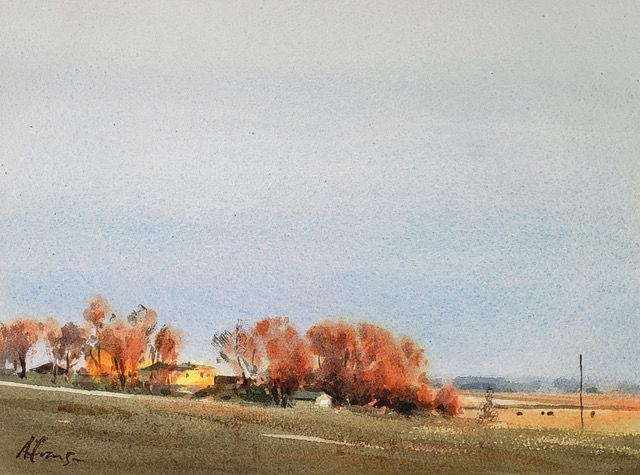 Evansen's work has been featured in numerous art publications and he's become a sought-after workshop instructor who paints and teaches internationally. He became a signature member of the prestigious Plein Air Painters of America (PAPA) in 2012 and was elected their President in 2015. His paintings have won numerous awards, including the Bronze Medal of Honor at the 2012 American Watercolor Society Exhibition, and in 2015 he received the High Winds Medal and his signature status from the American Watercolor Society in addition to being a signature member of the National Watercolor Society and the Transparent Watercolor Society. His work has also been twice selected for inclusion in the California Art Club's Gold Medal Exhibitions.
His love of painting on location led to him being a featured presenter at the 2014 and 2016 Plein Air Conventions and inclusion in the 2017 Qingdao International Masters Watercolor Plein Air Event.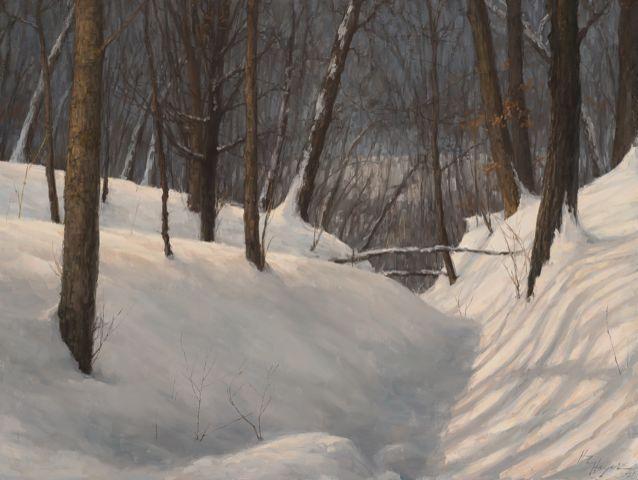 A self-taught artist, Hannah C. Heyer draws a lot of inspiration from her local area in rural southeastern Minnesota, especially the farm on which she currently lives, which has been in her family for six generations. She enjoys the challenge of plein air painting, and the way it encourages taking a closer look, to more fully take in what might otherwise go unnoticed. Her plein air paintings, done outdoors on location, usually within two-to-three hours, attempt to capture the fleeting and changing view of a particular place and time as she sees it.
Her studio works, supported by plein air studies and memories, are built up through a lot of time and layers of paint and allow her to work in more detail.
Heyer is a member of Outdoor Painters of Minnesota and the American Impressionist Society.