Have you heard the fictitious story in the song "The Preacher and the Bear?" Well, here's a real story on the subject: Pastor Dave Johnson is the hunter, he is the preacher, and there was a bear.
Pastor Dave serves Calvary Baptist Church in St. Peter. He lives the story of the hunt and sings its song because of the love of harvesting God's creatures in the great outdoors, as he believes the Lord intended. Not only does Pastor Dave like to hunt bear, but also deer, pheasants, turkey and small game. Most importantly, he loves to hunt for lost souls.
"The great outdoors affords me the quiet time needed with my Lord to refresh my calling in life as a soul-winner and a preacher: to win the lost to Christ and to build up the believer in their walk with God is my personal passion," Johnson said. "Through dwelling on the Lord in his word, by being alone with God in prayer out there in the great outdoors is a personal asset to my ministry. There's such a peacefulness that I have with the Lord in that wonderful place he has created in his woodland, fields and plains.
"I love to harvest what God's creation has given us. The Lord has blessed me in my seasonal hunts, and I thank him for every opportunity. As I am field dressing the big game, I desire to honor the Lord for giving me this animal for my food (and my gift to others), by kneeling before him, lifting up my hand in praise to the Lord, and glorify the Creator for this harvest opportunity. The creature has now served his purpose for mankind."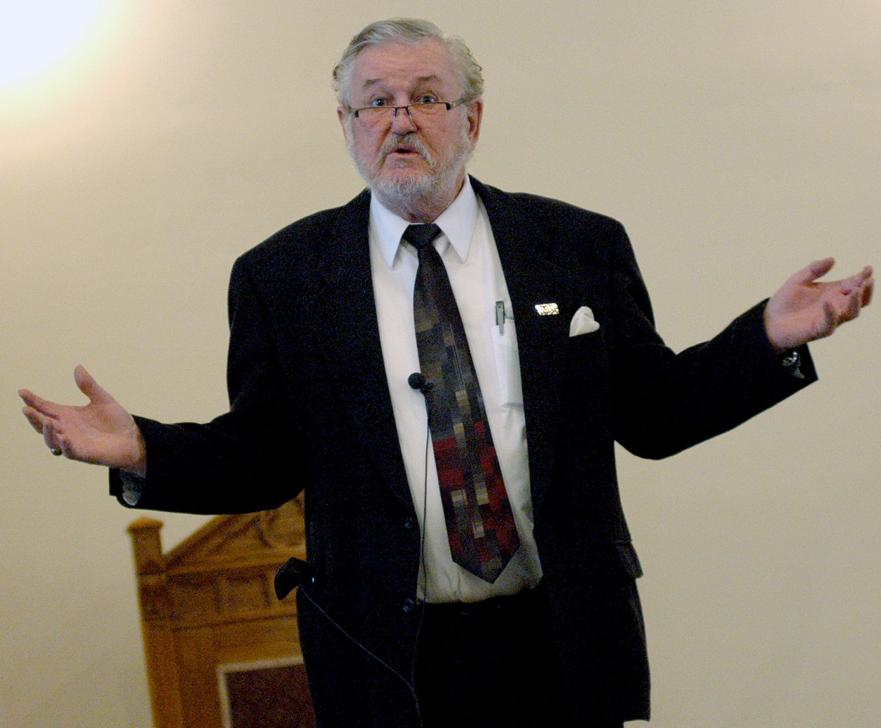 Back to Pastor Dave in the hunt for souls.
"I make it a habit to carry Bible gospel tracts in my pocket to give to hunters that I meet in the field," he said. "Hunting for the lost is my passion. I have often said, my heaven will be worth two heavens if I win a repentant believing soul to my savior Jesus Christ. In fact, I try to witness to everyone, everywhere with whom I come in contact leaving a gospel tract, asking them if they're interested in eternal life."
Pastor Dave tells them, "Oh, God wants you there in heaven. He died for all, He died for your sin, he took your punishment by dying on the cross for you; why not repent of your sin and ask him to save your soul?" He noted that the Bible does promise "For whosoever shall call upon the name of the Lord shall be saved".
A lifetime in the outdoors
Now 71, that one-time, young David started hunting at the age of 14.
"I think the hunting spirit is just inbred in you, just like some people like golf, tennis or any other sport," Johnson said. "It's a joy that God gives you. Outdoor activity was what young people were accustomed to when I was a kid. It was a day and age of no internet, no Netflix, and no cell phones. We played outside, and we were allowed to be outdoors until the streetlights were turned on."
So, the hunt was already conceived in Dave's heart back then; "that was what we did, and I loved every minute of it."
He didn't have a dad growing up in New Ulm, his father passed away when he was 4 years old. However, there was a neighbor who lived across his Front Street home by the name of George Groebner, who befriended and mentored this kid in bow hunting. Then, one day a "starter bow" was gifted to him.
"I think Mr. Groebner gave it to me," Johnson said. "What a joy! My, what a start of a wild life of adventure."
His neighbor had an old barn on top of the hill in back of his place, with a real image deer target attached to a bale of straw near that red weather-beaten building.
"He would go up there and practice with his bow. Then, he would invite me along, we would shoot at that deer target, and that's when I enrolled into Archery 101," Johnson said.
He continued, "I started off hunting for deer with that bow. Then, I became interested in small game hunting. I graduated to a .22 (caliber) Springfield bolt action rifle for squirrel and rabbit, and a 410 shotgun (Harrington and Richardson) for duck and pheasant. I took the harvested small game home, followed my mother's wild game recipe and sat down to enjoy what the Lord gave us in those early years. We thanked the Lord as he helped with our family's meager grocery budget. The reward of the hunt brought more than food to the table, there was joy-filled fellowship for a family that didn't have a single silver spoon to share with each other in that day. Yes, that 'fast food' from the wild surely was enjoyed real fast by that hungry family. I had three sisters (now passed on to glory) and two brothers, so they all sat down to a delicious meal during hunting season."
Pastor Dave started bear hunting in the mid-1990s, and he stopped for 25 years, but he finally got back into it this year. While bear hunting may seem like a dangerous sport, Johnson said it is "a misnomer, because, for the most part, the average black bear is more afraid of you that you are of him; whereas, if you hunt the grizzly or brown bear, you better have a backup with you because of the danger they pose."
Johnson said he likes bear hunting, because he believes it to be part of the design of the world.
"God did create those animals with man in mind," Johnson said. "Not only did God create them, but he created a heart in man to harvest big game, whether they be bear or deer, as God intended."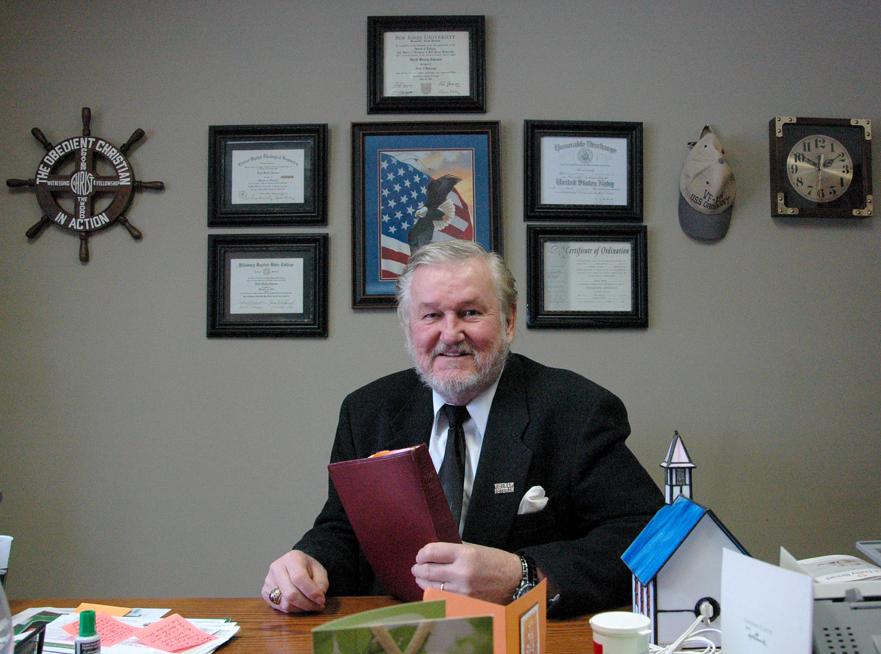 Pastor Dave has expressed that personal belief using a Bible-based principle: he has an appreciation and trust relationship in the "Living God, who giveth us richly all things to enjoy" (I Timothy 6:17). Concerning the taste of the wild found in the Bible, it was Isaac who said to Esau, "Bring me venison, and make me savory meat that I may eat and bless thee before the Lord" (Genesis 27:7).
"By the way," Pastor Dave interjected in his own statement, "You know, bear meat tastes as good as beef and doesn't taste gamey or as wild as venison."
Describing his successful bear hunt this past autumn in Big Falls, south of International Falls in Koochiching County, Johnson said: "I was hunting using a guide service offered by Jeff Larson. Jeff uses bait piles up there in and near Koochiching County. When I arrived there at my bear stand, the bait pile was almost completely eaten up. I said to myself, great, the bears are active, and must have eaten a pretty good meal last night. So, it was decision time for me: I thought that I would just stick with it, even though there was no meal for the hungry mammal. Like any curiosity found in those forest creatures, I think a bear or two will probably come in view to check it again.
"I was up there from about 3 o'clock in the afternoon till about 6:30 on Sept. 2. During that time, I saw a wolf, a coyote and two fishers. So, it was quite a wild wonder world of enjoyment that day. The fishers had their meal at the bait pile as well as the ravens and crows, accompanied with their endless chorus of cawing.
"Then, when all the critters and birds leave that bait pile in a hurry, which they did, I was thinking to myself, that's probably what happens when a bear comes in to champion the cause of his bigger hungry appetite. Then, all of sudden I saw him, there he was, a big black bear zigzagging through the trees toward the bait pile; then, he came to eye that empty, baitless area. Yes, he passed directly through that disappointing, missed meal area and headed straight toward me, and here's the obvious reason: I had sprayed myself down with bacon scent to mask my human odor. It has been documented that the power of a bear's nose well supersedes that of a bloodhound (National Park Service blog). So, fortunately, he didn't smell me.
"That bear was hungry for a meal, and the smell of bacon was on his mind, dictated by his empty stomach. That big black bruin came dead-headed toward what he thought was his prized sizzling evening meal for the day. Yes, that bear came toward me, walking fast, and I had to think fast. It was one of those 'now or never moments.' So, when it was about 16 yards away, that's when the forest echoed with the powerful blast of my Springfield bolt action 30.06 ('a choice weapon for bear' — Jeff Larson). That trophy bear took a direct hit and made his immediate turnabout with a locomotive bursting bolt for about 15 yards, only to give out its death growl. If I wouldn't have made that shot, I'm sure that well qualified tree climber would have sat next to me and asked me in his very persuadable black bear language 'Are you my lunch today, because nothing was there at my usual dinner table?'"
Johnson hunts deer in the Jeffers, Minnesota, area. He said he likes archery deer hunting for two reasons: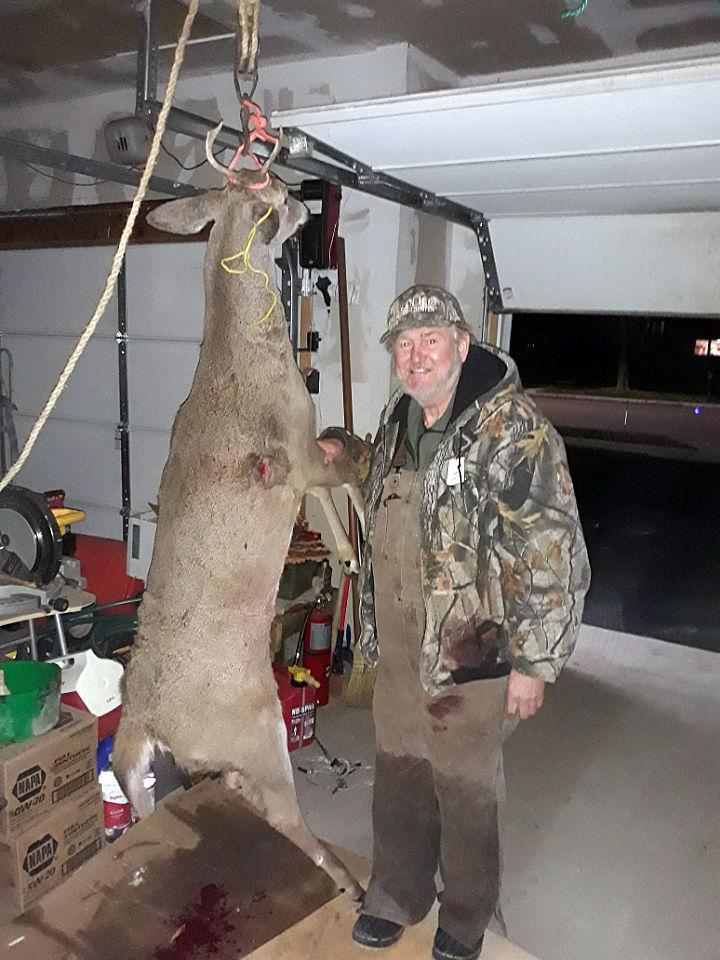 "It's a sportsman's challenge and a reward when you drop one. It's a personal satisfaction and a joy to harvest a deer with a bow because it is a little bit more of a challenge than gun hunting. Here's why: first of all, an archery hunt normally does not take place in the wide-open territory in which a reasonable distance is not a contributing factor in gun hunting. You have to get into the woods and find out where the deer trails are; then, you have to get close enough to their active path of travel (between their bedding area and their water/food source). Also, before you even set out to your favorite site, you've got to be practiced up enough for arrow shot placement in harvesting a deer."
Johnson chooses to shoot a deer within a 30-yard range with his bow, for the ethical reason of a clean kill, without just wounding the animal. This year he harvested a big bodied buck at the distance of being 21 yards away (indicated by his Nikon rangefinder).
"For a deer to get that close, the archer needs to consider and practice some important hunting skills. You've got to make sure there is no personal movement in the stand," Johnson said. "Hunt downwind and make sure that you acquiesce to the quietness of the wooded solitude in which you are hunting. Grunting with a deer call and antler rattling during the rut has proved successful on many occasions. A good ground blind or a well strategic placed tree stand is a necessity. Wearing camouflage to blend in with your surroundings is a must. Yes, deer have a very powerful nose, so plan to descent yourself and your clothing or use an Ozonics generator that displaces the bacteria smell of the hunter."
Pastor Dave enjoys the hunt both alone and with people.
"Right now, I try to hunt with a fellow Christian who enjoys this activity as much as I do," Johnson said. "Then, when one of us gets a deer, help is there to retrieve it, after which we can share the moment of success. Also, there is nothing like joint praise to the Lord for giving us the next venison burger or deer roast prepared from a delicious wild-life recipe book in the kitchen."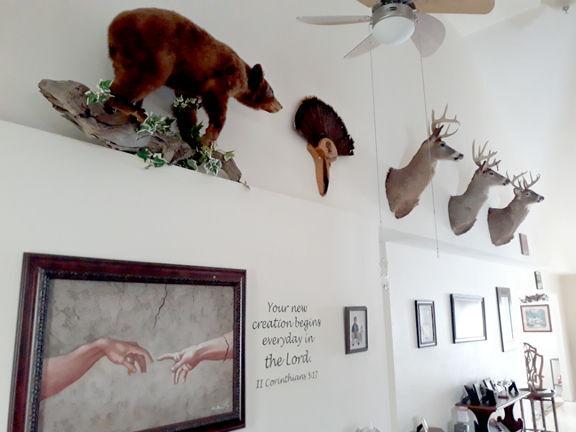 The Lord has blessed Pastor Dave with three trophy bucks that qualify for the Pope and Young accreditations, involving antler rack inch measurements. They are mounted in his home, along with a full mount cinnamon bear and a trophy (12-inch beard) turkey display. Asked about his best hunting memory, Johnson said:
"Every hunt is a memory, but when recalling the day when I shot my first buck (a 10-pointer) at 15 years old, I like to relive that narrative again and again. Those antlers are mounted on the wall of my garage, and every once and a while, I stop and pause, staring for a while, allowing my mind to wander back in time; then, saying to my 'older self' — wow, that's what a very happy kid shot back there in '64, right across the Minnesota River in back of my boyhood home."
"I have a flat bottom 14-foot fishing boat with an old Johnson 5½ horsepower motor, probably manufactured in the '40s, and it still runs great" he said. "I've caught bass, catfish, rough fish and panfish right down by the Minnesota River, flowing along near the back of my home place where I grew up on South Front in New Ulm, and the house next door that I built in 2015. I have a hickory smoker that I smoke fish a plenty, and I enjoy sharing that taste with my friends. When I share the fish, I make an attempt to share the saving gospel of my Lord. Jesus preached it and so must I: "Repent ye and believe the gospel" (Mark 1:15). I must remember that I am a fisher of men. Jesus said, "Follow me and I will make you to become fishers of men" (Matthew 4:19).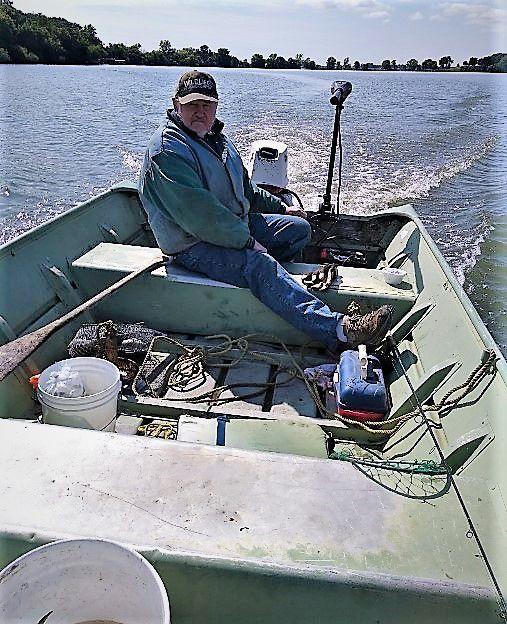 The question is asked, "Will you ever quit the hunt?"
His answer has a positive comeback because of his love of the hunt for game as well as his passionate hunt for the souls of man.
Pastor Dave is no quitter; whatever he starts, he finishes. He finished his B.A. degree at Pillsbury College (Owatonna) in '75, graduated with his Master of Divinity in '79 from Central Seminary (Minneapolis), and earned a Ph.D. behind his name from Bob Jones University in '83 (Greenville, S.C.). "Dr. Dave" has a calling in life and a pastoral mindset in his desire to continue his ministry at Calvary Baptist Church, and he is starting his 13th year this November.
Johnson is a Vietnam veteran and served off the coast of Vietnam in the Gulf of Tonkin on the flight deck of an aircraft carrier (USS Oriskany CVA-34). He was a crew chief mechanic who prepped the F-8 Crusader Jet Fighter to make sure that "the last of the gun-fighters of the sky" (History Net) was air worthy for flight, accomplishing sorties over the skies of Vietnam. He was in Naval Aviation from 1967 to 1971.
He received a "call to preach" from the Lord while working on his plane on a July day in '71, during a time period when he had participated in and conducted Bible studies and evangelism among his fellow sailors. When his military service was history, "I did receive an honorable discharge and praise the Lord I was sent by the Lord to honorably prepare for my calling in life as a pastor, and to renew my 'call to the wild' as a hunter."
So, that's the story of the Preacher and the Bear, and the other critters as mentioned.
Most important is Pastor Dave's hunt for souls, Johnson loves to quote God's plan of salvation and a most favorite verse found in John 3:16: "For God so loved the world that He gave His only begotten Son, that whosoever believeth in Him should not perish but have everlasting life." ''It's because of God's love that Jesus went to Calvary to pay for our sin; you see, 'The wages of sin is death, but the gift of God is eternal life through Jesus Christ our Lord' (Romans 6:23), and you don't have to pay for that penalty if we ask God for mercy and forgiveness. The repentant believer, being born again (John 3:3), can be assured of heaven. We are all sinners, and his blood was shed on the cross to take away that sin.