St. Peter's Seth and Brooks Reicks are following in the footsteps of their big brother, Jade, to the state track and field meet.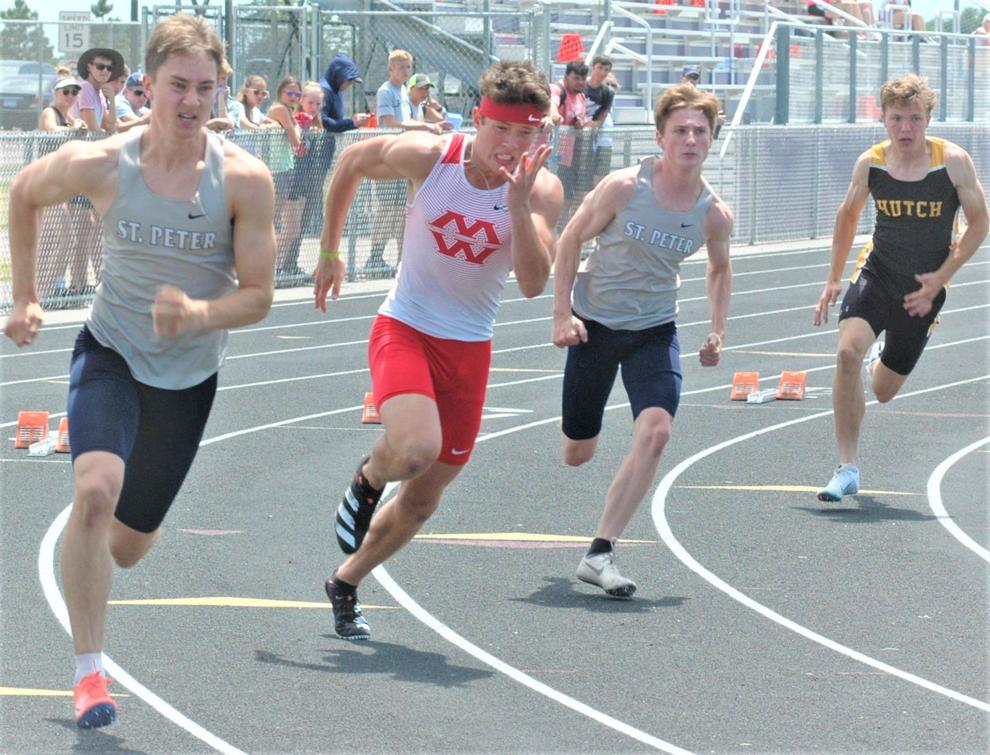 A sophomore, Brooks qualified in three events Friday in the Section 2AA meet at Waconia. He won the 200-meter dash in 22.63 seconds, took second in the 400-meter run in 50.04 and ran with the winning 4x200 relay team with senior Jamarion Robinson, junior Kole Guth and senior anchor Seth Reicks in a school record 1:28.99, edging Mankato West in second in 1:29.72.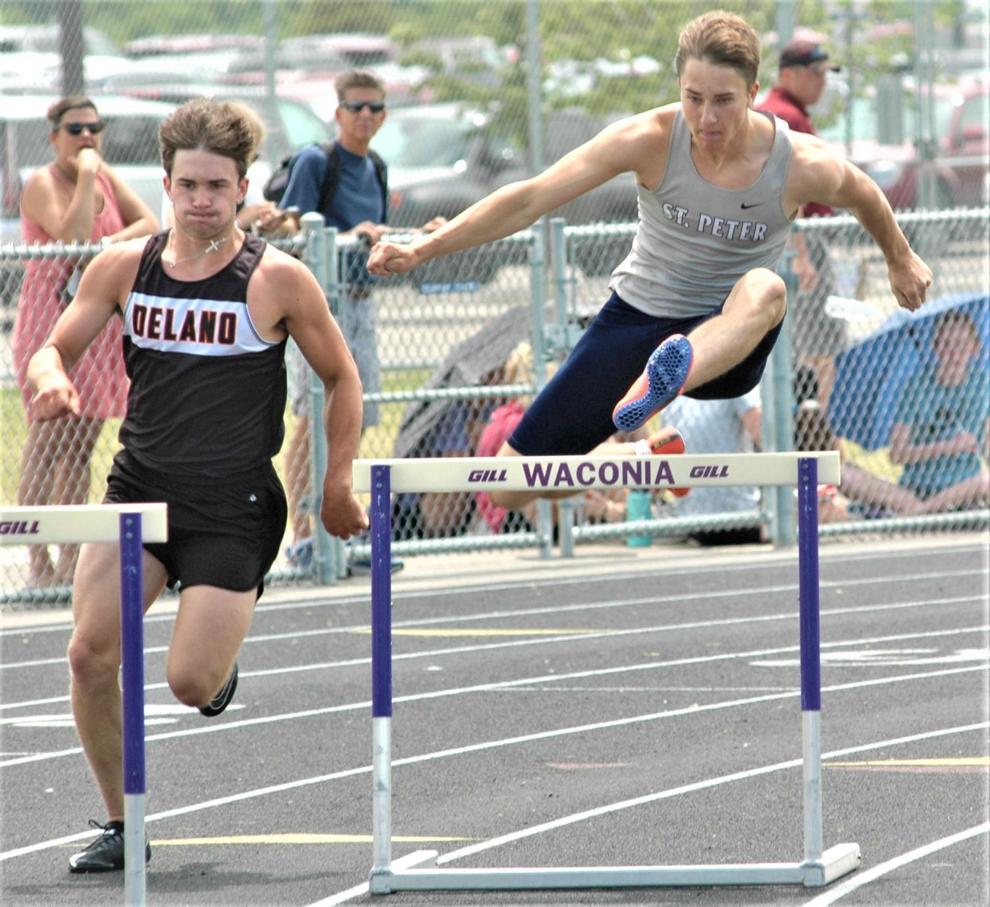 Seth Reicks also made it to state in the 300 hurdles by winning the event with a personal best 40.40. His previous best was 40.95.
Jade, who is now running for the University of Minnesota Gophers, made state in multiple events over the years including the 110 and 300 hurdles , the 100 and 200 dashes and the 4x200 relay.
Seth gives a lot of credit to his big brother as well as coaches for getting him to the highest level in high school sports.
"I couldn't have done it if it wasn't for all the coaches," Seth said. (Marc) Bachman helped me with speed work and sprinting. (George) Schoenborn was my hurdle coach throughout the years. He's always got something positive to say, which always boosts your spirits. And obviously having a good mindset going into any race is always big. We can thank Schoenborn for that.
"And another very big important piece for the last couple of years was my older brother, Jade. He's been giving us workout tips, everything we need to succeed. I owe all my improvement to all my coaches and my older brother."
Seth said the 4x200 relay "went really well today. Jamarion had a better start than he's ever had before. He got us out to an early lead, and every single one of our handoffs were smoother than they've ever been in the season. Kole Guth also ran a very good leg. He actually probably gained ground and gave us a bigger lead, and by the time Brooks got the hand-off. Brooks got us a massive lead, bigger than any anchor could have hoped for to bring it across the finish line and take the win."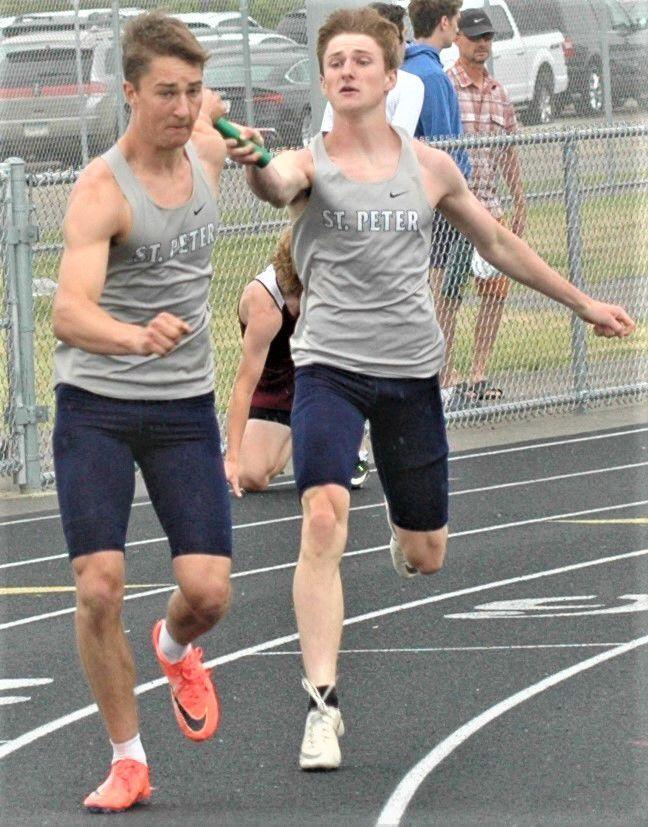 Brooks added about the relay: "The last time we ran it in 1:31.75, and we PR'ed by like 3 seconds. The last team we ran against last week, West, they just crushed us, so we've been working our butts in practice and got all the hand-offs ready with the coaches, and it scored perfectly.
The St. Peter relay was just put together in the last two meets of the season. The Reicks and Robinson have been part of the foursome on and off, but Guth is a newcomer replacing Connor Snow who dropped out with a hamstring injury
The relay team broke the previous school record of 1:34.34 by 5 seconds held by Michael Harrington, Jon Grabow, Josh Leonard, Michael Kind in 2003.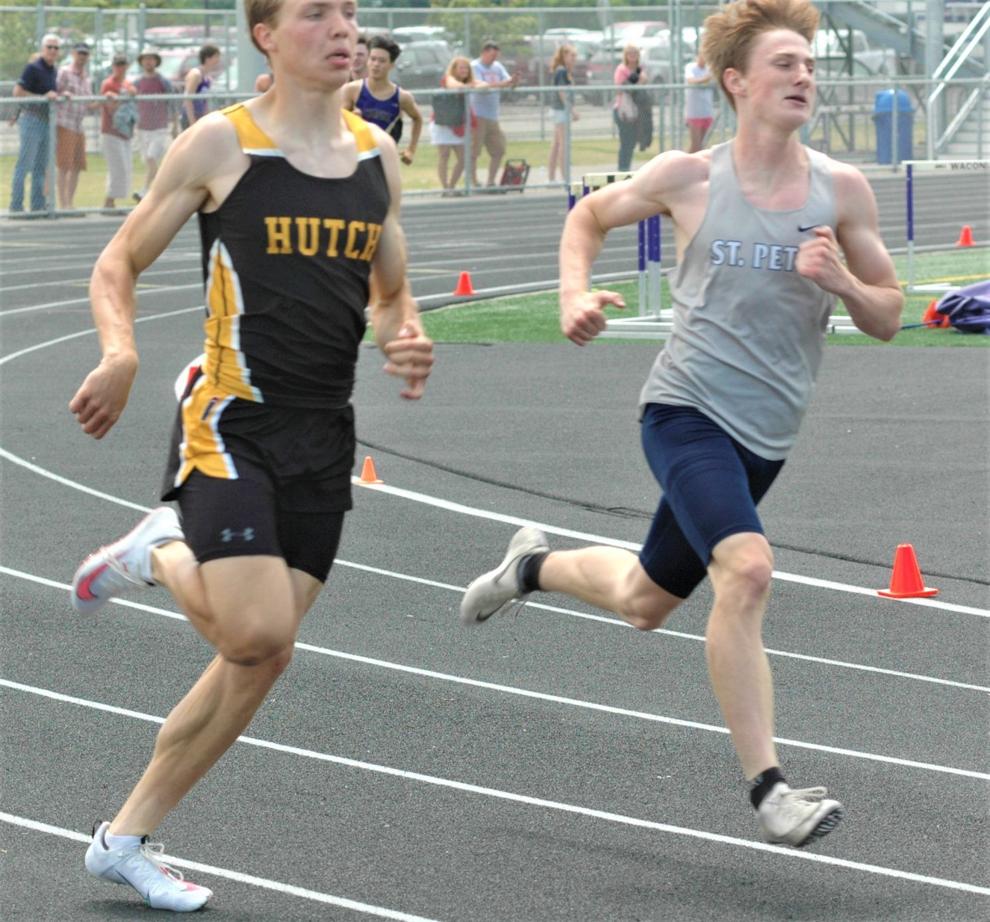 Seeded No. 1 in the 400, Brooks said, "I thought I was going to win by quite a bit." But Mitchell Piehl from Hutchinson won in 49.27 to edge Reicks by 0.77 of a second. "I stumbled a bit at the end, but it was a PR for me, so I'm happy about it. "
Brook's previous best in the 400 was 50.09.
Brooks also nearly ran a personal record in the 200. His best is 22.61.
"I was just trying to recover after the 400 to be honest," Brooks said. "I was really feeling the heat and the lactic acid in my legs. I got to that line, and it was a little iffy, but then I just begun running."
Brooks has experience running races close together. He used to run the 400, 200 and 4x400 relay and in one meet.
Speaking about the 300 hurdles, Seth said, "Two years ago if you would have told me I was going to make state, I probably would have laughed. I was running about 46 seconds as a PR. This meet I ran 40.4 seconds. So that was big excitement for me.
"I flinched out the blocks before the gun went off, so there were a lot of parents who were pissed and thought I should get disqualified, but apparently there was no forward movement off the start. I ended up holding on to it. I might have celebrated a little early (holding two thumbs up) and making the race closer than I wanted. I was caught up in the moment. Any day that you can come away with a section championship, there's not too much you can be made about."
At state, which runs at 10 a.m. Saturday, June 19 at St. Michael-Albertville, Seth expects the St. Peter relay to be ranked among the best. "The 300 hurdles will be really tough especially since we got bumped up to AA, which is a lot tougher than A which we ran in the previous years. And we're running against all the City teams. For hurdles I'll probably be ranked in the middle of the pack.
"Brooks is probably in the same boat, especially the 200 dash will be extremely competitive, but Brooks always finds a way to put himself at the top. No doubt he'll make a statement. You can put him with anybody, and he's always there fighting for the top."
The Saints narrowly missed making state in several other events.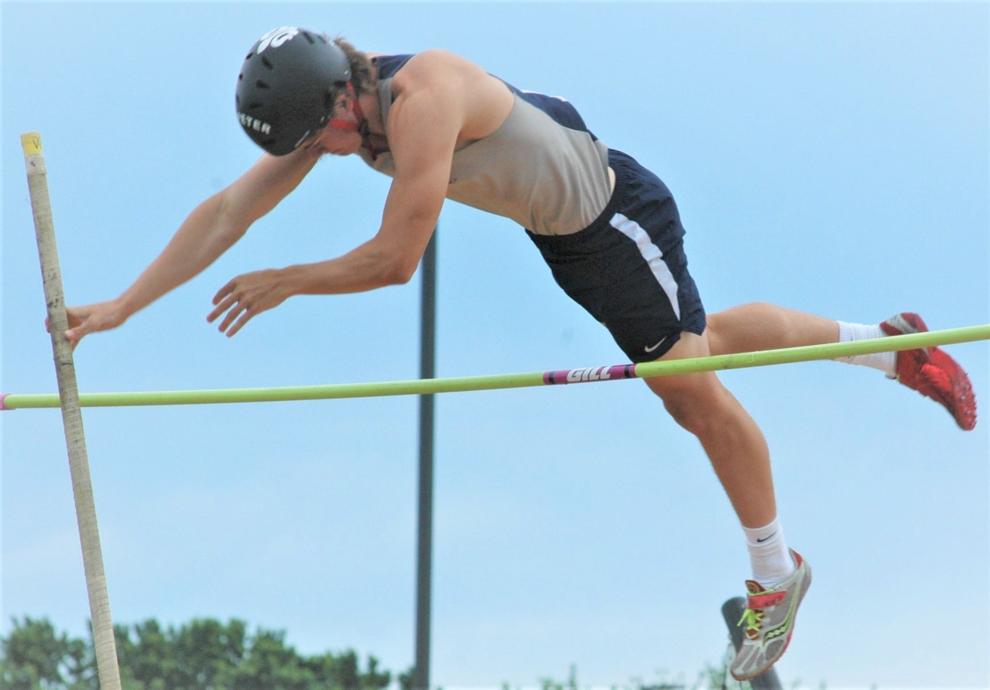 Third places went to Guth in the pole vault (12-4) and Alex Bosacker in the 110 hurdles (15.85).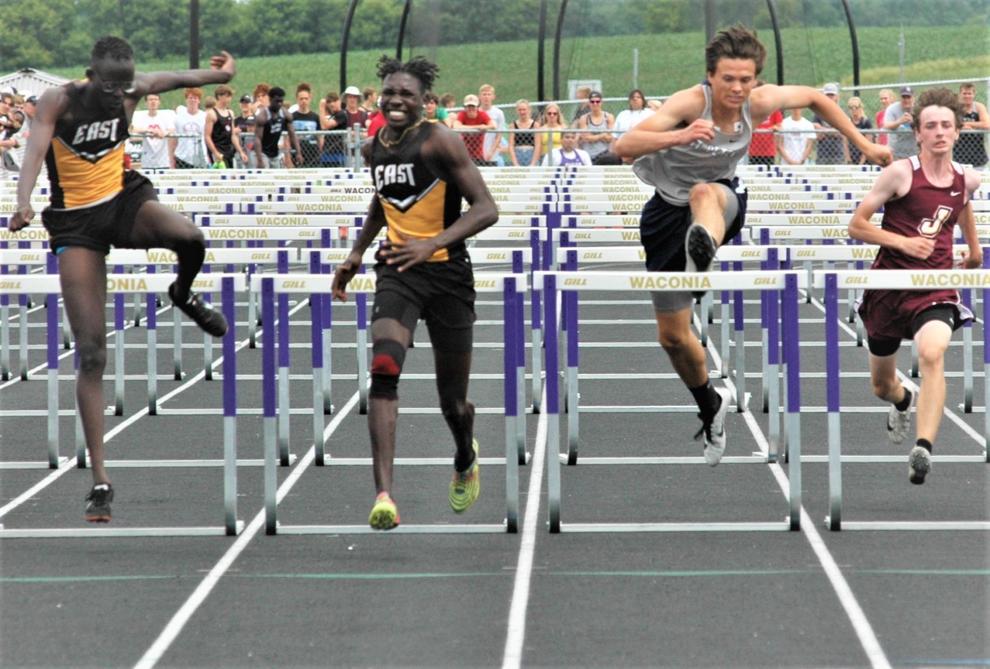 Bosacker also finished fifth in the high jump (5-10) and eighth in the 300 hurdles (42.80).
Robinson finished fourth in the 100 dash in 11.50.
Seth Reicks finished seventh in the 200 dash in 23.52.