Something had to give with two unbeaten teams meeting in the Section 2A girls soccer quarterfinals.
No. 6 seeded St. Peter (10-0-2) ended up winning over No. 3 seeded Mankato East (8-1-4) in a shootout Thursday at Bethany Lutheran College. It took 80 minutes of regulation time, plus two 10-minute overtimes and finally the shootout before the tie could be broken.
The teams were tied 0-0 going into the shootout and chose five players each to take a shot on goal.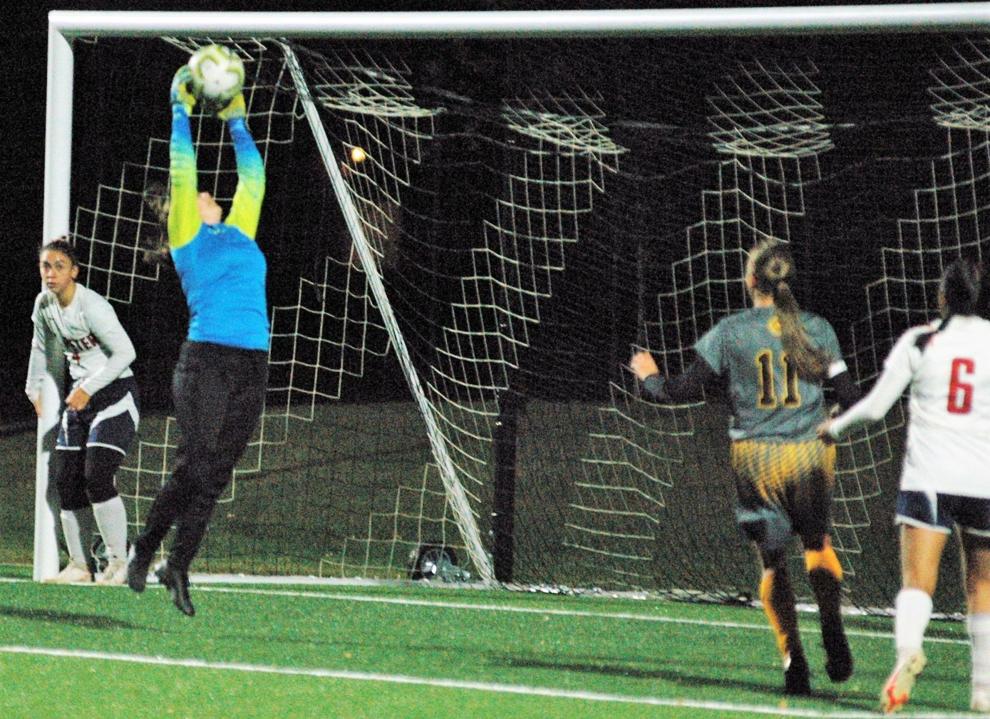 East went first, and St. Peter goalkeeper Katie Gurrola made the save.
St. Peter's first shooter, senior defender Vanessa Krueger, scored in the right corner to give the Saints a 1-0 lead.
East's second shooter then just missed, bouncing her shot off the left post.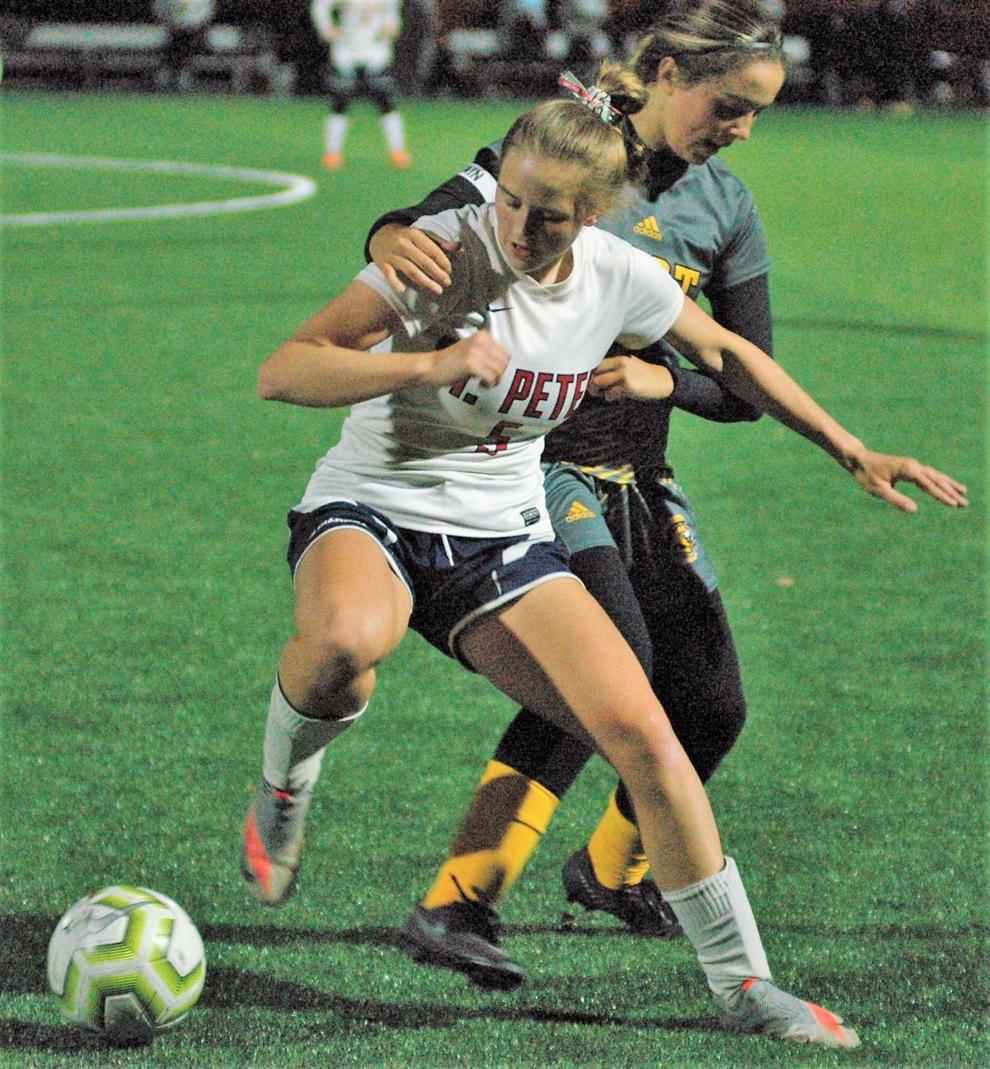 St. Peter's second shooter, Ella Gilbertson, kicked it high over the net.
East's third shooter, midfielder Daevya Gagnon, kicked it with her left foot into the left corner to tie the score 1-1.
St. Peter's third shooter, Maddie More, also shot over the net, as did East's fourth shooter.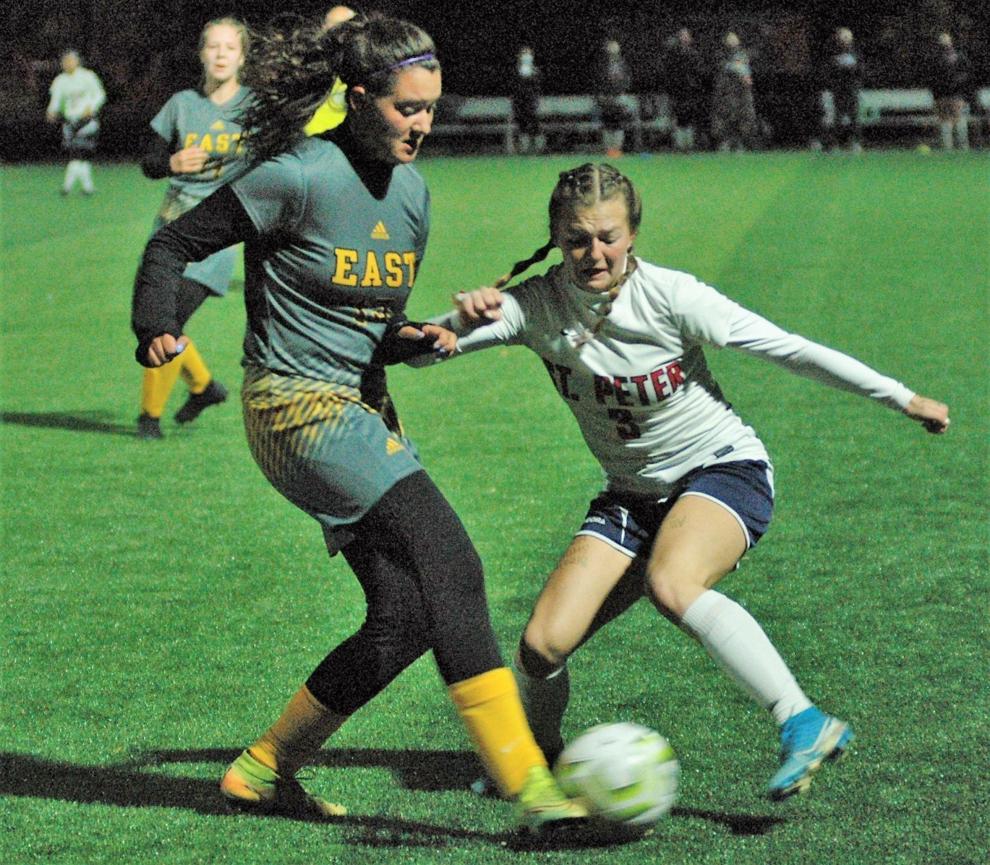 St. Peter's fourth shooter, senior striker Emma Jones, scored on a high shot to the right corner to give the Saints a 2-1 lead.
East's fifth shooter, midfielder Megan Geraets, tied it 2-2.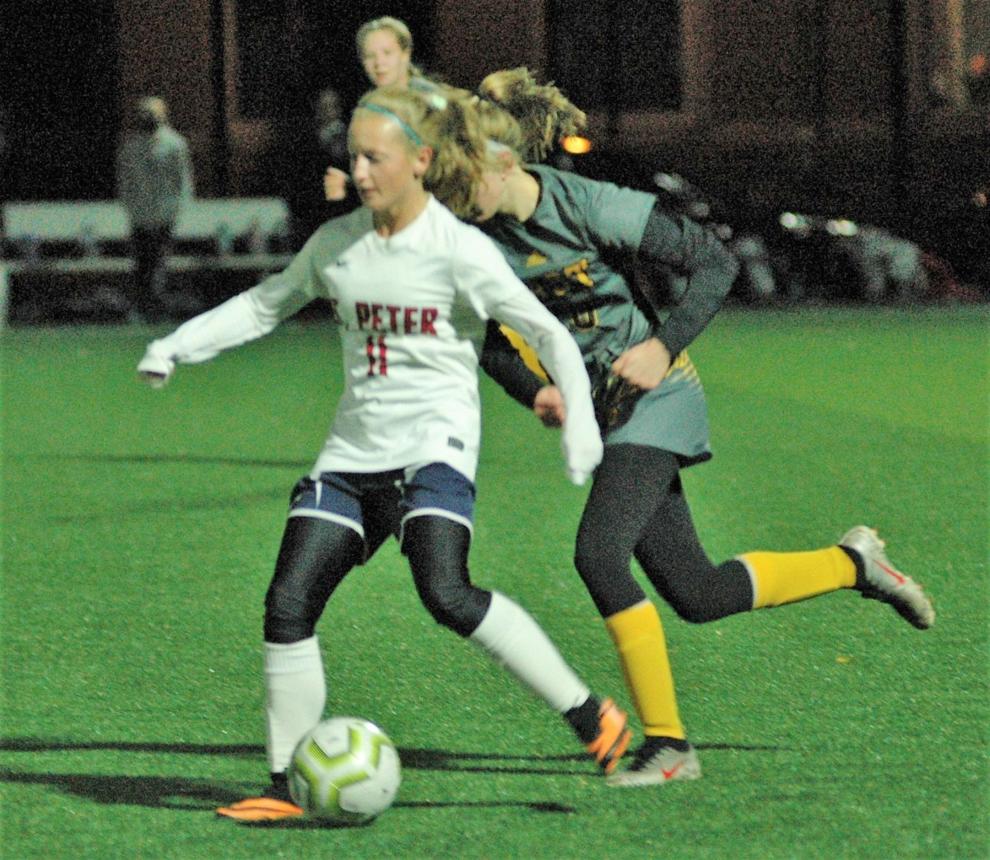 St. Peter's fifth shooter, sophomore midfielder Adrianna Bixby, scored the game winner.
Bixby said during the penalty kicks "My teammates helped me build confidence. They kept telling me encouraging words. When it was my turn, I just tried to stay calm."
Gurrola said, "It was a beautiful shot by Adrianna. She placed it in the right corner of the net."
During the penalty kicks, Gurrola said, "I was pretty chill. I felt confident in myself and my teammates' abilities. When they scored during the PKs, they were both really good shots. They were both far out into the corners of the net."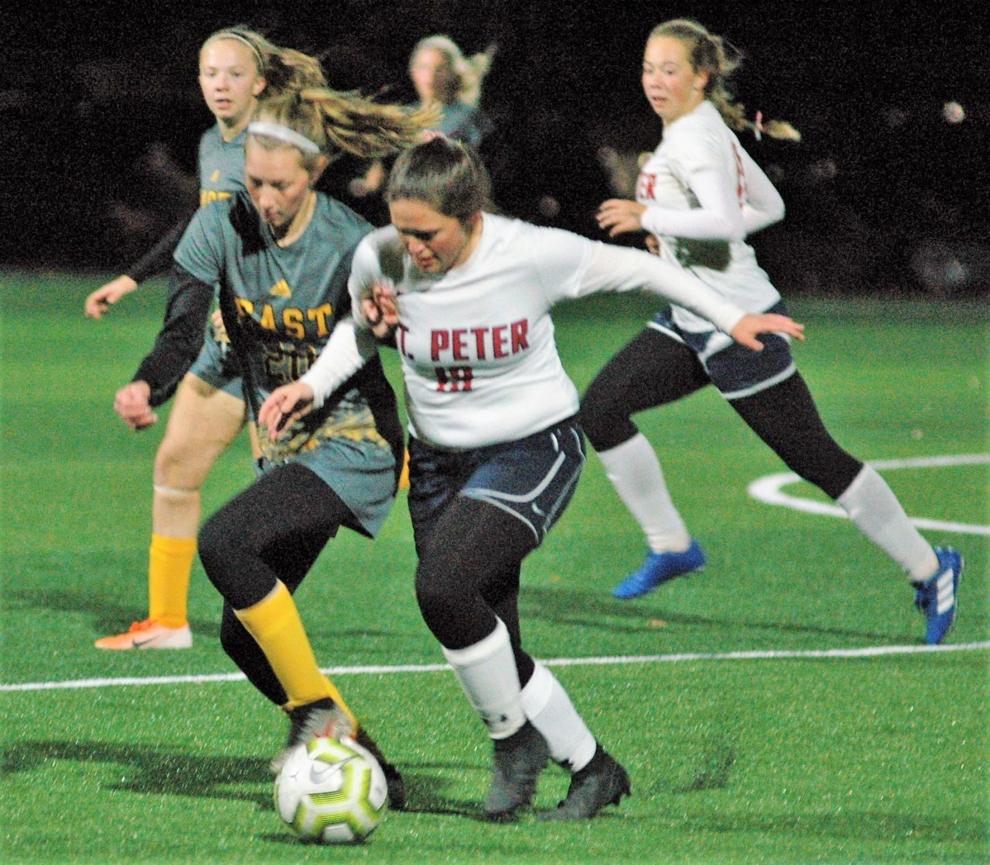 Bixby said the Saints "played really well and worked as a team. We tried our best. They are our toughest competition this year, and we stepped up to play."
Gurrola said, "It was an even match between us and East."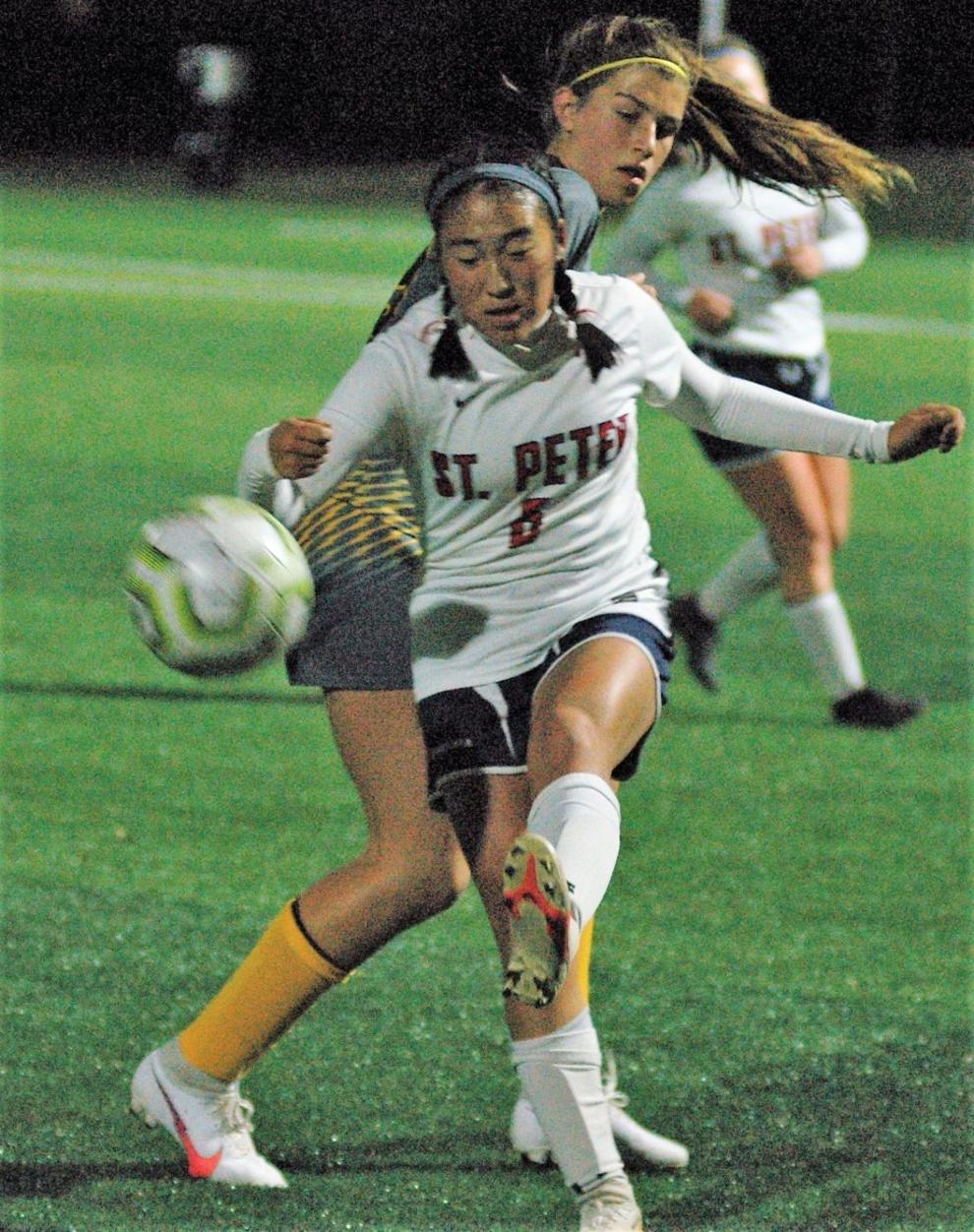 St. Peter head coach Bre Steele said: "I am so proud of this team. We played hard and we fought tonight. This team wanted to win so badly; they left it all out on the field. Our defenders played well as a unit. They were strong. They stepped to the ball, won 50/50 balls and kept their composure when East did make it down near our goal. Katie Gurrola played a heck of a game tonight. She was on fire! Our whole team worked hard to fight to win the ball tonight. East is a great team. They are very well coached. It was a hard fight tonight. It is unfortunate that it had to come down to PKs."
The Saints move on to the section semifinals at 4:15 p.m. Wednesday, Oct. 21 against No. 2 seeded Southwest Christian (12-1), which defeated No. 7 Waseca 1-0. The game will be at Champions Hall, 7000 Washington Ave. S. in Eden Prairie.
The other semifinalists are No. 1 seeded Waconia (10-0-2), which defeated No. 9 Albert Lea 6-0, and No. 5 Mankato West (8-2-2), which beat No. 4 Holy Family Catholic 2-1 in overtime.
The final will be Oct. 22 at the high seed.