It's been a work in progress this season for the highly inexperienced St. Peter boys tennis team, but it's working better as the season goes on.
"We've gotten way better," St. Peter head coach Aaron Rothenberger said. "We just got to keep going in the right direction and deal with more mental challenges, trusting in our abilities. I just focus on working on their skills and try to figure out how to piece together a win."
St. Peter nearly knocked off always tough Big South Conference foe St. James in the home opener Thursday before falling 5-2.
St. Peter has only two returning varsity players: No. 1 singles Kelson Lund and No. 2 singles Marty Anderson, won their matches. Lund won in straight sets 6-0, 6-2, and Anderson won in three sets 5-7, 6-4, 6-4.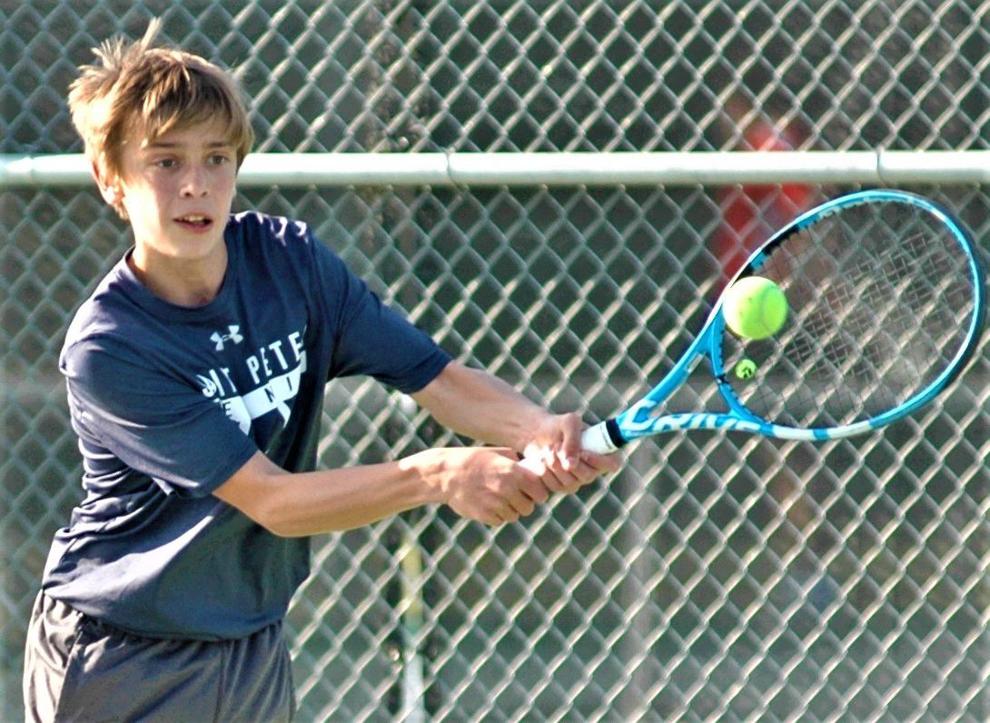 Three other matches went three sets, but St. James won them all.
With mostly first-year players, St. Peter (1-7) hasn't been able to match up with most of their opponents this season, while St. James improved to 4-5.
With St. James winning three of the four three setters, the match could have gone the other way.
"I saw a lot of good effort with guys who were trying to will their way back into their matches," Rothenberger said. "But there's a lot of things we gotta work on. It's pretty apparent we've got a lot of guys who are green and haven't played hardly any tennis or no tennis at all playing varsity or upper level JV. It's not quite fair to them to get thrown in the fire, but there are other teams in the same situation.
"So any little improvement that I see is a step in the right direction. We haven't really played a match this year where we've had all of our varsity guys, so it would be nice to have one match where everybody is either healthy, eligible or not on vacation. So hopefully we can string a few matches together where we have everybody in the lineup and keep a consistent lineup where guys are paired off with the same partner so that would be some steps in the right direction and just starting to build more trust with our abilities. We have a lot of guys who are unsure about a lot of things because of a lot of experience and being in situations they're not used to.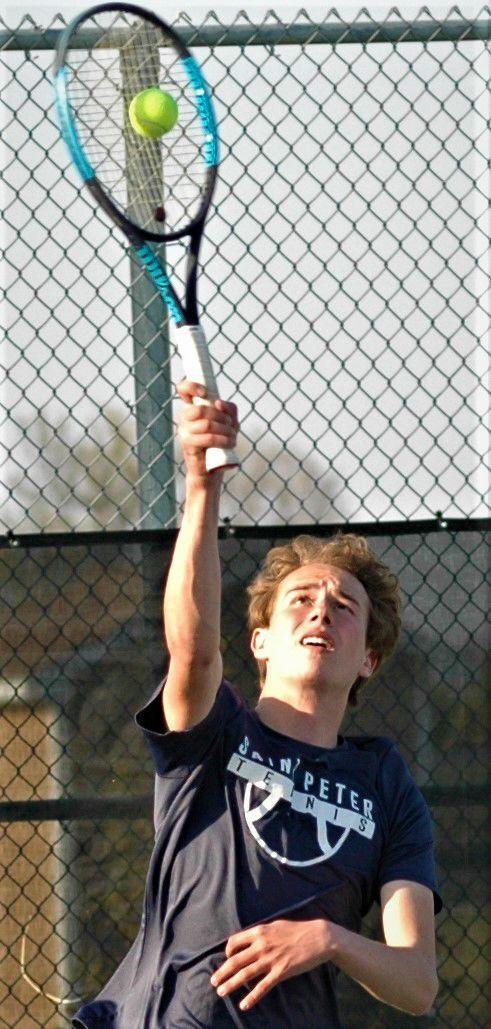 "I was hoping to get a couple of the three-setters. They just didn't go our way. We just are not experienced enough to battle though some of this stuff yet."
Despite the loss against St. James, Rothenberger said, "I saw a lot of good things. We saw some consistency today with our strokes, volleys and serving. Hopefully down the road we play similar opponents like St. James such as Blue Earth, New Ulm and some of the other conference and section teams we''ll be able to battle them a bit better with more experience."
St. Peter travels to Fairmont on Thursday and to a quadrangular on Saturday at Pine City with Litchfield and Crookston.