The Marshall Tigers dominated both sides of the ball Friday as they shut out the St. Peter Saints 35-0 in their season opener at Floyd B. Johnson Memorial Field.
The Tigers gained 311 yards rushing and 105 passing for 416 total yards, while the Saints had 84 yards on the ground and zero in the air.
The Saints came closest to scoring on their first drive, reaching Marshall's 12-yard line, but it was stopped on a fumbled pitch.
St. Peter then stopped the Tigers on downs and took over on their 47-yard line, but Marshall held them on downs and took a 7-0 lead on a 40-yard touchdown pass from quarterback Brevin Runia to tight end Jack Bly with 39 seconds left in the first quarter. Ivan Celedon kicked his first of five extra points.
The Saints held the Tigers on downs again, but a fake punt put Marshall on St. Peter's 24-yard line, and they scored on 3-yard run by Demario Gaines for a 14-0 lead with 3:14 to play in the second quarter.
A screen pass turned into a 50-yard touchdown by split end Bryce Lance to put the Tigers ahead 21-0 with 48 seconds left in the half.
The Tigers increased their lead to 28-0 on a 25-yard touchdown run by Thomas Thordson with 4:37 to play in the third quarter.
Marshall finished off the scoring with a 5-yard sweep for touchdown by Gaines with 5:43 remaining in the fourth quarter for the final score of 35-0.
Gaines led the Tigers in rushing with 11 carries for 62 yards and two touchdowns.
Runia completed five of nine passes for 105 yards and two touchdowns, and he rushed nine times for 43 yards.
Nathan Fogal led St. Peter in rushing with 13 carries for 70 yards.
Ethan Grant had two carries for 14 yards, one kick return for 24 yards and one punt return for 6 yards.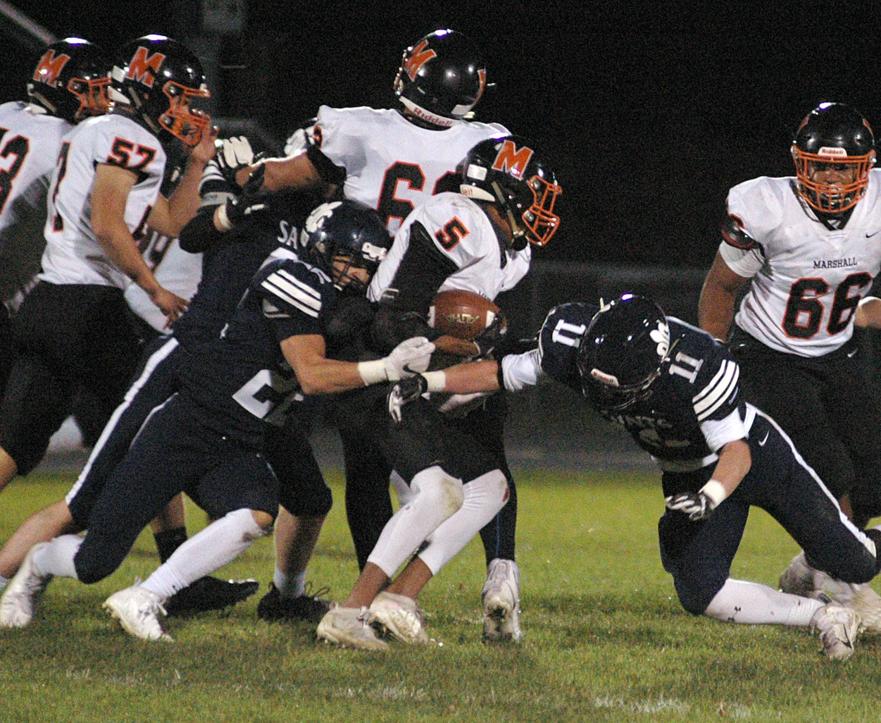 Vinny Guappone rushed twice for 5 yards and ran back two kicks for 41 yards.
Jamarion Robinson had three carries for 3 yards and two kick returns for 43 yards.
Brogan Hanson rushed once for 3 yards.
Carter Wendroth had one carry for 2 yards.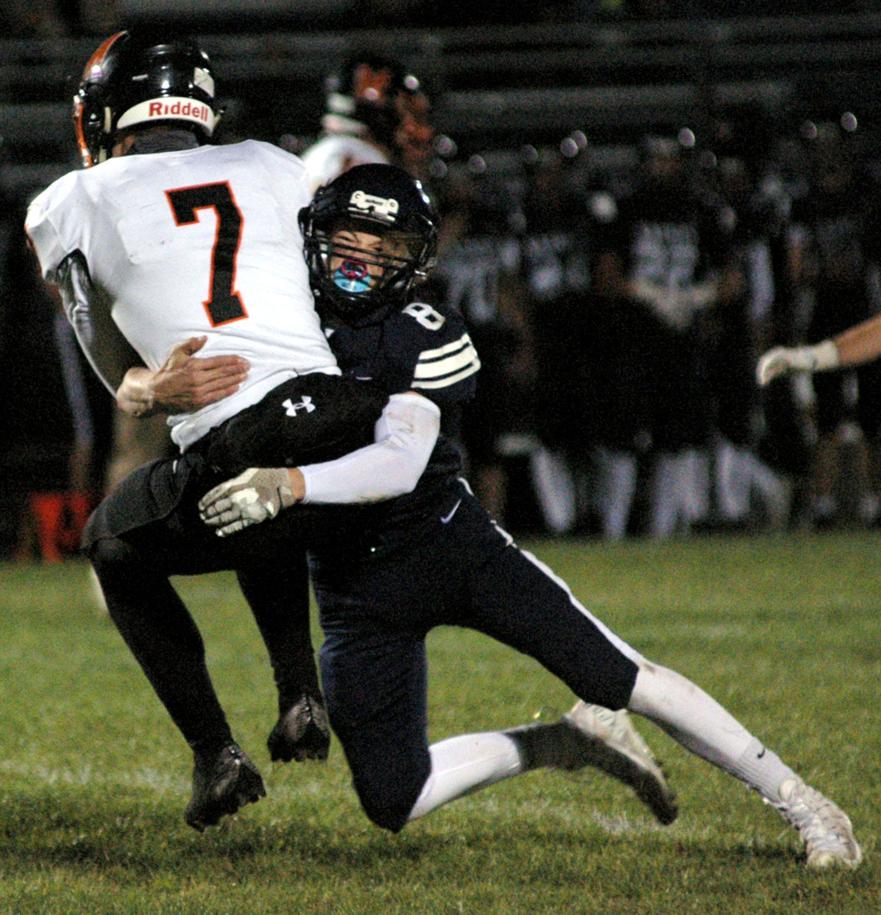 Hanson led the Saints with nine tackles and half of a quarterback sack.
Ryan Sandland had eight stops and half of a sack.
Grant, Guappone and Johnny Miller had seven tackles each. Fogal made six tackles.
Robinson had four tackles. Marcus Soderlund and Jason Beckman made two stops each.
St. Peter (0-1) travels to New Ulm at 7 p.m. Friday. Marshall (2-0) opened the season with a 49-16 victory over New Ulm.