Cleveland native Eric Stocker is carrying on his grandfather's stock car racing tradition.
Bob VonEssen, who was born in July 1931 and died in March 2017, raced at St. Peter Speedway in the 1950s. Two generations later, Stocker started racing this year at Arlington Raceway.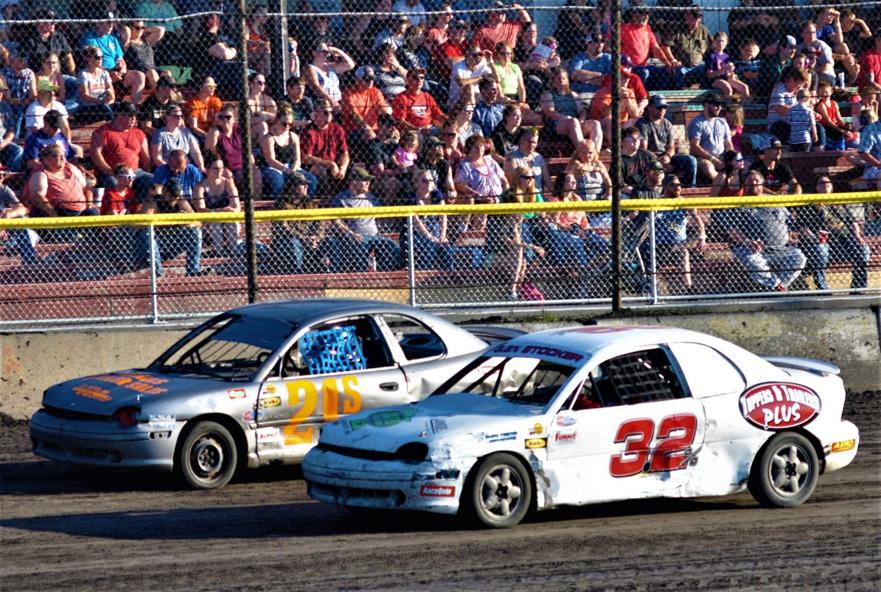 In honor of his grandfather, he took his car number, 3.2%, which he named after the least expensive beer at the time, 3.2% alcohol.
"He said that's all the beer he could afford back then when he worked on his car," Stocker said of his grandfather, just before hitting the track for the weekly Saturday night races at Arlington.
"He put all the money in his car and he couldn't afford any stronger beer than 3.2 at the time," Stocker said. "That's what he told me one time many years ago. It's just something that stuck with me. I thought if I ever built a car I'd use his number."
He added, "I couldn't come up with a number. They said a number should be meaningful for your car. And I picked that. And my mom had some pictures of his old cars, and I had it put down on graphics."
Stocker never saw him race. When he was born in 1983, his grandfather had already stopped.
But Stocker, 37 and a 2001 Cleveland High School graduate now living in Good Thunder, was still influenced by his elder. He built demolition derby cars for 20 years previously and competed each year at the Nicollet County Fair in St. Peter, which is the site of the former St. Peter Speedway.
"My grandfather grew up racing at St. Peter Fairgrounds when they had the race track over there," Stocker said. "So I put him on the side of the car. I have two old pictures back when he was racing back in the '50s."
Stocker said racing is more about strategic driving than in a demo car. And the car lasts last a little longer.
"One thing I lack is throttle (speed) control, so we'll see if this teaches me throttle control," Stocker said. "I never had it in a demo car. I was either to the floor or not at all. This year I've got to be more feathering with the gas. I've got to be more reserved and wait till the next lap to try and get somebody instead of right away."
Stocker said he tried racing "to see if it's less expansive. I bought a used car, so the setup is there. I felt I could get more use out of car like this than driving a demo car, with hopefully less repairs. I've watched racing and decided to buy a car and jump into it. I'm going to see if I can make a go at this.
In his first weekend, Stocker finished second in his heat race and started last in his feature race and finished eighth.
A good start for a first-time racer.
"Some things I screwed up with, but all in all, I think I faired all right."
Stocker said he likes "anything with a car and motor and chance to beat on it."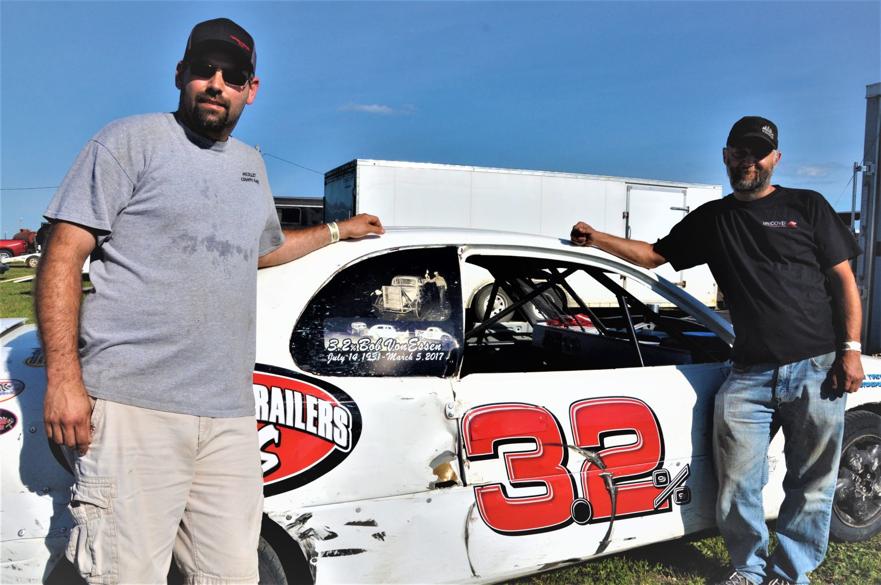 He is parts and service manager and general manager of Toppers & Trailers Plus in Le Sueur, and he works there with his crew chief Andy Hala, of North Mankato. Stocker's father-in-law owns Toppers & Trailers Plus, his main sponsor, which provided his trailer to haul his race car.
Stocker has been coming to Arlington for 15 years as a spectator and built a lower level hobby car years ago, but he said, "It didn't go very well."
Stocker bought the compact car, a '95 Dodge Neon, basically ready from Scott Porter, of Madison Lake.
"I didn't do much to Scott's," Stocker said. "I just re-decaled it, and that was it. And I put my grandpa's number on it."
"It's someone I know I could call if I had an issue with it," Stocker said of Porter. "He helps me out with whatever I need to try and make it through the whole year. Then that will set [Hala] him up for the mechanics' race at the end of the year [when the mechanics get behind the wheel and race]."
What's special about compact cars?
"They're cheaper than some of the other ones," Stocker said. "The only reason I picked it is it came from a respectable racer, and I knew I wasn't getting garbage. Scott's daughter, Kyren, won with this car. So I put my thoughts together and talked to my wife on it, and I said if I sell all my demo stuff, can I do this, and I feel like I'm getting a respectable product from a know race driver than built the car, I kind of knew that I wasn't getting junk."
Racing is not a money maker.
"It's just something fun to do and a little less expensive than a rear-wheeled drive car," Stocker said. "This is a front-wheel drive IMCA Sport Compact."
Stocker doesn't plan to race anywhere else.
"I just plan to dial myself in at this track, get some speed time and keep it as is," Stocker said.
Stocker doesn't have any specific racing goals in mind.
"I'll ride it out as long as I can," he said. "I don't know how long I'll be in it. I feel it's something I can afford to do for awhile. We'll see."