Although the St. Peter Fastpitch Softball Association has cancelled the usual summer season, some of the association's oldest players have begun practicing and planning some pickup games and tournaments.
The regular season was canceled because of the COVID-19 pandemic. But practices and games were reinstated when the governor lifted sanctions and allowed youth sports with social distancing guidelines.
So far, doubleheader scrimmages are scheduled at 6 p.m. Wednesday, July 8 and 15 at Jefferson Fields with Tri-City United and possibly Le Sueur-Henderson and Belle Plaine. Each town will have two teams, and they will play each other once each night.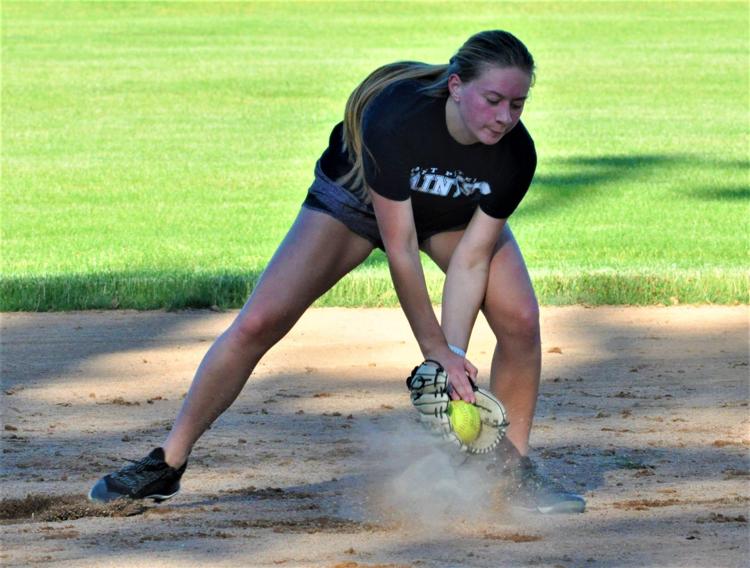 St. Peter also plans to play in two tournaments, July 19 in Dodge Center and July 25-26 in the Minnesota Softball state tournament.
St. Peter has 17 players, mostly U17's with a couple of U14, U16 and U18 players to make up two full teams. With scrimmages, there are not any rules for certain ages.
One of the players will be a sophomore. The rest will be juniors and seniors on the varsity next year.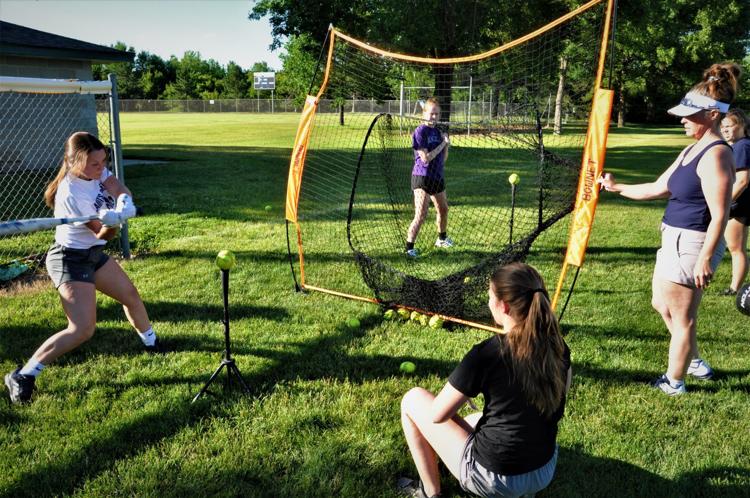 Niemeyer, who also is head coach of the St. Peter High School team, led the practices with Josh Drinkall and his father-in-law, Jeff Reecy, who have coached the younger girls for years.
Drinkall and Reecy always coached the younger girls who are going to be juniors. And NIemwyer has been the coaching the girls who are going to be seniors, including her daughter Laura
"We're going together this summer," Niemeyer said. "Josh has been kind enough to allow me to jump in here."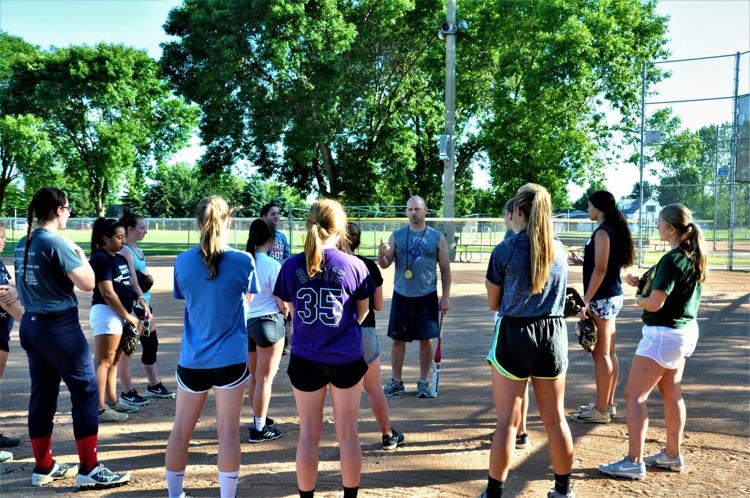 The practices included hitting stations, like they always do, and infield practice.
St. Peter also is starting a Fall ball league a few weeks earlier, Aug. 8, because of the missed summer season. Online registration starts July 18.
"That will be great for our younger girls," Niemeyer said.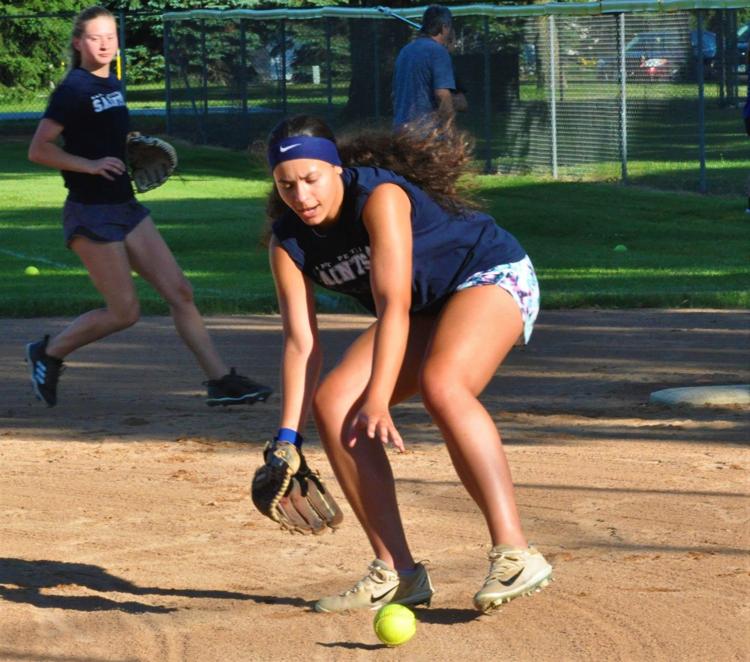 The high school season also ended after a week of practice when the virus closed schools in March. Niemeyer kept working during the virus as a substitute teacher, but she said it has been too long to get back playing softball.
"That was a tough season for me, and I'm sure for everybody," the coach said at the third weekly practice June 24. "It's really hard to know that I wouldn't be on the field."
Eight players didn't get a chance to play their senior season.
"I'm super excited to get out on the field with the girls," Niemeyer said. "But I'm going to missing my seniors."
She added, "It was tough missing the whole season with my daughter and with my seniors. We won't get that back, but I think they all did extremely well despite the circumstances. They kept their heads high. Every time I checked in with them, they were I'm doling OK. Considering everything they lost as seniors, because I have a senior too, a son [Ethan], I think that they actually did stellar."
Getting back on the field makes the players feel better mentally.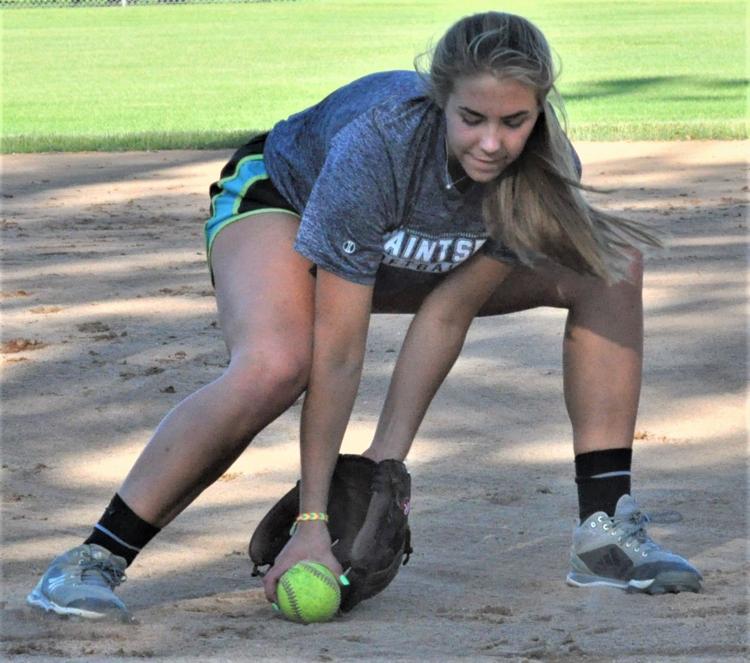 "Hopefully they learn stuff," Niemeyer said. "That's always the key, but I think that mentally just from my daughter's perspective, she's so jazzed to be out here on the field and hitting balls and doing the things she loves to do. And I think that if you asked all these girls, I think that would probably be why they're here. Because they love this. They love being here with their friends and they love getting better."
She continued, "If we didn't do this and didn't play fall ball I'd worry that we'd lose some girls next spring not having it. For the girls not here, it will be a whole year when we get back in the spring. So hopefully this gives us a little bit to think about and work through. So I think mentally it's a big thing to be out here.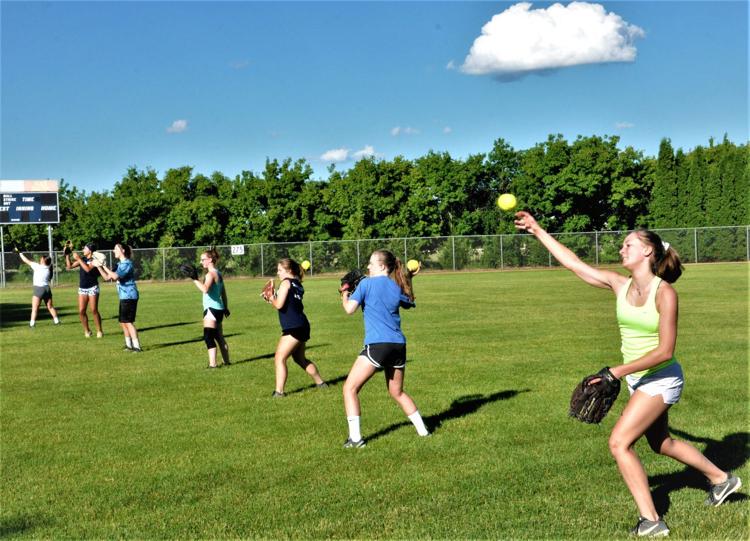 "Hopefully this isn't the first time they picked up a ball. A lot of them are doing stuff on their own and during that distance learning, when our school was not in session, we were handing out online workouts and doing some of them virtually on Wednesdays. We did the best we could. It was not ideal."
However, they must play by the Minnesota Department of Heath Guidelines.
"Because if we don't do it right, we won't be able to continue," Niemeyer said. "If anything happens, we'll have to take a pause."