The St. Peter girls soccer team has found the scoring touch.
The Saints scored so many goals in the first half, taking a 6-0 lead, they graciously toned down the offense in the second half and finished off Mankato Loyola/LCWM/St. Clair/Madelia 7-0 on Tuesday at St. Peter Middle School.
It is the second straight game the Saints have scored in bunches. The undefeated Saints also beat the Crusaders 6-1 on Friday.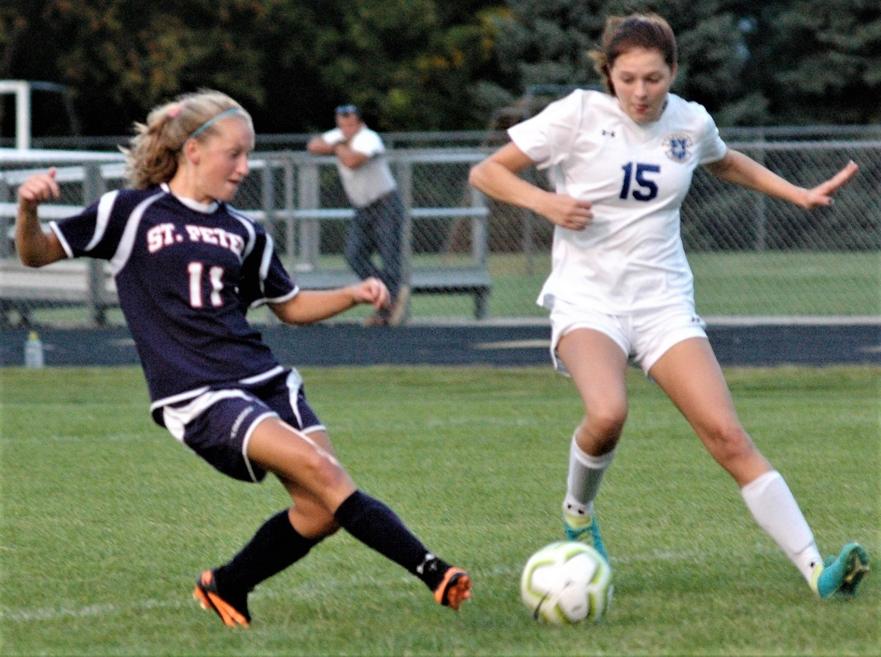 Two Saints has multiple goals: senior striker Emma Jones and sophomore forward Natalie Petersen netted two goals apiece. Single goals went to Adrianna Bixby, Ella Gilbertson and Mia Hansen.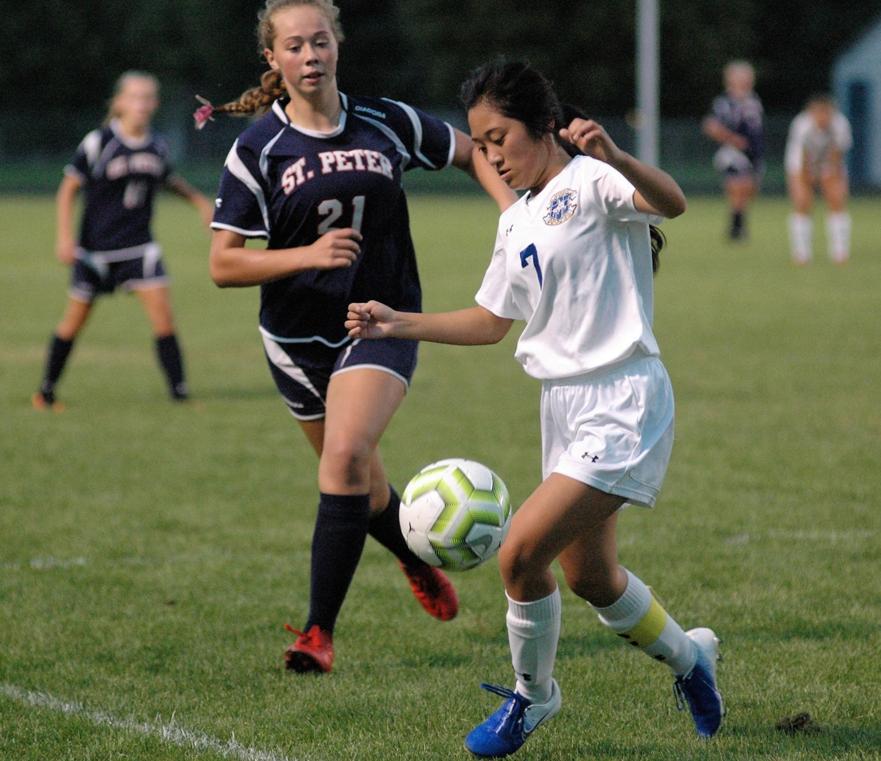 Petersen credits the scoring spree to "taking lots of shots and getting more confidence, along with our passes have been so much better. Now we're actually like a team because we've been practicing more, so our confidence is up. Practicing shooting has really helped as well, and that's good on the coaches' part, too."
In her second season on the varsity, Petersen scored two goals last year and already has five this year.
"My confidence is really up because last year I was the youngest on the team. I felt more timid, and now my confidence is up. And my teammates are really helpful and encouraging me, so they are a big part of that, too."
Head coach Bre Steele still thinks the Saints can work on their shooting.
"We're trying," she said. "The shots are low, so we're missing them to the outside. But today was a little bit better than they did in warm-ups. They looked a little shaky in warm-ups. The shots were on net tonight, so hopefully we keep that going."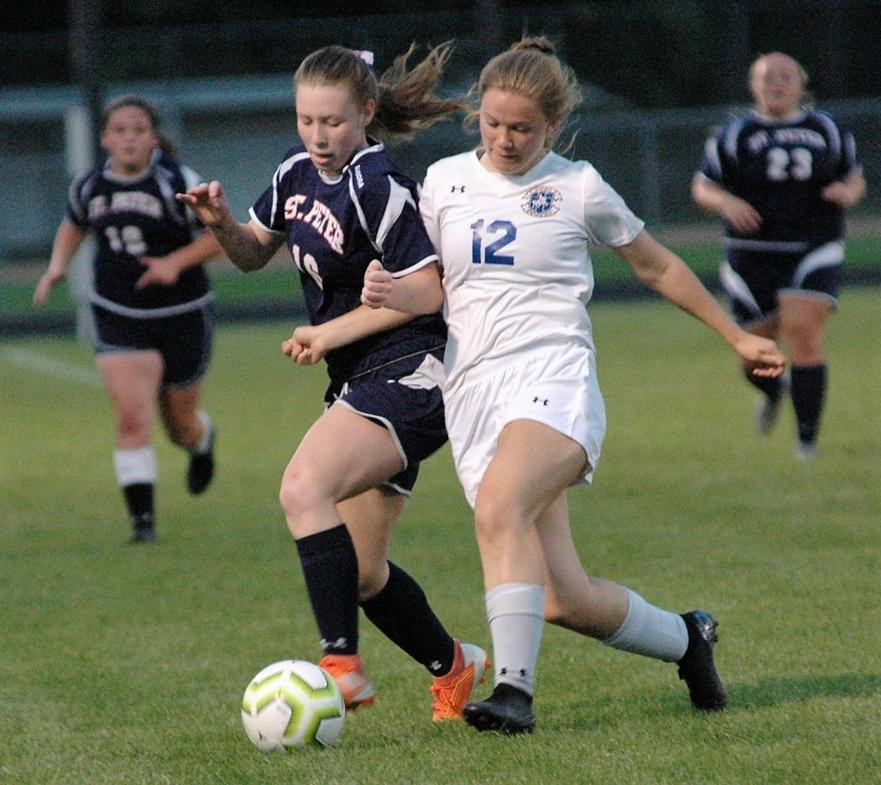 The Saints started on fire, scoring twice in the first 1:50. Bixby opened the scoring redirecting a right crossing pass from Jones into the net 43 seconds into the game.
Gilbertson made it 2-0 1:03 later, assisted by Audra Bixby, who pushed the ball through on the right.
Then Jones scored her first goal unassisted at 16 minutes to make it 3-0.
Petersen notched her first goal unassisted at 36 minutes to put the Saints ahead 4-0.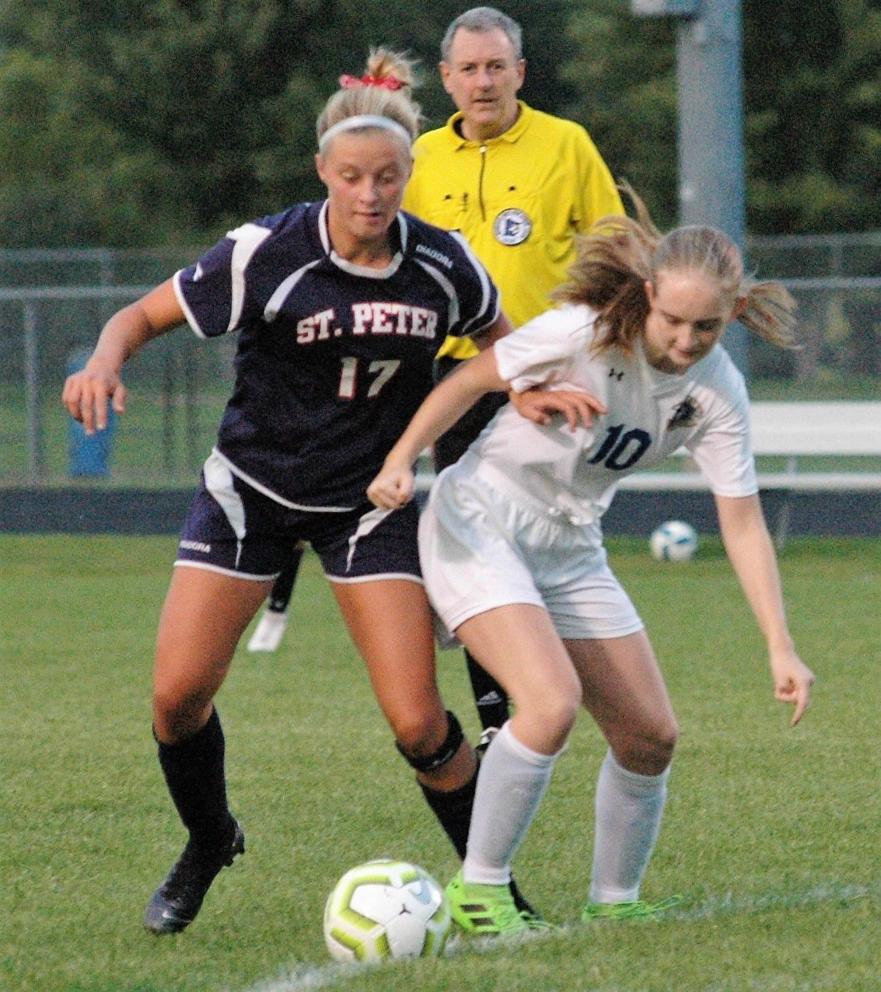 Two more goals 1:10 apart made it 6-0 at halftime. Jones scored at 35 minutes, assisted by Gilbertson throw-in, and Hansen scored unassisted at 36 minutes.
Petersen finished off the scoring on a through ball in which she kicked down the sideline and shot into the far post with 13:20 to play for the final score of 7-0.
The Saints out shot the Crusaders 16-4. St. Peter goalkeeper Katie Gurrola made four saves, some of which were tough ones, and earned her second shutout.
"Katie Gurrola really saved us a few times," Petersen said. "Our defense is good at coming to the ball and communicating and switching the field, as well as helping us forwards see what's open on the field, because they have the best view from the back."
All 20 St. Peter players saw action.
"We wanted to make sure that everybody got time on the field," Steele said. "We wanted to be respectful and work on having composure, working on the ball around with support passes while swinging the ball. We decided to work on our game rather than keep scoring."
Petersen said: "I'm glad that everyone had some chances to play on the field. And we worked really well together tonight."
St. Peter (5-0-1) hosts Worthington at 7 p.m. Friday in a rescheduled game.