After playing their worst half of the season on Friday at Fairmont, the St. Peter Saints reversed their fortunes Monday in a rematch with the Cardinals at St. Peter.
On Friday, the Saints fell behind Fairmont 46-33 in a 68-62 loss
On Monday, St. Peter took a 33-20 first-half lead in a 62-50 victory.
Defense was the biggest difference.
"It was a much different game the 2nd time," St. Peter coach Sean Keating said. "Fairmont, who had shot 58% from the field on Friday, shot 32% last night. On Friday they had scored 46 in the first half whereas last night we held them to 50 total points for the game.
"I think we learned a lot from Friday's loss and as long as we learn and strive to improve that's all a coach can ask for. The defensive effort by our whole team but especially Zach Taylor and Carter Wendroth really sparked our team. Our pressure forced them into 21 Fairmont turnovers.
"We still missed a few too many close in shots, but we showed that when we move the ball side to side in the half court we can get great team shots."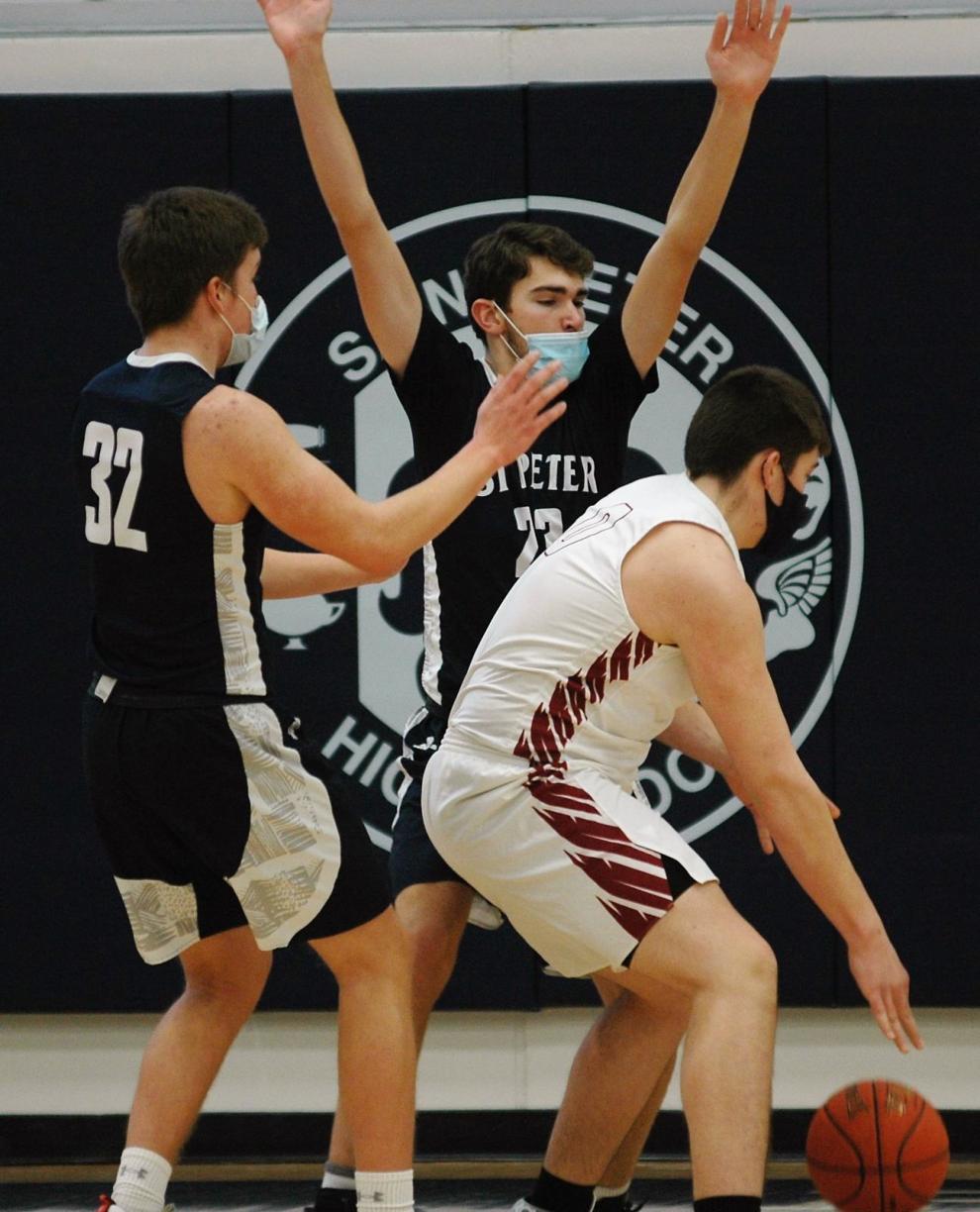 Junior center Bennett Olson led the Saints to the lead with 17 of his game-high 22 points in the first half. He finished with four 3-pointers and blocked a team-high three shots.
Senior point guard Ethan Grant led the attack in the second half with 11 of his 19 points. He also grabbed a team-high eight rebounds.
Senior guard Zach Taylor led with four steals and four assists, including the pass of the night when he saved a ball from going out of bounds and backhanded it directly to Grant who made a 15-foot jumper for a 24-16 lead with 3:20 left in the first half.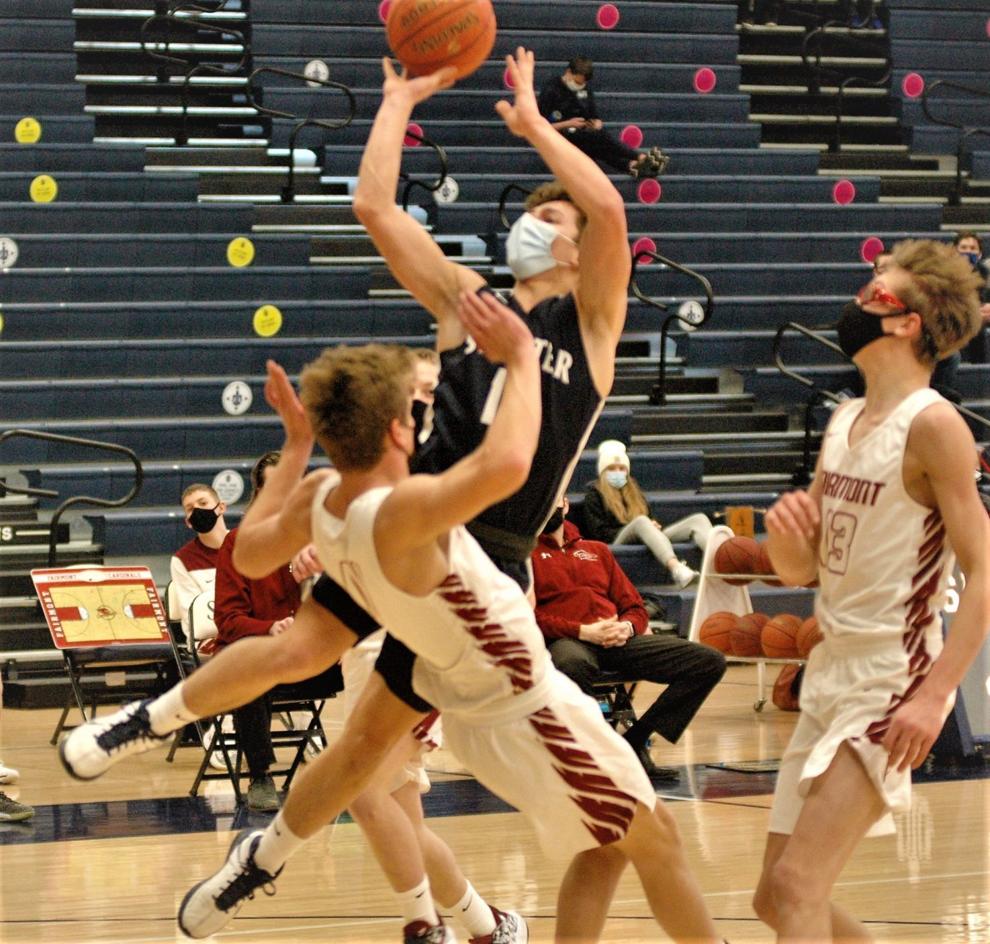 Also for the Saints, junior forward Marwan Abdi scored 7, senior guard Carter Wendroth netted 5 points, junior guard Vinny Guappone scored 4, senior forward Josh Robb hit a 3-pointer, and senior forward Kelson Lund made a 2-pointer.
St. Peter jumped a 13-7 lead with 10 minutes to play in the first half on 5 points by Olson and 4 each by Abdi and Grant.
But the Cardinals cut it to 15-14 with 6 minutes left.
The Saints then went on an 18-6 run to close out the first half with a layup by Olson and a 33-20 lead.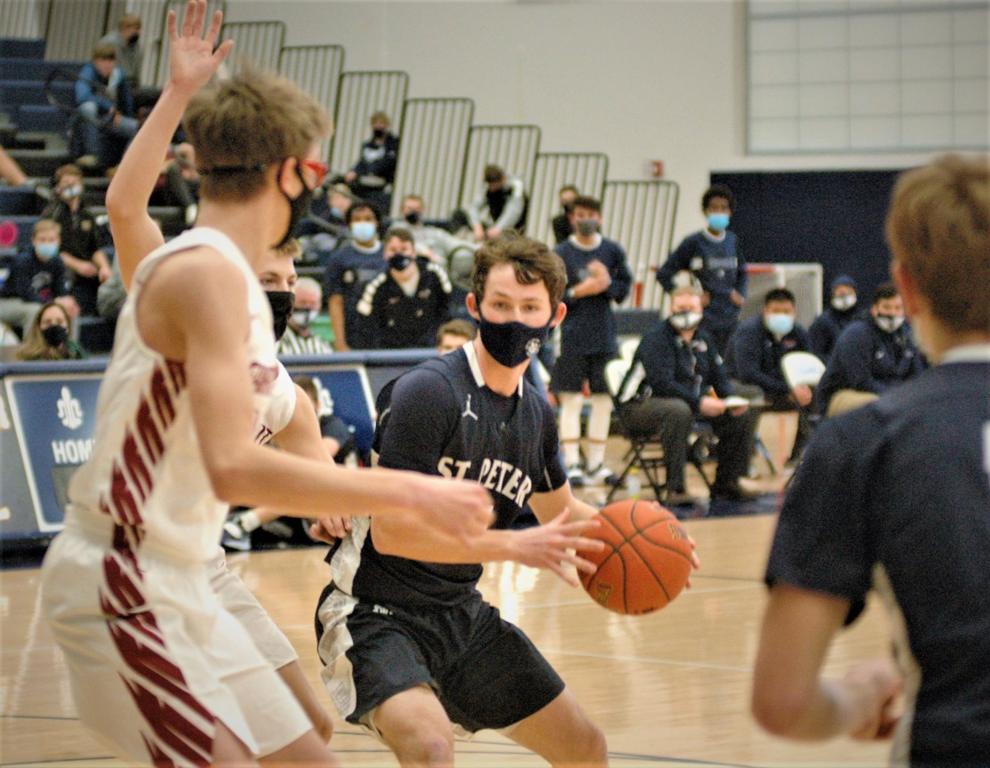 St. Peter increased the lead to 51-37 with 7:40 left in the second half when Grant made a basket for his 17th point.
Wendroth gave the Saints their biggest lead, 55-37 on a layup with 4:30 to go.
Farimont cut it to 60-50 on a 3-point play by Jacob Crissinger, but Grant made a lay-up to end it 62-50 St. Peter.
The teams are in a close battle in the Big South Conference. Fairmont fell to 4-3 overall and 3-2 in the Big South, while St. Peter upped to 4-3, 3-2.
St. Peter travels to New Ulm at 7:15 p.m. Friday.
"Now we get ready for Friday which will be a big section game for us at New Ulm," Keating said. "They have won 3 OT games, and we know it'll be a dogfight."