The Connors could cover all the bases for the Cleveland varsity softball team. 
Making up nearly half of the starting lineup are senior third baseman Brianna Connor, junior right fielder Ashley Connor, sophomore catcher Harley Connor and freshman designated hitter Casandra Connor.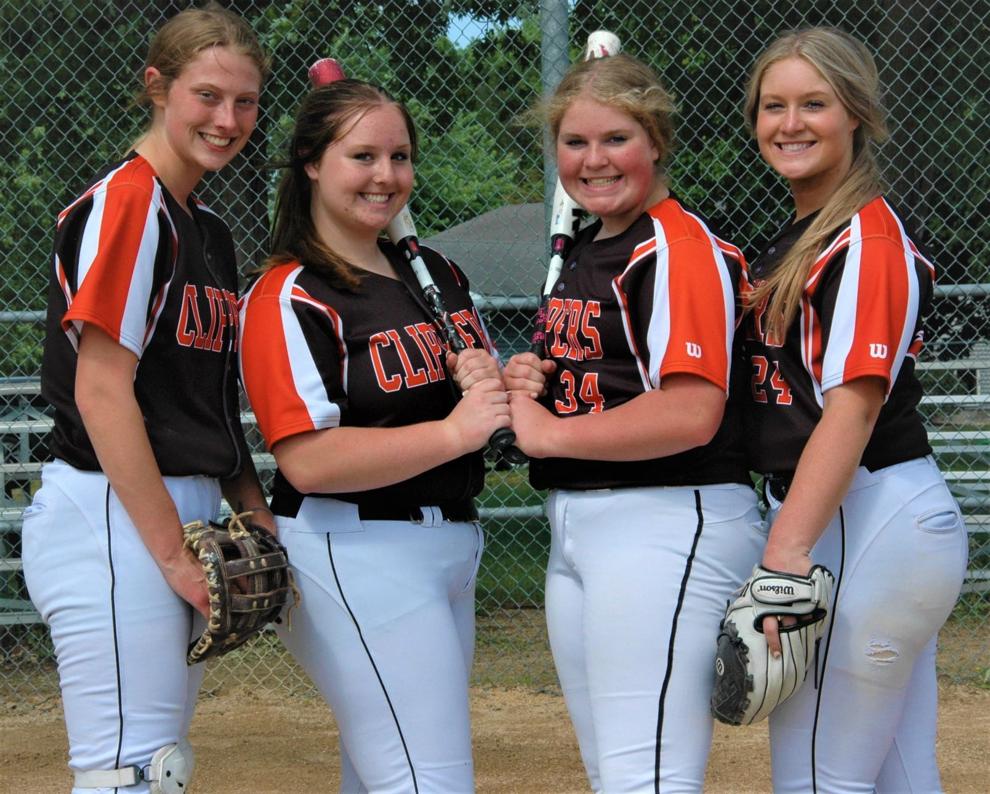 Brianna, Ashley and Casandra are sisters and daughters of Bill and Rebecca Connor. Harley is their cousin and daughter of Tom and Holly Connor.
Their fathers come from a large family of 12, so they are just a few of many cousins.
Two or three of them have grown up playing together when one of their teams needed more players, but this is the first year they have all four played together on the same team.
"It is an experience that I will never forget," Brianna said. "Not many people can say their last name takes up almost half of the lineup."
Ashley said, "I love playing with my relatives. Whenever I get a good hit, they are the first people I want to celebrate with, and if I am struggling, I know that there are three people on the team who can help me and give me pointers (especially Brianna)."
Harley said, "Playing with relatives is so much fun. They're the people who push you to be your best at all times but also make fun of you along the way."
Cassandra added, "They push me to get better and they are always encouraging me."
"There are so many Connors on the team because of the obvious reason — we are all close in age and are related, but also because we are all good players and we have put in the extra work outside of practice to make us better players," Ashley said. "Last summer, we would pick up Harley and her brother and go to the field together to work on our hitting. This winter, my family would go with my dad to the cages to get extra practice in before the season."
Harley said, "My dad has 11 siblings (one being Brianna, Ashley and Cassandra's dad) and many of them have children who are all so close in age. It just so happened that the four of us were all born a year apart from each other and go to Cleveland allowing us the chance to grow up so close to one another.
Growing up playing together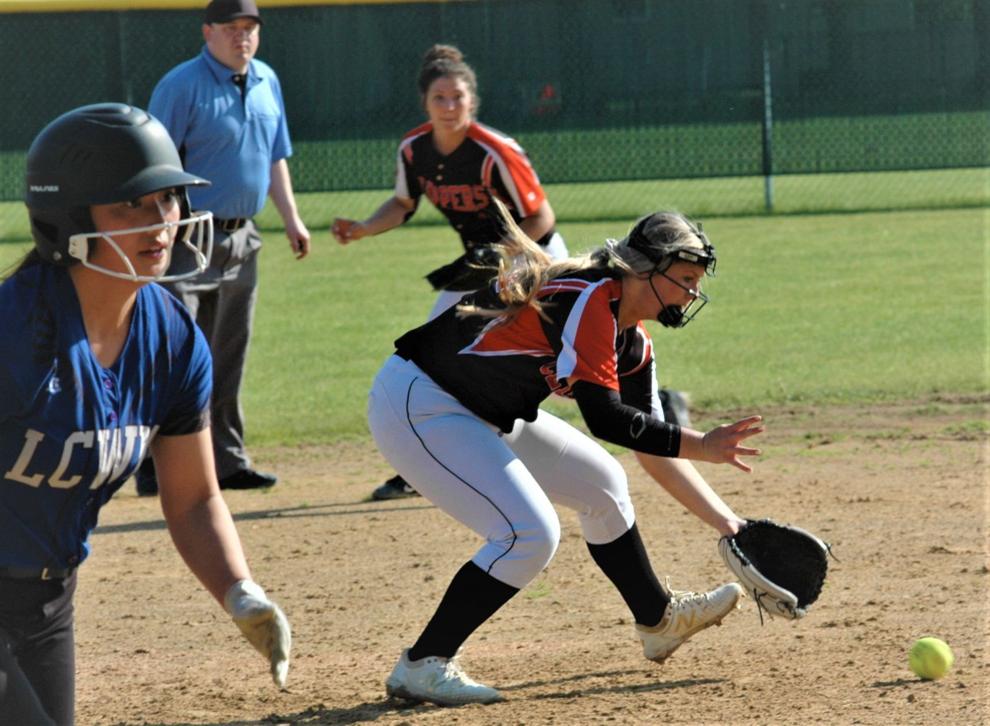 Brianna said she has played with her sisters and cousin for years, whether in the backyard out on the fields or at their lake cabin. "Now we have the chance to show the skills we have developed together over the years and display them out on the field.
Out on the field, there is a connection, not only between us, but the entire team. Many of us have played other sports together, but this is where we all come together. Half of the team may be a part of my actual family, however, our entire team has developed a family-like connection. Coming from a small town allows us to come together in a way that many other schools are not afforded."
Ashley said growing up they would normally play softball with the grade directly below or above them so some years she would get to play with Harley's grade and others she would play with Brianna's.
"My dad would coach our teams when we were younger, so we would help each other's teams when there were not enough players," Ashley said. "This gave me and especially Cassandra more experience and confidence playing with the seniors this season."
Harley added, "We didn't always play on the same team, but I remember times where Cassandra and I got the chance to play with Brianna and Ashley's team when they were short on players at the last minute. As we've gotten older, and especially last summer the four of us weren't all on the same team but we did get to play against each other which was pretty cool."
Cassandra helped fill in during summer ball for her siblings' teams.
"This helped me to become a better player," she said.
Advantages of being in the same family
There are a number of advantages to playing with relatives.
"I have always had someone to bring to the fields to put in some extra swings or field a few grounders," Brianna said. "Unlike most individuals, I have been given the opportunity to play next to my biggest fans.
"I would not be the player I am today without my family. They have pushed me to strive for success in anything I choose to do. Although having relatives on the team comes with many positive aspects, many people have jumped to the conclusion that our last name plays a factor in our playtime. Our coach Dan Fredrickson has done a tremendous job coaching over the years. As the seasons begin he watches every player closely to determine who is working to deserve a spot. I believe that every individual on the team has deserved their spot and it shows out on the field."
"Honestly I can only think of advantages," Ashley said. "I get to have a built in support system and a larger fan section. As for disadvantages, it's hard to think of any."
Harley said, "Advantages include - Having built-in best friends and people that you can always talk to."
Cassandra said, "There are many advantages such as having experience playing together."
The Connors push each other to play better.
"Yes, I believe there is an extra push to play better," Brianna said. "Being the oldest, I know I have to set an example for the younger ones to work hard and give them a goal to strive to one day become better me."
Ashley said they push each other "100%. I know that Brianna is the hardest on all of us. I am hard on Cassandra, as well, to try and get her to be the best that she can be."
Harley said they push each other to improve "For sure! At practice especially we always push each other or give little pointers if someone is having an off day. For example at practices if I am catching and one of the other girls is up I always tell them to hit it over the fence even if they're not on my team that day."
Cassandra added, "We are always pushing and supporting each other."
"I think that we became good players from our love for the game," Ashley said. "We have played different sports throughout the years but with our dad coaching us, his love for the game had been instilled into us."
Harley said they got better by "Practice. Practice. Practice. Not just during the season but also the offseason. There were quite a few times last summer that we would go up to the fields during the day and practice, and I would definitely say that helps."
As the youngest of the sisters, Cassandra said, "I have grown up watching them play which has helped me to understand the game. Also my dad takes us to practice in the offseason."
Brianna said, "As children, we grew up together at our lake cabin on Lake Washington. We spent our summers playing tee-ball, Whiffle ball, and even kickball. Many of the older cousins would play with us and taught us the fundamentals of the game. As we grew older we became aware of the competitiveness within our family. I ultimately think growing up playing with each other has pushed us to become better softball players and athletes all around."
"One strength that I noticed is that I am better at hitting inside pitches, while Brianna, Harley and Cassandra are all better at hitting outsides," Ashley said. "With me being left handed, we all come into the dugout and let each other know about where the pitches are, the speed, and what the ump is calling to help each other get a hit."
Cassandra said, "My strength is my hitting. My weakness is having the least experience on the team."
Brianna has started varsity playing third base for the past three years, not including the loss of her junior season.
"I enjoy the position," she said. "When the ball is pulled my way, it usually doesn't come softly. However I enjoy staying on my toes."
This season Ashley is playing right field and pitch hitting.
"My goal for the season," she said, "was to be DH, but after seeing Cassandra in the cages, Dan moved her up and now we both hit."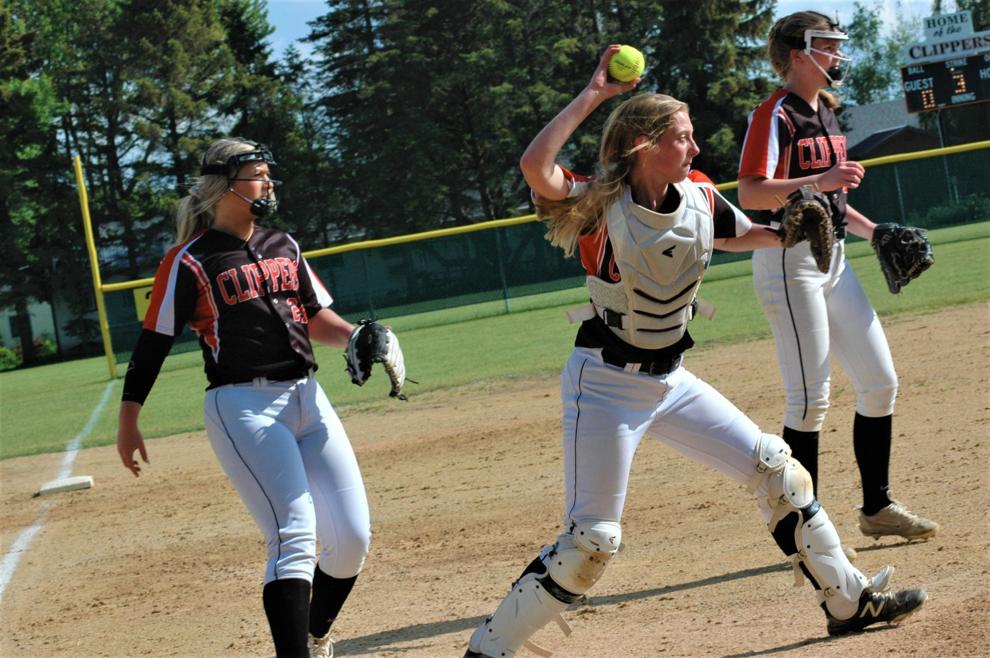 Harley is a catcher and she said there's not a specific reason she chose it, but she remembers watching her older cousins play softball/baseball when she was young.
"I always thought it was such a cool sport, and I couldn't wait to play it myself," she said. "When I first started playing, we played every position on the field, and I eventually fell in love with catching, leaving me where I am today."
Cassandra is strictly a batter for the team.
With or without family, the four girls all love the game.
"My favorite thing about softball is the memories and friendships I have made over the years," Brianna said. "I will miss playing next to my siblings, other teammates, and the three other seniors that I have grown up with adding up to my senior season."
Ashley said, "I like that softball is in the summer and the nice weather. But also it was something that brought me closer to my dad. I also really like hitting, hence why I wanted to be DH."
Harley said she likes "the team, the intensity, the spirit, the competition. I love it all!"
Cassandra said, "I like being able to play a game that I can become close together but also push myself to become better. Being the first freshman pulled I was very nervous but everyone was super supportive and welcoming."
This generation of Connors is making the previous ones proud.
"All four of us being on the same team this year was my dad's dream," Ashley said. "He told us before the season started that all he wanted was to see us all play together for just one game, and here we are. I think that his dream was motivation to all of us to make this happen."