The St. Peter boys golf team recaptured first place in its home invite Tuesday at Shoreland Country Club.
"With temperatures in the 40s and gusty winds all day, I think the overall scores were higher than normal, but we recaptured 1st place from a very good BEA Bucs team," St. Peter coach Neil Doose said
St. Peter has now won four of the last five St. Peter Invites, and "the kids really stayed mentally tough and stuck to our 'Learn, Burn and Return' concept we are using this year to improve our mental mindsets." Doose said
Kaiden Brovold, in his 1st meet as a Saint, was the medalist with a 3-over par 38-34 (72). This was the 5th straight medalist honors for a Saint in the invite. He tallied one birdie and 13 pars. Bolstad played the last five holes at 1-under par to hold on to his slim lead over runner-up medalist Manning Lane from BEA with a 73.
Kendall Nicolai with a 40-39 (79) was 2nd for the Saints and 4th overall. He carded one birdie, eight pars, four fairways, seven GIR and led the team with only 26 putts. "Kendall had a few rough holes today, but he overcame his troubles to finish in the 70s," Doose said.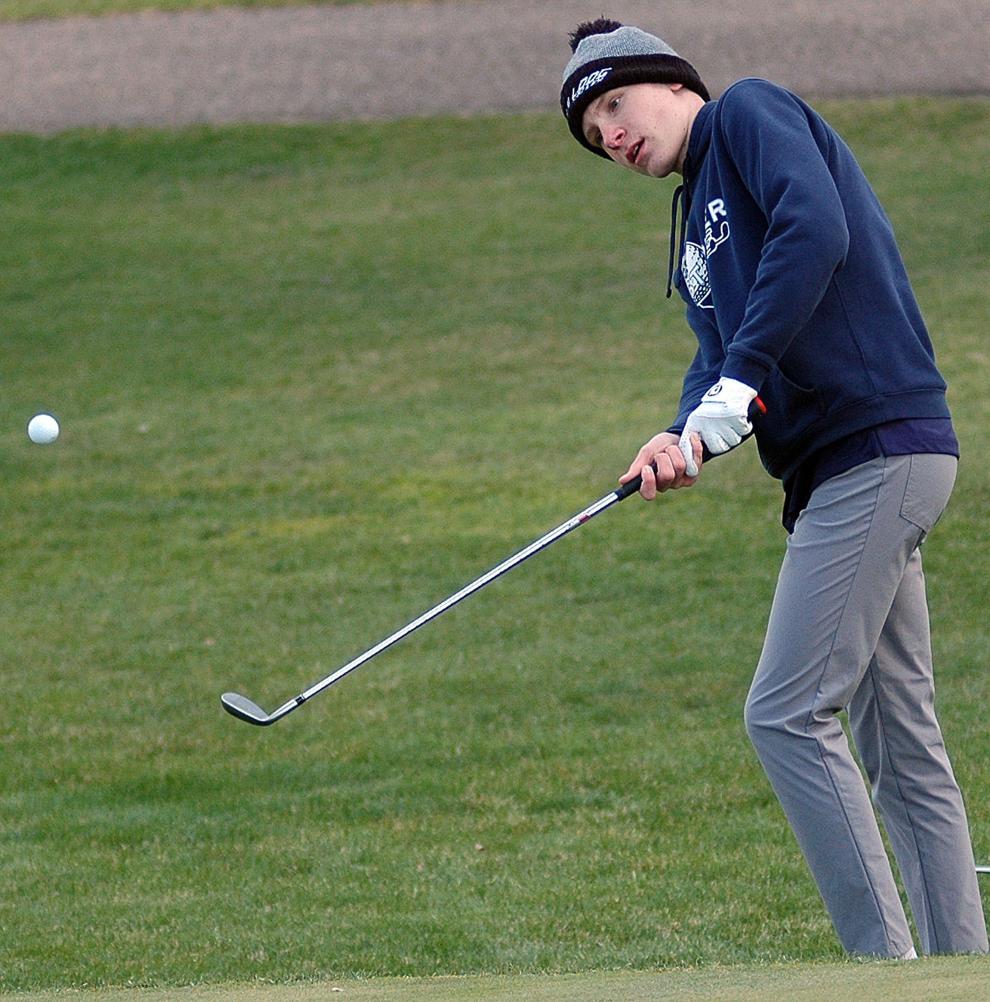 Third for St. Peter was 1st year varsity and freshman player Blake Magelee with a 37-44 (81) which was good for 7th overall. He scored one birdie and nine pars. "I look for Blake to continue to improve his game and course management this year," Doose said. "If not for a tough hole 18 for Blake, he would have been in the 70s. Great start to his young career."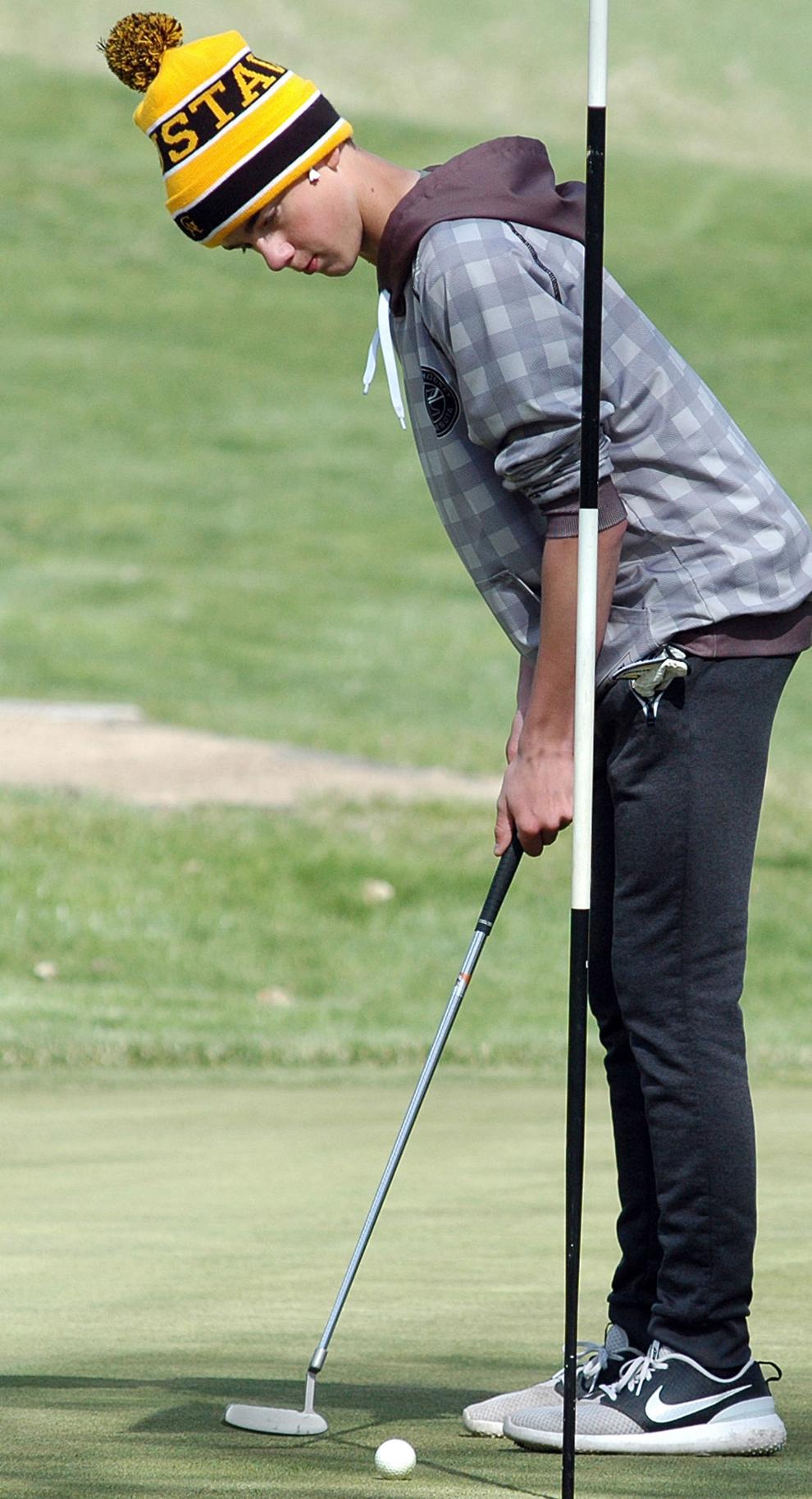 Fourth team scorer in 10th place overall was also a freshman in his first varsity meet, and Korey Lager stepped up and fired a steady 42-40 (82). "Korey was a last minute addition to the varsity 1 team and showed that we have some good depth and competition for varsity spots," Doose said. Korey tallied one birdie and seven pars in his first varsity meet.
Another freshman, Anthony Nicolai, followed with a 42-42 (84). He was also playing in his first varsity meet and he led the team with two birdies to go along with six pars. "Anthony will hopefully continue to work hard and practice hard this spring and be a consistent scorer for this team" Doose said. He finished 13th overall.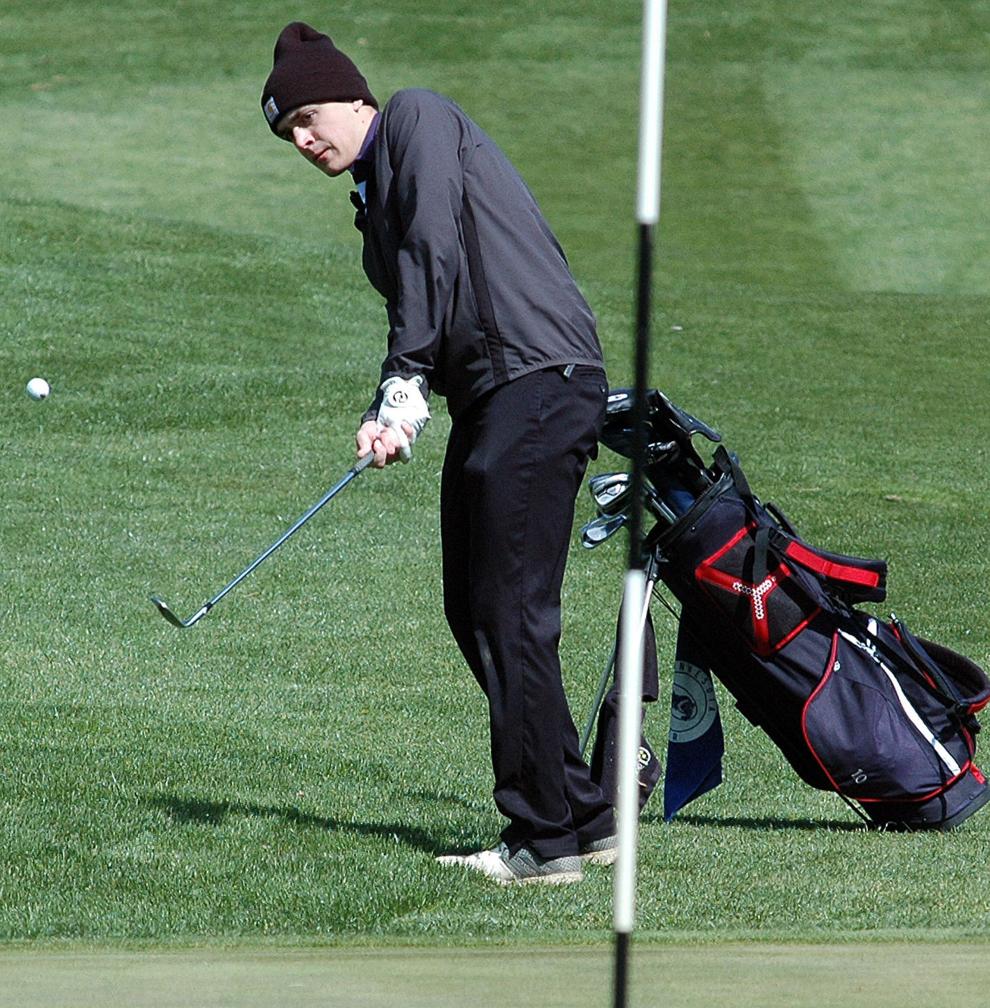 Logan Moe wrapped up the varsity scoring with a 41-43 (84). The senior tallied one birdie and four pars in his 13th-place finish.
"Our JV also competed in today's invite, and they showed that we have some healthy competitions for varsity spots," Doose said. Leading the way was Will Borgmeier, 17th overall, with a 42-44 (86). He had six pars.
Marshall Nicolai 45-44 (89) tallied six pars.
Zach Salzwedel 43-48 (91) had five pars
Ryan Braun, 50-43 (93) finished with one birdie and two pars
Luke Simonette shot 50-48 (98).
Cooper DeBlieck 51-48 (99) carded one par.
Waseca senior Jonah Drake carded his 1st hole in on the par 3, fifth hole.
"It was great to finally get on the course for the first time competitively in two years, and this team showed a lot of grit and mental toughness today playing in these conditions," Doose said. "I would like to thank Jason Harrell and Shoreland CC for having the course in great shape and allowing us to host this wonderful event.
"I am quite excited to see that 4 freshmen are in the top 5 of our scoring today, and that shows some promise for the young Saints. I hope all of these kids continue to improve and work on their games and shot-making skills as the year progresses. We will have our ups and downs like all teams, but the important part is how we respond to adversity when things don't always go as planned. 'Learn, Burn, and Return.'"
"Our next meet is Thursday at Shoreland versus a very good AAA Mankato West team, followed by a Section 2AA early season preview at New Prague on Friday.