Platteville, Wis.- The NCAA's campaign slogan in the early 2000s was "there are over 380,000 student-athletes, and most of us go pro in something other than sports."
University of Wisconsin-Platteville senior-to-be Katie Schilling is a student-athlete who will go pro in something other than sports. Schilling is member of the track and field program and will enter her senior season looking to build off her past success on the track.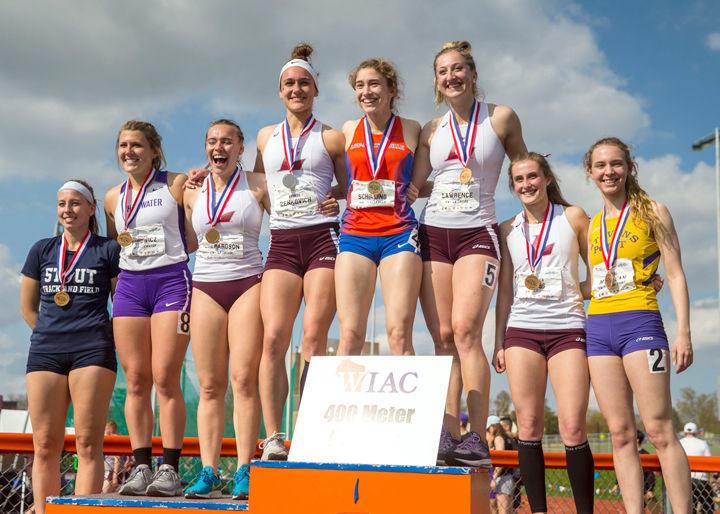 The St. Peter native Schilling won the 2019 Wisconsin Intercollegiate Athletic Conference (WIAC) Outdoor Championship in the 400-meter hurdles and finished fourth in the 400 at the 2020 WIAC Indoor Championship. She also excels in the classroom; she is on the WIAC Women's Scholastic Honor Roll and Gabe Miller Academic Honor Roll as she prepares to turn pro in something other than sports.
As the civil engineering major Schilling enters her senior year, she is completing an internship with L S Engineers in Le Sueur.
L S Engineers have been impressed with Katie and the work she is putting in. "This was the first engineering intern we ever had; we have had other interns, but she is the first from engineering" said Brian Salfer, one of 13 full-time employees at L S Engineers. "We don't treat her like an intern. She is treated like a new hire; we kind of threw her off the deep end to let her swim and she has exceeded my expectations. Truthfully, my expectations were a little higher than any other intern we have had, because I have known Katie since she was 4 years old."
Schilling got hooked on designing and building things in ninth grade when she took a Project Lead the Way class (PLTW). "We were designing a building and looking up codes that needed to be met and I loved every single second of it," she said. "I took two more PLTW classes and I built a Habitat for Humanity house for class my senior year. It was never 'I want to be an engineer' and then 'I want to be a civil engineer,' it was 'I want to design and build buildings' and being a civil engineer will allow me to do just that!"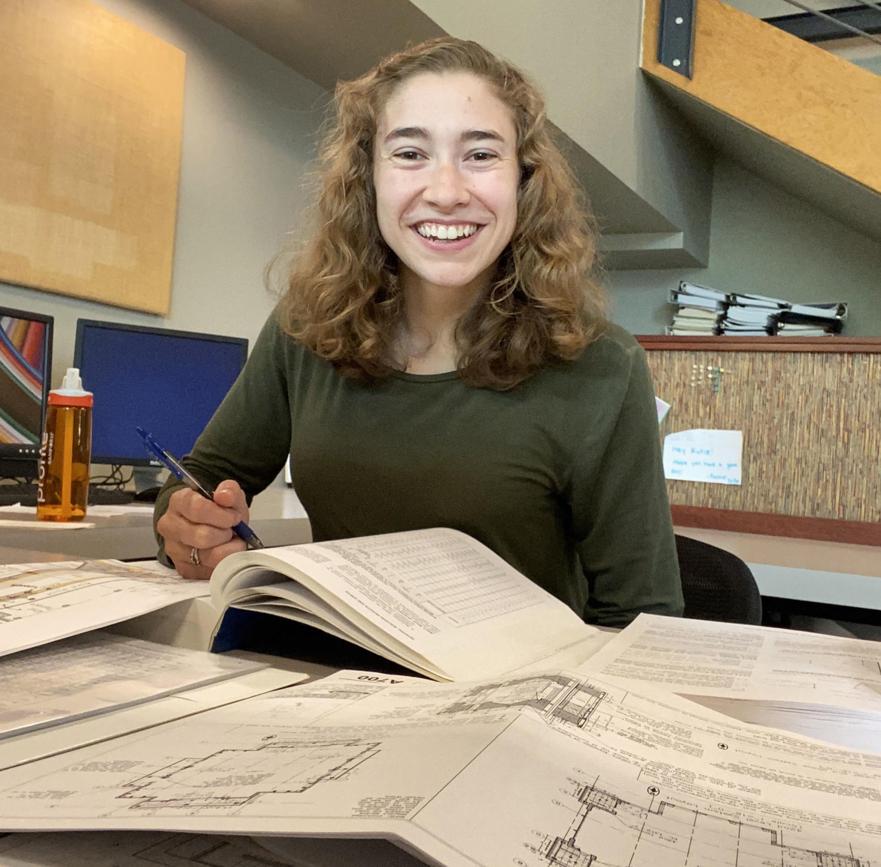 Student-athletes learn skills that are not taught in classrooms, "being in track has given me the self-discipline it takes to see a project through and work through the challenges that come up," Schilling said. "I am also use to early mornings and late nights that come with this internship because of meet days and morning practices."
The hard work and dedication to the job is something Salfer noticed about Schilling as well. "She has a drive in her, and I wouldn't expect anything else," he said. "Her work ethic is very impressive, she doesn't mess around, she is never afraid to put in the extra time and long hours. She was putting in overtime shortly after she started her internship."
Schilling's helps with shop drawing reviews to make sure the fabricators are providing the right size and amount of materials for each job, and working on small design projects. She helped design steel stairs and maintenance platforms so far. By the end of summer, it is L S Engineers plan to have her work on building projects with one of the engineers.
Being a member of the Pioneer track and field program has helped Schilling with her people skills as well. "Track has helped with my people skills, meeting new teammates and now coworkers, and respecting coaches, now my bosses," she said. "My track team is my family and the company I'm interning for functions in a very similar way, so I had no problem feeling right at home.
Salfer echoed, "Her demeanor is pleasant and is fun to be around and fits in very well, we are blessed to have her and she has been a real assist to our company, she has been a delight to have around."
UW-Platteville is well known for engineering, and Schilling is taking full advantage of the experience and learning she is receiving in the classroom.
"My education so far from the civil engineering program has given me a great introduction to all of the calculations and design aspects of a civil engineering project," Schilling said. "There have not been to many things that I haven't been exposed to before which has been very helpful. The resources that my professors have provided have also been very useful for my internship, and the other engineers were impressed with the coverage and knowledge I have had on some topics because they never saw that in their programs when they were in college."
There have been things that she hasn't been exposed to but her willingness to learn and her communication skills comes through. "She is a strong communicator and ask's good questions," Salfer said. "She isn't afraid to say she doesn't know something, which allows her to grow as an engineer."
Schilling has one final year left on the track and classroom at UW-Platteville before she turns pro, but her work ethic, classroom learning and her internship has position herself for a long professional career.
"With the experience I have had so far, working at a structural firm like this one would be a great future career," Schilling said. "Working for a city or county as their engineer is another path, I have had interest in."
No matter where the path takes Schilling, she will be well prepared.
"With another year of classes, she will be ready to hit the ground running and be ready to go," Salfer said. "Most engineers coming out of college will need two to four years of close supervision and mentoring before working independently, I see her time of being supervised and mentored shorter then that due to the education she is getting, coming in I would expect her to be able to produce at the same level if not higher as any other engineer."