It's a team effort for drivers at Arlington Raceway.
Levi Selly, of St. Peter, teams up with his sons/pit crew, Gavin, 15, and Jace, who turns 14 on July 17, to get his Sport Compact car ready for racing Saturday nights. They change tires, check air pressures and help dad get in the car, making sure he's got all his safety gear on.
"These two boys helped a lot," Levi said. "Jace ran a rivet gun a lot, and Gavin welded all the doors shut. He did all the welding on all the doors."
Gavin said he learned about welding in a class at St. Peter High school. "I took the first welding class for the first half of the year, and then I got a schedule change to take the second welding class."
"And he did real well," Levi said.
Levi's sons also are younger and in better shape, which comes in handy.
"They hop in the car and do some of the little work that I'm too fat to crawl around and do," Levi said. "Underneath the dash, I'm telling him [Gavin] how to do some wiring, and he's laying under there."
Besides his sons, Selly has gotten a lot of help from his fellow drivers.
In fact, longtime driver Scott Porter of Madison Lake sold his car to Selly and is always available to help. Scott Porter is part of a big family of racers including his brother Chad and daughter Kyren.
"The race family becomes a second family," Levi said. "They're all willing to help and work together to get you going. Anybody who is looking to get into it, there's people around that will help. A lot of these people you become really good friends with. We park next to Porters last year and this year. We help each other out where we can. I like to hang out with the people and talk about cars."
"Getting into the car Scott helped a lot. I had a lot of Facebook messages asking him silly questions. He's the guy I lean on a lot when I don't know what to do.
"I love it. To get into a compact car, it's probably not as near as expensive as most people think, and it's an awful lot of fun. You can get a decent compact car already done for $2,000 to $3,000. I'd encourage people who've thought about it.
Gavin said, "You get buy one that's not done for 300 bucks."
Levi agreed: "You can build your own even cheaper. But if you don't have the know how and just want to buy one top drive, it's $2,000-$3,000. They get more expensive as the classes go up. Compacts is a great place to start."
Fellow driver, Charlie Rustman of St. Peter and his dad, Steve, built the cage for Selly's 2005 Cavalier this year. "Me and the guys from C&N put the motor and transmission from my old car last year," Levi said. "My sons did a lot of the body work, getting a lot of stuff mounted and everything all together. We touched ups some rust, but otherwise all of it's original."
Levi also likes the competitiveness of racing.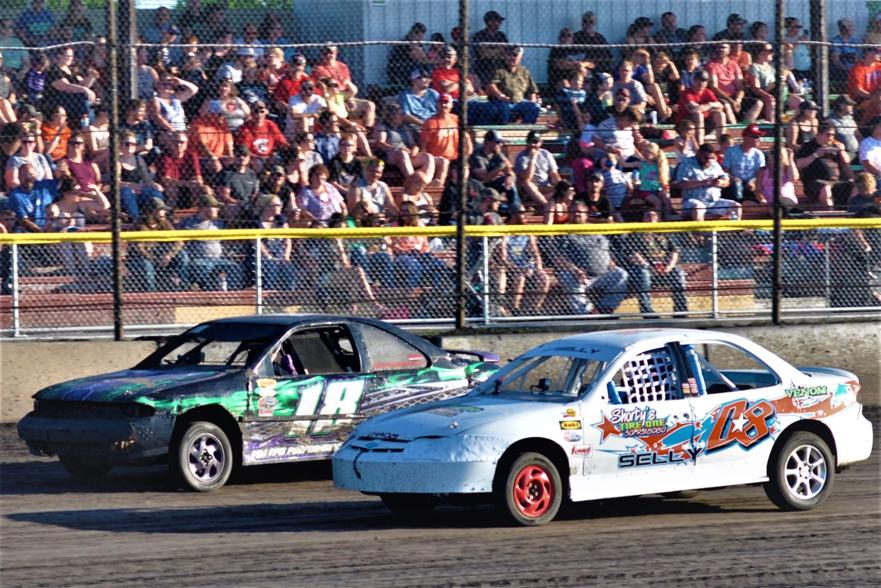 Racing cars for nine years, Levi, 40, is his second year in a car. He also has raced go-karts for nine years.
Levi has run go-karts at a number of other dirt tracks which helps him in racing cars. "I've got a bit of that that I can bring over to a car."
"I had a pretty good rookie season," Levi said. I had seven top 5s, one feature win, four heat wins." Starting seventh in the first week this season, he finished seventh out 13.
Gavin doesn't have a big drive to get behind the wheel and race, but he has tried go-kart racing and is building his first car to try the demolition derby at Nicollet County Fair in St. Peter.
"I'm going to do the derby and see how that works out," Gavin said. "Then I might try racing, too, to see which one I like better."
Gavin used to race go-karts for a couple of years when he was younger and last year but lost interest this year.
"I was thinking of doing it this year, but I just wasn't that good at it," Gavin said. "I'm a younger kid and I was racing in an adult class against all these experienced people and coming in last almost every time, so it's not as fun of a thing to do. It still is fun to race and hang around with the people there."
"It's just fun to come with and watch him race," Gavin said. "It's fun to see how he does."
Jace, who also races go-karts, is definitely interested in racing cars.
Levi said Jace has made a lot of friends running go-karts. He's won a lot of feature races in the junior class.
"I like chasing them around," Jace said
Jace is only 14, but he's been racing for a lot of years, starting when he was 5.
"Jace will do good in a car," Levi said. "He just needs to get a little taller, so he can see the steering wheel in a compact. He'll go into a compact when he's ready."
Comparing go-karts to cars, Levi said, "Cars go faster. You can do low 40s in a go-kart and do high 70s in a compact."
Although compact go about as fast as a car on the freeway, Levi said, "You're doing it in a lot shorter stretch."
"There's more lanes than on a go-kart track," Levi said. "On a go-kart track, generally everybody sticks to the bottom lane. These cars have suspension on them, so they tilt a lot more than a go-kart that doesn't have any suspension. There are a lot of similarities but some differences."
Asked about his goals in racing, Levi said, "I don't really have an ultimate goal. It's a hobby for me. It's something I like to do. I'd like to get some more wins and keep chasing more."